Want the crispiness of a Chimichanga without the guilt that comes with a deep fried burrito? Baked Chimichangas are the best of both worlds. Healthier than deep fried and easy to make, learn how to make Baked Chimichangas with this easy recipe.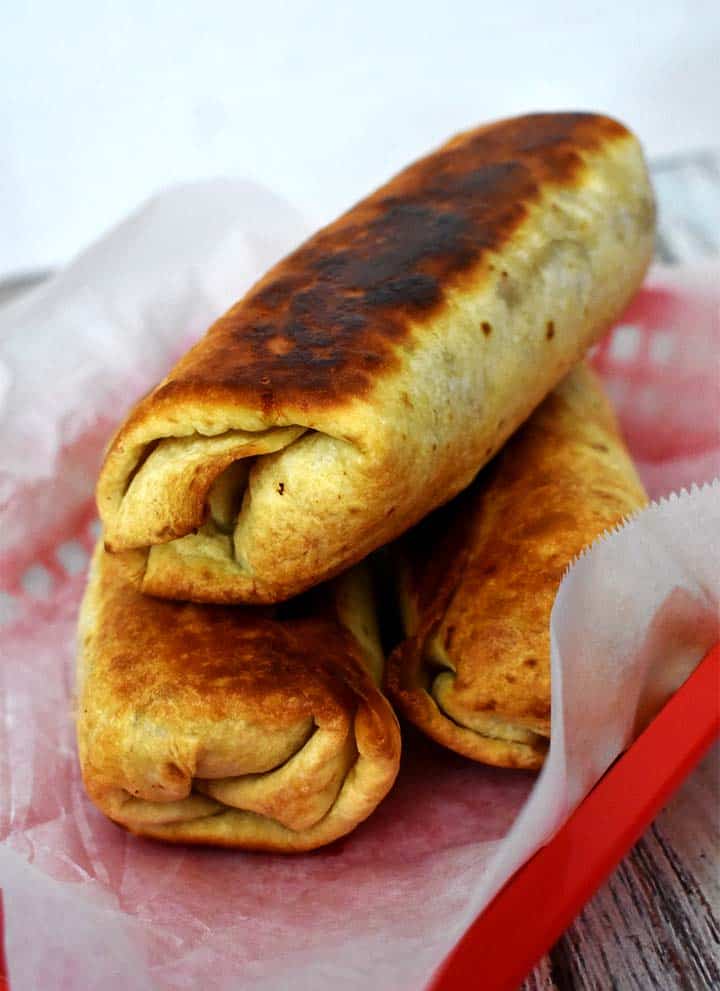 What are Baked Chimichangas?
Traditionally, chimichangas are deep fried burritos - fillings wrapped in a large white tortilla and cooked in a oil bath until the tortilla turna rich, crispy golden brown.
Now, as you might guess, that isn't the healthiest option. So, by making baked chimichangas, we cut out a lot of that extra grease and calories by letting the oven work it's magic. You still get a crispy tortilla and a gooey inside without all the guilt!
Let's stay in touch. Follow me on Instagram and check out what we're up to on Pinterest. Support this site, follow the link and buy stuff on Amazon (affiliate).
Mikes Recipe Rundown
Taste: You can go a lot of ways with your filling. For this recipe, we're going with a rather non-traditional chicken philly style. Obviously, some chicken tinga or beef barbacoa would give you a more authentic taste.
Texture: The outside is light is crispy with a cheesy, gooey inside for an awesome contrast.
Difficulty - Pretty Easy. This is a pretty novice and technique free dish. The hardest part is simply making the filling and making sure not to overcook the burrito in the pan.
Pros: Baked chimichangas give you a ton less grease then deep frying. And by hitting them in a shallow pan fry then baking to crispy perfection, you still get the texture you want.
Cons: While this is still better than deep frying, it's not exactly cardiologist approved. Baby steps, right?
Would I make it again? You know it! The best part is you can switch up your filling and make this a ton of different ways
Just want the recipe already? Scroll to the bottom of the page for the recipe card! Then, let us know what you think by leaving a rating and comment at the bottom of the page.
Nerd Chef's Tips and Tricks
Filling tip: Don't feel like you have to be beholden to this exact filling. As I mentioned above, chicken tinga with cilantro, avocado and some white rice would make an awesome filling. As would some beef barbacoa with queso cheese and diced peppers and onions. Or, for a big twist, make chicken tikka masala and stuff in into a burrito.
Wrapping tip: I pop my tortillas on a plate and into the microwave for about 30 seconds before filling. This helps them to be pliable and keep them from ripping when you roll them. Alternatively, you can also heat them lightly in a dry pan for about a minute.
Oil choice tip: You want to use a fairly flavorless oil for your light pan frying. Avoid olive oil, as it will contrast with pretty much whatever your filling is. Vegetable oil or grapeseed oil works just fine.
Cheese tip: As mentioned above, I (almost) always buy my cheese in blocks and shred it myself. It's easy to do in a food processor

(affiliate)

, but a box grater works as well.
Want to learn pro's tips for awesome recipes? Make pulled pork, mashed potatoes, or a wonderful date night duck breast ramen developed and perfected by professional chefs.
What do I need to make baked chimichangas?
This one is pretty light on equipment. A good frying pan (affiliate) is needed both for preparing your filling and lightly pan frying your burritos. I also recommend a good mixing bowl (affiliate) to allow your mixture to cool in. You'll also want a large baking sheet (affiliate) to cook them up on.
Optionally, I grate a full block of cheese in a food processor (affiliate). I suggest this over shredded cheese, as there's less chance for additives to get into your cheese when it comes whole.
As for ingredients, you'll this recipe calls for:
1 Tbsp olive oil
1 medium yellow onion, diced
salt and pepper, to taste
8 oz white mushrooms, sliced
2 cloves fresh garlic, diced
2 lb Boneless Skinless Chicken thighs, chopped into ½ inch pieces.
8 oz pepper jack cheese, shredded
6 large flour tortillas
1 egg white, for egg wash (plus 1 Tbsp water)
2 Tbsp vegetable oil
When to make baked chimichangas?
This is a great recipe for taco tuesday or cinco de mayo, obviously. The whole thing comes together in about 45 minutes total, so it's definitely doable on a weeknight. Plus, it's easy to scale if you need to make dinner for a small crowd.
How to make baked chimichangas
Chimichanga filling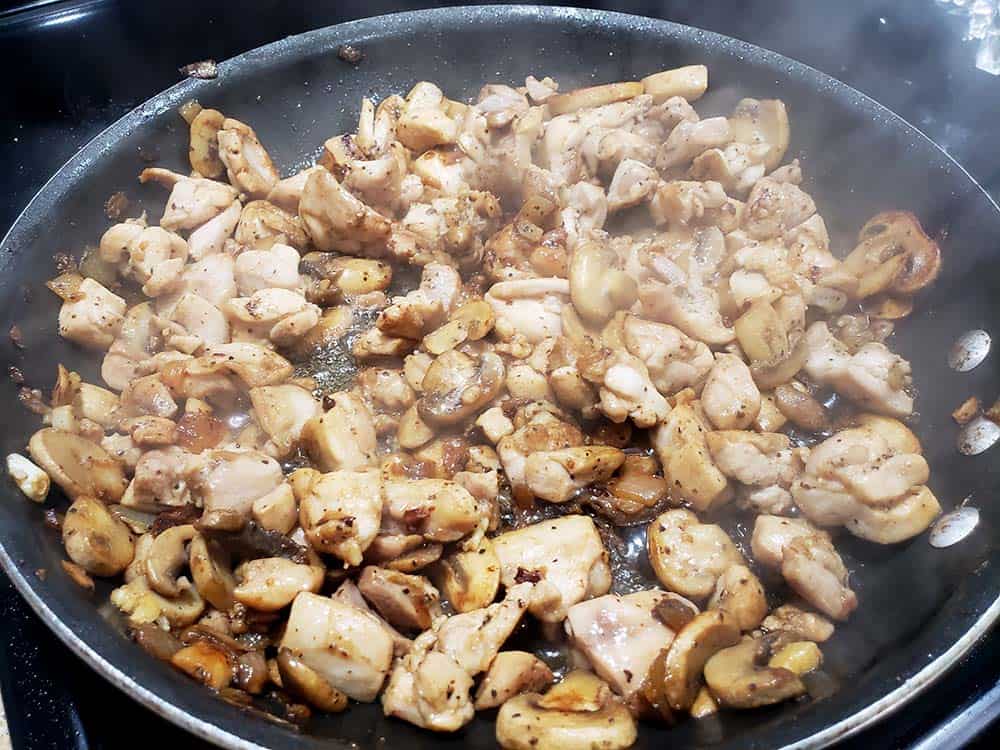 Heat olive oil in a large frying pan (affiliate) over medium-high heat. Add diced onions and season with salt and pepper. Cook until just softened, about three minutes.
Add in mushrooms and garlic and stir together. Mushrooms will release liquid after a couple minutes, and then absorb it all. Allow mushrooms to cook until liquid has evaporated from the pan.
Add diced chicken thighs to the pan and season again with salt and black pepper. Stir together and stir until no longer pink. Add about ¼ cup of water and deglaze the fond - the brown bits from the bottom of the pan. Cook until mushrooms and chicken have begun to brown lightly and move to a bowl.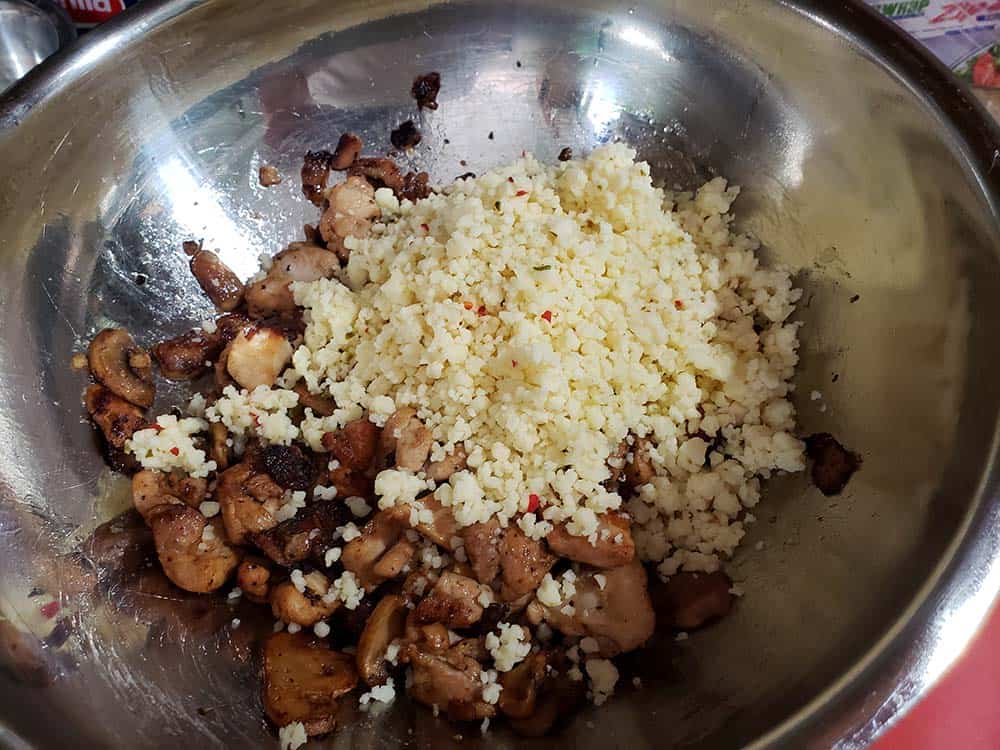 Allow filling to cool before adding pepper jack cheese to it. When I'm in a hurry, I'll place the bowl in the deep freezer for about 10 minutes to speed up the cooling process. When it's cool enough, add shredded cheese to bowl and stir together.
Roll your Chimichangas
Preheat your oven to 350°. Meanwhile, prepare and egg white wash by lightly beating together one egg white and a Tbsp of water.
Heat your tortillas in the microwave for about 30 seconds to help make them pliable. Alternatively, you can heat them in a dry pan over medium for about 30 seconds on each side. Just get them warm, do not brown them.
Place tortilla on a flat surface. Spoon in two healthy spoonfuls of filling directly into center of tortilla. Brush egg white wash around perimeter of the tortilla. To roll, first fold the side of the tortilla in and over the filling. Then, beginning with the side closest to you, roll the tortilla toward the top. Try to roll it fairly tightly around the filling, keeping it in a large cigar shape.
Cook Baked Chimichangas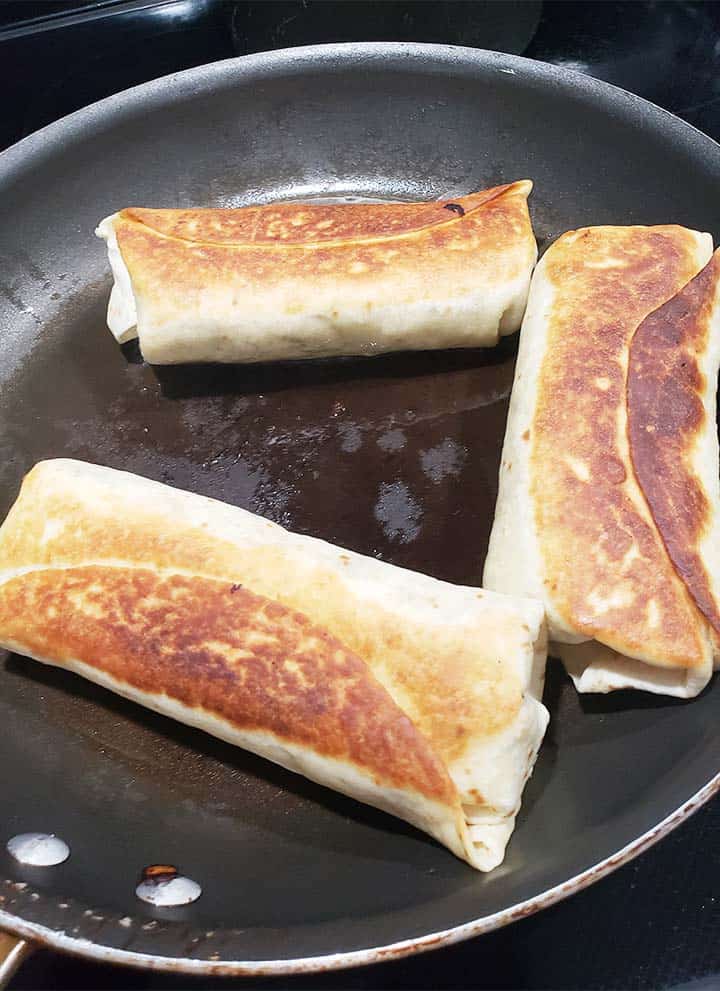 In a large frying pan (affiliate) (you can use the same one if you clean it well), add vegetable oil to pan over medium heat. Place burrito seam side down in the pan and cook until just browned, about 1 minute. Flip and cook on opposite site. Remove to lightly greased baking sheet. I was able to fit three at a time in my pan. Repeat until all burritos are cooked.
Place the chimichangas into the center rack of your oven and cook for 12 minutes, until burritos are lightly browned. Remove and let cool for 5-10 minutes before serving.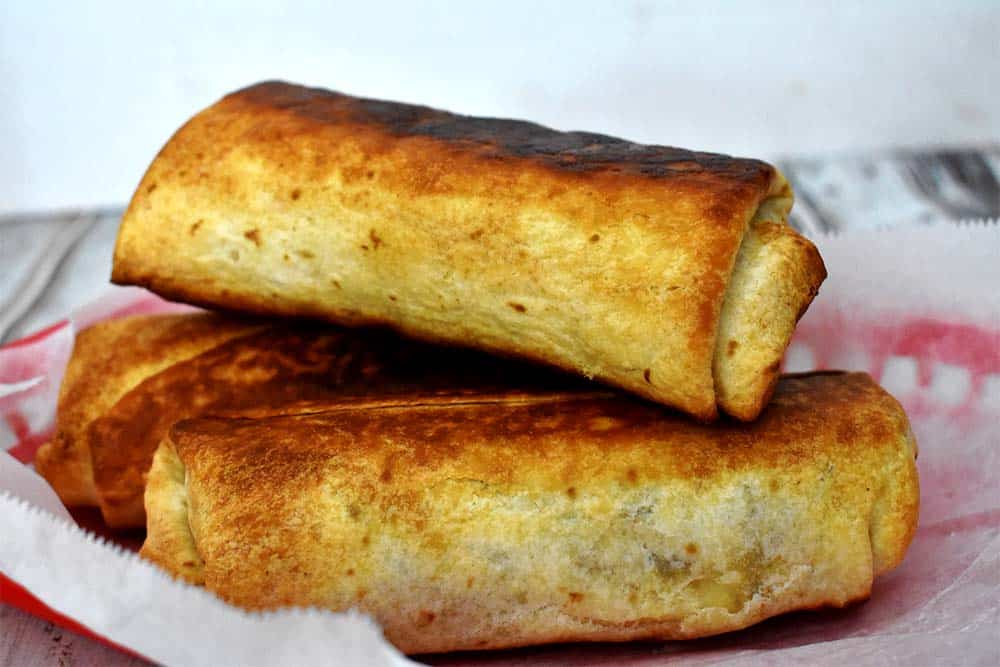 What do to with leftover chimichangas
Leftover baked chimichangas will keep well in the fridge for about 5 days. To reheat, place them in on a greased baking sheet in the center of a 350­° oven for about 10 minutes. I prefer the oven to the microwave as it will help to keep the crispness of the chimichangas.
You might also like...
...this recipe for Healthy Chicken Tinga Tostadas, which makes for a great, healthy Taco Tuesday recipe when made alongside baked stuffed avocados. For a total twist on taco night, try Reuben Tacos, especially if you have leftover corned beef. And if you're hosting a party or tailgate, try your hand at loaded nachos with chorizo, packed full of flavor.
Print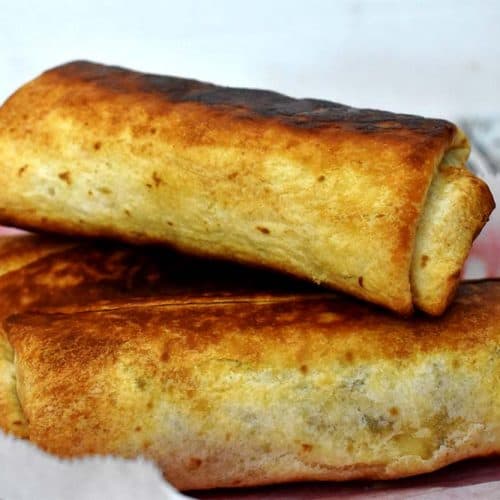 Baked Chicken Chimichangas
---
Author:

Total Time:

40 minutes

Yield:

6

chimichangas

1

x
1 Tbsp

olive oil

1

medium yellow onion, diced
salt and pepper, to taste

8 oz

white mushrooms, sliced

2

cloves fresh garlic, diced

2

lb Boneless Skinless Chicken thighs, chopped into

½

inch pieces.

8 oz

pepper jack cheese, shredded

6

large flour tortillas

1

egg white, for egg wash (plus

1 Tbsp

water)

2 Tbsp

vegetable oil
---
Instructions
SAUTE VEGGIES: Heat olive oil in a large frying pan over medium high heat.  Add diced onions and season with salt and pepper.  Cook until softened, about 3 minutes.  Add mushrooms and garlic and stir everything together.  Cook about 5 minutes, until mushrooms have release and then absorbed liquid.
ADD CHICKEN & MIX: Add diced chicken to the pan and season with another pinch of salt and pepper.  Stir everything together and continue cooking until no longer pink.  Splash in about ¼ cup of water to deglaze the pan, using your spatula to scrape up the brown bits stuck to the pan.  Move to a bowl and allow to cool.  Once cool, add shredded pepper jack cheese and stir together.
STUFF TORTILLAS: Warm tortillas by heating in a microwave for 30 seconds.  Once warm, place on a flat surface.  Brush edges with egg wash all the way around.  Then, spoon two healthy spoonfuls in the center of the tortilla.  To wrap, first fold in sides, then wrap tightly by folding the bottom edge over the filling and wrapping tightly.  It should resemble a very large cigar.  Meanwhile, preheat oven to 350°.
PAN FRY: Add vegetable oil to clean frying pan and heat over medium heat.  Place burritos in pan seam side down, being careful not to overcrowd the pan. Cook until bottom side is lightly browned, about a minute.  Flip and cook until opposite side is browned.  Remove to a lightly greased baking sheet and repeat until all burritos are cooked.
BAKE: Placed burritos in center of oven and cook for about 12 minutes, until tortillas are lightly browned.  Let cool 5 minutes before serving.
Equipment
Prep Time:

5 minutes

Cook Time:

35 minutes

Category:

Main Course

Method:

Baked

Cuisine:

Mexican
Keywords: Mexican Food, Taco Tuesday, Baked Burritos
1