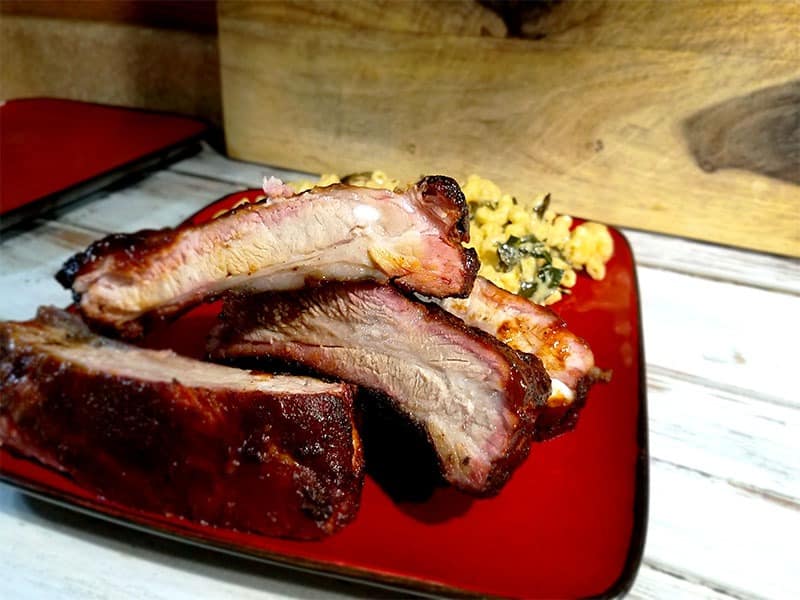 Good, real, authentic barbecue is an endangered species when it comes to the American backyard.  With some patience and a few, easy key steps, you can go from same-old-cookout to "OMG is John making his ribs, we have to go" in a few short hours.  Patience, a good rub and some quality wood is all that separates you and amazing Saint Louis Style Smoked BBQ Ribs that your friends will fawn over.  Grab and wet nap and dive in, you pitmaster you.
When my wife and I were preparing for the arrival of our little one a couple of years ago, it became quickly evident that a new house was needed.  As a frugal-to-a-fault husband, I denied reality for months, until the baby supplies began piling up to the point our living room became an obstacle course.   I asked my wife to start reaching out to a realtor and we were quickly touring houses.  On the shortlist of have-to-have features: A backyard we can entertain with – because I was ready to make some grade-A BBQ.
It's now a couple of year's later and our backyard gets plenty of use by our friends.  Beers are cracked open, the swimming pool is well used and the smoker is always in full swing.  I often set an early alarm on my phone and get the wood started as I put the coffee pot on.  The best ingredient in BBQ is time, so allow for plenty of it.  If you're inpatient, you're not making good barbecue.
Saint Louis Style Smoked BBQ Ribs 101
If you're in the market for a new smoker, I highly recommend one in the style like above.  The key here is that in smoking you can build your fire in the side pod, which will simply feed the smoke toward your meat in the main grill.  All of the flavor without the risk of drying out your meat.
I get my ribs from Costco and I like them a lot.  You can get them pre-seasoning, but I prefer my own BBQ Mud Rub to make the best smoked Saint Louis Style Smoked BBQ Ribs. I get enough to feed a small gathering for $25, double that if you need a second pack.
One of the keys here is to pick the right wood.  Anything that smokes longer than 4 hours will really begin to obtain the flavor of the wood.  Stay away from mesquite and hickory.  Those often have a strong taste and can overpower the meat.  I like pecan or any fruit wood.  Feel free to combine a couple, too.  In the video below, I made it with half cherry and half apple wood.
There are two main methods for smoking.  Some prefer to have a charcoal base and then top it with soaked wood chunks or chips.  You can also go with pure wood and no charcoal.  A charcoal base will hold a higher temperature or longer, while the wood will give you more flavor.  I typically go for all wood, making sure to soak my chunks for 30 minutes before adding them to the fire.
Unless you're in some sort of temp control hell, don't open that lid for the first two hours, at least.  I prefer to let the ribs smoke three hours before ever cracking the hood.  Opening it before hand will only add to your cooking time and take away from the flavor.  Even after that, open it as little as possible.  I cooked these for 6 hours and only opened the lid three times to spray on apple juice.
Speaking of which, don't neglect spraying your Saint Louis Style Smoked BBQ Ribs with apple juice to return moisture to them as they cook.  I prefer juice because the sugar helps to form a flavorful crust then it combines with your rub.
Print
Saint Louis Style Smoked BBQ Ribs
---
Author:

Prep Time:

10 minutes

Cook Time:

360 minutes

Total Time:

370 minutes

Yield:

12

people

1

x
Description
This Saint Louis Style Smoked BBQ Ribs Recipe will make you into the backyard pitmaster all your friends will be jealous of!
---
Scale
Ingredients
MudRub
1/2 Cup

Brown Sugar

3 tbsp

Kosher Salt

1 tbsp

Black Pepper

2 tbsp

Paprika

2 tsp

Garlic Powder

2 tsp

Cumin

1 tsp

Onion Powder

1 tsp

Cayenne Powder

6 tsp

Olive Oil
Ribs
3

racks Pork Spare Ribs
BBQ Sauce (pick your favorite)
Wood (for smoking)

3 tbsp

Worcestershire Sauce
---
Instructions
Mix all rub ingredients together and set aside
Rub Worcestershire Sauce on ribs, then cover each rack of ribs with rub on each side. Rub it in well with your hand.
Preheat smoker to 275. If using a charcoal/wood mix, add in soaked wood chunks. If you plan on using a propane grill, stop and go buy a smoker.
Place ribs on grill away from heat and cover for no less than 2 hours.
After at 3 hours spray ribs with a light amount of apple juice. I do this about once every 90 minutes.
Continue cooking for about 6 hours, or until whenever the ribs are done. if you're not sure, they're done when the meat begins to pull back off the bone. The more they pull the tender they are. If you want fall-off the bone ribs, let them go for 6-8 total hours or until about an inch of bone is exposed at it's widest point.
Bring the ribs inside and place on open sheet of aluminum foil. Squeeze your favorite BBQ sauce on the ribs and cover in foil. Allow them to sit at room temperature for 30 minutes. The ribs will continue to cook and tenderize in the foil, so don't skip this step! Place them in a pan with a lip to catch and juices that may leak from the foil.
Turn the ribs over on a cutting board so that the bones face up. Cut between each rib. Plate them immediately and serve with your favorite southern side dishes like collard greens or mac & cheese.
---
Category:

Dinner, Main Course

Cuisine:

American, BBQ
0