Want to know how to smoke a brisket, but don't know where to start? Learn how to smoke a brisket to get the payoff of a perfectly smoky, buttery soft cut of meat to make those long, patience trying hours worth every bit of sleep you just lost.
For most, learning how to perfectly smoke a beef brisket is a matter of trial and error. For me, it was certainly some trail and a whole lot of error when I first began. I remember the first time I picked up a brisket flat for my local meat counter. I brought it home, slapped it on the grill at high heat and 30 minutes later, I plated up a hockey puck.
But, many trails and a good deal of watching the pros at work have brought me a long way. Now, a few easy – though loooong – steps is all that separates me from a perfectly tender cut of meat. When done right, a perfectly slow smoked brisket can be the best part of the cow.
How to smoke a brisket: What is brisket, anyway?
The brisket is the cut of beef that essentially wraps across the chest of a cow. It begins above the leg and wraps across the chest toward it's belly. It is a naturally a very tough cut of meat. If you cook it quickly, it's going to be very, very tough. But through some masterful low and slow cooking, you can relax the tendons and end up with a buttery soft piece of meat.
The brisket itself is separated into two main parts: the point and the flat. The flat is the most readily available part of the brisket, as many stores will sell this on it's own. The flat is leaner, with a texture closer to sirloin beef. The point sits on top of the flat, primarily offset to one side of the brisket. The point is a fattier piece. It comes out more tender, more similiar to a ribeye. A large swell of fat sits on top of the point. This is the area where "burnt ends" come from. We'll get to that in a bit.
Between the two parts of a brisket is a large layer of fat called the deckle. This is a good point of demarcation between the two parts if you're trying to figure out what the flat ends and the point begins.
How to smoke a brisket: Buying the right brisket
When learning how to smoke a brisket, you first have to know how to buy a brisket. There are a few key things you should look for when buying a brisket:
The brisket should be well marbled. This, of course, means you can see small skinny streaks of white fat running throughout the meat. The best cuts of brisket are marked USDA Prime. It's tough to find prime brisket in a grocery store, but I've found it's available at a reasonable price ($3.99/lb) from Costco.
Secondly, you what a "whole" brisket, meaning one that includes both the point and the flat. The most common type of brisket at a grocery store is only the flat. While that's not bad, you're missing many of the best parts. If you're cooking for a crowd, the full brisket is an absolute must.
Next, you want a brisket with a thick and even flat. Some briskets taper to a skinny flat. We want our brisket to cook as evenly as possible, which we won't get with a tapered, skinny flat. Simply eye it and make sure it's as even as possible down to the end of the flat.
Lastly, how big of a brisket should you get? If you're just making brisket and a couple of sides, you want about a pound of uncooked brisket per person. If you're going potlock style and have plenty of sides, you can reduce that down to about 2/3 pounds per person. I had a potluck recently for our 4th of July party and a 9 1/2 pound brisket fed 13 people almost perfectly – with just enough leftover for some brisket sandwiches the next day.
How to smoke a brisket: The offset smoker
A quick google search will show you instructions on making brisket on a lot of different types of grills. From a charcoal bit to a standard smoker, there's a lot of options out there. None compare to the offset smoker (affiliate), though.
An offset smoker (affiliate) is a pretty standard concept. You get the barrell like design of a smoker, yet the fire itself it kept in a small chamber to the side. This helps to isolate the direct heat from your meat, only giving just enough to smoke your meat like you like it. This will give you the best results.
How to smoke a brisket: Getting the right wood
As for what to smoke, the best brisket comes from oak wood. Oak gives off a more mild taste. Cherry or Pecan is a good alternative, as the fruity notes will come through to your meat with such a long smoke. You want to avoid mesquite or hickory. They are simply too strong for for the amount of time your brisket is going to be immersed in the smoke. It will overpower the taste of your brisket and take away from the final product you'll work so hard to built.
For the best product, you want a good big firewood style wedge of oak wood. Some grocery stores will sell wood chips or chunks. This can work in a pinch, but the temperature will fluctuate more than it will with a nice big chunk of wood. The best way to find this is to look around at your local tree cutting services. They often have a surplus of wood and will sell it to you cheap. I go a couple times a year and fill the back of my SUV up for about $30. Try to avoid pieces with bark, as they will burn hot and fast, which is pretty much what we want to avoid here.
How to smoke brisket: How long do I cook it?
It's important to do the math here before you actually take your brisket to the grill, because it's going to take a long time. The truth about brisket is that it's done when it's done. There's not a set cooking time like you may get with chicken or ribs. That's just the way BBQ works. What you can do is get a range together. A good brisket kept at 250° will cook for between an hour and an hour and a quarter per pound. So, for a 10 lb brisket, it's going to cook for between 10 and and 12.5 hours.
What you will do it monitor the temperature to know what to pull it. You also want the brisket to sit out for an hour before it goes on the grill and rest for an hour after it's done. So, for that 10 LB brisket, that's a total of 14.5 hours of time, meaning you'll be setting an alarm at 4 PM to eat around 6:30 PM.
How to smoke a brisket: Time to trim
Once you're done cursing at your alarm clock for going off at such an unfriendly hour, make your way to the fridge and pull your brisket out. Immediately remove the plastic over the sink, so you can easily discard your juices down the drain. Place on a large clean flat surface for cutting. It's easier to trim a cold brisket, so as soon as it's out of the fridge, get to work.
Grab your favorite boning knife (affiliate) and turn your brisket so that the fatty side is up. Along the flat, trim fat to about 1/4 inch thickness. on the point, you'll leave a little more, about 1/2 inch. In fact, at the very tip of the point, I'll leave it mostly untouched as this side will face my heat source and the fat will help to protect the meat.
Next, you'll notice the deckle that sits between the flat and point. this large flat deposit is pretty much useless to us. Use your knife to trip out most of this. You can't get it all, but try to trim back about 1/2 to 2/3 of it, if possible.
If you got stuck with a brisket where the end of the flat is narrow, you'll want to square it off a little bit. You can save the rest for some sausage if you have a meat grinder (affiliate).
Lastly, there will be a very light layer of silver skin on the meat exposed side of the brisket. Use your knife to get some of this off. You can take awhile to get most of it off if you have the patience/energy. I usually put about five minutes into it and give up.
How to smoke a brisket: Seasoning
A lot of people think a brisket needs a complex rub. But for this, we're keeping it to the bare necessities: salt and pepper. In a shaker, mix together one part course ground pepper to one part kosher salt. Evenly cover the brisket with salt and pepper on all surfaces. You want enough to cover it well, but stop short of caking it on. The picture below is what it should look like all around.
How to smoke a brisket: Light your fire
Once you've trimmed and seasoned your brisket, let it sit out to come to room temperature. While that's going, fill a charcoal chimney about 3/4 of the way and light. This charcoal will cook down and serve as the base for your oak wood. Once it has cooked down slightly, pour the charcoal toward the back of the firebox on your smoker. Place one oak log wedge on top and close top. Open your vent and smokestack to bring the smoker up to 250°. When your smoker is approaching temperature, close the vent about 2/3 of the way. Obviously, each smoker is a little different. You want it to hold steady at 250° for at least 10 minutes before placing your brisket on.
Along with your the wood burning on the coals, place another log closest to the front, making sure it does not come into contact with the burning wood in the rear. This process will pre-heat your next log, which will allow it to quickly combust and avoid a dirty smoke. When you are ready for a new log later in cooking, you'll simply roll the log to the back and replace it with a new one at the front of the firebox.
How to smoke a brisket: Placing the brisket
When the smoker is ready, place the brisket on the opposite side of the smoker from the firebox. Place the brisket fat side up, with the fatty point of the brisket facing closest to the firebox. Meanwhile, place a pan with water in the smoker near the opening to the firebox. This will help keep some moisture in the chamber as it cooks. I typically use a disposable aluminum pan to do this (after ruining a nice mixing bowl (affiliate) the first time).
Lastly, you want to make sure your vent is never fully closed if you can help it. This will cut off oxygen supply to the brisket and result in a "dirty" white smoke. We want to avoid that white smoke as much as possible. A good clean heat is what we want out of our smokestack, which comes from a steady flow of oxygen over our firewood, meat and out through our stack.
How to smoke a brisket: The thermometer
One of the most invaluable tools to slow smoking meat is a wireless dual thermometer. This wonderful tool comes with two thermometers. One monitors the temperature of your smoker while the other monitors your meat. Make sure you get one that alerts you when it exceeds temperature thresholds. This will allow you to get other things done throughout the day without constantly monitoring the temp.
The grill gauge should be placed above the grate just next to end of the brisket facing the grill. The probe that goes into the meat should be inserted along the top of the brisket, as close to the middle of the brisket as possible. I set my temp thresholds for the grill to 240° and 260°, so it will beep at me when it goes off and I know to tend to my fire before it gets out of hand. Your meat temperature gauge should be set to 195°.
If you're lookin', you ain't cookin
If there's one truth to smoking a proper brisket, it's that you're not going to smoke anything with a lid open. We work hard to build and maintain that constant temperature. Every time we open the lid, you immediately lose that heat. No beuno. You want to keep that lid closed for a minimum of 2 hours. I try not to crack it for at least the first three hours. I simply open it then to check the meat and make sure it's begun to develop a mahogony-ish red bark and to refill the water pan, if needed. Then close it and let it go. After all, you'll dual thermometer will let you know how your meat is cooking.
How to smoke a brisket: Mind the stall
For the first few hours, you'll notice a steady climb in temperature in your brisket. It'll come from room temp to about 120° pretty before too long and continue to climb from there. But at a point between 150° and 160°, that climb will stall, often for hours. First thing's first, understand and expect this. What's happening during this window is your brisket is shrinking and losing some excess moisture. If you pull it at this point, you're going to have a hockey puck of meat. Instead, simply continue to keep the temperature steady at 250° until it begins to rise again.
How to smoke a brisket: Avoid a bad wrap
A lot of brisket recipes out there will suggest that you wrap it around the point of the stall. What this does is steam the brisket and allow it to get to temperature quicker. While this is an option if you're running woefully behind on time, it won't yield the best result. Steaming simply does not equate to smoking. You'll lose some of the flavor and texture that comes with a long, disciplined smoke. The best brisket comes from patience, so avoid a wrap if you can help it.
How to smoke a brisket: Pull and rest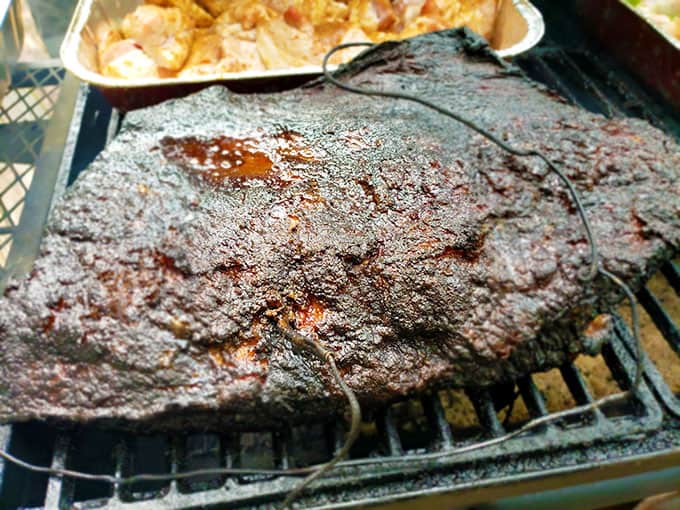 Your brisket is ready to pull when it reaches an internal temp of 200°. If it's done earlier than expected and you have over two hours left, wrap it in towels and place it in a cooler to rest. If it's under two hours until I serve, I'll place mine in an aluminum serving tray and cover it with foil. Your brisket should rest for a minimum of one hours, but can rest for up to 4-5 in a cooler and maintain temperature. Rule of thumb: 1-2 hours, cover and rest it at room temp. 2-5 hours, towel it and let it rest in a cooler.
How to smoke a brisket: How to cut
If you've read this far, good on ya. If you're still a little confused, watch this Youtube series from Austin Texas BBQ Master Aaron Franklin, where you'll learn how to make the brisket above.
Okay, we've made it this far, let's cut this bad boy. Use a long serrated knife and begin by cutting the flat of the brisket. You want to cut against the grain to avoid drying out the brisket. To do this, cut in a fan shape from around the brisket. Cut brisket into 1/4 inch slices, about the thickness of a No. 2 pencil. Make sure to cut in deliberate, long strokes to help maintain the integrity of the brisket's bark. You just spent half a day building that bark – make sure you don't lose it here!
Continue cutting until you reach the fatty point part of the brisket. Then, turn the brisket a 90 degrees and continue slicing, this time in slightly larger slices – about 1/3 of an inch. Serve brisket immediately after cutting. Personally, I don't think a well cooked brisket needs any sauce, but I won't hold it against you if you serve it with your favorite sweet BBQ sauce.
Serve this along some of my favorite BBQ side dishes, like Smoked Gouda Mac and Cheese or Smoked Stuffed Jalapenos.
Print
How To Smoke A Brisket
---
Author:

Prep Time:

60 minutes

Cook Time:

720 minutes

Total Time:

780 minutes

Yield:

12

1

x
Scale
Ingredients
1

whole beef brisket
kosher salt
course ground black pepper
---
Instructions
Trim & Season
Remove brisket from fridge and trim. Beginning by flipping brisket so fat side is facing up. Along brisket flat, trim fat to about 1/4 inch thickness. Along brisket point, leave about 1/2 inch of fat to protect against heat.
Next, trim deckle as much as possible, removing excess fat and discarding.
Lastly, if you're brisket has a narrow flat, square it off as best you can so that the flat is as evenly thick as possible.
Season brisket all over with even parts kosher salt and course ground black pepper. You want to cover it well, but do not cake the salt and pepper. A medium amount works fine.
Cook
Fill charcoal chimney with charcoal and light. Once cooked over, place coals at back of firebox in offset smoker

(affiliate)

. Place large chunk of oak wood on top and bring temperature of smoker to 250°. Place another chunk of firewood at front of firebox to preheat, making sure it does not contact the burning wood in the back of box.
When temperature is steadily at 250° place brisket in smoke chamber on opposite side of firebox. Place fat side up with the fatty point side of the brisket facing the firebox.
Arrange dual thermometer so that the grill gauge is next to the meat closest to the firebox and the meat gauge is implanted on the top side of the brisket through the center.
Place a water pan nearest to the firebox and close lid. Do not open lid for minimum of 3 hours. Only open to check on brisket bark and to refill water pan, as needed. You want to open the lid as little as possible.
Maintain temperature at 250° as brisket steadily rises. When fire is ready for a new log, simply roll the pre-heated log to the back of the chamber and add another to the front of the firebox to pre-heat.
Note that brisket temperature will stall at about 150° to 160° for a few hours. This is fine, simply maintain the same 250° as it continues to raise. Allow brisket to continue to cooking until it reaches 200° internal temp and pull.
Brisket should rest for minimum of 1 hour. If serving within two hours, place in large aluminum serving tray and cover with foil, then rest at room temp. If serving between 2-5 hours later, wrap in a towel and place in an empty cooler.
Cut
Cut brisket against the grain. Begin with the flat and cut with a long serrated knife in a fan shaped pattern in 1/4 inch slices. When you reach the point, turn the brisket 90° and continue cutting, only in slightly larger (1/3 inch) pieces.
Serve immediately after cutting.
---
Category:

Main Course

Cuisine:

American, BBQ
0