Sometimes, breakfast calls for comfort food, too. See why Biscuits and Gravy is the South's favorite comfort breakfast with this easy to follow recipe.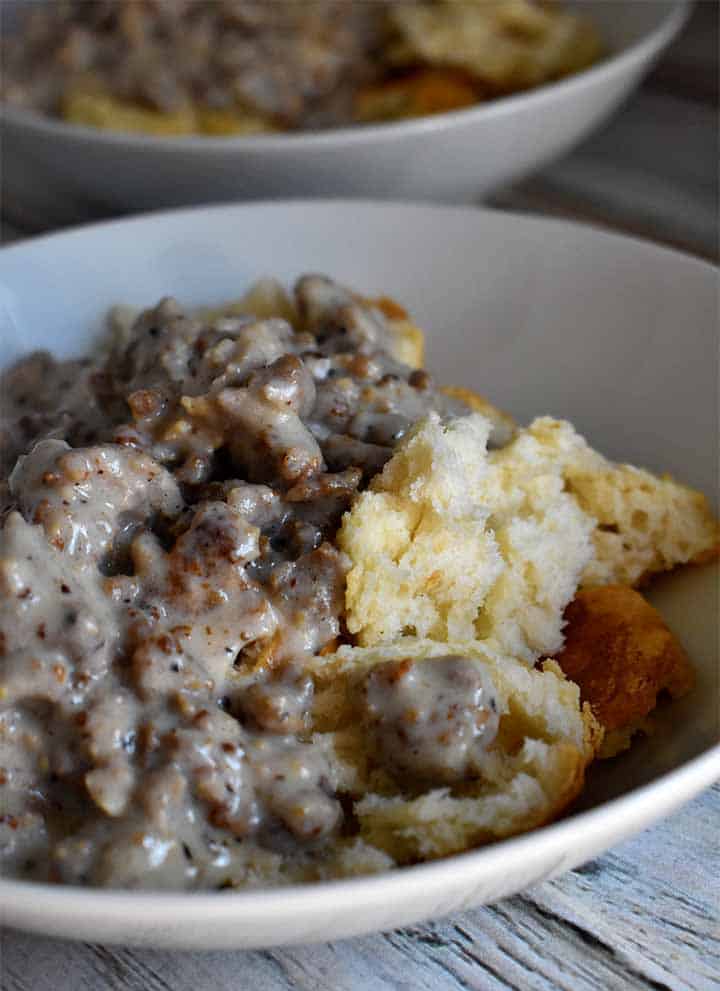 What are Biscuits and Gravy?
Biscuits and Gravy is a very popular recipe in the South. You'll make a delicious, yet simple milk-based gravy bacon, sausage and shallots. Make a simple roux from the meat's drippings with flour, thicken it with milk and simmer to meld all the flavors together. Spoon the gravy over buttermilk biscuits for a delicious and filling breakfast.
Why I love this recipe
Tons of meaty, comforting flavor is spread throughout this dish. The bacon and sausage provide a ton of flavor while the pepper provides a subtle heat. The end result is breakfast food perfected.
Just want the recipe already? Scroll to the bottom of the page for the recipe card! Then, let us know what you think by leaving a rating and comment at the bottom of the page.
Mike's Recipe Rundown
Taste: The savory flavors of breakfast sausage and bacon penetrate every inch of this dish, infusing into the gravy and seeping into the biscuits. Course ground black pepper provides just a touch of heat, while shallots provide a subtle acidity to lighten things up.
Texture: A warm, creamy gravy served over flaky buttermilk biscuits. It's a big, satisfying bite that is sure to leave you full.
Difficulty - Medium: The recipe itself is pretty straight forward. Cook the meat, mix the roux, add the milk and simmer to perfection. However, you need to observe a few key steps (such as making sure to stir it consistently to avoid burning). Stick to the recipe below and you'll be just fine!
Pros: This may just be the favorite Sunday brunch in our house, especially when it's chilly outside. A pure warm-you-from-the-inside-out kind of meal.
Cons: You probably won't find this in your New Year's Resolution weight loss meal guide. Because of that, it's more of an occasional indulgence than a regular meal.
Would I make it again? Oh yeah! Biscuits and Gravy are a once-in-awhile indulgence, sure, but you'll love making them when you can!
Find out why people love our most popular recipes, like Sous Vide Pork Tenderloin, Instant Pot Chicken a la King and Homemade Beef Stroganoff. When it's burning hot in Tallahassee, I love to pop some Arnold Palmer Popsicles in the freezer, or cool off with Pomegranate Margaritas.
Tips and Tricks
Obviously you can make your buttermilk biscuits from scratch, but I usually don't have the time or energy for that before breakfast. Because of that, I opt for the frozen Grands Buttermilk Biscuits. About 18 minutes to cook and basically foolproof. Plus, it times out about right if you throw these in the oven when you start your gravy.
Bulk breakfast sausage is the way to go here. You can always buy links and unwrap them from the casing, but that's extra work we don't want. Personally, I love the bulk breakfast sausage available at the meat counter from Whole Foods. It's perfectly seasoned and just a touch sweet, which goes great with this gravy.
A.B.S. Always Be Stirring. While your gravy is cooking, consistently stir it with a whisk or large spoon, always making sure to scrape the bottom as you go. This will keep the flour from burning to the bottom for the pan. Also, make sure to reduce the heat to a low simmer as soon as it comes to a boil, for the same reason.
Let's stay in touch. Follow me on Instagram and check out what we're up to on Pinterest. Support this site, follow the link and buy stuff on Amazon (affiliate).
What you need to make Biscuits and Gravy
Basically, any pan with high sides will do. You can use a quality saucepan and cook everything together. I typically use a wide pot or saute pan (affiliate) to make mine. If find my gravy cooks a little faster if it's wide and shallow.
As for ingredients, you'll want:
2 Tbsp butter
2 strips Thick Cut Bacon, chopped
1 lb bulk breakfast sausage
1 shallot, sliced
⅓ cup flour
2 cups whole milk, give or take
salt and coarse ground pepper, to taste
8 Grands Buttermilk Biscuits, frozen
How to make Biscuits and Gravy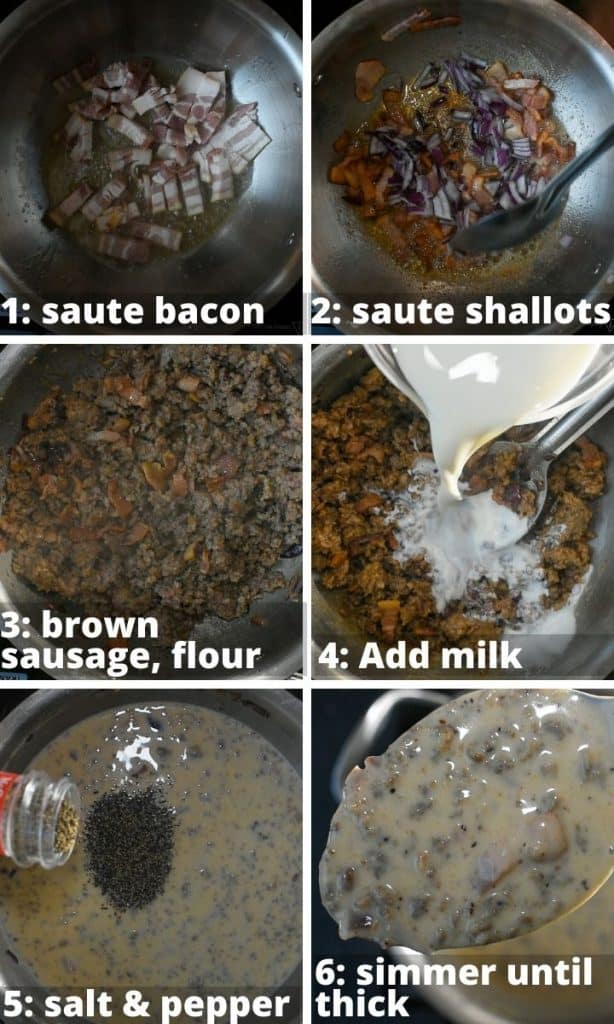 Begin by preheating your oven and cooking the biscuits according to the direction on the package. You want to toss them in the oven at the point where you begin cooking your sausage (below)
Preheat a pan over medium heat. Add butter and melt. Next, add your thick cut bacon and cook until bacon turn just a bit crispy, about 5 minutes. Add breakfast sausage and sliced shallots. Using the end of your spatula or spoon, break the sausage into small pieces. Continue cooking and stirring occasionally until sausage is no longer pin, about another 5 minutes.
Now, add flour to pan and together with pan drippings. Cook for 2 minutes to toast the flour slightly, then add whole milk, one half cup at a time. At first, the milk will absorb into the flour pretty quickly. Allow to absorb until it thickens up into a roux again, then add next ½ cup. Continue adding milk you've it's all in the pot, stirring in as you go.
Once you've added all the milk, gradually bring the mixture to a boil, continuing to stir. When it reaches a boil, reduce heat to simmer. Add a pinch of salt and coarse ground black pepper and stir together. Continue to simmer, stirring consistently for 15 minutes for flavors to mold.
To serve, spoon over broken up biscuits. Eat immediately after serving. You can also make this slightly ahead of time and keep it warm over low heat on the stove. Only plate the dish when folks are ready to eat.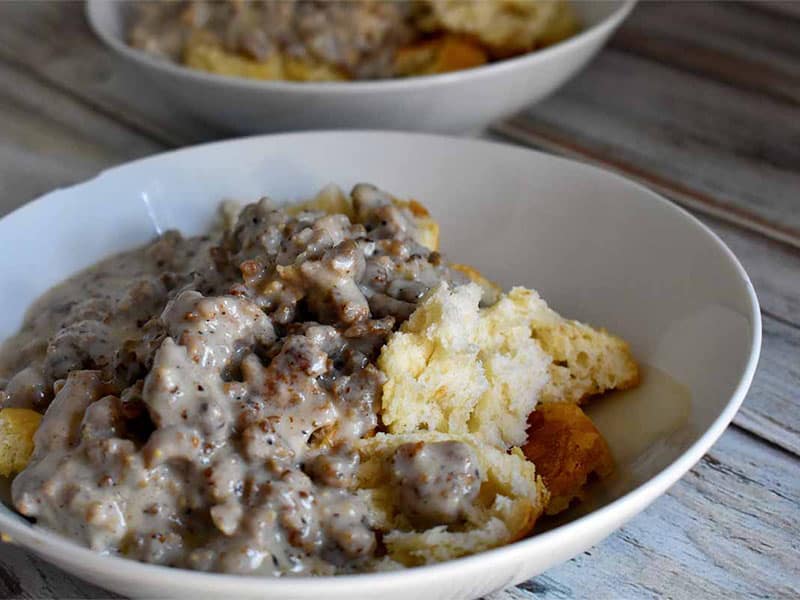 You may also like...
...another southern favorite, our collard greens with bacon, which you can take to the next level with out smoked gouda mac and cheese. This also makes for a great meal while you're waiting out an all-day smoked brisket on the grill.
Print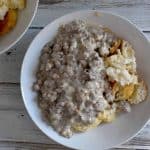 Southern Biscuits and Sausage Gravy
---
Author:

Total Time:

30 minutes

Yield:

8

servings

1

x
Description
Sausage and bacon in a milk-based gravy over buttermilk biscuits.  The ultimate southern breakfast food.
---
2 Tbsp

butter

2

strips Thick Cut Bacon, chopped

1

lb bulk breakfast sausage

1

shallot, sliced

⅓ cup

flour

3 cups

whole milk, give or take
salt and coarse ground pepper, to taste

8

Grands Buttermilk Biscuits, frozen
---
Instructions
MAKE BISCUITS: Preheat oven and begin baking biscuits according to directions on package.
COOK MEATS: Heat a pan with high sides over medium heat.  Melt butter then add thick cut bacon.  Cook until bacon is brown and just crispy.  Add in bulk breakfast sausage and shallots.  Mix together, breaking the sausage up into small bits with the end of your spatula.  Continue cooking, stirring occasionally, until sausage is no longer pink.
MAKE GRAVY:  Add flour to pan and stir into pan drippings.  Cook for two minutes to toast flour, continuing to stir.  Now, gradually add in milk, ½ cup at a time.  Stir first three additions until soaked up by the flour and become thick, then add the next.  When you add the last, whisk in and bring to a boil.  Immediately reduce to a simmer and add salt and coarse ground black pepper, stirring everything as you go.  Simmer for 15 minutes, continue to stir, making sure to scrape the bottom of the pan as you do.
TO SERVE: After 15 minutes, remove pan from heat.  Taste and adjust salt and pepper as needed.  Spoon a generous portion over biscuits and enjoy!
Prep Time:

5 minutes

Cook Time:

25 minutes

Category:

Breakfast

Method:

Stovetop

Cuisine:

American
Keywords: Southern Food, Comfort Food, Family Breakfast
1