What's better than a delicious BLT sandwich? A party-pleasing BLT Pasta Salad. A super simple dish to make in advance and set out for everyone to enjoy. Learn how to make this BLT Pasta salad with this easy to follow recipe.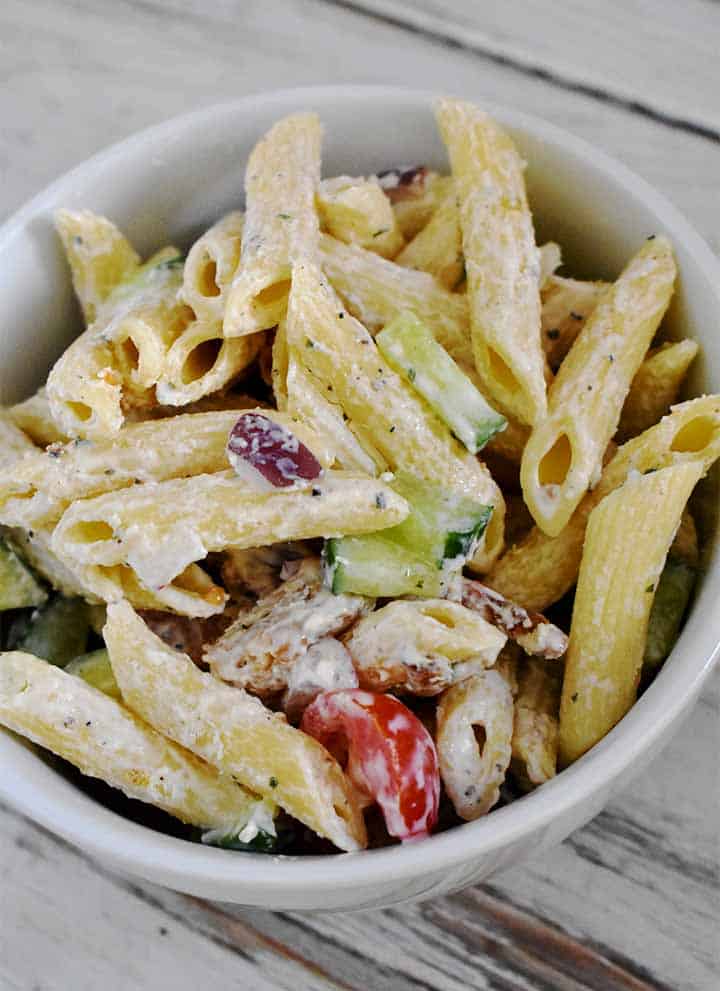 Mike's Recipe Rundown
Taste: An awesome blend of ranch and bacon throughout, with fresh veggies and a hint of lemon to brighten things up with just a taste of acid.
Texture: Creamy sauce with the crunch of fresh veggies and hearty bite pasta. I prefer penne pasta for a good bite, but you can get creative if you want another shaped noodle instead. Let it sit for a day for the yogurt to solidify a bit. The bacon and veggies add just a bit of crispness for a nice contrast.
Difficulty - SUPER EASY! If own a spoon and a bowl, you can pull this one off!
Pros: An awesome salad any time of year. Pasta salad is especially nice for summer cookouts or football tailgates, and this fits the mold for either of those. It's sure to be a party favorite! Plus, by subbing greek yogurt in for mayo and ranch dressing, we're saving a ton of fat and calories.
Cons: Make sure to make this a day ahead of time as it really gets better after sitting for a day. The flavor spreads out more evenly and the yogurt solidifies into a nice, creamy sauce.
Would I make it again? YES! This is a favorite dish to put out when I'm having a group over for a summer pool party or tailgating before a big game!
Find out why people love our most popular recipes, like Sous Vide Pork Tenderloin, Instant Pot Chicken a la King and Homemade Beef Stroganoff. When it's burning hot in Tallahassee, I love to pop some Arnold Palmer Popsicles in the freezer, or cool off with Pomegranate Margaritas.
BLT Pasta Salad Tips and Tricks
For the best results, get whole milk greek yogurt. The thickness gives you a better end result. If you really want to go above and beyond, drain your yogurt in a cheesecloth or yogurt strainer overnight beforehand. But, I think it's just fine without that step.
I prefer to use thick cut bacon for this salad. I absolutely love the Kirkland Thick Cut Bacon from Costco. It has the perfect amount of smokiness that cuts well through the yogurt dressing. If you don't have a Costco membership, some good thick cut smoky bacon is what you want. Wright Brand Bacon is a good alternate.
I'll repeat this several times before we're done, but it can't be said enough: You want to make the salad the night before your party. This allows the yogurt to thicken up a little bit and cling to everything. It really makes a huge difference.
Here's a tip to take away the harshness of your onion. Once you've chopped your onion, place them in a bowl of cold water and into the fridge for 30 minutes. The water will help to extract a lot of the acid, leaving you with a more mellow bite.
Serving this at a party where it's going to sit out for awhile? here's a tip to keep things cool. Grab two mixing bowls, one slightly smaller than the other. Pour pasta salad into the smaller bowl. Fill the larger bowl about ¼ of the way with ice and a couple cups of water. Place the bowl with the pasta salad on top of the ice in the larger bowl to keep cold. You may need to periodically check on this and replace the ice as needed.
Check out some of our other great recipes, like cajun shrimp and grits, smoked gouda mac and cheese, chicken tikka masala, or 29-hour, super tender sous vide chuck roast. Or, try one of my wife's favorites, my Bacon Lamb Sliders which are 100% flavor-bombs. .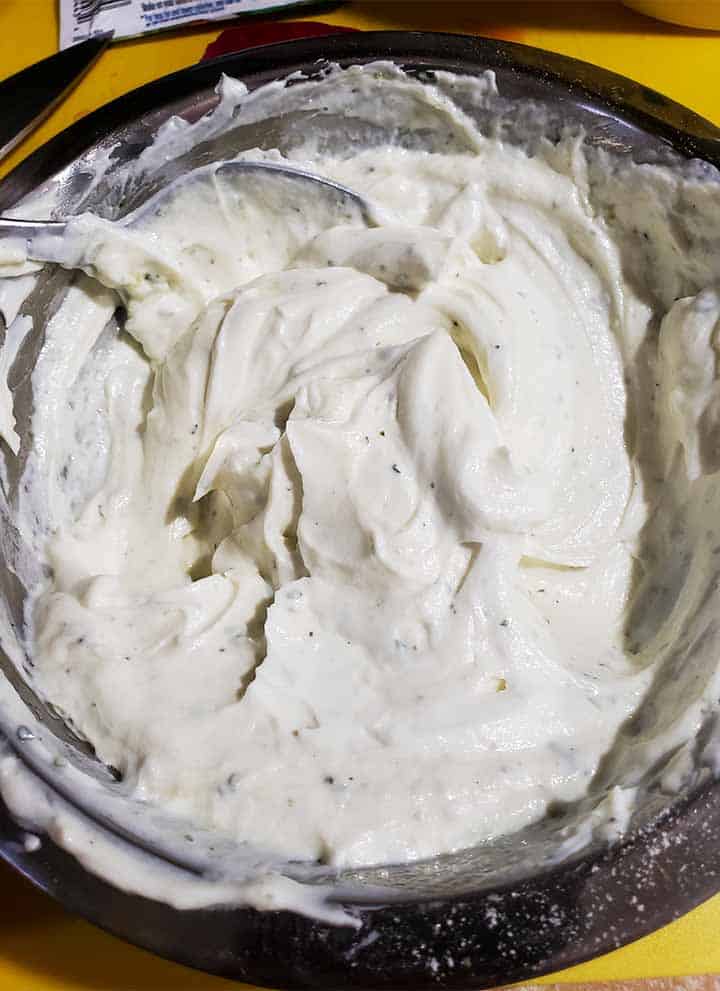 What you need to make BLT Pasta Salad
This is pretty straight forward. First, you obviously want a solid frying pan (affiliate) for cooking your bacon. From there, a good mixing bowl (affiliate) is needed to, you know, mix. For space purposes, I store my salad in a ziploc bag overnight in the fridge before it goes in a serving bowl when it's party time!
Need an awesome meal planning tool? Easily import this recipe to Plan To Eat (affiliate), schedule it and get your grocery list right on your phone. Get a 30-day free trial (affiliate) with no credit card required.
When to make BLT Pasta Salad
This is a great recipe to make when having people over for a backyard party. Perfect for summertime, but it's great in the fall and winter too. Try this easy recipe if your tailgating or hosting a Super Bowl party as well.
How to make BLT Pasta Salad
Cook Pasta
Cook penne pasta according to instructions on package. I typically shoot for a firmer noodle, so I'm on the lower time setting. That means if it says 8-10 minutes, I'm almost always pulling it after 8.
When pasta is cooked, remove to a strainer and rinse with cold water. This will help to cool the noodles down and stop the cooking process. When noodles have cooled, pour into a mixing bowl (affiliate) and place in the fridge for 30 minutes.
Cook Bacon
Before turning on heat, place thick cut bacon in a cold frying pan (affiliate). Place pan on burner and turn burner to medium heat. Placing it in a cool pan like this will help to render the fat and leave us with good, crispy bacon. Plus, you can always save the fat to cook with later.
Cook bacon until underside is just browned, then flip over to finish. With There should still be a decent amount of chew left in the bacon when it's finished. Remove to a plate with paper towel to soak up excess fat. Let it cool at room temp for 5 minutes, then pat dry with more paper towel. Place in freezer for 5 more minutes to take all the heat out.
Mix!
Remove mixing bowl (affiliate) from fridge. Add chopped english cucumber, quartered grape tomatoes and diced red onion to mixing bowl. Remove bacon from freezer and chop into small pieces, adding them to the bowl.
In a separate bowl, stit together greek yogurt, ranch seasoning and lemon zest. Spoon yogurt dressing into the bowl. Using a large mixing spoon, mix everything together until all noodles and veggies are covered with dressing. Pour pasta salad into a ziploc bag and store in the fridge overnight.
To serve, simply dump the bag into a serving bowl and make a serving spoon available for people to serve themselves.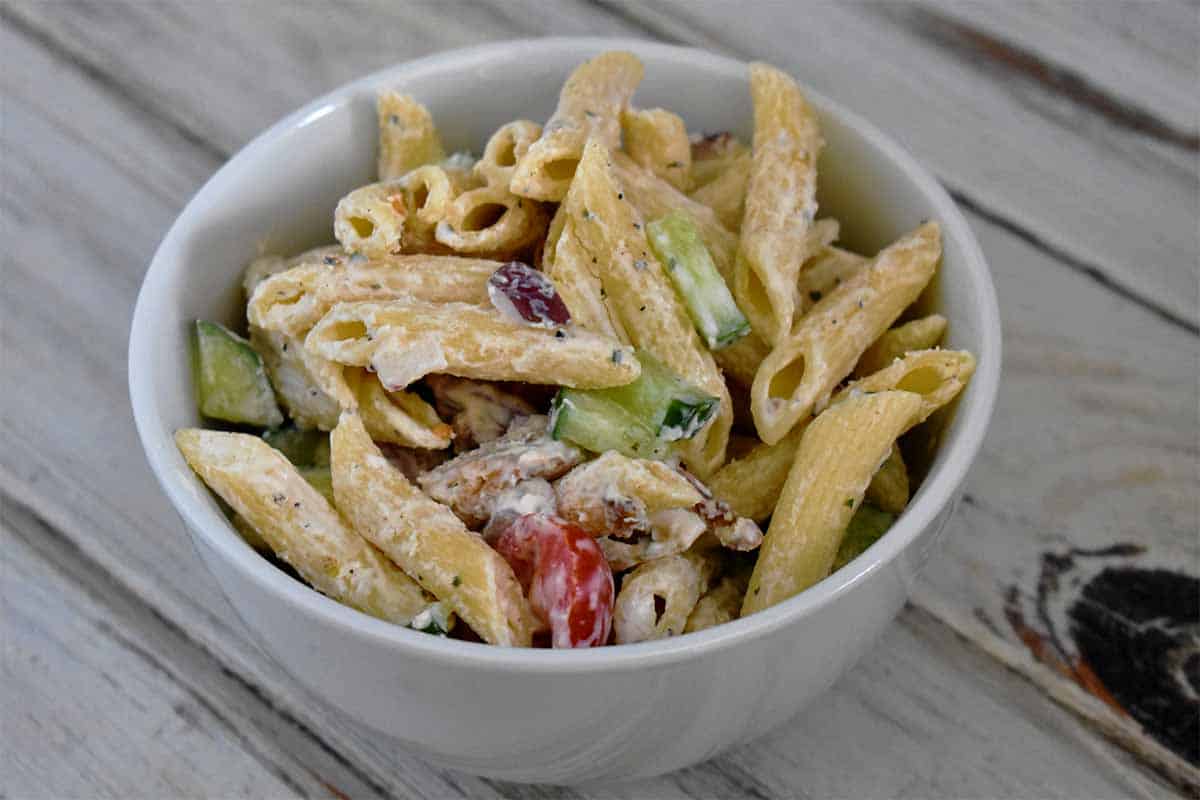 Check out our latest recipes
Print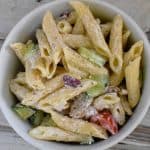 BLT Pasta Salad
---
Author:

Total Time:

25 minutes

Yield:

8

servings

1

x
Description
Greek Yogurt and Ranch Seasoning bring the flavor in this BLT Pasta Salad.  Great for parties!
---
16 oz

penne pasta

5

strips thick cut bacon

1

english cucumber, chopped into

¼

inch pieces

2 cups

grape tomatoes, cut into quarters

¼

red onion, diced

1 cup

whole milk greek yogurt

1

packet ranch seasoning

1

lemon (zest only)
---
Instructions
PASTA: Cook pasta according to direction on package.  Strain and rinse with cold water.  Transfer to a mixing bowl and stick in fridge for at least 30 minutes to cool
BACON: Cook bacon in frying pan.  Flip over halfway through.  Remove to a plate with paper towel.  Let rest 5 minutes at room temperature.  Dab with a paper towel to soak up excess fat and transfer to freezer for 5 minutes to cool.
SALAD: Remove pasta from fridge.  Add in english cucumber, grape tomatoes and red onion.  In separate bowl, mix together greek yogurt, ranch seasoning and lemon zest.  Stir well, then dump into mixing bowl.  Stir everything together until all noodles and veggies are covered.
REFRIGERATE OVERNIGHT: Transfer pasta salad into a Ziploc bag and place in fridge overnight.  To serve, simply dump out of bag and into a serving bowl.  Enjoy!
Equipment
Notes
Refrigerating the pasta salad overnight is a must!  It makes a huge difference as the ranch yogurt dressing really sticks to the pasta and veggies after resting.  So, plan on making it a day before you put it out to eat.
Prep Time:

10 minutes

Cook Time:

15 minutes

Category:

Side Dish

Method:

Mixing

Cuisine:

American
Keywords: Potluck Dish, Party Recipe, Pasta Salad
0