Who needs a hot pocket when you can make these bits of cheesy, chicken and broccoli goodness easily on your own? Cheesy Chicken Broccoli Empanadas are an awesome take a on a kid friendly treat.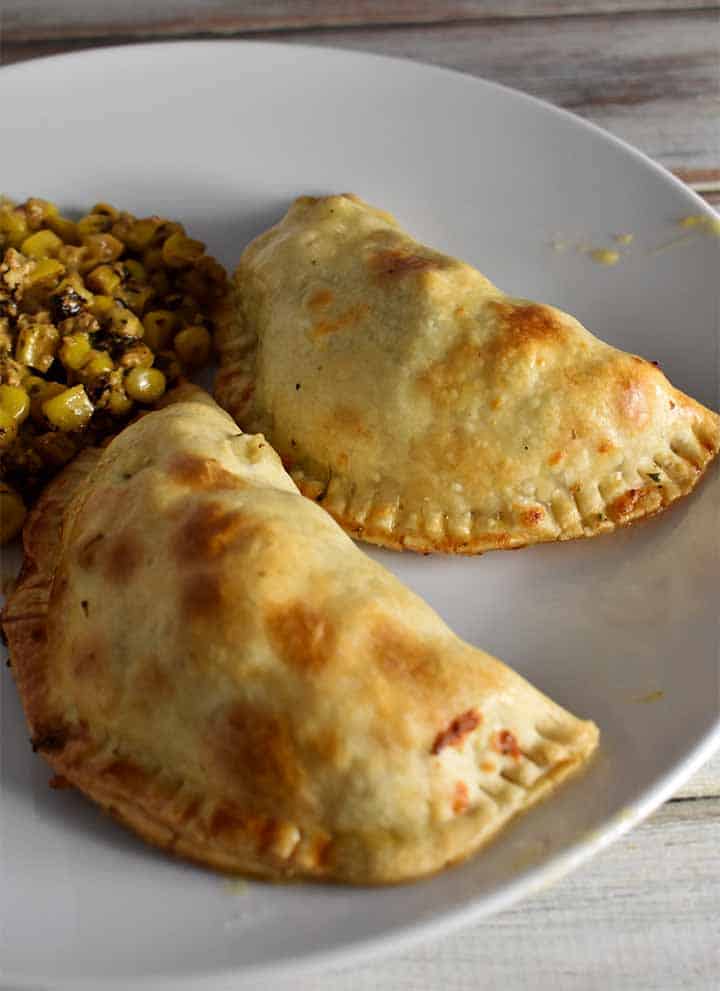 Mike's Recipe Rundown
Taste: It's that savory combo of Chicken, Broccoli and Cheddar cheese that you've come to love. Pack in some veggies without your kids even knowing about it with this awesome nutritious dinner recipe.
Texture: A flaky, crisp crust gives way to a cheesy, warm filling. The bacon adds some additional smoky depth that really makes this a wonderful bite for the pallet.
Difficulty - Easy! The key to making this easy is the store bought empanada discos. They're quality, perfectly shaped and easy to thaw, lay out and fill. Simply master filling and crimping the crust and you're in business. My four-year-old daughter helps me fill them, and getting her involved is so much fun.
Pros: Awesome for several occasions. Makes a great dinner the whole family will love. Plus, as a great handheld these makes an awesome football party recipe.
Cons: They're best served fresh, in order to get the maximum flakiness. They lose some of their best parts if you bake them and let them sit for a bit before eating.
Would I make it again - DEFINITELY! These are an awesome take on taco night and the my family - which includes pre-school, college students and us old folks =) - all love them.

Chicken Broccoli Empanadas Tips and Tricks
Go ahead and prep these on a Sunday for a quick weeknight dinner. Simply prep them, place them on a baking sheet and pop them in the freezer for a couple hours. Transfer them to a freezer safe bag and freeze until ready. When it's time to cook, remove them from the bag, place them on a lightly greased sheet and bake them for about 7 minutes longer than this recipe calls for. They're done when they are golden brown and warmed through.
Feel free to get creative with your fillings. Some buffalo chicken and blue cheese would make an awesome tailgate recipe. Roast beef or thinly shaved ribeye steak with peppers, onions and pepper jack cheese would make for a great philly cheesesteak empanada. Yum!
We're going with baked empanadas for this recipe, but an air fryer

(affiliate)

is a solid way to go as well. Simply place the formed empanadas in the fryer and cook at 325° for about 8 minutes.
Let's stay in touch. Follow me on Instagram and check out what we're up to on Pinterest. Support this site, follow the link and buy stuff on Amazon (affiliate).
How to make Cheesy Chicken Broccoli Empanadas
Make Filling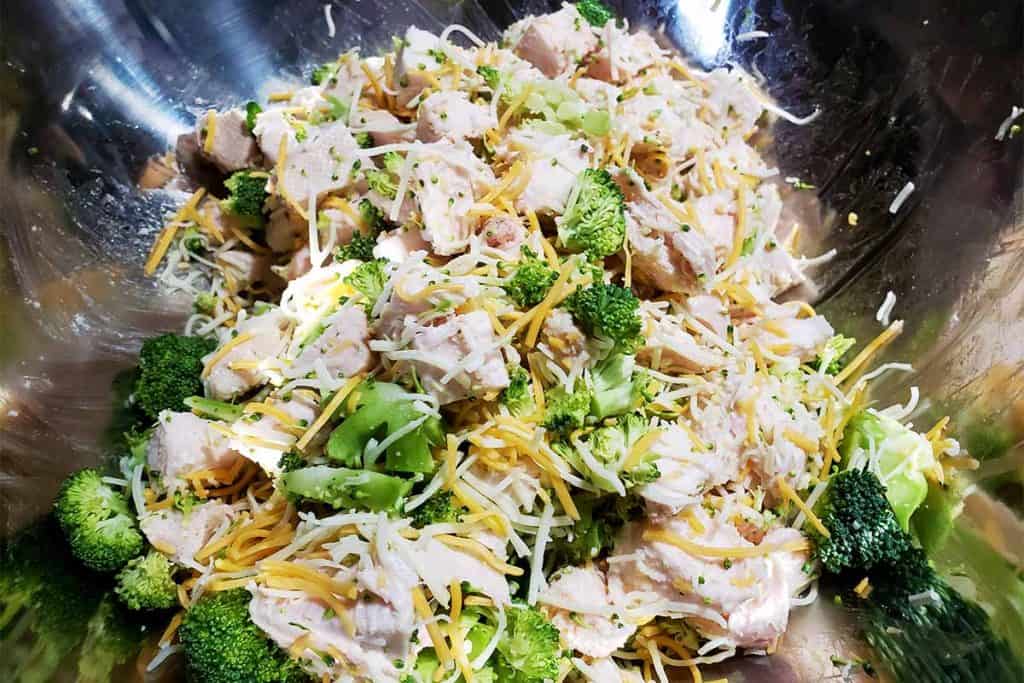 First thing is first, it's important that all the ingredients are cooled before they are chopped and added to the bowl. These will make sure the cheese melts in the oven and not in the mixing bowl (affiliate). The best route to go is to cook your chicken and bacon in advance and put it in the fridge until fully cooled.
Add chicken and bacon to mixing bowl. Chop broccoli stalk into small florets with finely diced stalk. Add chopped carrots along with salt, pepper and garlic powder. Spoon in sour cream and mix everything together well. Place in fridge until ready to fill.
There's some other great recipes you'll love, too. Like easy Instant Pot Mac and Cheese, perfect Pulled Pork or Parmesan Crusted Chicken. Right now my favorite comfort food recipe is the Kentucky Hot Brown, which goes great alongside a tasty Mint Julep.
Filling Empanadas
At this point, preheat your oven to 375°.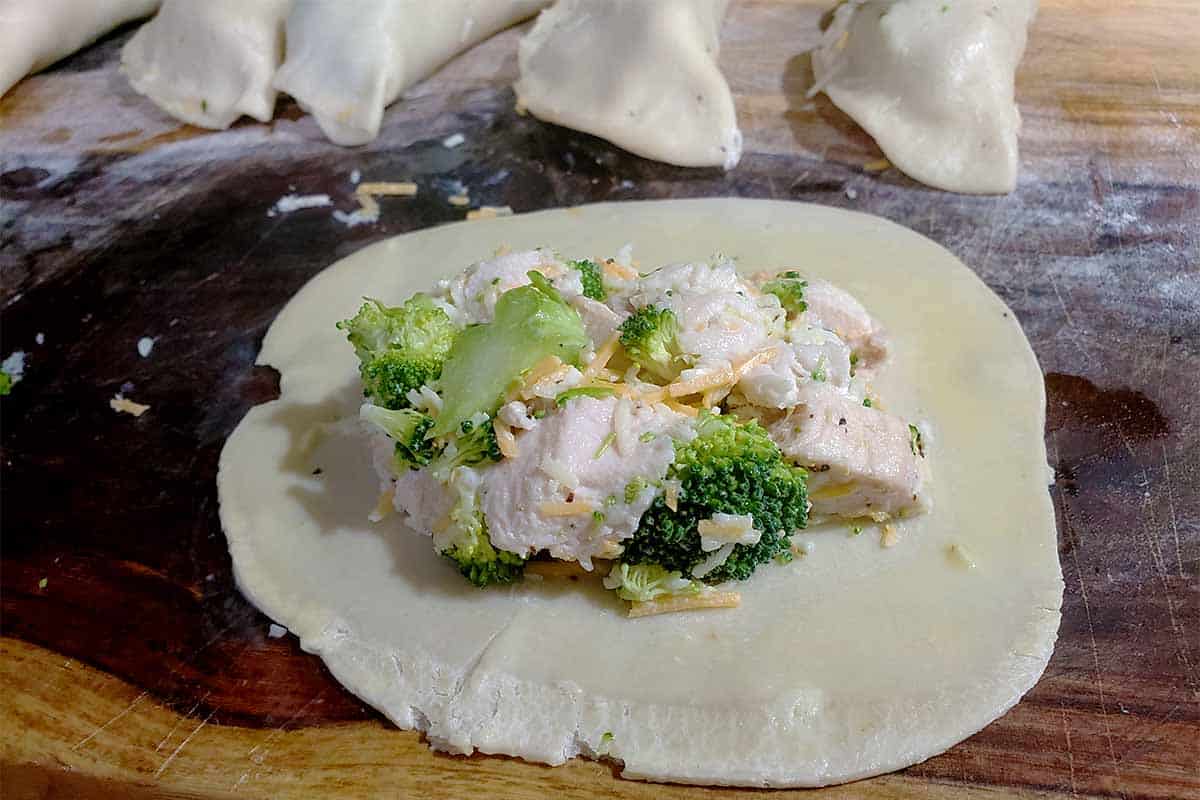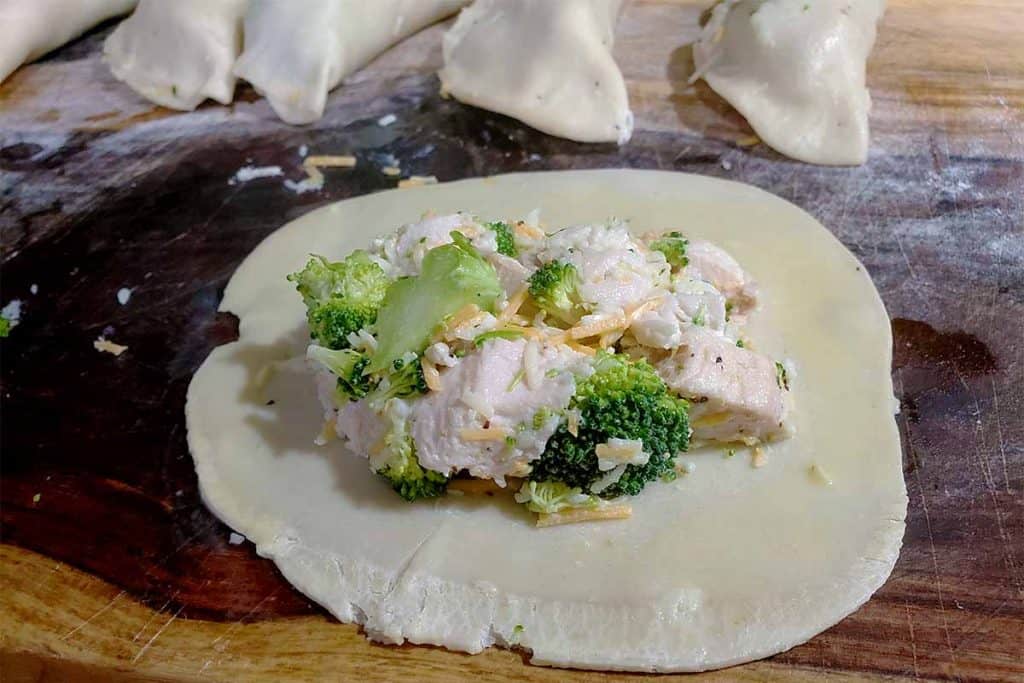 Thaw empanadas disco dough. Lightly roll on a floured surface. Spoon a tablespoon of the chicken broccoli filling into the middle of the discs. Fold the dough in half from top down, forming a half-circle. Spread push down on the filling slightly so that it comes to about ¼ inch from the edge of the dough all the way around.
In a small bowl, make egg wash by beating an egg with a tablespoon of water. Moisten edges with the egg wash and press together. Grab a fork and crimp the edges along the steam. Place on a lightly greased baking dish and set aside. Repeat until all empanadas fare filled.
Using a pastry brush (affiliate), brush top of empanadas with remaining egg wash. Bake in center of oven for 20 minutes, until crust is golden brown and center is warmed through. Allow five minutes to cool and enjoy!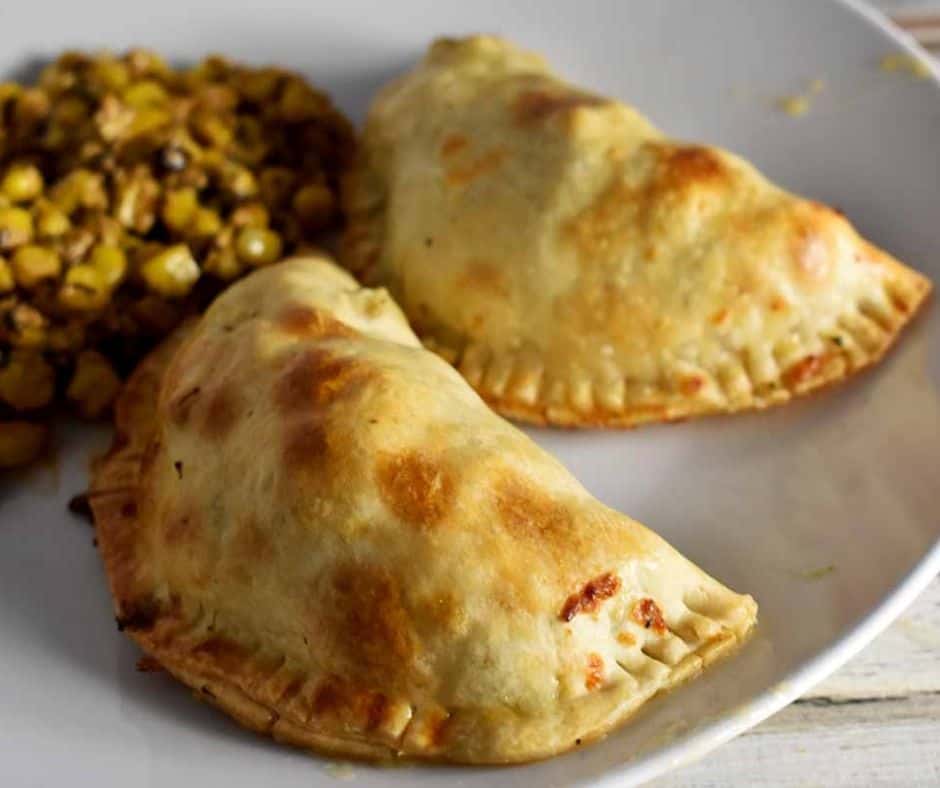 Print
Easy Cheesy Chicken Broccoli Empanadas
---
Author:

Total Time:

50 minutes

Yield:

10

empanadas

1

x
Description
Latin-American style meat and veggie turnovers that make great family meals or are perfect for putting out for a football party!
---
2 cups

chicken, cooked and shredded

¼

lb bacon, cooked and chopped

1 cup

broccoli, chopped (florets and stems)

1 cup

sharp cheddar cheese, grated

¼ cup

shredded carrots

1 tsp

salt

1 tsp

pepper

1 tsp

garlic powder

1 Tbsp

sour cream

10

frozen empanada dough discos

1 Tbsp

flour (for dusting)

1

egg

1 Tbsp

water
---
Instructions
In large mixing bowl, combine chicken, bacon, broccoli, cheddar cheese, carrots, salt, pepper, garlic powder and sour cream until well mixed.  Place in fridge until ready.  Meanwhile, preheat oven to 375°. 
Thaw empanada dough discos until they are pliable.  Lightly roll using a rolling pin

(affiliate)

on a lightly floured surface.  Spoon one tablespoon of chicken and broccoli mixture into center of disk.  Fold over dough from top to bottom so that it resembles a half-circle.  Press filling so that it comes to about ¼ inch from the edge all the way around.
Beat egg and water together to form egg wash.  Using a pastry brush, moisten the inside edge of the empanada dough, and press dough together with your fingers.  Next, crimp the edge around the half-circle with a fork.  Place on a lightly greased baking dish and repeat until all dough discos are filled.
Bake in center of oven for about 20 minutes, until empanadas are golden brown and inside in warmed through.  Remove from oven and let cool 5 minutes before serving.  Enjoy!
Equipment
Notes
You can prep and fill your empanadas in advance and freeze them until you're ready to cook.  Simply place them on a greased baking sheet and add 8-10 minutes to your cooking time.  A great way to make a hassle free weeknight dinner!
Prep Time:

30 minutes

Cook Time:

20 minutes

Category:

Dinner

Method:

Baked

Cuisine:

Spanish
Keywords: Taco Night, Party Food, Family Dinner Ideas
0