Chicken Burrito Supreme is easy to make, absolutely delicious and oh so much better than drive through!  Take taco Tuesday to the next level with this family favorite treat!
Who doesn't love Mexican night?  Whether it's nachos, tacos, quesadillas or burritos, Mexican – or TexMex in this case – always delivers.  Full of bold flavors, it's one of those dishes you've probably loved as long a you can remember.  And Mexican night doesn't have to be awful for you, either.  This fresh & delicious Chicken Burrito Supreme recipe uses fresh chicken breast and vegetables.  After all, the best Mexican food is fresh food, not fast food!
30-Minute Chicken Burrito Supreme 101
Warm your tortillas before plating.  This makes them more pliable before baking.  You can either steam them lightly or simply microwave them.  A tortilla warmer can come in handy here as well.
I always use a little more water than the taco seasoning instructions imply and simmer it a little longer and lower.  This tenderizes the chicken a little bit more.
There's simply no substitute for fresh guacamole.  Buy all fresh ingredients and smash them together until there's just a little bit of chunk less.
Shredded iceberg is common in TexMex like this, but I prefer a decent pinch of non-dressed cole slaw.  You can get a lot more bite with a lot less with that.
With tomatoes in the guac and diced up on the burrito itself, I like to go sans-salsa here.  Instead, I put a line of Taco Bell sauce on it.  A little bottle from the Mexican section at your grocery store should last you a while.
Why I love Chicken Burrito Supreme
Simply put, TexMex like this is simply one of the best, most reliable meals that I can cook up quick.  If we have evening plans, I need options on things I can quickly plate that doesn't involve driving through some fast food joint.  Having a few family favorite 30-minute or less meals ready to go can really save you in a pinch.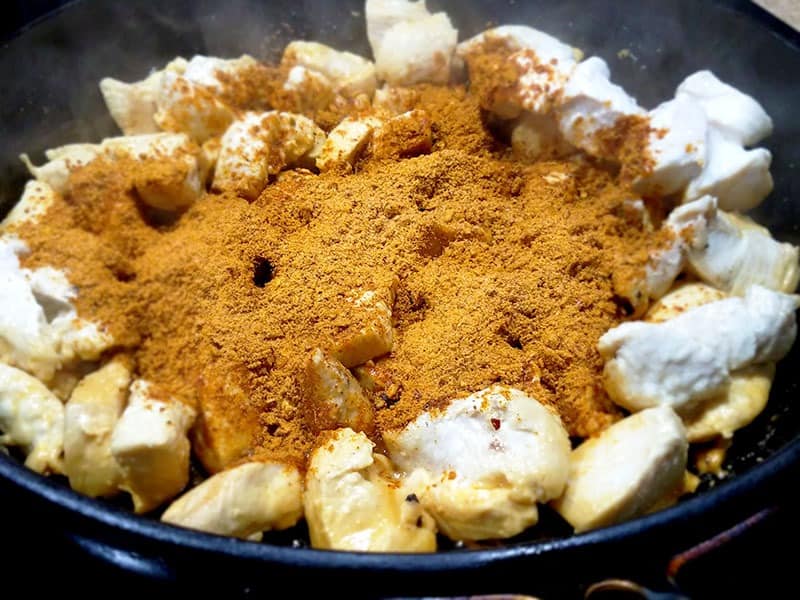 Print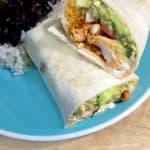 30-Minute Chicken Burrito Supreme
---
Description
Chicken Burrito Supreme is easy to make, absolutely delicious and oh so much better than drive through!
---
Scale
Ingredients
5

large Flour tortillas

4

Boneless skinless chicken breasts

1

package Chicken taco seasoning

1/2

Red onion (diced)

1

large Tomato (diced)

2

Avocados

1 tbsp

Olive Oil (extra virgin)

1 cup

Mexican cheese (shredded)

1/2 cup

Sour cream
Taco bell taco saucce (optional)

2

sprigs Cilantro

1

lime (juiced)

1 tsp

salt
---
Instructions
Dice chicken breasts into 1/2 inch pieces.
Heat olive oil in large pan over medium heat
Add chicken to pan and cook until no longer pink.
Meanwhile, combine your avocado, 1/2 of the tomatoes, diced onion, cilantro, lime juice, olive oil and salt to a large bowl and mash together until well mix for your guacamole. I like my guac with a little chunk to it, but feel free to mash it to your desired texture.
Once chicken is browned, add taco seasoning and 2 cup of water. Stir until well mixed and bring to a simmer. I allow this to simmer for about 15 minutes. This will result is nice, tender chicken.
While chicken cooks, prep your burrito. Do this by evenly spreading your toppings with about an inch to spare on either side of your burrito: guac, tomatoes, sour cream and cheese. I typically leave my cheese for last so that it melts against the hot chicken.
When the chicken is ready, spoon it onto your burrittos and finish with a line of taco sauce on each.
Roll burrito by first folding in the flaps, then rolling tightly upward.
Serve with black beans and rice and enjoy!
---
Category:

Dinner, Main Course

Cuisine:

Mexican, TexMex
1