This recipe for Lamb Bacon Sliders packs a ton of flavor into a little bit. Just because the burgers are smaller doesn't mean the flavor has to be.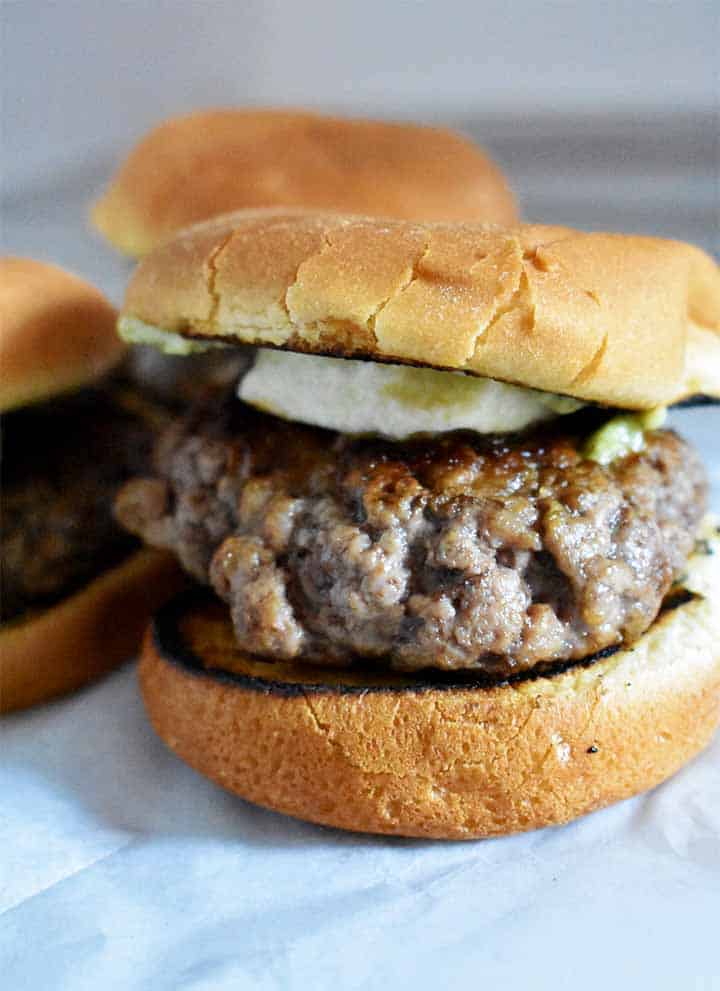 Mike's Recipe Rundown
Taste: We're combining two of the most flavorful meats there are in this one, lamb and bacon! Lamb delivers it's unique, soft flavor while bacon brings juiciness and smokiness to the bite. Some creamy tzatziki sauce and feta creates the perfect balance in this finger-food dynamo.
Texture: We build our flavor in a few layers. First, we develop a nice crust on our burgers to give just a hint of juiciness to the outside. We toast the inside of the buns only to keep the bread from getting soggy. That comes in handy to help everything hold up to the thick tzatziki sauce wiped over.
Difficulty - Medium: The toughest part to this is throwing your frozen bacon into the food processor

(affiliate)

so that it's easily blended into your meat.
Pros: This is the definition of a flavor-bomb. Bright, deep, smokey, hearty, it has it all. Plus, as it's just a slider it's easy to put out at a party and still allow people to fill up their plates with other snacks.
Cons: A few extra steps compared to a super simple party slider. But the difference in flavor is way worth it!
Would I make it again? Absolutely! In fact, this lamb-bacon mixture is one the short list of my wife's must-have meals.
There's some other great recipes you'll love, too. Like easy Instant Pot Mac and Cheese, perfect Pulled Pork or Parmesan Crusted Chicken. Right now my favorite comfort food recipe is the Kentucky Hot Brown, which goes great alongside a tasty Mint Julep.
Lamb Sliders Tips and Tricks
I like to grind my lamb fresh, for a couple of reasons. First, the freshness really does make a difference. Secondly, it's cheaper. Way cheaper. I can get a lamb shoulder from Costco for about $5.99 a pound, while pre-ground lamb typically runs about $9.99 at my local grocer. With my electric meat grinder

(affiliate)

, that's not too tough a task. But obviously, if grinding your own isn't an option, store bought lamb is just fine.
When I make my lamb bacon burgers, I add a few extra toppings to really round things out. In slider form though, we keep things simple. Too much on a slider and falls apart quick.
To help your sliders hold their shape, form them and place them on a baking sheet. Then, put the baking sheet into the fridge for at least 30 minutes. This will keep them from falling apart while cooking.
Because of that, this is an awesome and easy meal to put out when having people over. You can easily make the patties ahead of time, then fire them in batches just before it's time to eat.
Making a dimple in the center of your patty helps to keep it from shrinking when cooking. Burgers plump a little when you cook them, so press a small dimple in the center of each one with your hand. This way, when they expand they'll just come up normal instead of raising up high and pulling the edges back.
What you need to make bacon lamb sliders
The fanciest we get here is a food processor (affiliate). Nothing too crazy, my simple Hamilton Beach model works fine. From there, a simple frying pan (affiliate) is all you need to cook the burger itself.
A mixing bowl (affiliate) to make your paties and a baking sheet to broil the cheese makes for a well prepared chef. Lastly, you'll want a microplane grater (affiliate) and mesh strainer (affiliate) to get your tzatziki on point.
Pro tip, I always keep some food service gloves (affiliate) stocked in my kitchen. It's great when you have to mix meat like this by hand and makes cleanup a breeze.
Need an awesome meal planning tool? Easily import this recipe to Plan To Eat (affiliate), schedule it and get your grocery list right on your phone. Get a 30-day free trial (affiliate) with no credit card required.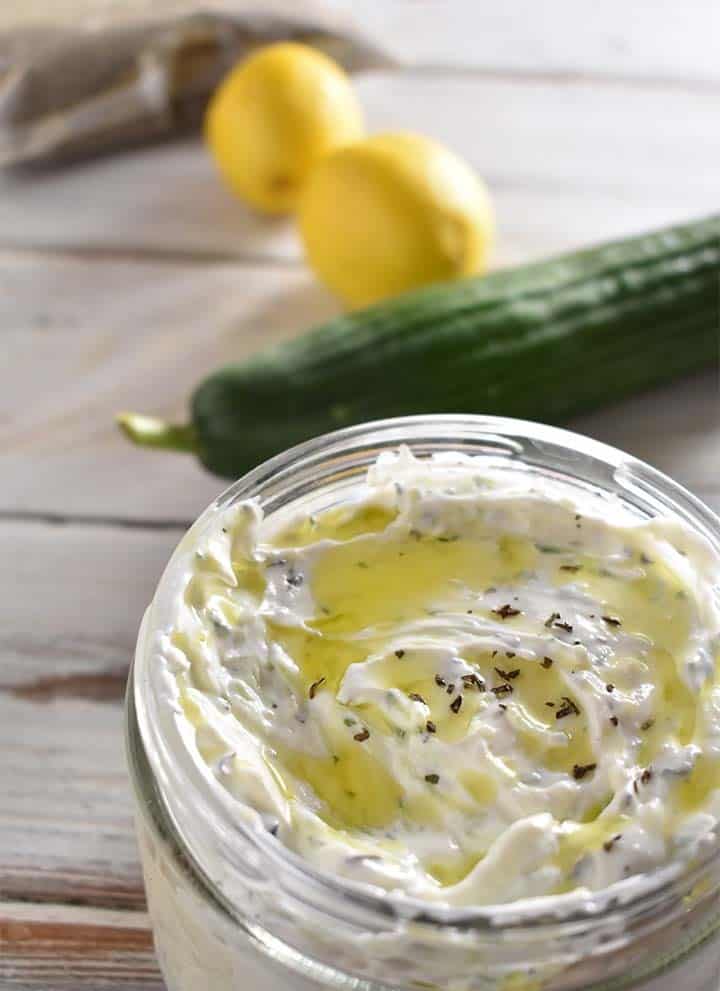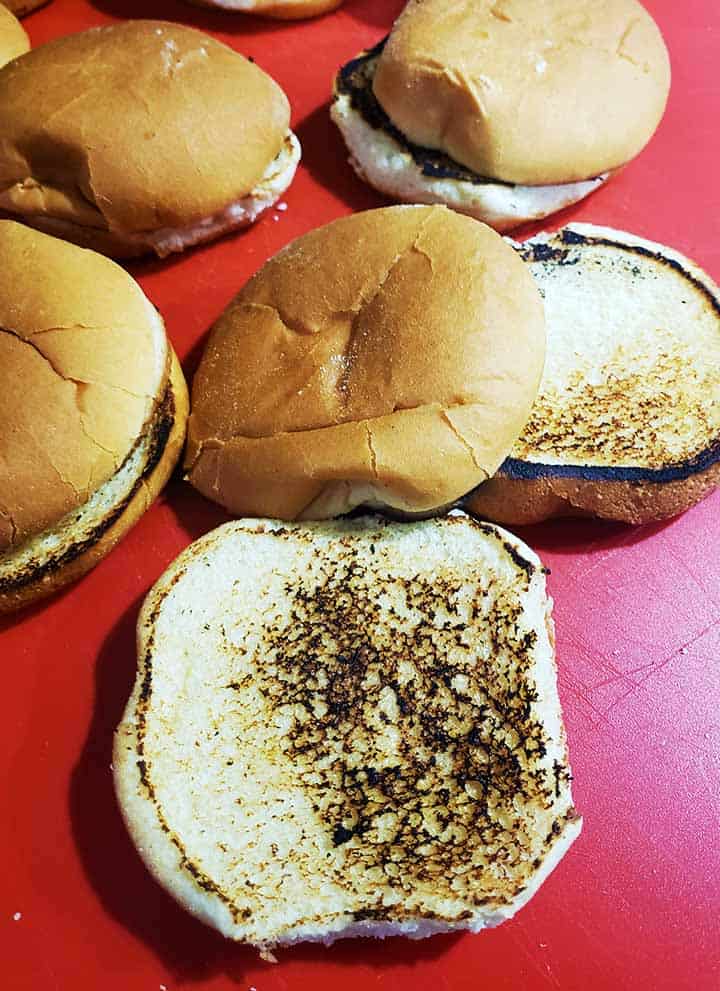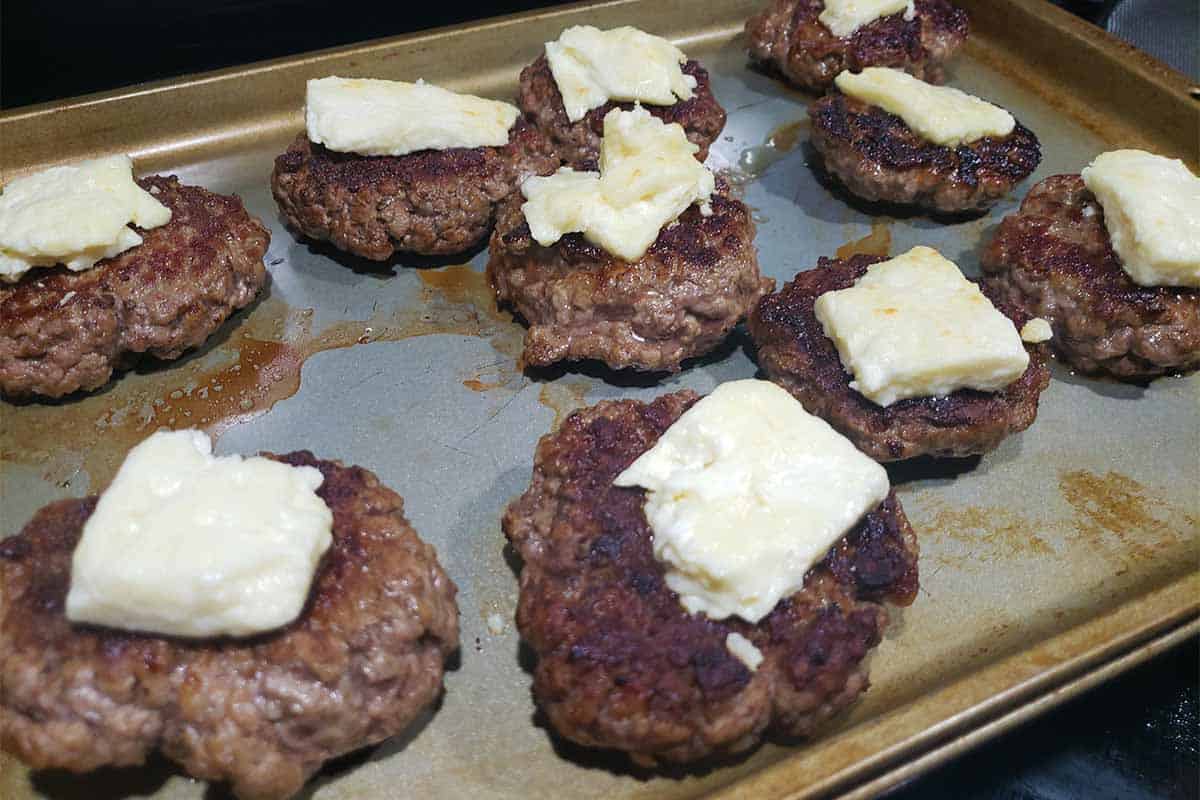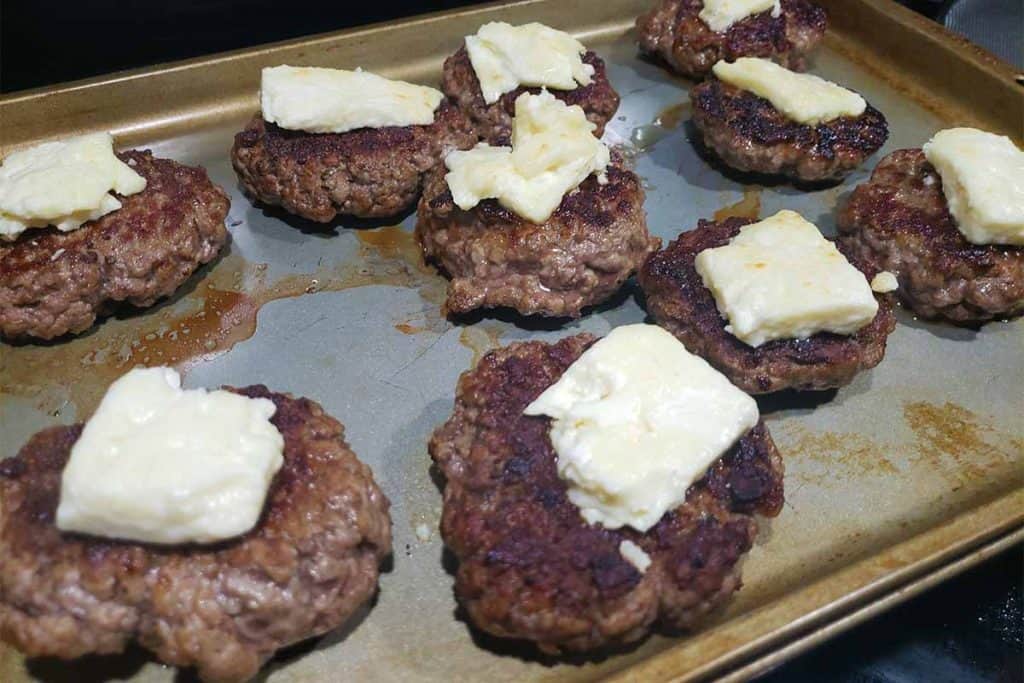 How to make Lamb Bacon Sliders
Tzatziki
Using a microplane grater (affiliate), grate your english cucumber. Place into a mesh strainer (affiliate) and press to get all the excess water out. Place into a bowl. Add a pinch of salt and squeeze in fresh lemon juice.
Using the same microplane grater, grate in your fresh garlic. Add a splash of olive oil and chopped fresh dill. Of course, you'll want to add your whole milk greek yogurt next, and stir everything together. Cover and place in the fridge while moving on.
Prep
Place bacon flat on a baking sheet and into freer for 30 minutes. Remove and place strips into food processor (affiliate). Pulse for about 10-15 seconds, until you're left with small bits of raw bacon.
Place ground lamb in mixing bowl (affiliate) and add in chopped bacon and dried oregano. Mix by hand just until well combined. Form patties about 2 inches in diameter and season outside with salt and pepper. Place on a baking sheet and place into the fridge for 30 minutes to hold form.
Cook
When the patties are about ready, heat a frying pan (affiliate) or cast iron pan (affiliate) to medium temp. Add a splash of grapeseed oil. I use grapeseed instead of olive oil as it has a higher smoke point. Thus, you'll be less likely to smoke out your house.
Place the burgers in the pan. I typically lay my first one at the 12 o'clock position and lay the next ones around clockwise. This makes it easy on me to remember when and in what order to flip them.
Cook each one for about 4 minutes, then flip over. Cook for 4 minutes more, until outside is seared and inside is just a touch pink. Remove to a baking sheet. Continue cooking sliders in batches if needed until all patties are cooked.
When sliders are all cooked, place buns inside down on the pan and cook until toasted. It won't take long, about 30 seconds per bun. Repeat until all buns are toasted.
Broil and Top
Turn your oven onto the high broil setting and top each patty with a small slice of feta cheese. Place the cheese topped patties under the broiler. Cook for about 2 minutes, until feta just begins to brown. Watch it closely, as it can go from undercooked to burnt in under a minute.
Pull the patties and place each one on a slider bun. Top with tzatziki sauce and serve immediately.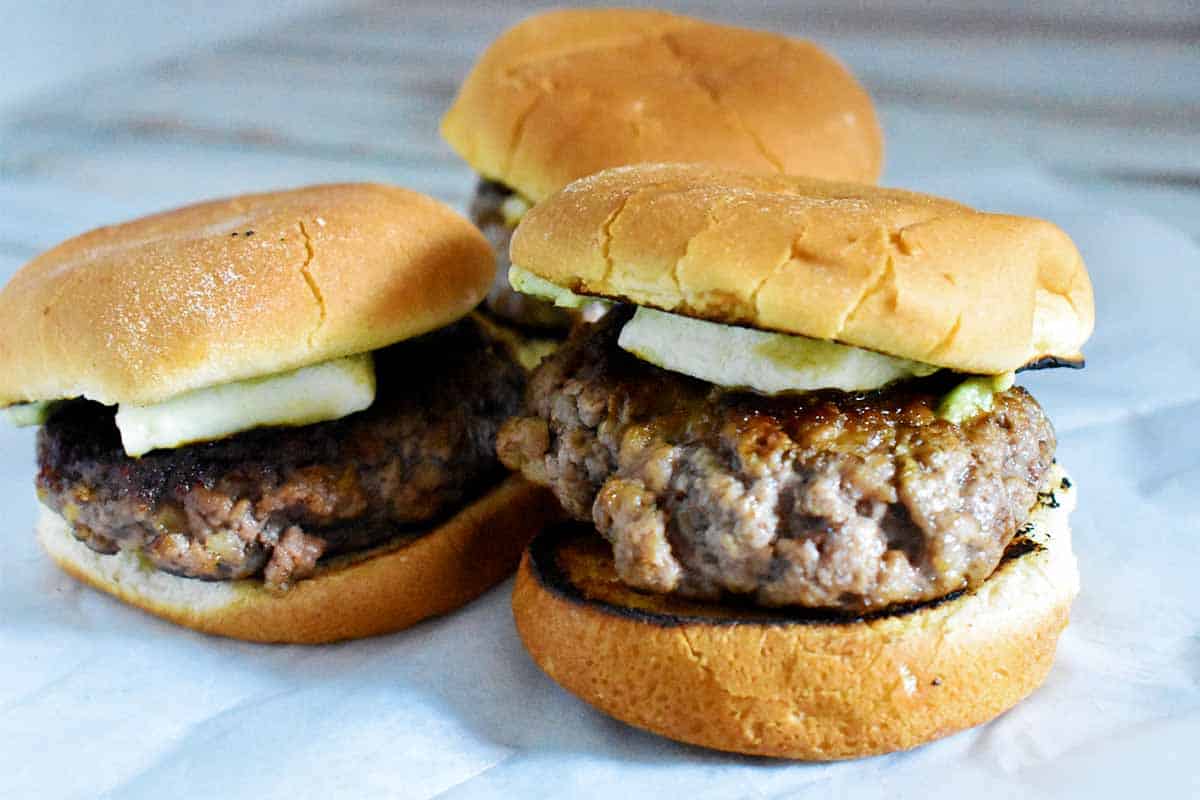 Check out our latest recipes
Print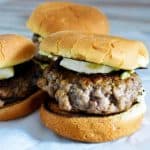 Bacon Lamb Sliders
---
Author:

Total Time:

1 hour

Yield:

24

sliders

1

x
Tzatziki
½

english cucumber

½

  tsp salt

2 tbsp

fresh lemon juice

1

clove fresh garlic

1 Tbsp

olive oil

½ Tbsp

fresh chopped dill

2 cups

whole milk greek yogurt
Sliders
½

lb bacon

1

lb ground lamb

½ Tbsp

dried oregano
Salt and Pepper

1 Tbsp

grapeseed oil

8 oz

feta cheese

24

slider buns
---
Instructions
Tzatziki
CUCUMBER: Grate english cucumber with a microplane grater

(affiliate)

.  Place in mesh strainer

(affiliate)

and press to get excess water out.  Place in mixing bowl

(affiliate)

.
EVERYTHING ELSE:  Grate in fresh garlic with microplane grater

(affiliate)

. Add olive oil, salt, fresh lemon juice, fresh chopped dill and greek yogurt.  Stir everything together.  Cover and place in fridge for at least 30 minutes.
Sliders
Prep Time:

45 minutes

Cook Time:

15 minutes

Category:

Main Course

Method:

Stovetop

Cuisine:

Greek
Keywords: Slider recipe, party food, lamb recipes
0