When it comes to hosting a party, there's some dishes that are sure to please. Pigs in a Blanket is at the top of that list. Quality hot dogs seasoned and rolled in a puff pastry make a favorite for all of your get togethers. Learn how to make pigs in a blanket with this super easy recipe.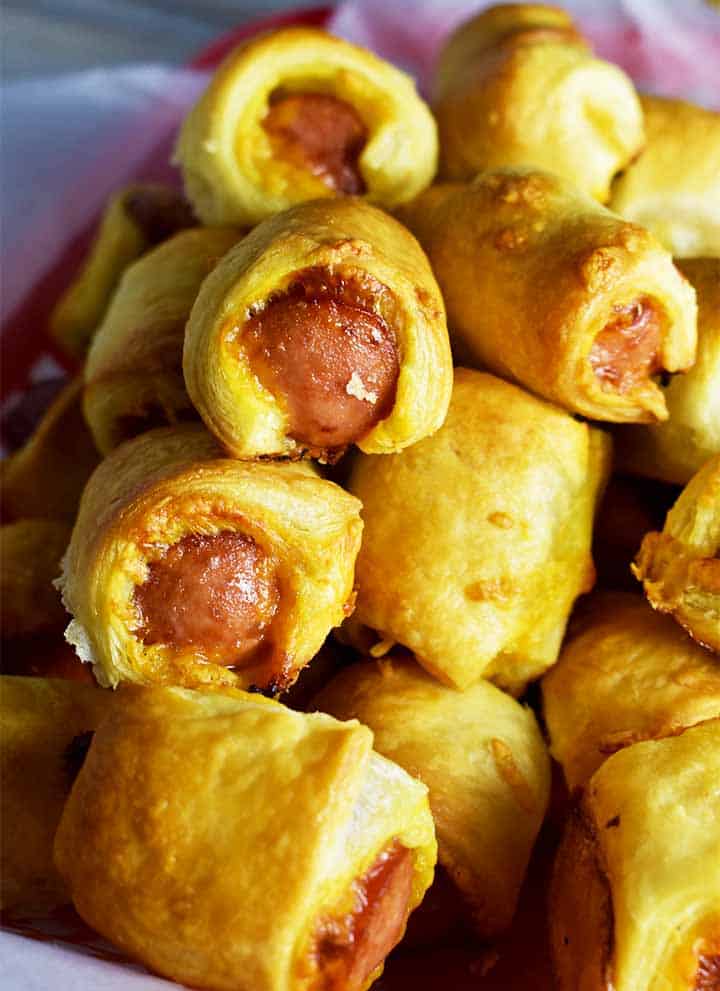 Mike's Recipe Rundown
Taste: Beefy with a delicate and buttery puff pastry wrap. Way better than a big, bulky, bready bun. The addition of some cheese really gets things going.
Texture: The puff pastry gives a flaky wrap around the juicy hot dog bite in the center.
Difficulty - Easy! This is super simple. After getting your pastry ready, simply cut it and wrap it around your hot dog bites. A truly easy recipe that's great for tailgates and house parties!
Pros: Pigs in a blanket are a great pick-it-up-and-go finger food. All ages love it, from kids to adults.
Cons: I could eat a million of these, which probably isn't the recommended serving. In all seriousness, the biggest drawback would be using poor quality, mystery meat hot dogs. But if you use a good quality dog, you're in business.
Would I make it again? YES! This is one of my favorite snacks to make for parties. Prep doesn't take way too long and it's easy from there. Plus, they dissapear in no time, people love them!
Check out some of our other great recipes, like cajun shrimp and grits, smoked gouda mac and cheese, chicken tikka masala, or 29-hour, super tender sous vide chuck roast. Or, try one of my wife's favorites, my Bacon Lamb Sliders which are 100% flavor-bombs. .
Pigs in a Blanket Tips and Tricks
As I mentioned above, one of the biggest keys here is starting with a good quality hot dog. I prefer Costco's Kirkland Brand Hot Dogs. Their food court is of course famous for their $1.50 jumbo sized hot dogs. You can get a normal sized one in the cooler section, which is perfect for this recipe. Of course, if you don't have a Costco membership, I would opt for something like Hebrew National.
I opt for leaving out just mustard with mine for dipping. But that's mostly because I'm firmly against ketchup on hot dogs. That said, if ketchup your thing, I won't report you to the authorities.
If you're feeling proactive, you can prep these the night before. Simply stop after your dogs are wrapped in dough and place them on a baking sheet. Cover the baking sheet with plastic wrap and stick it in the fridge overnight.
If you're looking for a recipe along the same lines, but less bite size, check out our recipe for awesome homemade bagel dogs, made from scratch. Or, some of our other great party recipes like BLT Pasta Salad, Smoked Chicken Wings or Smoked Jalapeno Poppers.
Let's stay in touch. Follow me on Instagram and check out what we're up to on Pinterest. Support this site, follow the link and buy stuff on Amazon (affiliate).
What you need to make Pigs in a Blanket
Equipment wise this one is pretty easy. You'll want a large baking sheet (affiliate) for, you know, baking. A rolling pin (affiliate) will come in handy, so make sure you have one. You'll also want to have a pastry brush (affiliate) on hand for brushing your egg wash on.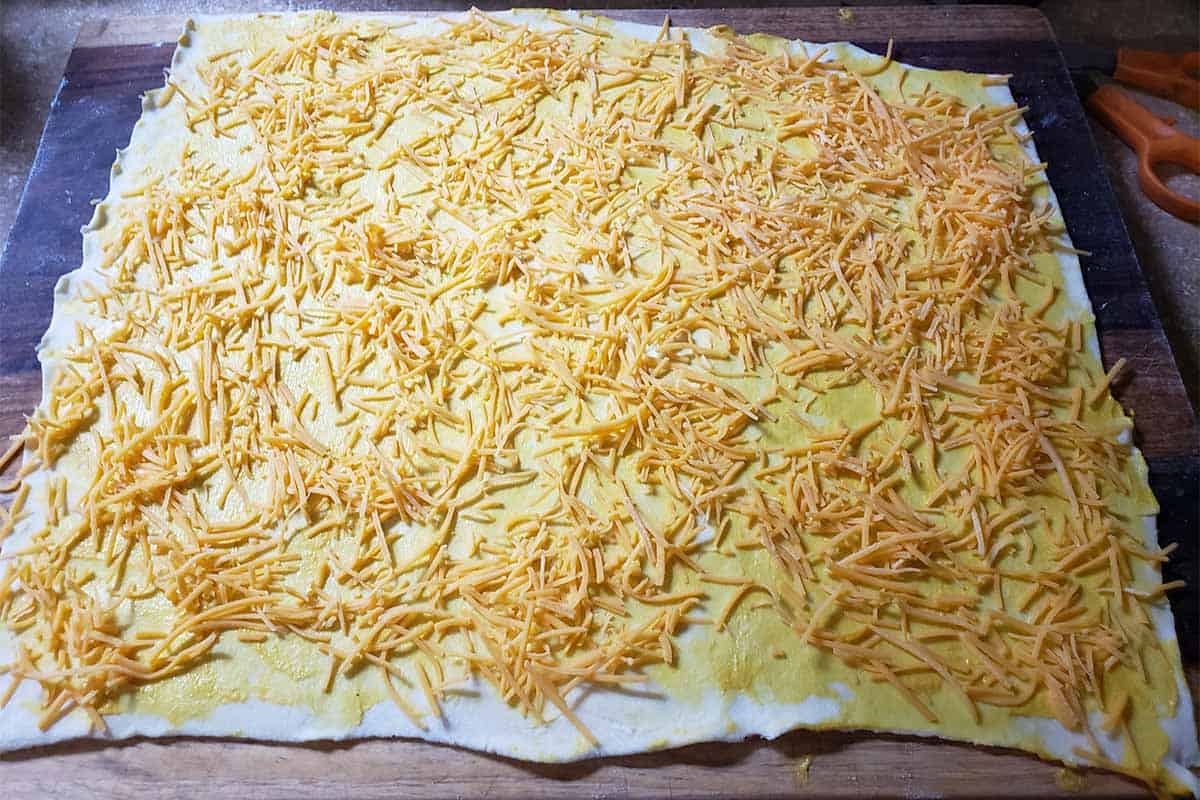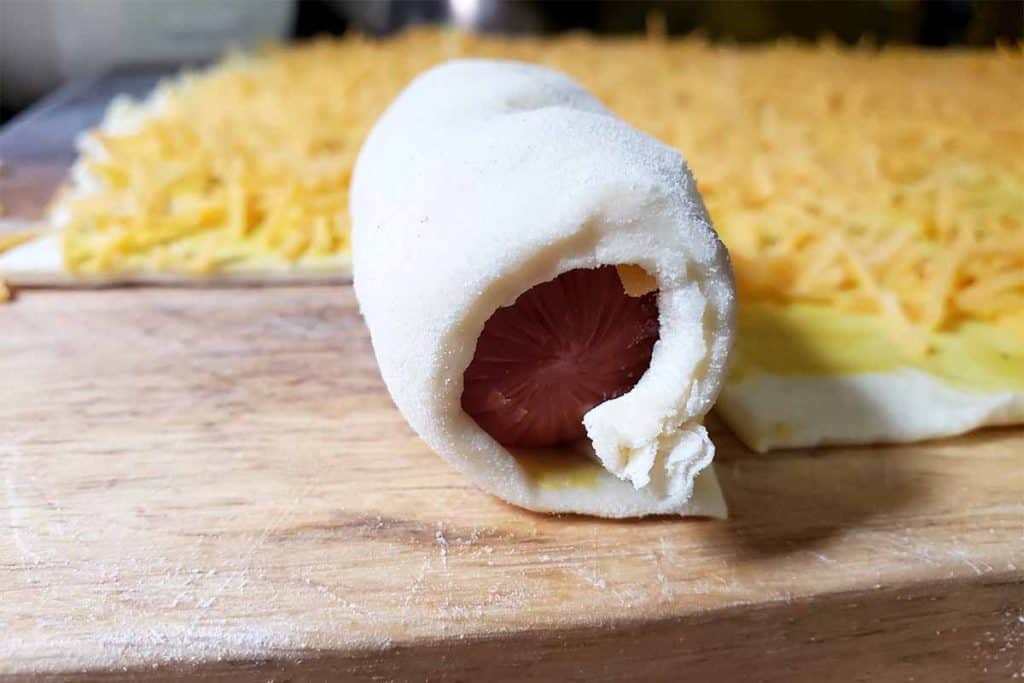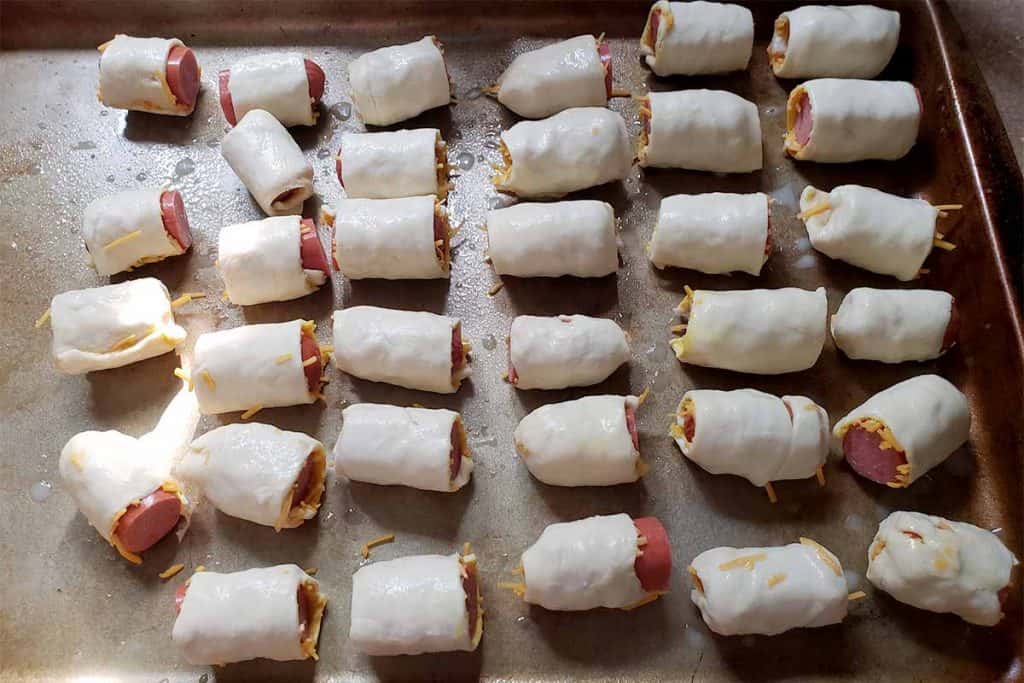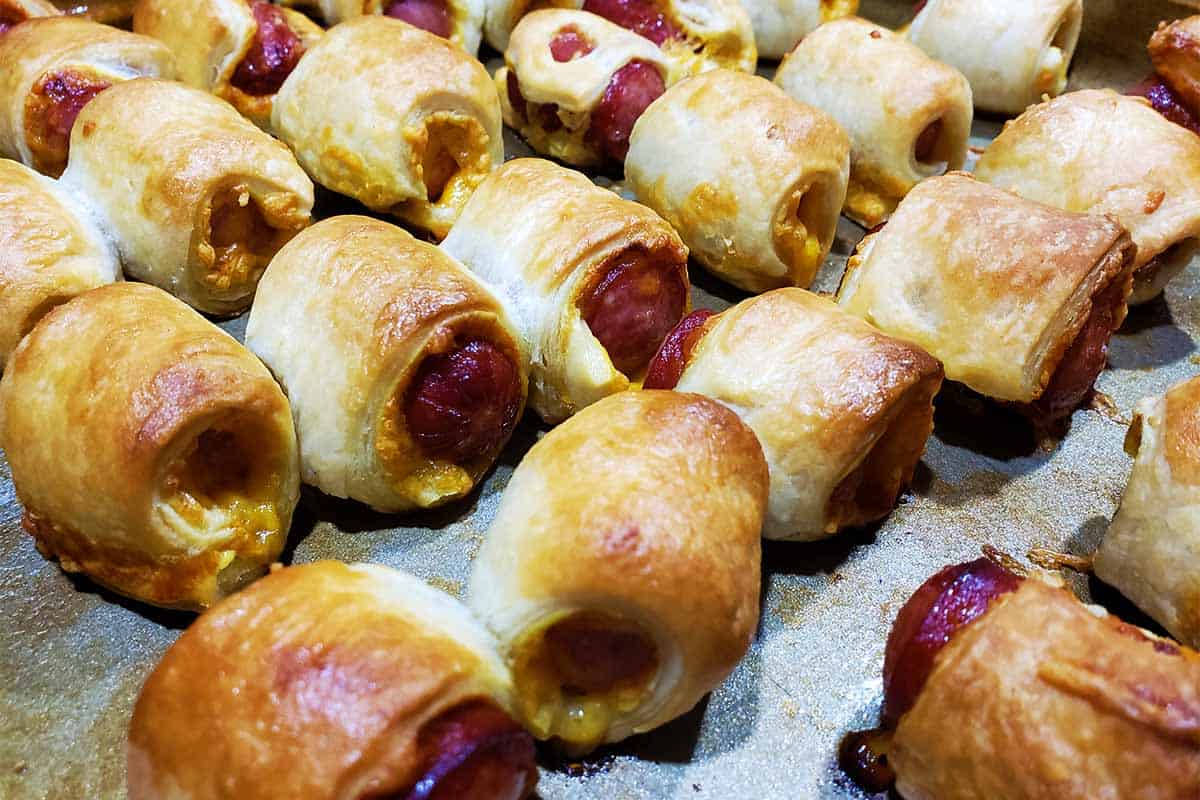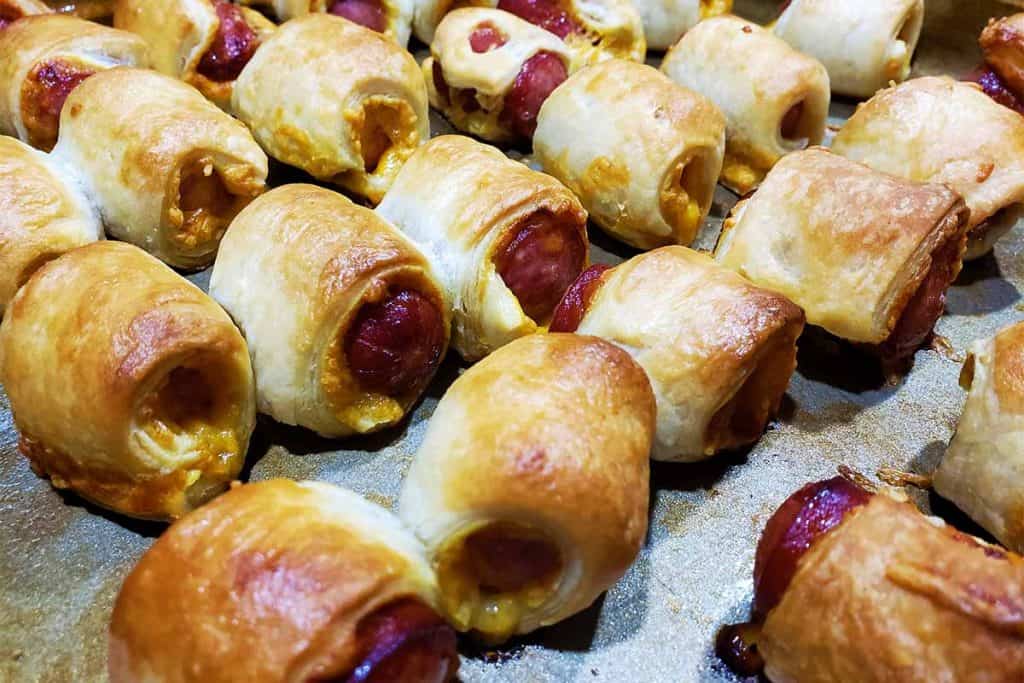 How to make Pigs in a Blanket
Prep
Remove puff pastry from freezer and let sit out about 20-30 minutes, until it's pliable and easy to roll. Meanwhile, Cut hot dogs into 4 equal sized pieces, about an an inch and a half each.
When puff pastry is ready to roll, lay it out on a lightly surface lightly dusted with all-purpose flour. Using a rolling pin (affiliate), roll the puff pastry out slightly.
Spread yellow mustard out over puff pastry. Using the backside of a spoon, try to spread it to all the edges. Then, sprinkle over a light layer of shredded cheddar cheese.
Next, cut your puff pastry into 8 strips one way and 4 strips the other. You should be left with 32 equally sized squares. Place a piece of hot dog in the center of each square. Wrap the puff pastry around the hot dog completely, pinching it at the seam.
Cook!
At this point, preheat your oven to 400°. Place each wrapped hot dog on a greased baking sheet, with the seam side down. Meanwhile, beat together whole egg and cold water to form egg wash. Next, using a pastry brush (affiliate), brush the egg wash on all exposed sides of the puff pastry dough.
When your oven is preheated, place the baking sheet in the center of the oven. Cook for about 20 minutes, until the puff pastry is golden brown. I start checking mine after about 15 minutes, to be safe.
Let cool 5 minutes before serving. Leave out some mustard for dipping.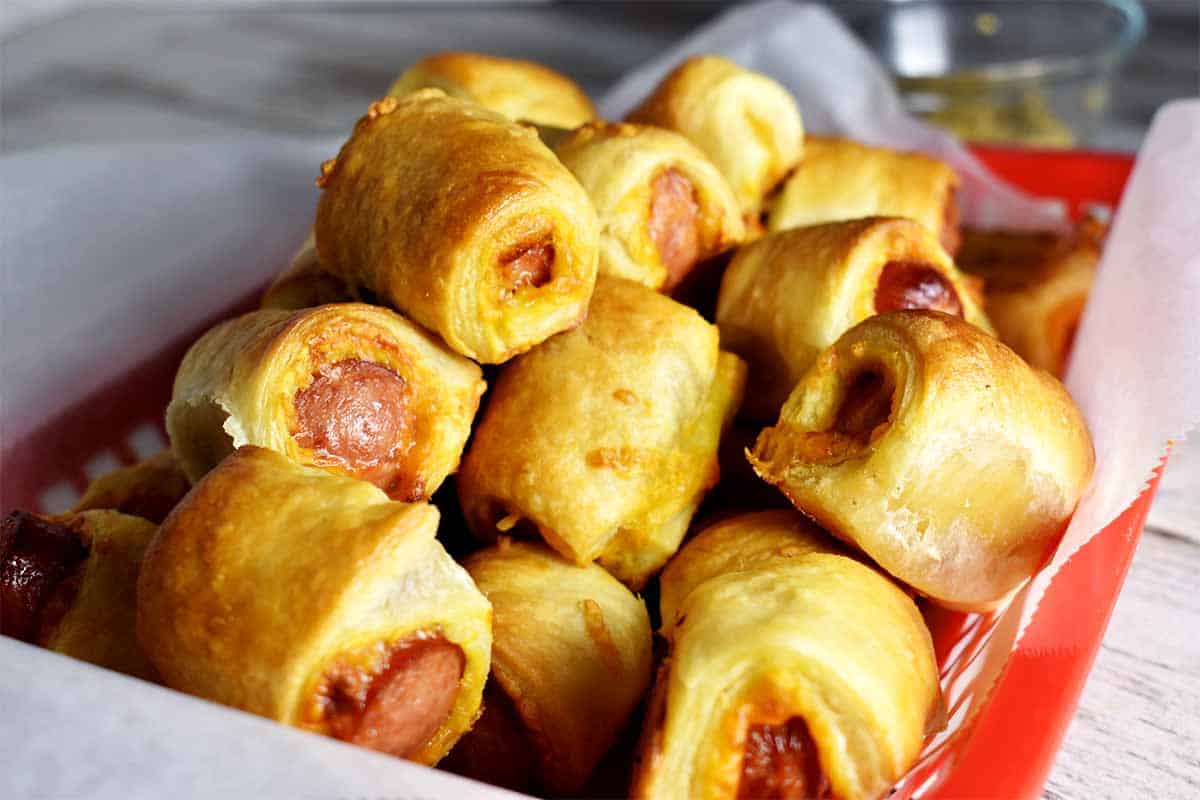 Check out our latest recipes
Print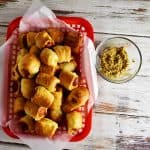 Pigs in a Blanket
---
Author:

Total Time:

50 minutes

Yield:

3

2

1

x
Description
Hot dogs rolled in a puff pastry makes an awesome finger food that people love!
---
1

sheet puff pastry

8

quality hot dogs
all-purpose flour, for dusting

1 Tbsp

yellow mustard

¼ cup

shredded cheddar cheese

1

whole egg

1 Tbsp

cold water
---
Instructions
GET STARTED: Remove puff pastry from freezer and let thaw at room temperature for 20 minutes.  Meanwhile, preheat oven to 400° and cut each hot dog into 4 evenly sized pieces
ROLL AND SPREAD: When pastry is thawed, roll out slightly on a lightly floured surface.  Spread yellow mustard all over top of puff pastry, making sure to go all the way to the edges. Sprinkle cheddar cheese over top.
CUT & WRAP: Cut the puff pastry in 8 strips, then crosswise into 4 more strips.  You should wind up with 32 pieces.  Place a hot dog piece in the center of each piece of puff pastry.  Wrap puff pastry around hot dog.  Place on a baking sheet, seem sound down.
WASH & BAKE: Beat together whole egg and cold water in a bowl.  Using a pastry bush, cover all exposed areas of puff pastry with egg wash.  Place in center of preheated oven for 15-20 minutes, until golden brown.  Let cool 5 minutes before serving.
Prep Time:

30 minutes

Cook Time:

20 minutes

Category:

Appetizer

Method:

Baked

Cuisine:

American
Keywords: Party Food, Finger Food, Kid Friendly Snacks
1