Pulled pork doesn't have to be that sloppy, wet for the heck of it mess that you grew up eating. Learn the tricks to making perfect pulled pork in a slow cooker or crock pot (affiliate) with this easy recipe!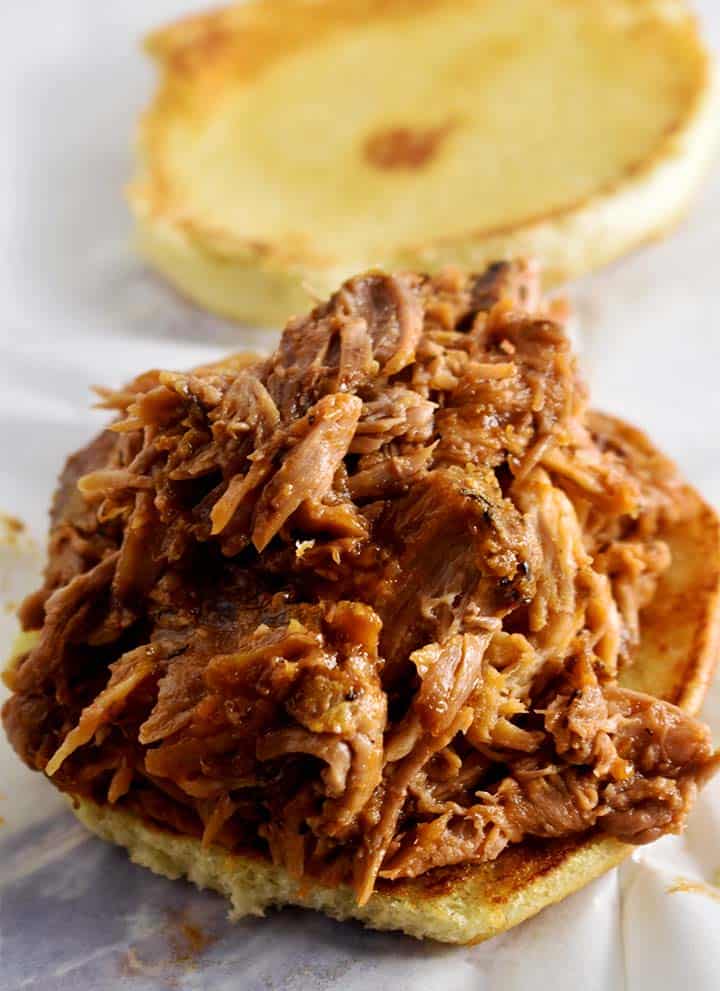 Mike's Recipe Rundown
Taste: An awesomely balanced rub here make this more than just wet-with-BBQ sauce slop. Cumin, coriander and thyme give a nice bit of depth to this dish.
Texture: By roasting the pork in the oven first, you get some nice chunks with crispy skin in this dish, not just slop on a bun. It's a great balance.
Difficulty - Easy: There's not much for technique needed here, just a couple of steps. The hardest part is rubbing the meat and roasting it in the oven, which is something any novice home chef should be able to master.
Pros: Once your pork is roasted, this is drop it, forget about it until dinner time kind of meal. Plus, the couple extra steps we add at the beginning to rub and roast the pork really makes this a step above your average pulled pork.
Cons: My wife still doesn't like the texture of pulled meats, so in my house, this is a make-it-when-she's-out kind of meal. But the kids and I all absolutely love it!
Would I make it again! Yes, definitely. I also love making this when we're having a pool party in the summer, great and easy to make for a crowd!
New at Nerd Chefs
What you need to make Pulled Pork
For this recipe, you really need two main pieces of equipment. A good roasting pan will work best for getting that crispy skin we're going for. Then, of course a good slow cooker. You can even use a rice cooker with slow cooker capabilities, or even an Instant Pot (affiliate) on slow cooker mode.
From there, it's pretty simple. I use forks to shred my pork, but a lot of people like bear claws for pulling their pork.
Pulled Pork Tips and Trick
Even for dried spices, the fresher they are, the more flavorful they'll be. Canned spices lose flavor over time. If it's been on the spice rack more than a couple of months, replace it. It's worth the couple of bucks.
If you're cooking for a big crowd, you'll want to try to opt for a full pork shoulder as Southern Living explains. This can be a little tough to find in most grocery stores, but Costco almost always has them. I use a Boston Butt for family sized meals. Cheap, tender and delicious.
When serving your pulled pork on a bun, toast just the inside of the bun by placing it face up on a rack under a broiler for 1-2 minutes. This will keep the bun from getting super soggy.
This recipe was inspired by Bryan Voltaggio's pulled pork recipe. I've been a fan of Bryan's work ever since he appeared on Top Chef years ago.
If you're not a big BBQ fan, you can just as easily serve this pork without sauce.
Check out some of our other great recipes, like cajun shrimp and grits, smoked gouda mac and cheese, chicken tikka masala, or 29-hour, super tender sous vide chuck roast. Or, try one of my wife's favorites, my Bacon Lamb Sliders which are 100% flavor-bombs. .
When to make Pulled Pork?
Slow cooker pulled pork in an absolutely awesome for when you need to feed a crowd, or just when you need something easy and quick for dinner. Personally, I love to make it when I know I'll be out and about on a Sunday afternoon. It's great to start it in the morning, drop it in the slow cooker and come home to a ready-to-go dinner!
How to make Pulled Pork in a Slow Cooker
Getting Prepped
For the best result, start with these first prep steps the night before.
Combine all dry ingredients in a small bowl and mix together with a small whisk (or stir with a spoon) and set aside. Meanwhile, remove pork from fridge and score the fat in a criss-cross diagonal pattern. Poke six holes into the meat using the tip of the knife. Place a garlic clove into each hole.
Splash the pork with worcestershire sauce to help the rub stick. Next, rub the outside of your pork generously with about ¾ of your rub. Reserve the remaining rub for the following day, so place it in a close-able container.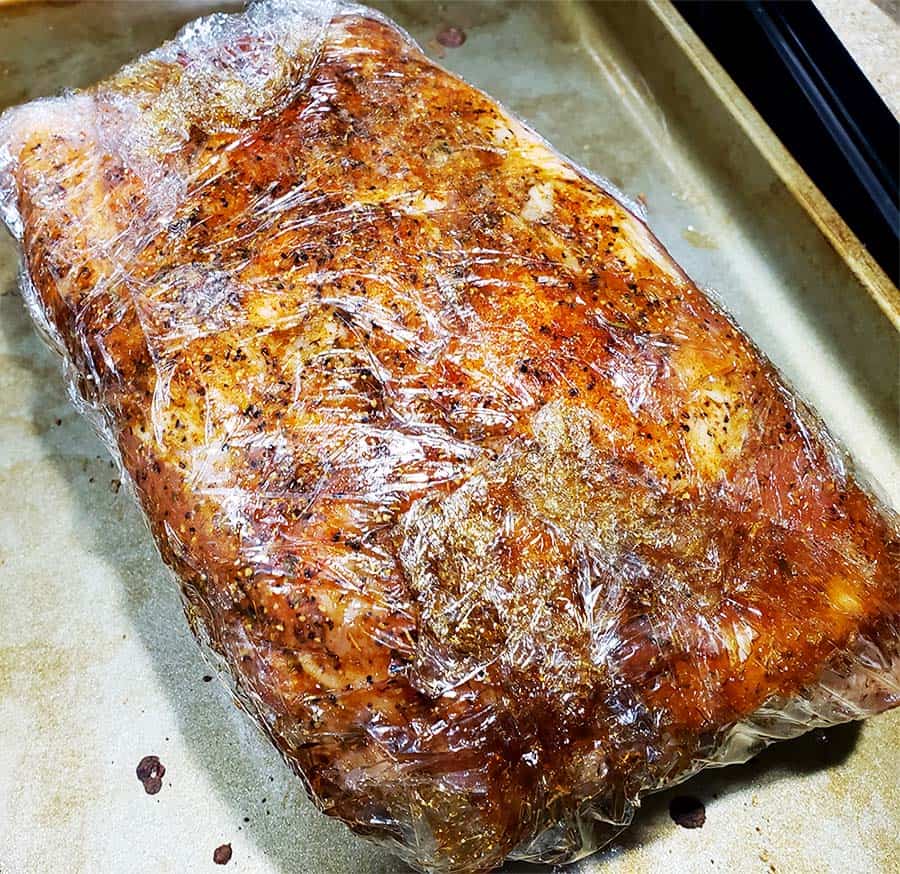 When meat is rubbed, wrap it tightly with plastic wrap. Place wrapped pork on a tray and into the fridge overnight to allow the spices to penetrate.
Let's stay in touch. Follow me on Instagram and check out what we're up to on Pinterest. Support this site, follow the link and buy stuff on Amazon (affiliate).
Getting Crispy!
The following morning, preheat your oven to 350° degrees. This step is important for two reasons. One, it's going to crisp up the skin on your pork and give it a nice contrast in texture. It's going to make it look hella-professional. Secondly, it's also going to toast your spices a bit, giving them a deeper flavor as it slow cooks throughout the day.
When oven is preheated, remove meat from plastic wrap and in a roasting pan. Place in center of oven and roast for 1 hour. This will just get that skin nice and crispy!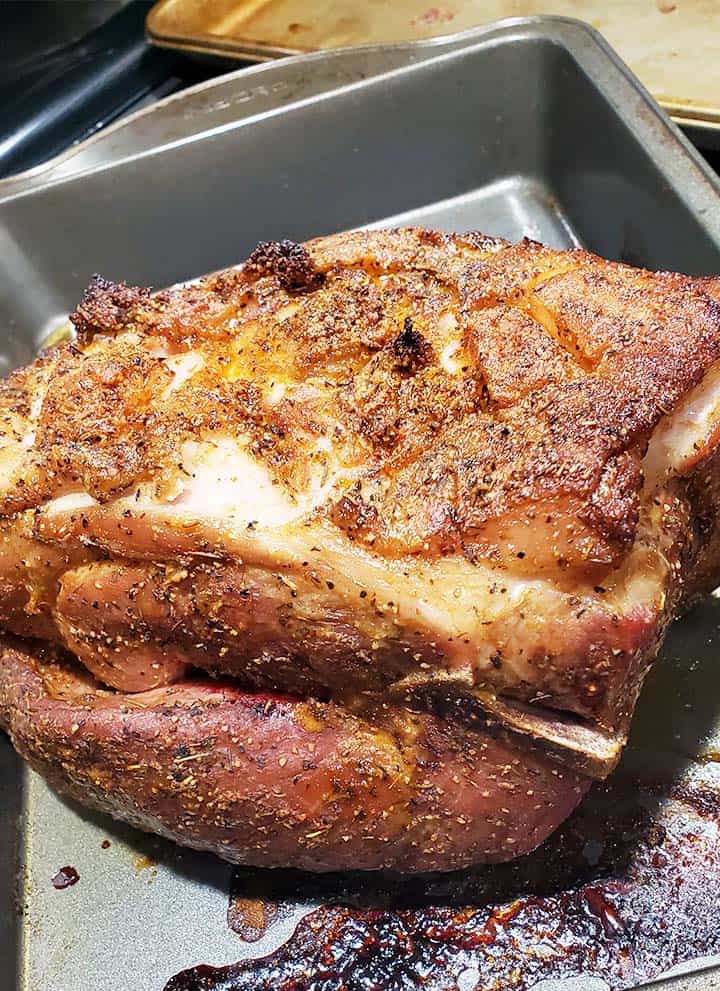 Slow Cookin'
When pork is done, immediately remove it from the oven and transfer it directly into a slow cooker. Add apple juice for a little extra flavor and close lid. Set slow cooker to low and cook for about 7 hours.
When pork is done cooking, remove from slow cooker and into a bowl. Shred using a fork or bear claws until only small chunks remain. Sprinkle with remaining rub and toss everything together.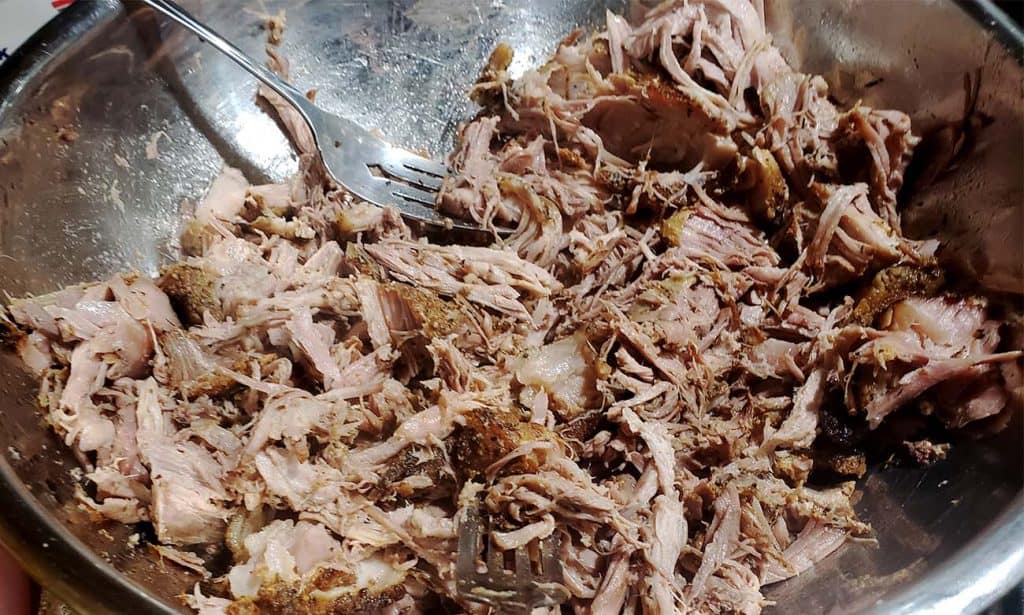 The pork is good to eat on it's own, buy feel free to add a little BBQ sauce to it. I like Sweet Baby Ray's normally, but a Jack Daniels BBQ sauce pairs nicely with this rub. You can always make your own BBQ sauce, too.
How to serve Pulled Pork!
I love having my pulled pork on a bun, but it can get sloppy. There's an easy way to avoid this, though. Simply place your buns inside-up on a baking sheet and place under the broiler in your oven for 1-2 minutes, until it turns golden brown. This helps to keep your buns from getting super soggy.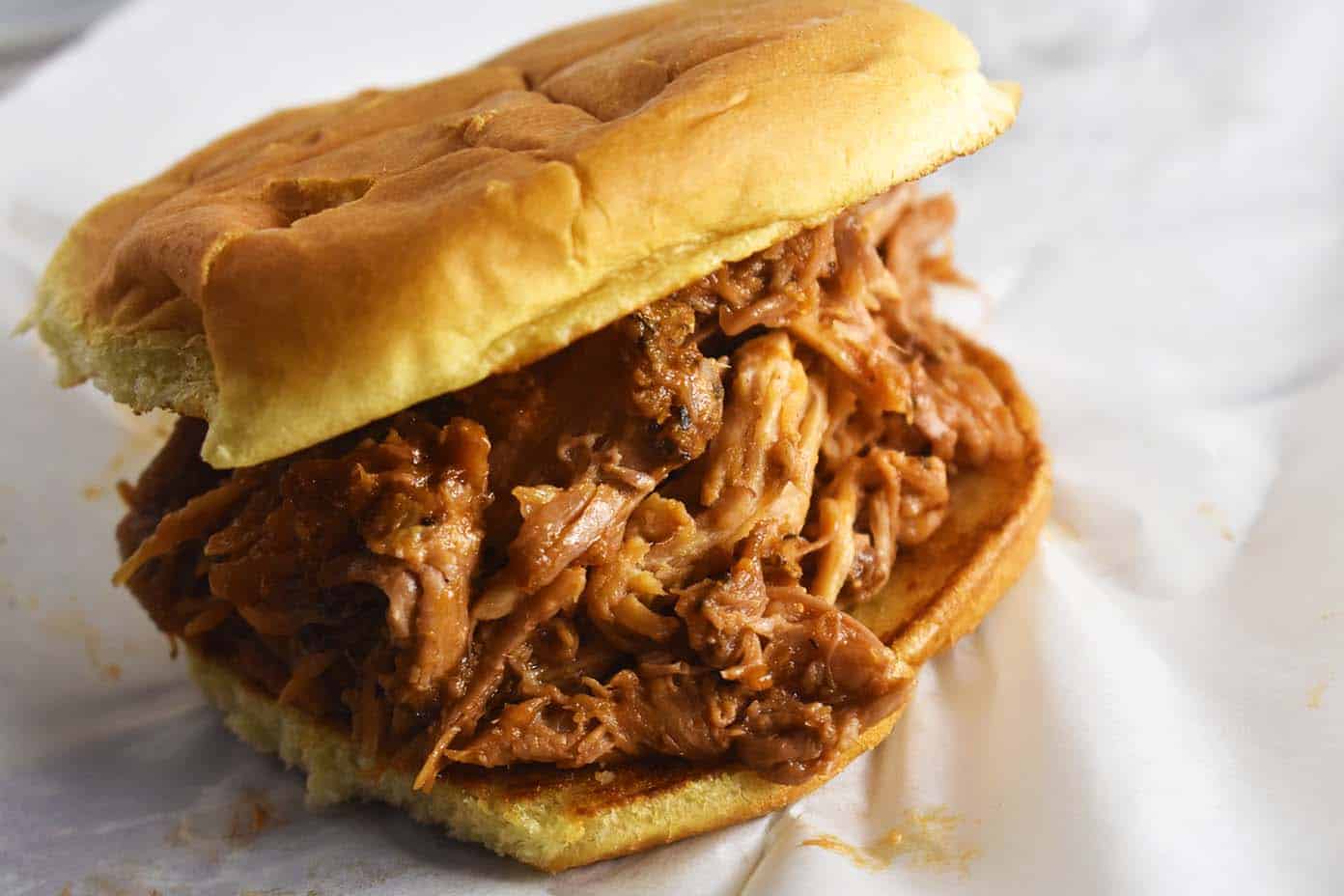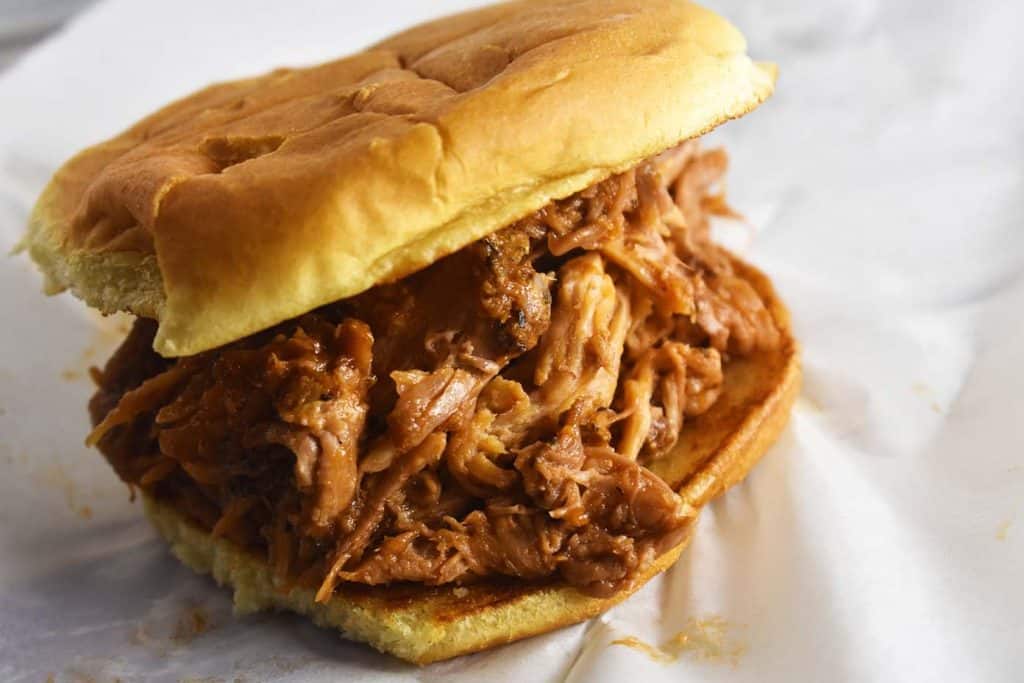 Another awesome option is to serve this BBQ pulled pork smack on top of a bed of mac and cheese. Now that's eatin'!
Print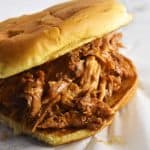 Perfect Pulled Pork (Slow Cooker Version)
---
Author:

Total Time:

8.5 hours

Yield:

8

servings

1

x
2

lb boston butt pork roast

1 tsp

worcestershire sauce

2 Tbsp

dark brown sugar

1 Tbsp

kosher salt

1 Tbsp

paprika

½ Tbsp

ground pepper

1 tsp

cumin

1 tsp

garlic powder

1 tsp

onion powder

½ tsp

thyme

½ tsp

coriander

½ tsp

dry mustard

6

garlic cloves

1 cup

apple juice

8

hamburger buns

1 cup

BBQ sauce (optional)
---
Instructions
Remove pork from oven and score fat criss cross diagonally with a knife.  Then poke six holes into the meat and place a single garlic clove deep in each hole.
Combine all seasoning ingredients in a bowl and whisk together.  Rub pork roast with worcestershire sauce to help rub adhere, then rub generously with ¾ of your rub.  Wrap tightly with saran wrap and place in fridge overnight.
The next morning, preheat oven to 350°.  Uncover pork and place onto roasting rack.  Place rack in center of oven and roast for one hour.  Remove and immediately transfer to a slow cooker.  Add apple juice and close lid.  Set to low for 7 hours.
Remove pork to bowl and shred with fork or bear claw shredder.  Sprinkle with remaining rub and toss to sir.  Add BBQ sauce if desired.
If serving on buns, place buns inside-up on a broiler pan and broil in oven for 1-2 minutes, or until golden brown.  This will help them from becoming soggy.
Notes
If cooking for a large crowd, upgrade from a boston butt to a full pork shoulder.  You can find them at most Costco stores if you are a member.  Just make sure it will fit fully inside your slow cooker!
Prep Time:

10 minutes

Cook Time:

8 hours

Category:

Dinner

Method:

Slow Cooker

Cuisine:

BBQ
Keywords: BBQ Pork, Slow Cooker Meals, Pulled Pork
0