This Slow Smoked Grilled Chicken Wings recipe produces juicy, flavorful wings that are prefect for your next `BBQ or cookout!
My wife is a pretty cool chick who gives all-in to my cooking addiction.  For my 31st birthday last month, she hooked me up with a brand new competition grade smoker – and I've put it to use every weekend since.  From St. Louis Style BBQ Ribs to Texas Style Beef Brisket to these Slow Smoked Grilled Chicken Wings, I've been putting this new toy through the paces with delicious results.
Slow Smoked Grilled Chicken Wings 101
Like most smoked meats here, there are three key ingredients: a good rub, fruit wood and time.
Let's start with the rub.  If you have a favorite chicken rub, grab it and use it.  This will really bring and highlight your flavors.  I choose a Emeril's Chicken Rub, available in the spice isle at pretty much every grocery store.  This would also work really well with a more BBQ focused rub like my BBQ Mud Rub.
Once you smoke food for longer than an hour, your choice in wood makes a big difference.  It's really easy to find mesquite or hickory wood.  When you find it, nod in their general direction and keep looking for the good stuff.  In this case, I choose Pecan.  Pecan is harder to find – I have to go to Home Depot to get some in Tallahassee.  Pecan offers a mild smoke taste that doesn't overpower your seasoning like those other popular woods.  If Pecan isn't available to you, Cherry, Peach or Apple wood all work great.  Build a solid charcoal base, soak those wood chunks and allow them to bring out the flavor of your chicken.
The most important ingredient in any smoked recipe is time.  These bad boys should smoke in indirect heat for about 3 hours in total.  And keep that lid closed!  As the old pit-master adage goes, every time you list the lid you add 20 minutes onto the cook time!
The last step is optional, but worked so very well with my recipe.  For the last 5 minutes of grilling, I stacked my wings in a pile and drizzled honey over them.  The sweetness was an awesome compliment.
Let's Make Slow Smoked Grilled Chicken Wings
Prep
Okay, let's get to the good part.  If you buy whole wings, feel free to chop them into flappers and drums, discarding the ends, or just leave them whole.  Personally, Costco sells big bundles of "party wings", which come already sectioned.  If you have a Costco membership, grab these, they're great.
Soak your wood chunks in water for at least 30 minutes.  I prefer chunks over chips.  They last longer and there's less of a need to open the grill to check on it.
Next, get your grill up to temperature.  Start by placing about 1/2 of your unlit charcoal into one side of the grill – or a side pot if you have a competition-style smoker.  Place the remainder of the charcoal into a chimney smoker and light.  When the charcoal is ready, add it on top of your unlit charcoal.  This will help give you an extended burn for the length of your smoke.
While the charcoal is warming, place your wings into a large mixing bowl ($) and cover in olive oil.  Then, add your rub and mix them well with your hands (pro tip: I keep some food service gloves on hand for tasks like this)
Cook
When your smoker hits 225-250, add your soaked wood chunk to create some smoke.  Grease your oil grate, close the lid for a minute, then re-open and add your wings.  Again, make sure to keep these in the path of the smoke, but away from the heat.  Heat will burn your wings.  Burnt wings are bad.  Don't burn your wings.
Leave the lid closed for 90 minutes, except for adding new wood chunks.  Open lid and flip wings over and continue to smoke for 90 additional minutes.  Then, pile the wings in up on the grade and drizzle with honey.  Allow to cook five more minutes and remove from the grill.  Serve immediately.
Recipe
This recipe was inspired by MGoBBQ's series on MGoBlog of Tailgate Recipes.
Print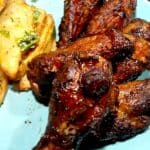 Slow Smoked Grilled Chicken Wings
---
Author:

Prep Time:

5 minutes

Cook Time:

185 minutes

Total Time:

190 minutes

Yield:

8

people

1

x
Description
This Slow Smoked Grilled Chicken Wings recipe produces juicy, flavorful wings that are prefect for your next `BBQ or cookout!
---
Scale
Ingredients
3

lbs chicken wings

3 tbsp

Emeril's Chicken Rub

2 tbsp

Honey

1

bag fruit wood chunks (for smoking)
---
Instructions
Soak wood chunks for at least 30 minutes
Heat grill to 225-250 for indirect heat. To do this, add 1/2 your charcoal to grill unlit, and light the other half in a chimney smoker. When the charcoal is ready, dump it on top of your unlit charcoal.
When grill reaches 225-250, oil your grate and allow a minute for oil to warm.
Add your smoked wood chunk to the charcoal.
Add wings to oiled grates. Close lid and allow to cook for 90 minutes, making sure to control temperature.
After 90 minutes, flip and continue to cook for 90 more minutes.
Lastly, pile your wings on the grill and drizzle with honey. Allow to cook for five minutes.
Remove wings from grill and serve immediately!
---
Category:

Main Course, Party Food

Cuisine:

American, Grilling
1