Smoky and crispy, no tailgate party is complete without these smoked chicken wings. The smoke gives you depth you'll never get in a fryer, and with some easy to follow steps you'll still get that crispy skin you desire. Learn how to make smoked chicken wings with this easy to follow recipe!
Mike's Recipe Rundown
Taste: Smokey, savory and a little bit spicy. Over an hour on the smoker brings depth of flavor, while our spicy garlic buffalo sauce really brings a pop at the end. Delish!
Texture: I use the Kirkland Brand party wings from publix, which are plenty plump and meaty. By cooking them low and slow than ratcheting up the heat, we get a crispy skin at the end that each wing absolutely needs!
Difficulty - Medium: There's nothing overly complex about this recipe, but you will want to control your temps. Not exactly novice, but far from an experts-only recipe.
Pros: Really gives a nice, deep flavor that's so much better than the over-fried basket of stuff you get at your local sports bar. Plus, this version is way better for you than tossing them in a deep fryer!
Cons: Takes about 90 minutes to come together. Is best for weekend dinners, backyard bbqs or tailgate parties, where you have time to cook. Not exactly weeknight meal friendly.
Would I make it again? Yes! I love to make this recipe when we're having friends over, especially if it's to watch a big game.
Check out some of our other great recipes, like cajun shrimp and grits, smoked gouda mac and cheese, chicken tikka masala, or 29-hour, super tender sous vide chuck roast. Or, try one of my wife's favorites, my Bacon Lamb Sliders which are 100% flavor-bombs. .
Smoked Chicken Wings Tips and Tricks
As with all chicken wings, there's a number of routes you can take this one. I love the spicy garlic buffalo sauce we use here. But, I also like using grated parmesan with garlic powder and parsley for a savory flavor bomb.
If you don't have a pellet grill or something where you can quickly and easily ramp up the temp, you can go a couple of routes. If you also have a propane grill

(affiliate)

, you can preheat that and move the wings over when it's time. Alternatively, you can place them in a preheated oven and bake them until they're crisp. If going that route, it works best to put them on a wire rack and sit that on top of a pan, to allow your drippings to go through.
You definitely want to toss your wings in your sauce or seasoning as soon as you pull them from the grill. This will allow everything to marry while it's in it's warm goodness. Then, let it cool a few minutes before indulging.
Of course, blue cheese or ranch dressing are necessary for dipping. I'm 100% on team blue cheese, but I won't fight you if you dip yours in some ranch.
Let's stay in touch. Follow me on Instagram and check out what we're up to on Pinterest. Support this site, follow the link and buy stuff on Amazon (affiliate).
What you need to make Smoked Chicken Wings
I prefer my offset smoker (affiliate). I like the airflow it creates while allowing for nice, clean wood burn on the opposite side of the chamber. I think it gives you the cleanest smokey flavor you can get. But, if you have a pellet smoker, ceramic smoker or electric smoker, those all work the same.
From there, you simply need a small sauce pan to make your sauce and a mixing bowl (affiliate) to toss everything in. If you need to transfer yours to the oven to finish, a large baking sheet (affiliate) will surely come in handy.
Need an awesome meal planning tool? Easily import this recipe to Plan To Eat (affiliate), schedule it and get your grocery list right on your phone. Get a 30-day free trial (affiliate) with no credit card required.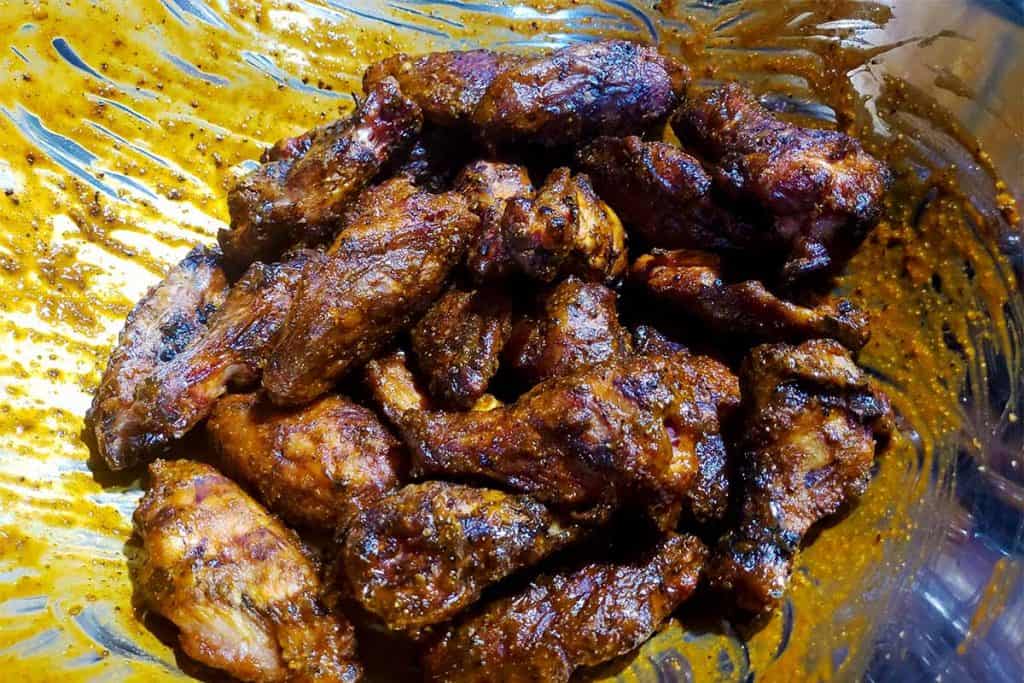 How to make Smoked Chicken Wings
Prep
Preheat smoker to 225°. This is a fairly short smoke, so your wood choice doesn't matter a ton here. I usually use a mix of post oak, cherry and pecan, because that's typically what I have on hand. Build your fire ahead of time enough that it has time to put out a nice clean smoke, not that puffy white smoke it puts out when it's first starting.
Meanwhile, take your lay your chicken wings out and pat them completely dry using a paper towel. Transfer them to a mixing bowl (affiliate) and toss them with baking powder.
Want to learn pro's tips for awesome recipes? Make pulled pork, mashed potatoes, or a wonderful date night duck breast ramen developed and perfected by professional chefs.
Smoke
When smoker is a steady 225°, place wings on grate on the opposite side of the firebox. Spread them out with about ½ inch of space between them, so they're not touching. This way the smoke can completely surround them.
Smoke wings at this temp for a good half an hour. Then, add more wood to your fire and steadily bump the temp up to 425°. Continue cooking for another 45 minutes, allowing the skin to get super crispy.
Sauce and Toss
Meanwhile, heat Frank's Red Hot Sauce, butter, and garlic powder in a small saucepan (affiliate). Heat until butter melts and turn heat to low to keep warm.
When wings are finished, immediately pull them off the grill into a clean heatproof mixing bowl (affiliate). Pour warm sauce over top and toss until wings are all covered. Allow 5 minutes to rest before serving. Serve with ranch or blue cheese for dipping.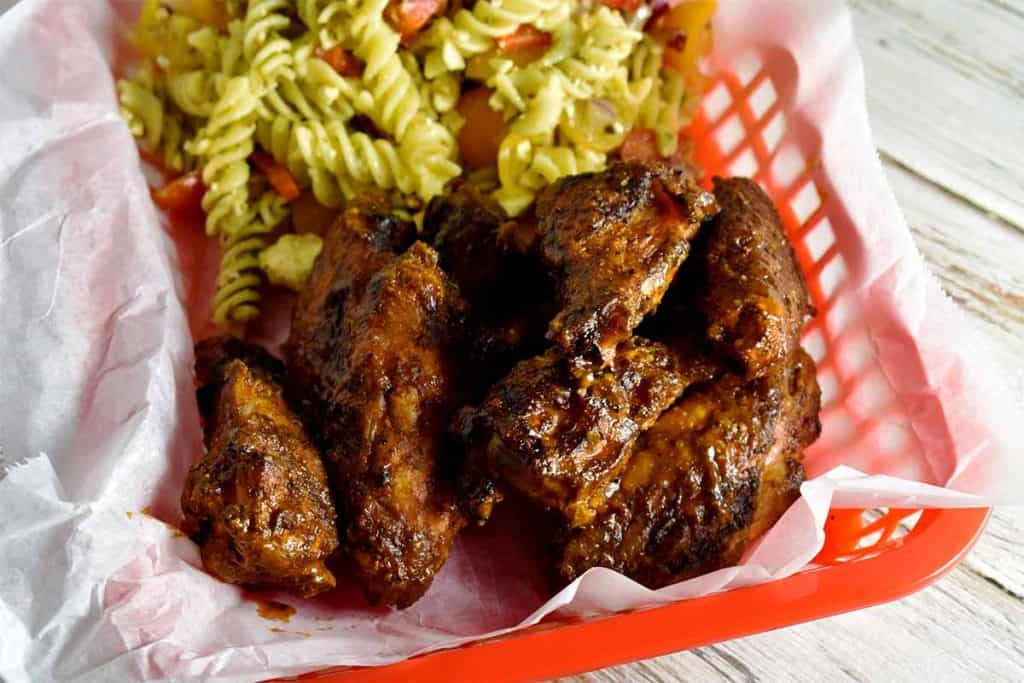 Check out our latest recipes
Print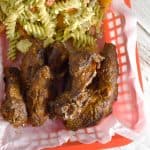 Smoked Chicken Wings
---
Author:

Total Time:

85 minutes

Yield:

4

servings

1

x
Description
Chicken wings smoked to add flavor and cooked until the skin is perfectly crispy.  A great treat for parties, cookouts and tailgates!
---
24

chicken wings (drums and flappers separated)

1 tsp

kosher salt

1 tsp

course black pepper

1 Tbsp

baking powder

1 cup

Frank's Red Hot Louisiana Hot Sauce

2 Tbsp

butter

1 Tbsp

garlic powder
Ranch or Blue Cheese Dressing (optional, for dipping)
---
Instructions
PREP: Preheat smoker to 225°.  Meanwhile, pat wings completely dry and season with salt and pepper.  Transfer to a mixing bowl and toss in baking powder.
SMOKE: Smoke at 225° for 30 minutes.  After 30 minutes, gradually raise heat to 425° and cook for another 45 minutes, until the skin is nice and crispy.
SAUCE AND TOSS: Heat Frank's Red Hot Sauce, Butter and Garlic Powder in a saucepan over medium heat.  Stir until butter is melted and everything is well combined.  Reduce heat to low.  When wings are done, remove to mixing bowl and pour sauce over top.  Toss until all wings are coated.  Let rest five minutes before serving.
Equipment
Prep Time:

10 minutes

Cook Time:

75 minutes

Category:

Main Course

Method:

Grilling

Cuisine:

American
Keywords: Tailgate Recipes, Chicken Wings, Smoked Chicken
0