Cheesey, bacon-ey and perfectly spiced! These Smoked Jalapeno Poppers are the perfect side dish for your next BBQ. Simple to make, not at all spicy and amazingly delicious. Learn how to make Smoked Jalapeno Poppers with this easy to follow recipe. Did we mention they come WRAPPED IN BACON?!!
Mike's Recipe Rundown
Taste: Complex and deep. The cream cheese filling includes several sweet and savory spices to bring added richness, while the smoke from the fire provides a wonderful depth. Plus, by removing the seeds and white membrane and slowly smoking the peppers, the harsh spice of the jalapeno is good.
Texture: By finishing the poppers in the oven (or over an open flame on the grill), the bacon becomes crispy, giving way to a soft peppers and cheesy filling. Simply make sure to let the poppers rest long enough that the filling sets a little bit.
Difficulty – Easy to Medium: There's not a ton of techniques involved here, just a few steps. You'll want a microplane grater

($)

to make your cream cheese filling, but smoking them isn't exactly difficult.
Pros: Awesome finger food recipe that makes for an awesome treat for tailgates, Super Bowl Parties or backyard BBQs!
Cons: While I don't think these are spicy, you might scare some folks away just by the look of a jalapeno pepper staring them in the face. But the ones who are willing to try it will be wowed by how awesome it is.
Would I make it again? YES! These are a staple at my summer backyard grill-outs or Super Bowl Parties. I love these on my plate alongside some slow smoked brisket or perfectly smoked BBQ ribs.
Check out some of our other great recipes, like cajun shrimp and grits, smoked gouda mac and cheese, chicken tikka masala, or 29-hour, super tender sous vide chuck roast. Or, try one of my wife's favorites, my Bacon Lamb Sliders which are 100% flavor-bombs. .
What you need to make Smoked Jalapenos.
Not a ton of fancy things here, but my BBQ weapon of choice is always an offset smoker ($). You want a natural wood flame here, not only charcoal and certainly not propane. A long slow cook will get you what you want. For prep, a microplane grater ($) will help you to get the garlic and onion minced to so that they just mix into the cream cheese filling.
Smoked Jalapeno Tips and Trikcs
Invest in some food service gloves

($)

to wear when stuffing the jalapenos and be sure not to touch your hands or face. The acid from the jalapenos will burn you if you're not careful. If you don't have food service gloves

($)

, simply make sure not to touch your face and wash your hands carefully.
I definitely recommend cooking the jalapenos in a aluminum pan on your grill. This will help a couple of things. First, it will guard it from getting direct heat and cooking too fast. Secondly, it will help keep the bottom of your grill clean from any bacon grease or spillage.
There's two options to finish these, but I definitely recommend popping them in the oven for a few minutes. This will crisp up the bacon and really give them the bite you're looking for.
Make sure to take the time to remove all seeds and white membrane from the inside of the fresh jalapeno. This is where all the spice lives. By removing it, you really mild out the jalapeno. Be detail oriented here and get rid of it all.
If you're serving a spice adverse crowd, you can serve these with some ranch as a dipping sauce. That will cool whatever spice has remained.
Let's stay in touch. Follow me on Instagram and check out what we're up to on Pinterest. Support this site, follow the link and buy stuff on Amazon ($).
How to make Smoked Jalapeno Poppers on the Grill
Smoked Jalapeno Poppers: The Stuffing
Before you begin, pull cream cheese out of the refrigerator and let it sit at room temp for about 2 hours to soften. You should be able to soften it down with a spoon easily when it's ready. When it is, toss it in a medium size mixing bowl ($).
Using a microplane grater ($), grate garlic cloves and onion into bowl. Next, add salt, pepper, cumin, smoked paprika (yum!) and shredded cheddar cheese. Using a large spoon, fold everything together until consistently mixed well all the way through. Cover mixture and set aside.

Smoked Jalapeno Poppers: Prep Your Pepp(ers)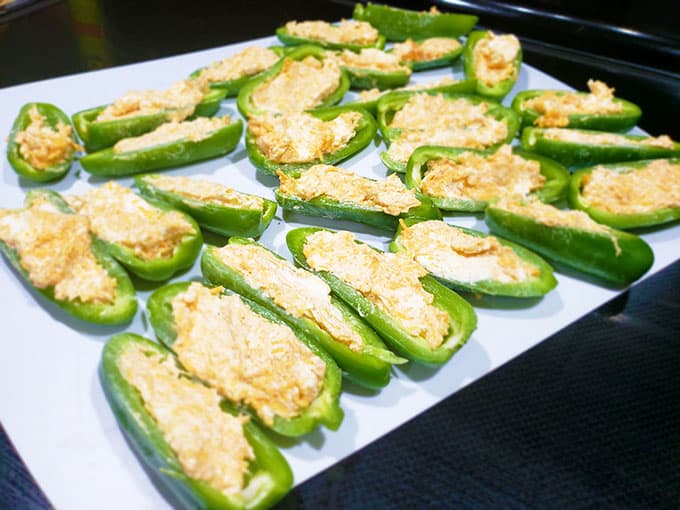 Next, wash your jalapeno peppers then slice in half vertically. Remove the stem from each half of jalapeno. Now, using a spoon, remove all seeds and membrane (the white inner parts) from the jalapeno. Do not skip this step! The membrane is where the most capsaicin is stored, which is what makes these peppers spicy. By removing them, you turn jalapenos from fiery to spicy.
Wash your peppers when they're done to make sure all the seeds are gone. Spoon softened cheese mixture into each jalapeno half, stuffing just enough so it's filled to the edge.
Arrange stuffed peppers on aluminum roasting pan so stuffed side is facing up. Remove bacon from fridge and cut strips in half. Wrap each jalapeno with one half strip of bacon and place back in pan. If you have any non-bacon fans or vegetarians, you can always leave a couple unwrapped and save that bacon for a rainy morning.
Smoked Jalapeno Poppers: Smoke and Bake!
I typically make smoked jalapenos while I'm already smoking something like BBQ Ribs or Smoked Brisket, so my smoker is usually running at 250° already. If not, prepare a smoker – ideally an offset smoker ($) – to hold steady at 250°.
When smoker is ready, place the full pan of jalapenos is the smoker and shut the lid. After about 35, begin preheating your oven to 400°.
After another ten minutes (or once your oven is done preheating), pull the pan of jalapenos off the grill and place directly in oven for 10 minutes. This will help to crisp your bacon up to go along with that super smokey goodness that is now infused throughout.
Allow five minutes for poppers to cool before serving. You can easily prep the peppers the night before your party, then simply smoke and bake them and they're ready to go!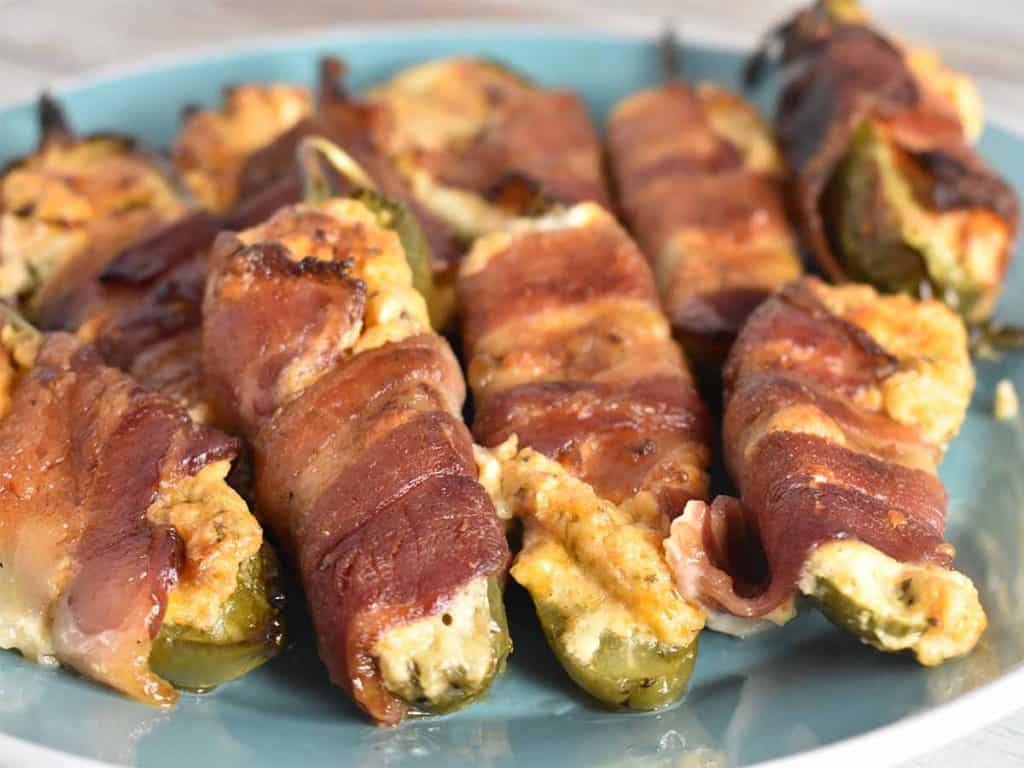 Check out our latest recipes
Print
Smoked Jalapeno Poppers
---
Author:

Prep Time:

10 minutes

Cook Time:

55 minutes

Total Time:

65 minutes

Yield:

28

peppers

1

x
Description
Bacon wrapped jalapenos stuffed with a seasoned cream cheese filling and stuffed to perfection.  Delicious!
---
Scale
Ingredients
14

jalapeno peppers

7

strips bacon (cut in half)

8 oz

cream cheese

4 oz

shredded cheddar cheese

1 tsp

cumin

1 tsp

oregano

1 tsp

smoked paprika

2

cloves garlic

1/2

medium white onion
---
Instructions
MAKE FILLING: Let cream cheese rest at room temp for 2 hours and place in large mixing bowl.  Using a microplane grater, grate in garlic cloves and onion.  Add cumin, oregano, smoked paprika and cheddar cheese. Mix together using large spoon.
SLICE & STUFF: Slice jalapeno peppers in half vertically  Using spoon, remove all seeds and white membrane from peppers. This is where the heat lives, so make sure to get rid of it all!  Spoon in cheese mixture so that it is even with pepper top.  Wrap each pepper with a halved sliced of bacon. Place in disposable aluminum pan.
SMOKE & BAKE: Smoke at 250° for 45 minutes by placing entire pan on smoker. 35 minutes in, begin preheating an oven to 400°.  Transfer pan from smoker to oven. Bake for 10 minutes, so that bacon becomes crispy.  Let rest for 10 minutes before serving.
---
Equipment
Category:

Side Dish

Method:

Grilled

Cuisine:

BBQ
Keywords: BBQ Side Dishes, Party Food, Cookout Recipe
1