Cheese, bacon-ey and perfectly spiced!  These Smoked Jalapeno Poppers are the perfect side dish for your next BBQ.  Simple to make, not at all spicy and amazingly delicious.  Bring them to your next get together!
BBQ sides dishes don't have to be so basic.  We've all had just about every potato salad or macaroni salad there is to know.  Mac and cheese?  Most lack imagination.  So why not show up yo tour next BBQ with a side dish that people are sure to remember.  These Smoked Jalapeno Peppers are wrapped in bacon and absolutely fantastic.  Best of all, by removing the seeds and membrane and slowly smoking them, you lose the spice and just keep a perfectly handheld flavor bomb.  It's simple to make and an absolutely perfect addition to bbq ribs or smoked brisket.
Simple and delicous
Let's face it, the thought of biting down on a whole jalapeno can be a scary one for those squeamish on spice.   While I love some old-fashioned culinary heat, my wife sure doesn't.  Yet, she has come to love these bits of slow smoked BBQ goodness.  Same with our whole group of friends, in fact.  These are a hit among everyone at every party I bring them too.  Except for my one friend, April, who for some reason, doesn't like bacon(!).  I'm still trying to figure out how that is even possible.
This little pop of deliciousness builds flavors in layers.  It begins with a well seasoned cream and cheddar cheese stuffing added to a halved jalapeno.  Next, you wrap that bad boy with a half slice of bacon.  I mean, what isn't better when it's not wrapped in bacon?  Smoke them low and slow until they cook down and pick up every bit of flavor, then pop them in the oven to crisp the bacon and finish them off.  These. Are. So. Good.  Let's back a batch, like, now!
Let's Make Smoked Jalapeno Poppers!
Smoked Jalapeno Poppers: The Stuffing
Before you begin, pull cream cheese out of the refrigerator and let it sit at room temp for about 2 hours to soften.  You should be able to soften it down with a spoon easily when it's ready.  When it is, toss it in a medium size mixing bowl ($).  Using a microplane grater ($), grate garlic cloves and onion into bowl.  Next, add salt, pepper, cumin, smoked paprika (yum!) and shredded cheddar cheese.  Using a large spoon, fold everything together until consistently mixed well all the way through.  Cover mixture and set aside.
Smoked Jalapeno Poppers: Prep Your Pepp(ers)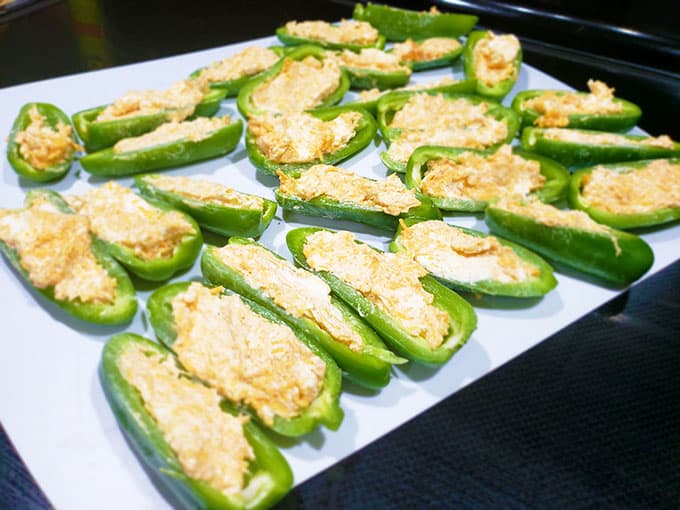 Next, wash your jalapeno peppers then slice in half vertically.  Remove the stem from each half of jalapeno.  Now, using a spoon, remove all seeds and membrane (the white inner parts) from the jalapeno.  Do not skip this step!  The membrane is where the most capsaicin is stored, which is what makes these peppers spicy.  By removing them, you turn jalapenos from fiery to spicy.  I typically wash my peppers when they're done to make sure all the seeds are gone.
Spoon softened cheese mixture into each jalapeno half, stuffing just enough so it's filled to the edge.  Arrange on aluminum roasting pan so stuffed side is facing up.  Remove bacon from fridge and cut strips in half.  Wrap each jalapeno with one half strip of bacon and place back in pan.  If you have any non-bacon fans vegetarians, you can always leave a couple unwrapped and save that bacon for a rainy morning.
Smoked Jalapeno Poppers: Smoke and Bake!
I typically make these while I'm already smoking something like BBQ Ribs or Smoked Brisket, so my smoker is usually running at 250° already.  If not, prepare a smoker – ideally an offset smoker ($) – to hold steady at 250°.  I go into more depth on the best way to set up your smoke in my guide on how to smoke a brisket.  When smoke is ready, place the full pan of jalapenos is the smoker and shut the lid.  After about 35, begin preheating your oven to 400°.  After another ten minutes (or once your oven is done pre-heating), pull the pan of jalapenos off the grill and place directly in oven for 10 minutes.  This will help to crisp your bacon up to go along with that super smokey goodness that is now infused throughout.
Allow five minutes for poppers to cool before serving.  You can easily prep the peppers the night before your party, then simply smoke and bake them and they're ready to go!
Print
Smoked Jalapeno Poppers
---
Author:

Prep Time:

10 minutes

Cook Time:

65 minutes

Total Time:

70 minutes

Yield:

7

people

1

x
Description
Cheese, bacon-ey and perfectly spiced! These Smoked Jalapeno Poppers are the perfect side dish for your next BBQ. Simple to make, not at all spicy and amazingly delicious. Bring them to your next get together!
---
Scale
Ingredients
14

jalapeno peppers

7

strips bacon (cut in half)

8 oz

cream cheese

4 oz

shredded cheddar cheese

1/2 tsp

cumin

1/2 tsp

oregano

1/2 tsp

smoked paprika

2

cloves garlic

1/4

medium white onion
---
Instructions
Let cream cheese rest at room temp for 2 hours and place in large mixing bowl

($)

.
Using a microplane grater

($)

, grate in garlic cloves and onion
Add cumin, oregano, smoked paprika and cheddar cheese.
Mix together using large spoon.
Slice jalapeno peppers in half vertically
Using spoon, remove all seeds and white membrane from peppers. This is where the heat lives, so make sure to get rid of it all!
Spoon in cheese mixture so that it is even with pepper top.
Wrap each pepper with a halved sliced of bacon. Place in disposable aluminum pan.
Smoke at 250° for 45 minutes by placing entire pan on smoker. 35 minutes in, begin preheating an oven to 400°.
Transfer pan from smoker to oven. Bake for 10 minutes, so that bacon becomes crispy.
Let rest for 10 minutes before serving.
---
Category:

Side Dish

Cuisine:

American, BBQ
0