Whether you're looking for a kid friendly recipe or a party pleasing appetizer, these snackable soft pretzel bites are exactly what you need. Easier to make than you'd think and sure to please, this recipe for soft pretzel bites is a great dippable snack that everyone will love!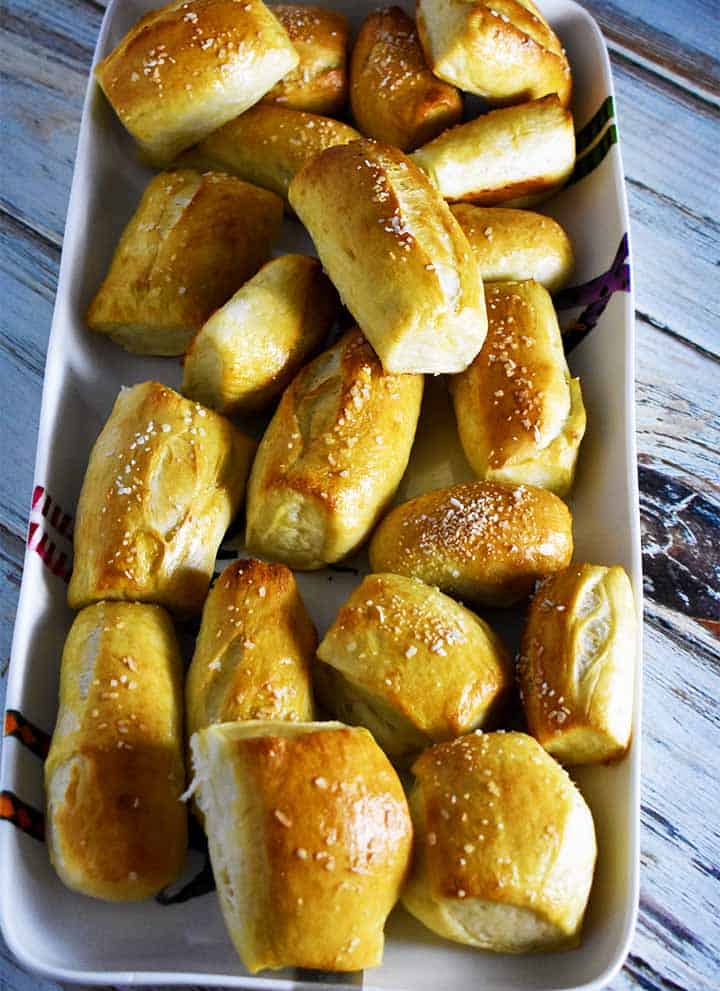 Mike's Recipe Rundown
Taste: Good kosher salt gives a nice comforting balance. The real flavor here though comes in what you dip it in. A nice chile con queso, honey mustard or beer cheese dip could really bring this to the next level.
Texture: Soft and pillowy throughout. The egg wash succeeds in giving you a nice golden brown exterior, but that's still soft in itself. It makes a great vessel for a party dip.
Easy - Intermediate: We're making this from scratch, so there is a dough that needs to come together. From beginning to end, it's about 90 minutes, but most of that is waiting time for the dough to rise and pretzels to bake. So, this still tends to skew toward easy, but it's hard to throw that label on something when you're mixing a dough together.
Pros: A great party pleaser that people of all ages love. Awesome with mustard, cheese or sweet cinnamon dips.
Cons: Not the quickest snack to put out, so it takes a little planning ahead. But the payoff is so worth avoiding the frozen foods version.
Would I make it again? Yes! This has become one of my favorite party foods. It also makes for a great snack whenever my four-year-old has her friends over for a play date.
Let's stay in touch. Follow me on Instagram and check out what we're up to on Pinterest. Support this site, follow the link and buy stuff on Amazon (affiliate).
Soft Pretzel Bites Tips and Tricks
Picking the right flour here does make a difference. I suggest King Arthur's Bread Flour

(affiliate)

. Using bread flour gives you a product with more gluten, which gives you that nice chewy and pillowy texture you want.
Also important is the salt you choose. Kosher salt or larger sea salt are the best choices. You want to avoid normal table salt, as these pieces are too small and will simply disappear into the dough itself.
This recipe was inspired by Tessa's Soft Pretzel Bites Recipe at Handle the Heat. She does a great job with baking recipes, if you're looking for more ways to use your kitchenaid and indulge your sweet tooth.
What you need to make soft pretzel bites
I definitely recommend a stand mixer (affiliate) for mixing your dough together, and a lightly oiled mixing bowl (affiliate) for letting it rise. A pastry brush (affiliate) will also come in handy for brushing on your egg wash.
Also - as said above - King Arthur's Bread Flour (affiliate) is the right move over your normal all-purpose flour. A large pot (affiliate) is needed to boil your water. Lastly, a pizza cutter (affiliate) comes in handy for slicing your pretzel bites and pinching the ends.

How to make soft pretzel bites
Make Dough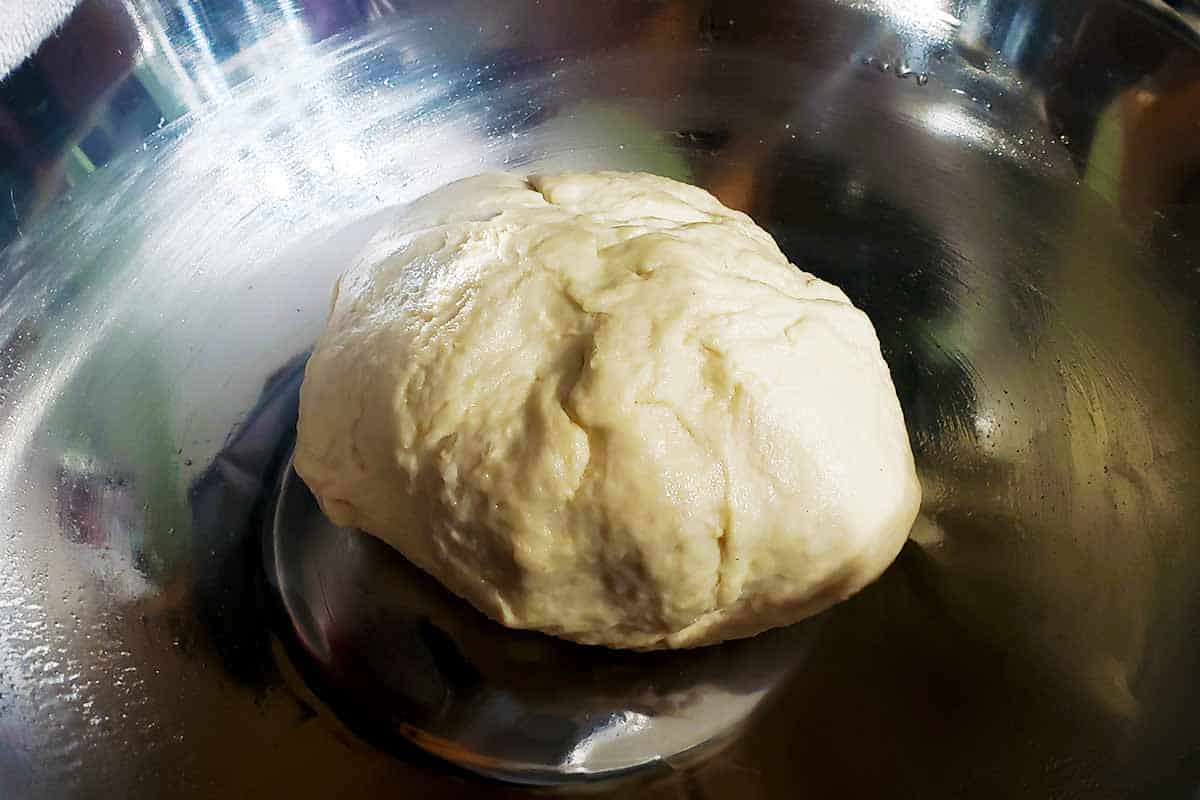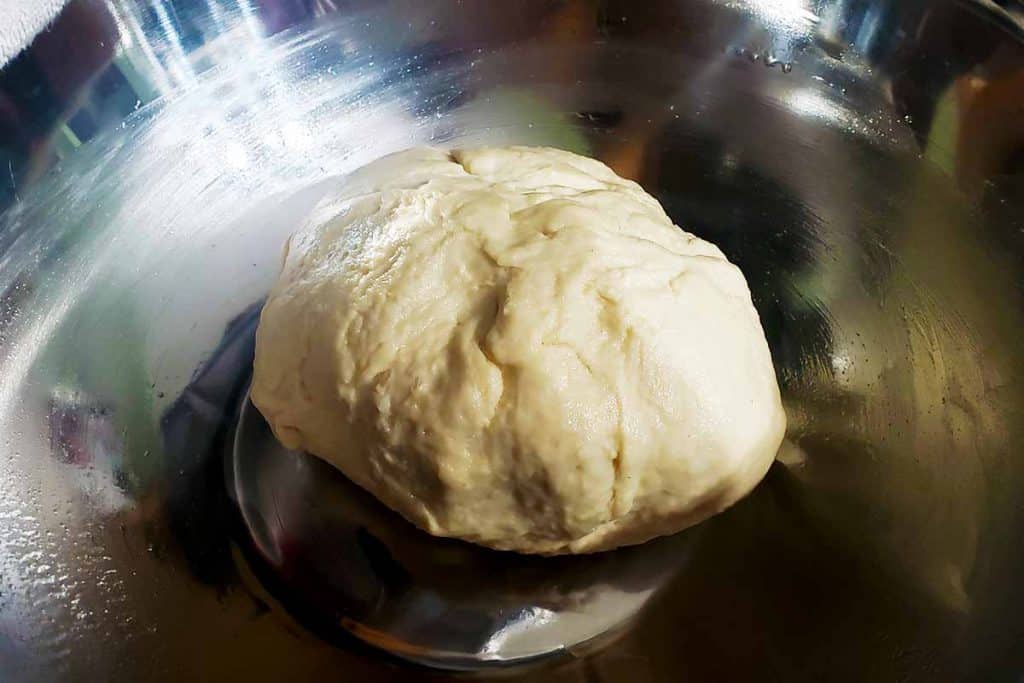 In a kitchen stand mixer (affiliate), add warm water and instant yeast. If you have an instant-read thermometer, try to get your water between 105° and 110°. This is the ideal temp for yeast activation. If you don't have one, you want the water to be warm enough that it feels warm - but not too hot - against the back of your hand. Let sit 15 minutes until water begins to bubble.
Add in honey, butter and one cup of bread flour. Using the dough hook attachment, mix at low speed until a sludge is formed. Gradually add remaining bread flour until the dough pulls away from the sides of the bowl. Continue to knead for 5 minutes, until dough is smooth.
Remove to a large, oiled bowl and cover with a towel. Let rise until doubled in size, about 90 minutes.
Form and boil soft pretzel bites
Press dough to deflate and move to a lightly floured surface. Cut into eight evenly sized pieces. Roll each piece into a long rope, about 2 feet long. Using your pizza cutter (affiliate), cut dough into bites every two inches. Cover the dough and bring a pot of water to boil with a Tbsp of additional honey.
Boil pretzels in batches for about 30 seconds. This will help cook just the outside of the bread and give you that perfect golden brown touch with a pillowy inside that make them so good! Remove with a wire strainer (affiliate) to a pan lined with paper towel to soak up excess moisture. Continue until all pretzels are boiled.
Find out why people love our most popular recipes, like Sous Vide Pork Tenderloin, Instant Pot Chicken a la King and Homemade Beef Stroganoff. When it's burning hot in Tallahassee, I love to pop some Arnold Palmer Popsicles in the freezer, or cool off with Pomegranate Margaritas.
Brush and bake!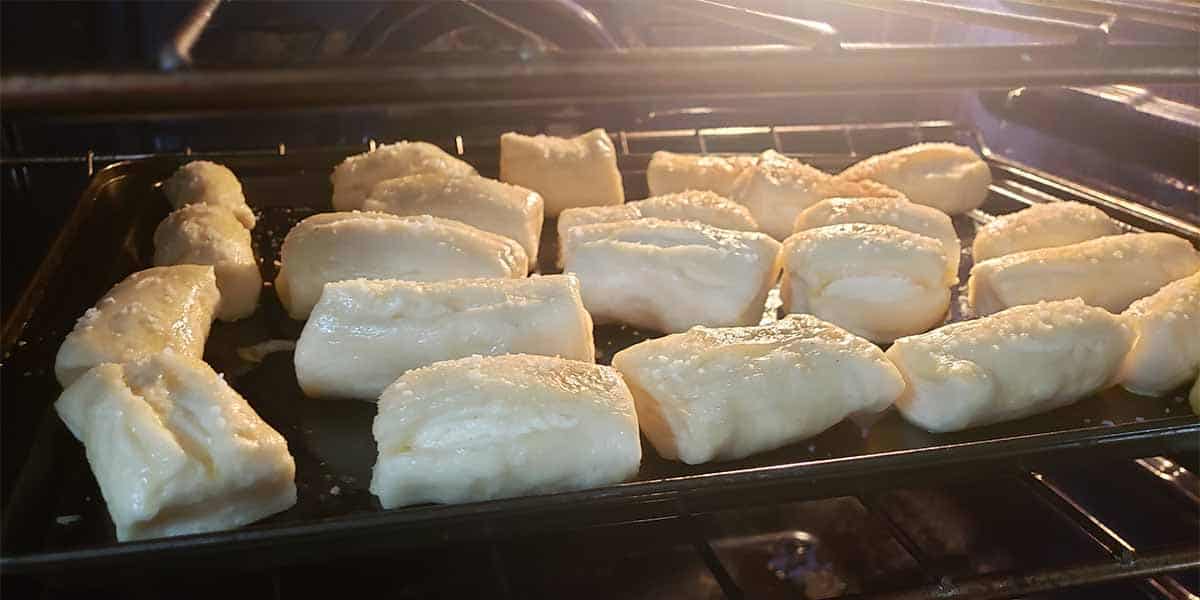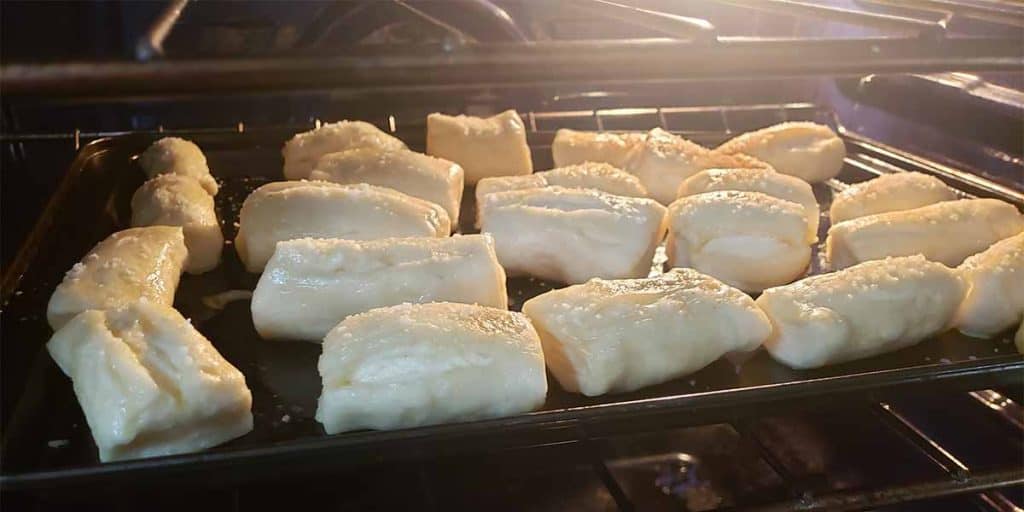 Preheat oven to 425°.
In a small bowl, beat together egg and cold water. Meanwhile, arrange pretzel bites on a large greased baking sheet with roughly an inch between the bites. Using a pastry brush (affiliate), bush the egg wash over all the exposed area of the pretzel dough. Sprinkle overtop with kosher salt.
Place baking sheet in center of oven for 15 minutes, or until golden brown. Remove and let cool 5 minutes before serving.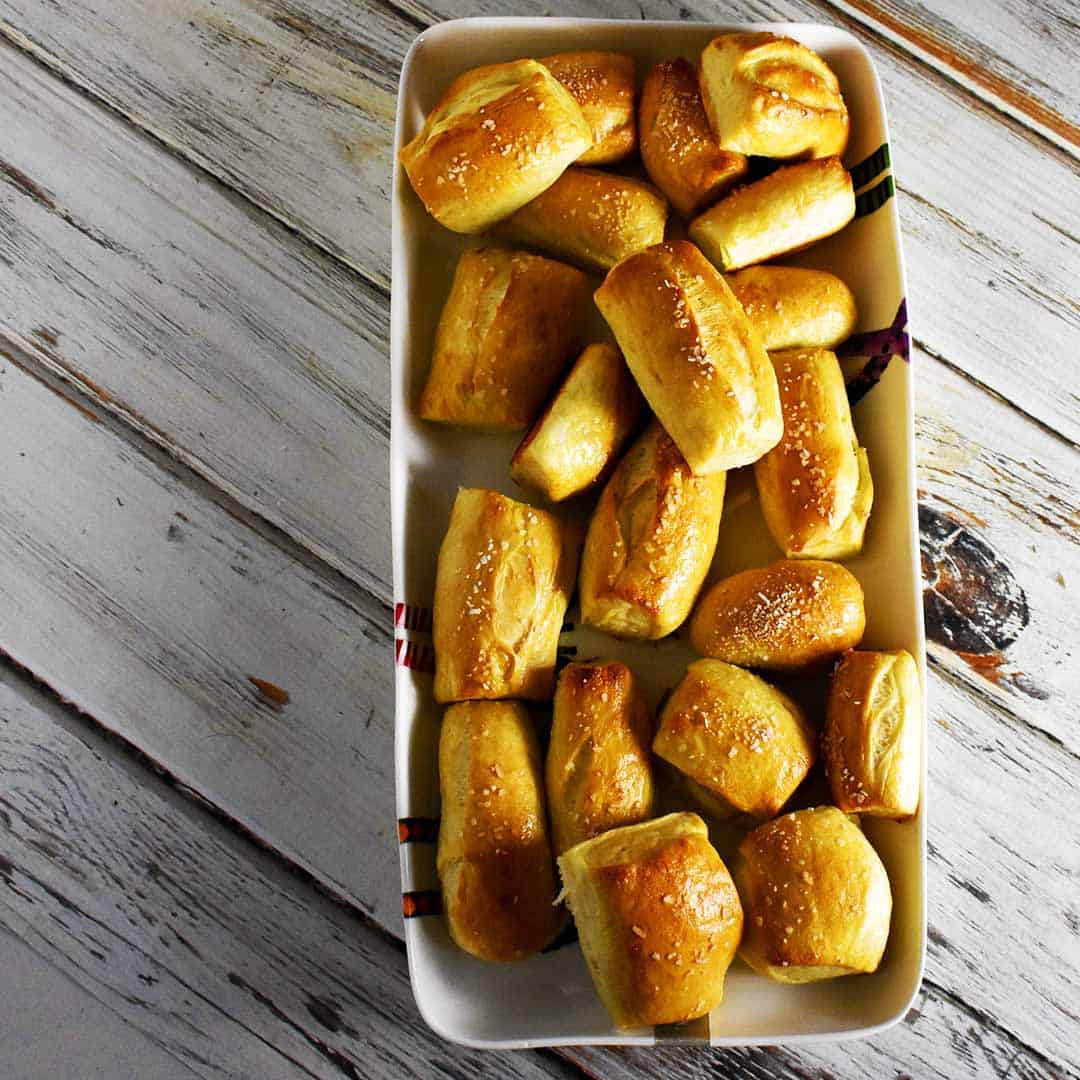 What to do with leftover soft pretzel bites
Leftover pretzel bites can keep well for a day or so in a ziploc bag at room temperature. Beyond that, they should be frozen in a freezer safe bag for up to three months. To reheat, place on a greased sheet in the oven at 250° about 15 minutes, or until warmed through.
Check out our latest recipes
Print
Soft Pretzel Bites
---
Author:

Total Time:

2.5 hours

Yield:

8

dozen bites

1

x
Description
Perfect soft pretzel snackers are great for parties or kiddies!  An awesome snack food for get together or tailgate parties!
---
1

package instant yeast

1.5 cups

warm water

2 Tbsp

honey

¾ cup

butter (melted)

2.5 cups

bread flour

1

egg plus 1 Tbsp cold water

2.5 tsp

kosher salt
---
Instructions
Add warm water and instant yeast to kitchen stand mixer.  Stir gently and let rest 15 minutes to activate.  Add in 1 Tbsp honey, butter and 1 cup of bread flour and mix using bread hook to create sludge.  Gradually add remaining bread flour until it gently pulls away from the sides of the kitchen stand.  Knead for 5 minutes, than transfer to a lightly oiled bowl.  Cover with a towel and let rest for 90 minutes.
Press dough to deflate, than transfer to a lightly floured surface.  Cut into 8 equally sized sections.  Roll each section into a two foot long rope.  Cut into 2 inch long sections.  Cover with a damn towel while moving on to the next step.
Bring a large pot of water to a boil with a Tbsp of honey.  Add in pretzel bites in batches and boil for 30 seconds.  Remove to a baking dish lined with paper towel.  Meanwhile, preheat oven to 425°.
Arrange pretzel bites on a lightly greased pan so there is roughly an inch of space between them.  In a small bowl, beat together egg and a Tbsp of cold water.  Brush over pretzel bites on all exposed surfaces.  Sprinkle with kosher salt.
Bake for 15 minutes in center of oven, until golden brown.  Remove and let rest 5 minutes before serving.
Equipment
Notes
Freeze leftover pretzel bites for up to 3 months.  Reheat at 250° for about 15 minutes, until heated through.
Prep Time:

2 hours

Cook Time:

30 minutes

Category:

Appetizers

Method:

Baked

Cuisine:

American
Keywords: Party Food, Kid Friendly, Tailgate Recipes
1