When it comes to string cheese, few know of the greatest kind - Syrian String Cheese. This recipe for Middle-Eastern style string cheese is hand pulled, seasoned and salted to amazing perfection. The result is a powerful pop that goes great as a side dish for all of your favorite Middle Eastern dishes.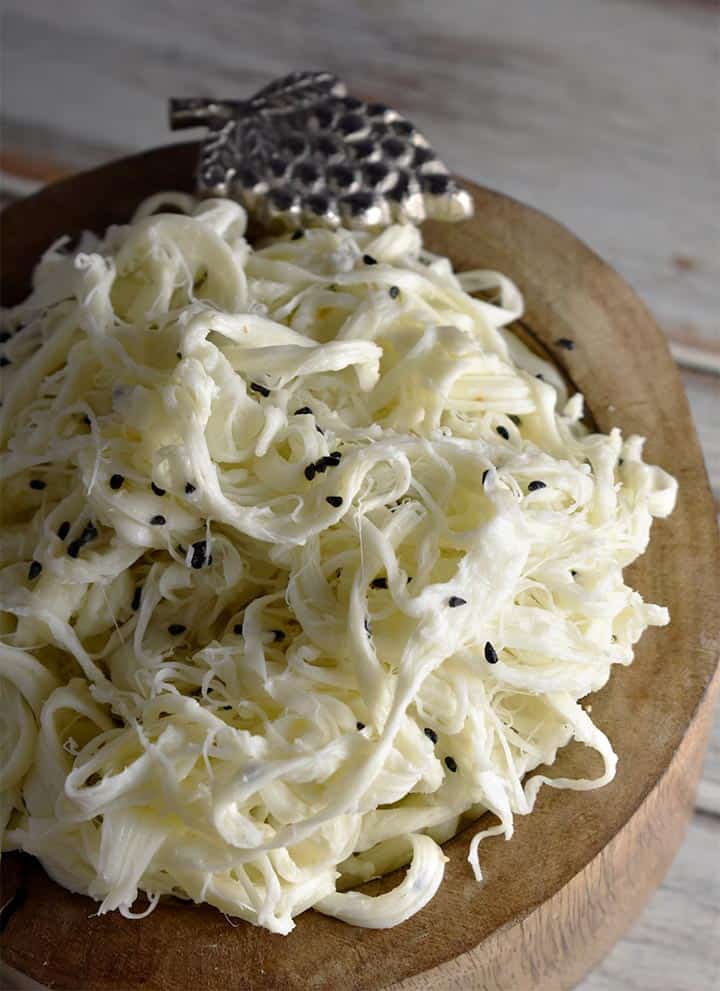 What is Syrian String Cheese?
Raw curd mozzarella is melted down, seasoned with mahleb and black caraway seeds and stretched by hand to achieve maximum stringiness. Bathed in salt water overnight to soften and soak up the flavor of the water, the cheese is then hand strung finely and served alongside dishes like lamb kibbeh.
Let's stay in touch. Follow me on Instagram and check out what we're up to on Pinterest. Support this site, follow the link and buy stuff on Amazon (affiliate).
Why I love Syrian String Cheese
There are few dishes that connect me to my family like Syrian String Cheese. Every major family gathering requires some string cheese, which everyone will quickly gobble up before even thinking about what else is coming. It's unlike any other cheese out there, and is the perfect side dish for any of your favorite Middle Eastern recipes.
Mike's Recipe Rundown
Taste: Unique and flavorful. The mahleb and caraway seeds gives the cheese a savory note, while the salt water bath really brings everything to life. It's the mozzarella cheese you've longed for all your life.
Texture: Still mozzarella like in density, but definitely different. For one, hand pulling it gives you long strings to pull apart. Secondly, the water bath softens it up just a tad.
Difficulty - Above Average: There's nothing extraordinarily difficult about this, but it does take a few key steps. They're all laid out here, so just follow along and enjoy.
Pros: In my Syrian family, we treat this food like currency. Need a chore done? Just offer a knot of string cheese. It's that good.
Cons: Cons for the taste? None. For the process of making it, there can be one. In order to get the cheese pulled to be nice and stringy, you need to pull it when it's pretty warm. In fact, the warmer the better. My wife makes fun of me for doing my "hot-hot-hot" dance when I pull the cheese to distract myself from just how hot it is.
Would I make it again? YES YES YES! As I've said above and will say again below, this is a family tradition that we absolutely cherish.
Find out why people love our most popular recipes, like Sous Vide Pork Tenderloin, Instant Pot Chicken a la King and Homemade Beef Stroganoff. When it's burning hot in Tallahassee, I love to pop some Arnold Palmer Popsicles in the freezer, or cool off with Pomegranate Margaritas.
Syrian String Cheese Tips and Tricks
The hardest part here is getting your hands on the right ingredients. For the truly authentic stuff, you want to use raw curd mozzarella. This is different than the fresh mozzarella that's carried in most grocery stores. You can typically find it in specialty stores like Whole Foods or Middle-Eastern grocers. If you have access, you can also order large chunks for a good price through Restaurant Depot.
All that said, if you absolutely can't get raw curd mozzarella, fresh mozzarella is an okay substitute. There is a difference, so it's not ideal, but it's darn close.
Mahleb and Caraway Seeds that we use are available at most Middle-Eastern grocers.
I try to grab my cheese when it's pretty warm, to get maximum stringiness. However, feel free to let it sit for a 30 seconds or so and cool a bit if it's simply too hot for you to handle. Running your hands under cold water - or placing them in a bowl of ice water for a bit before grabbing the cheese, helps buy you some time.
This is one of those things we make in large quantities at a time. It's simply easier that way. If you're making more than you'll eat, simply freeze the leftover knots in a freezer-safe plastic bag. Keeps well in the freezer for up to 3 months. To thaw, remove and place in fridge overnight.
Need an awesome meal planning tool? Easily import this recipe to Plan To Eat (affiliate), schedule it and get your grocery list right on your phone. Get a 30-day free trial (affiliate) with no credit card required.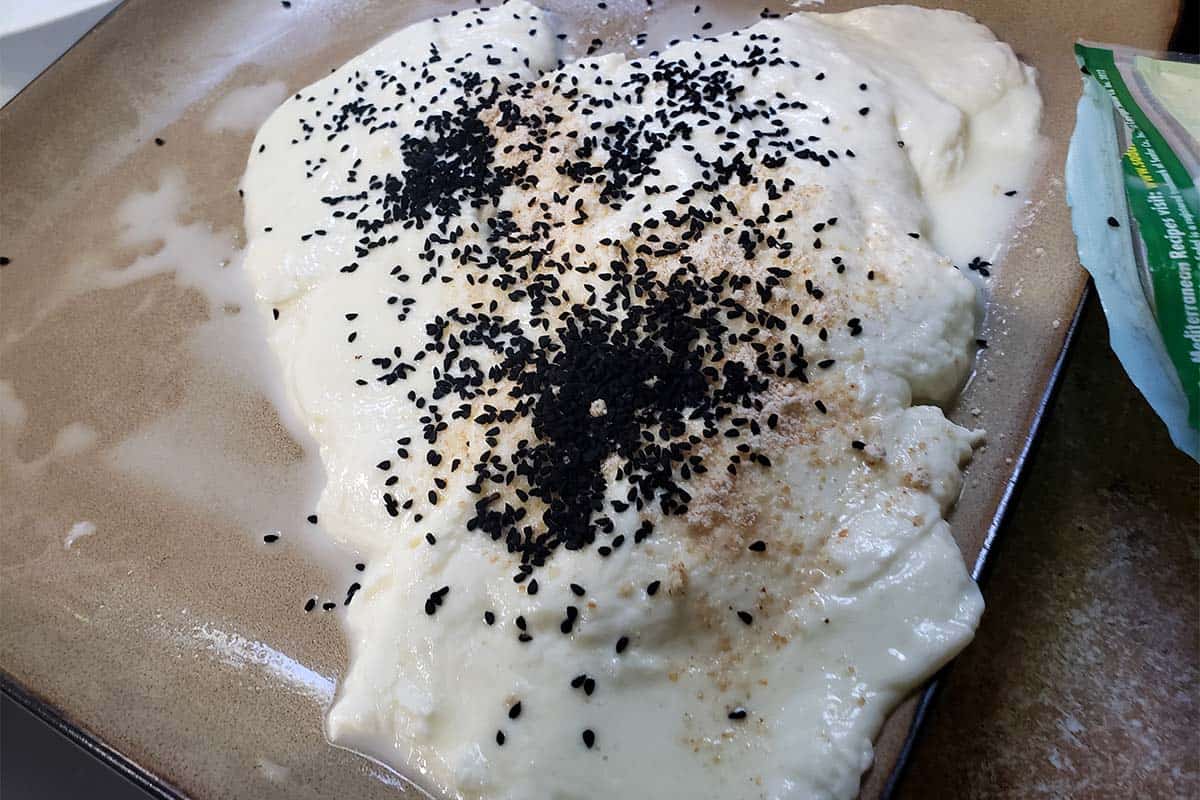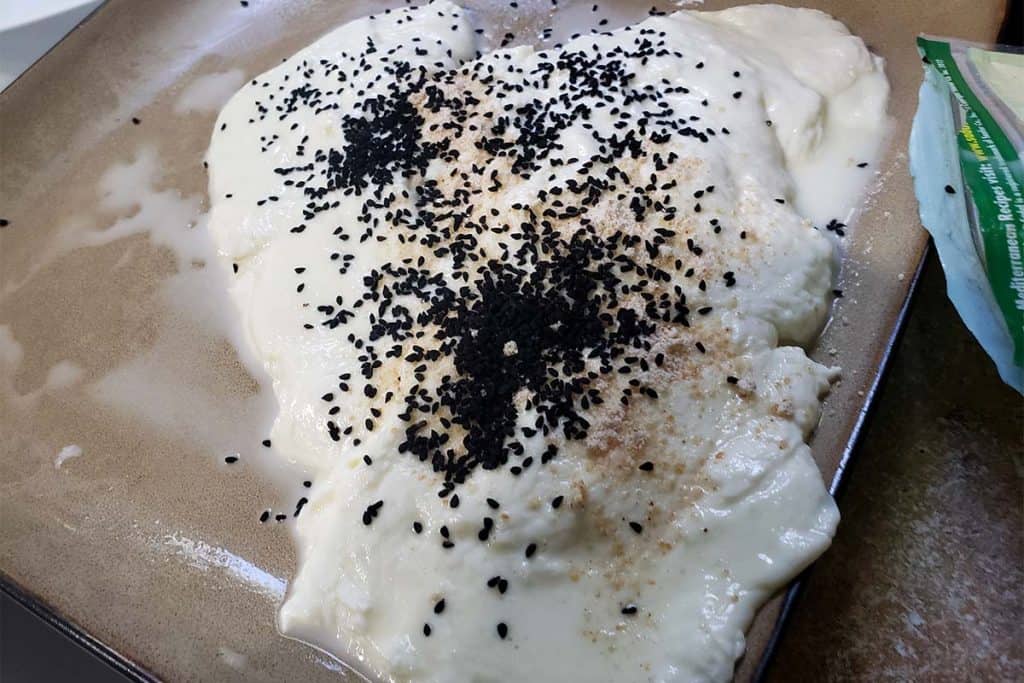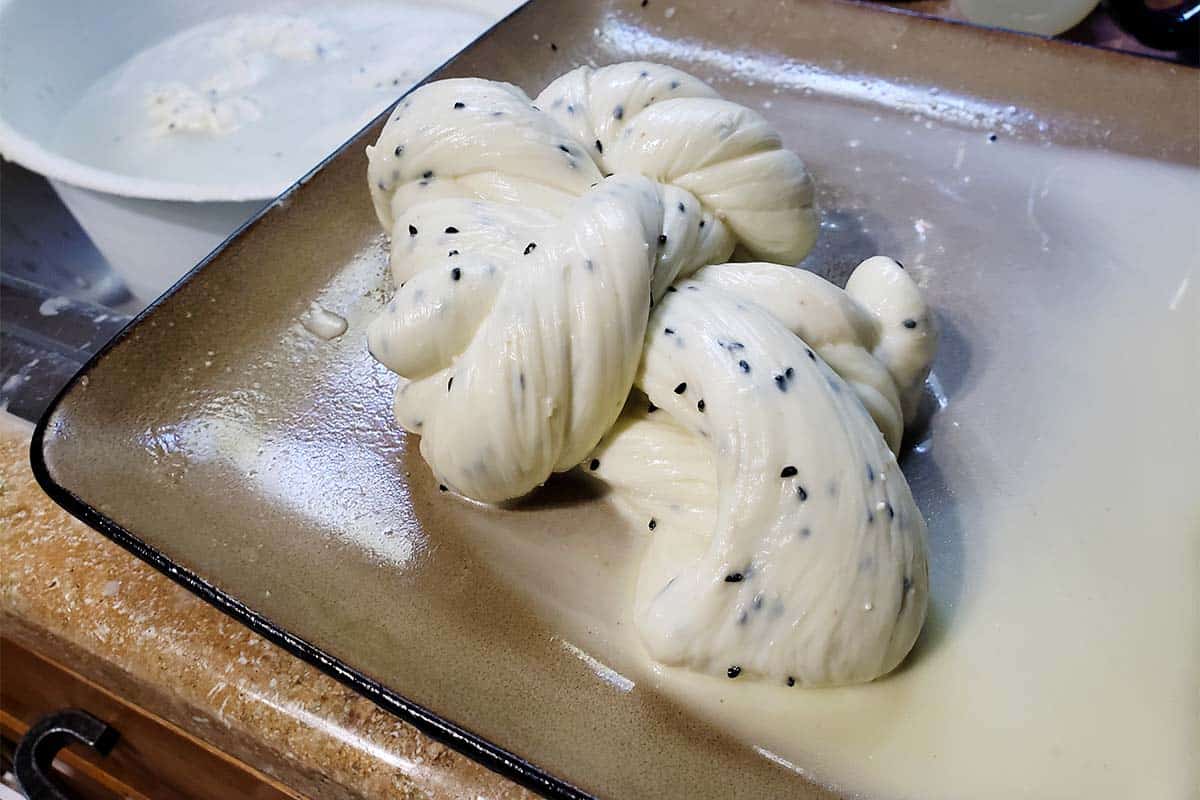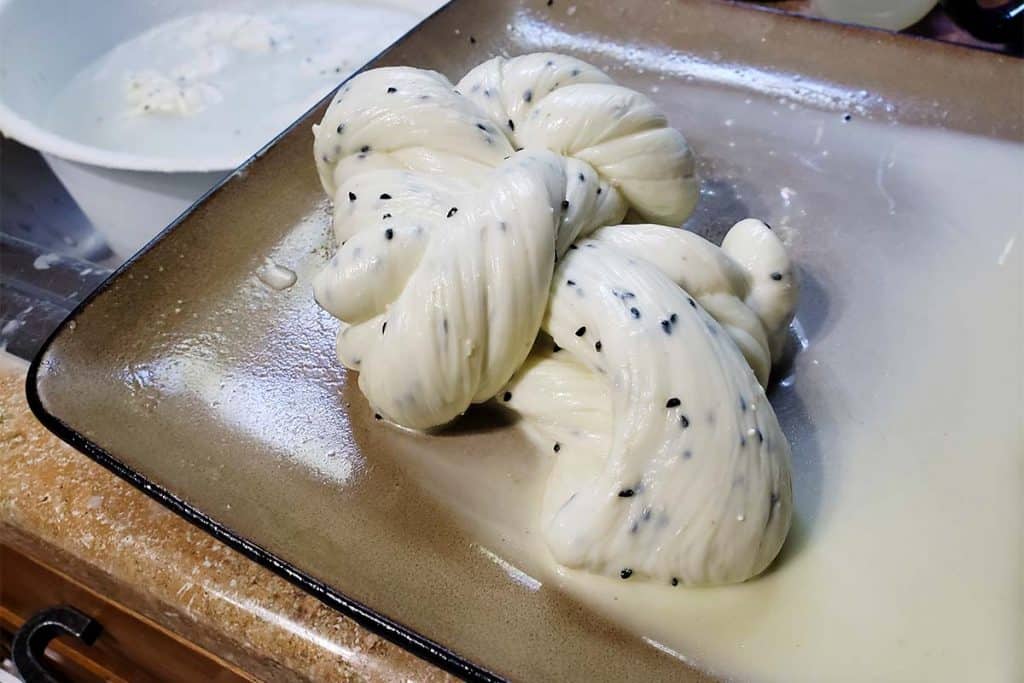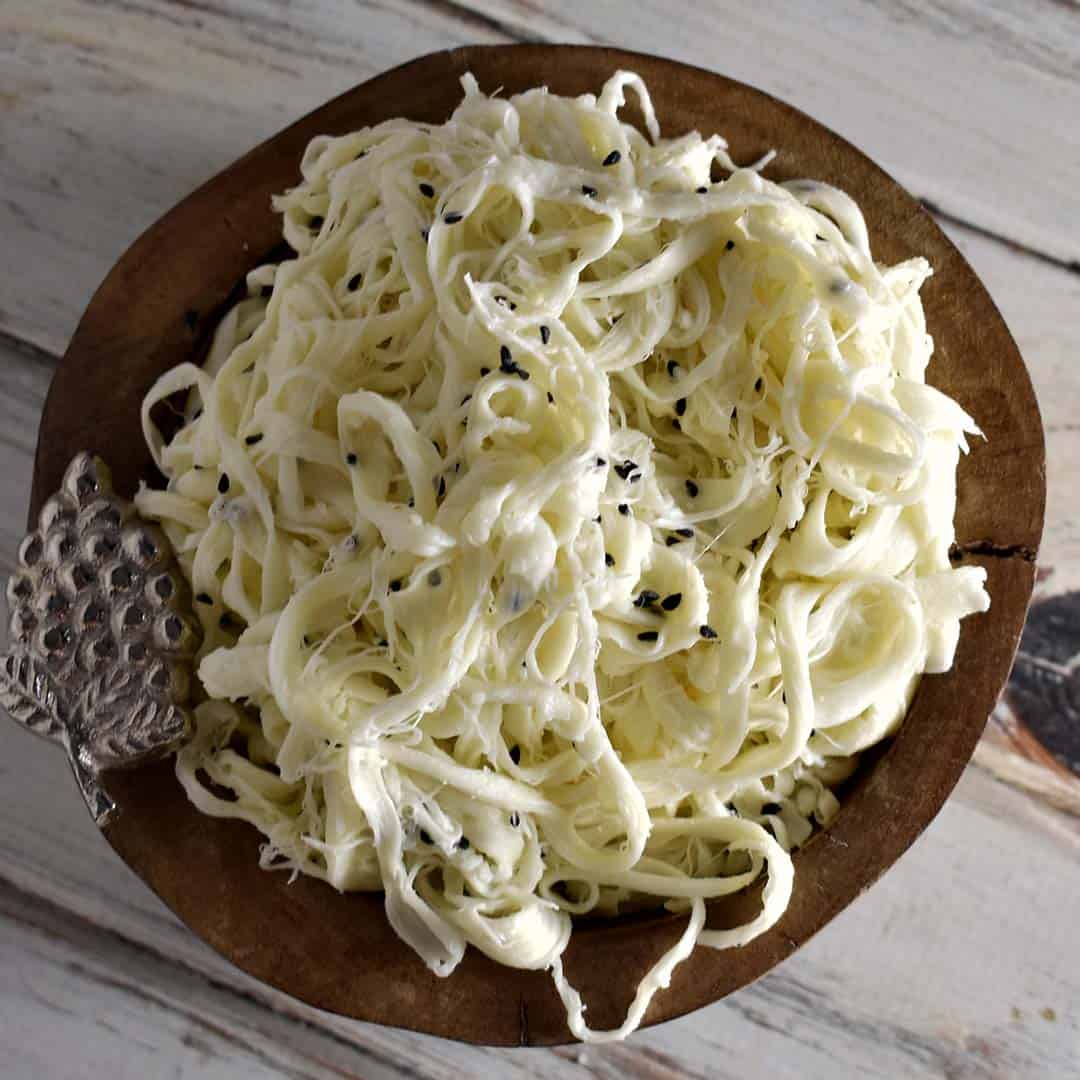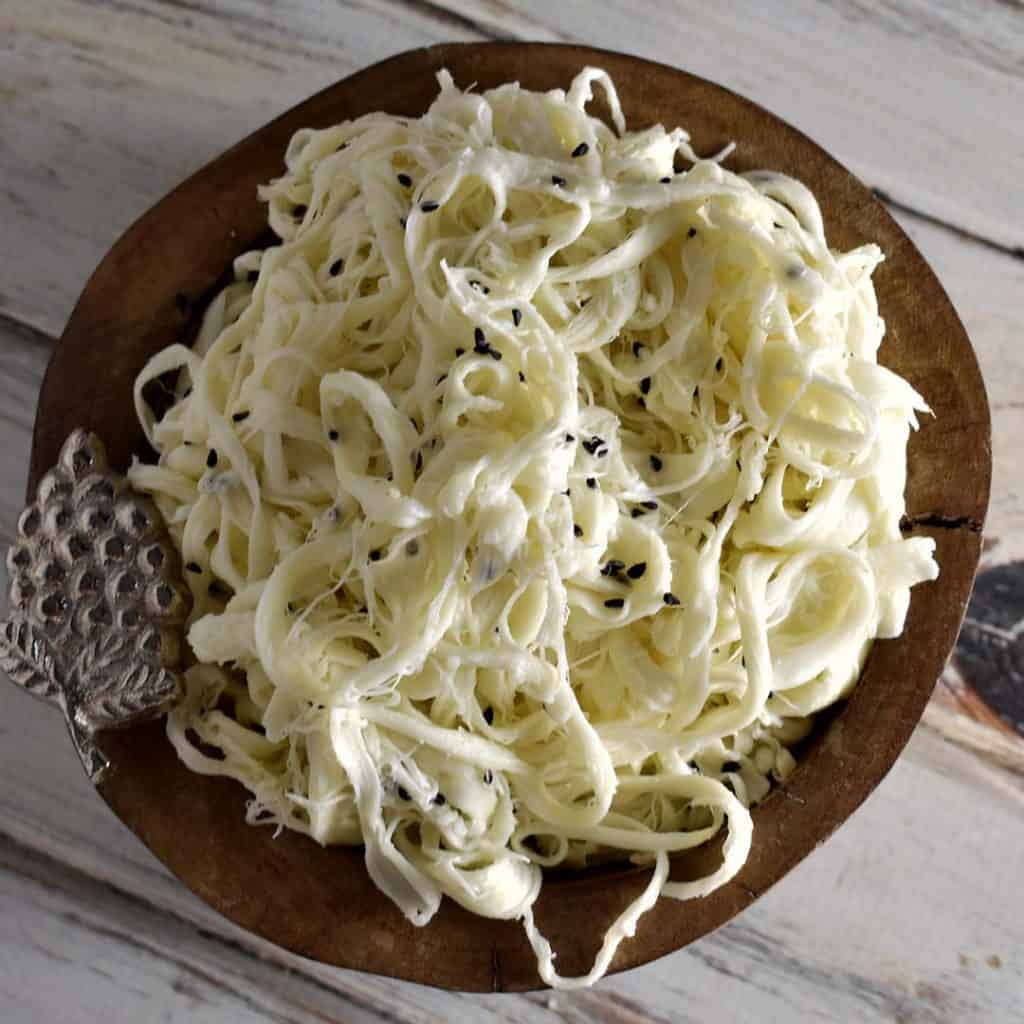 How to make Syrian String Cheese
Getting Ready
This may be the only recipe on this site that calls for a microwave (other versions call for boiling water), but it's really the best way to go here. You can easily control the speed at which the cheese melts, avoiding from over-melting it.
Before you get started, prep your hot water bath. Do do so, combine about two inches of lukewarm water with fine table salt. You want this to be really salty, but there's one good way to test. Place a raw egg in the water. When it floats enough that a dime size piece of the egg shows above the water, it's sufficiently salty.
Fill bowl with two large glasses of ice cubes and place set aside.
Make Cheese!
To begin, break the raw mozzarella curd into 1 inch chunks. Place on microwave safe plate and head on high for 2 minutes. Drain off any excess liquid and return to microwave. This time, heat it on half power, one minute at a time. When it has slightly melted, again remove and drain excess liquid. This time, add a pinch of mahleb and black caraway seeds. Fold together until it's well mixed.
Return to microwave and heat another minute or so at medium power. Drain again and begin to pull when the cheese is nice and melted.
String your cheese!
Pick up warm cheese with one lump. Create a small hole in the middle and stretch it wide using both hands. When cheese is stretched, fold it back in and continue stretching, working quickly to get as much pulling in as you can while the cheese is still warm.
Each time you stretch the cheese, it will have less and less elasticity. Continue stretching until you are just able to stretch it to about the width of your shoulders. Twist ends tightly in opposite directions and intertwine rope into a braid. Place one end through the loop of the other to lock it.
Place string cheese in salted water. Continue process with remaining cheese until all your knots are made. Add more ice to water bowl and cover tightly with plastic wrap. Place in the fridge at least 3 hours and up to overnight. Remove and place cheese in separate plastic baggies.
To serve!
To serve, remove cheese from bag and pull apart until small strands. The more you string it, the better it is! Goes great on it's own as a side dish, or served on a pita with chicken or lamb!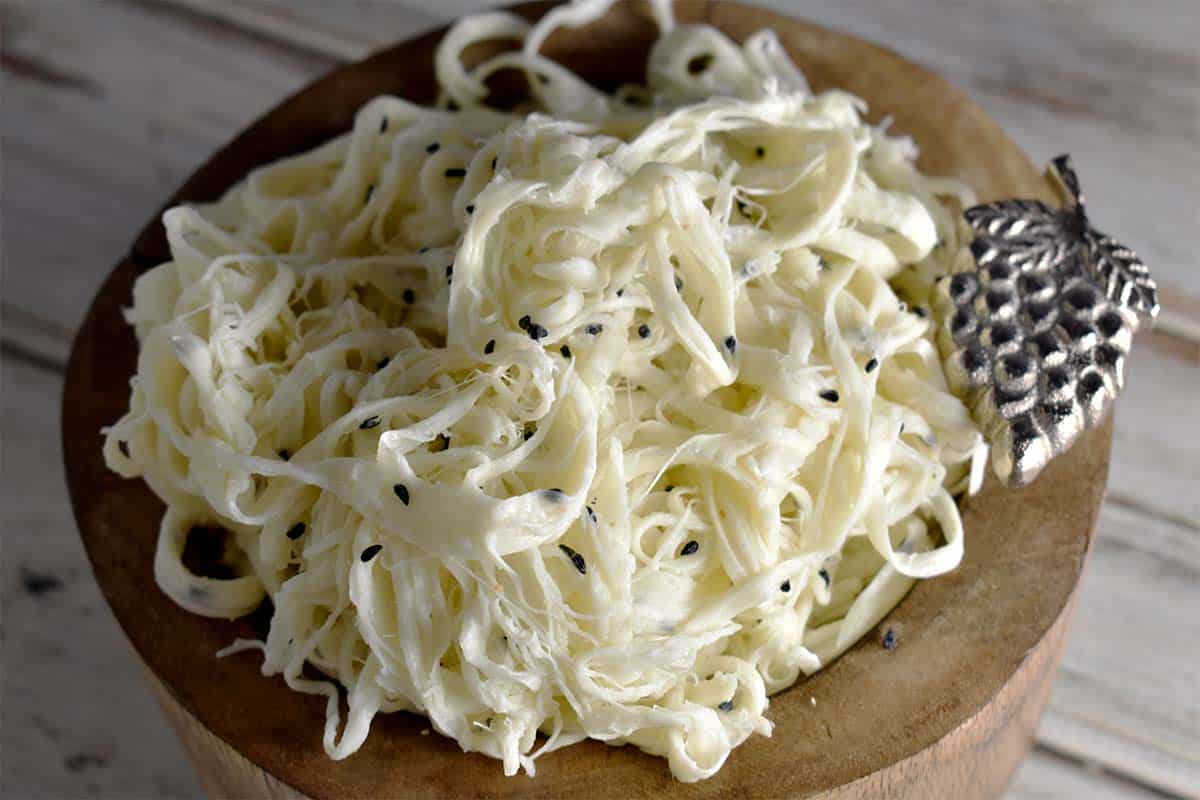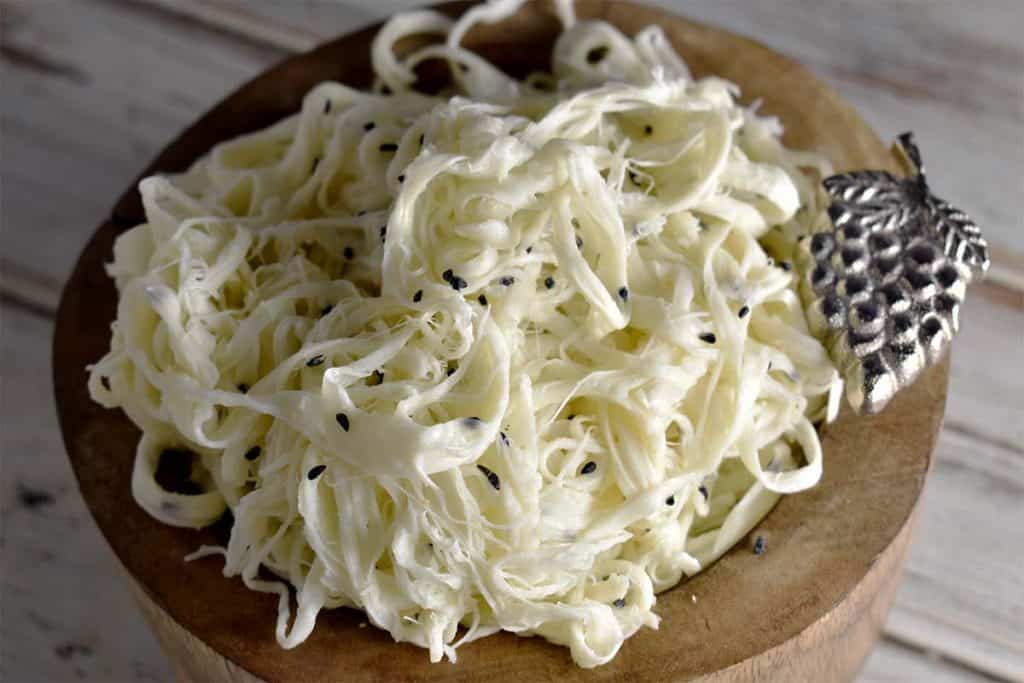 Check out our latest recipes!
Print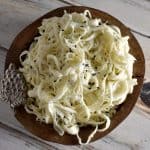 Syrian String Cheese
---
Author:

Total Time:

3 hours

Yield:

1

knot

1

x
fine salt
cold water
ice

12 oz

raw curd mozzarella

1 tsp

mahleb

1 tsp

black caraway seeds
---
Instructions
PREP WATER BATH:  Fill a bowl with two inches of water.  Stir in salt.  To test salinity, place a raw egg in the water.  It should float enough that just a dime sized piece of the egg floats above the water.  Fill with two large cups of ice and set aside. 
MELT AND SEASON CHEESE:  Break cheese into one inch chunks and place on a microwave safe plate.  Heat for 60-90 seconds, just until the cheese has melted down.  Remove from microwave and drain off excess liquid.  Season with mahleb and black caraway seeds.  Fold seasoning in until well blended.  Return to microwave and heat on medium heat for another 90 second to 2 minutes until just melted into a blog on the plate.  Remove and drain off excess liquid.
PULL THAT CHEESE! Pick up cheese in one lump and create a whole int he middle.  Pull it with both hand so that it's stretches apart.  Fold it in and continue pulling apart.  While the cheese is warm it will pull very easy.  Continue until you can just pull it to shoulder width without a lot of tension.  Twist each end in opposite directions for form a knot.  Place in ice water bath.
SOAK CHEESE: If doing more than one knot, repeat until all knots are done and placed in water bath.  Add more ice to the bath, cover tightly and place in the fridge at least 3 hours and up to overnight.  Remove and place each knot in separate plastic baggies.  
STRING THAT CHEESE: To string cheese, pull apart into long strands.  The more you string, the better it will be, so continue until finely strung.  Goes great alongside lamb kibbeh or chicken shawarma.  
Prep Time:

5 minutes

Category:

Side Dish

Method:

Handmade

Cuisine:

Middle-Eastern
Keywords: Syrian Cheese, String Cheese, Middle Eastern Side Dish
2