Easy Cauliflower Tabbouleh is a remarkable diced salad, with a little bit of everything in one bite. Light to eat and easy to make, Cauliflower Tabbouleh is a great side dish recipe or sandwich topping!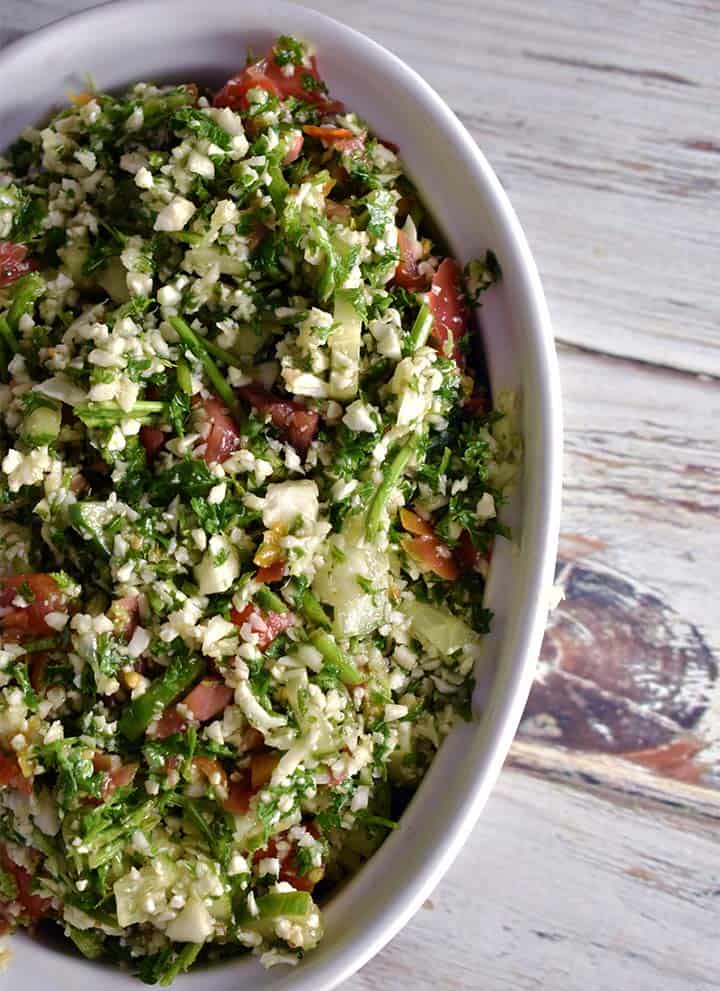 What is Cauliflower Tabbouleh?
A traditional Middle Eastern Salad, Tabbouleh is a salad in which all the ingredients are chopped extremely finely and seasoned with lemon juice and olive oil. The more you chop, the better it is. The result is a dish that goes great as a side salad, or as a topping on dishes like lamb shawarma pitas.
In our version, we sub cracked wheat with cauliflower rice. The result is a bite that still has the same body, but keeping things even lighter and healthier. A delicious result!
Let's stay in touch. Follow me on Instagram and check out what we're up to on Pinterest. Support this site, follow the link and buy stuff on Amazon (affiliate).
Why I love this recipe for Cauliflower Tabbouleh
As someone raised in a family with Syrian heritage, I've eaten tabbouleh ever since I was young. It's a great, light side dish, or a perfect way to add eartiness to super flavorful middle-eastern eats. And while I definitely love my occasional comfort food, there's something great about a flavor-packed veggie bite that won't leave you sluggish afterward.
The best part about this recipe is how quick and easy it is to make it in a food processor. Growing up, we hand chopped everything. While it was still delicious, it could take 30 minutes or more to make a good size pot of tabbouleh. With the food processor, this recipe is ready to go in 5 minutes or less!
Mike's Recipe Rundown
Taste: Tabbouleh is parsley based, so you get a nice base of fresh to start. Finely diced onions and tomatoes add some acid, as does the brightness of lemon juice. Cucumbers provide a cleanness, while the olive oil gives a lovely body to everything.
Texture: The key to tabbouleh is to absolutely finely chop everything. The result is a spoonful in which you'll get all the ingredients in a single bite. A slight bit of crunch is provided by the cauliflower, but only enough to give this a little bite.
Difficulty - Easy! This recipe is super easy, as we let a food processor do most of the work for us! Make your way from beginning to end in just 5 minutes!
Pros: We've all heard that not all salads are equally healthy. That's true, as creamy dressings, cheeses and meats can really add calories and fat to the occasion. This recipe cuts out all that stuff to keep this incredibly healthy, but still delivers a ton of flavor. That, my friends, is what we call the best of both worlds.
Cons: I wouldn't file this under kid friendly, but what salads really are? I've seen plenty of kids who are simply scared off by the look of this, because they can't easily see a piece of lettuce and wedge of tomato (my four-year-old included). They'll grow into it, though.
Would I make it again? Definitely! While tabbouleh is typically reserved as just a Middle Eastern side dish, I also weave this recipe in as a side dish to every day weeknight meals. It goes great alongside light dishes like chicken francaise or sous vide chicken thighs.
Check out some of our other great recipes, like cajun shrimp and grits, smoked gouda mac and cheese, chicken tikka masala, or 29-hour, super tender sous vide chuck roast. Or, try one of my wife's favorites, my Bacon Lamb Sliders which are 100% flavor-bombs. .
Cauliflower Tabbouleh Tips and Tricks
We call for a food processor in this recipe, because it's crazy easy. If you don't have one, don't worry. Simply get a good chef's knife and a cutting board and dice everything up well by hand. This will take a bit longer, especially getting the parsley finely chopped. I use a cross-cut style when making this by hand.
This is one of the rare recipes where I recommend standard parsley over Italian parsley. Italian parsley has a very high water content and turns to mush in the food processor. Standard parsley gets the right texture when diced.
The english cucumber is the one thing we'll dice by hand here, for the same reason (turns to mush in a food processor). But, the good news is it's easy to do and you can get a nice, small and consistent cut on a without much effort.
For the best result, make this about an hour before serving. Cover and allow it to chill in the fridge until serving. The flavors really come together with a little bit of time to mingle.
Need an awesome meal planning tool? Easily import this recipe to Plan To Eat (affiliate), schedule it and get your grocery list right on your phone. Get a 30-day free trial (affiliate) with no credit card required.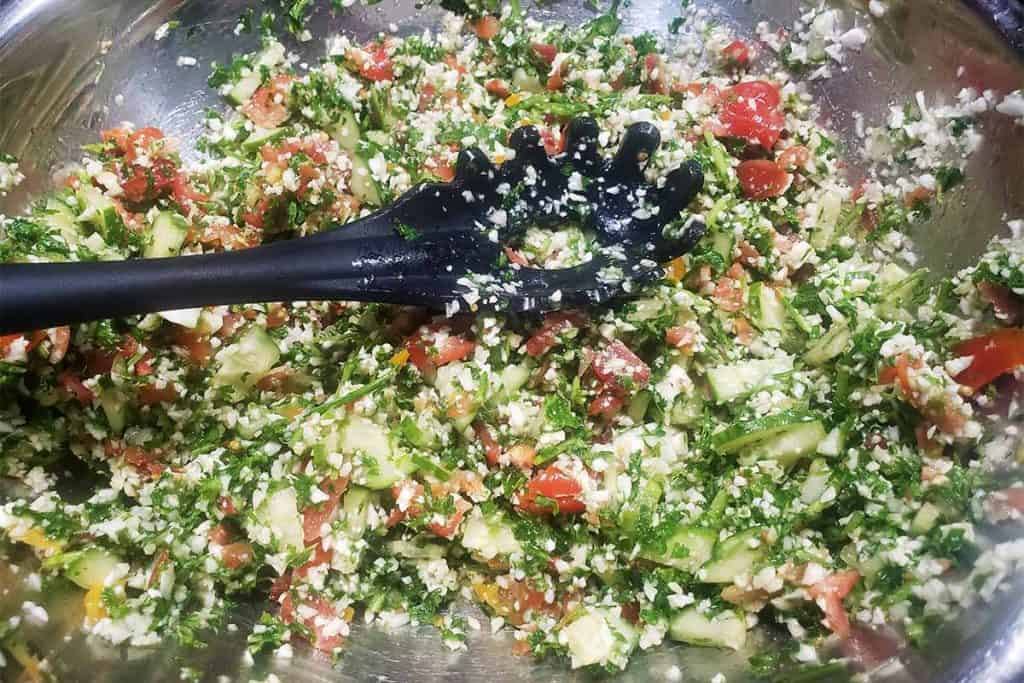 How to make Cauliflower Tabbouleh
Remove green leaves from fresh cauliflower and chop into about 1 inch chunks. Place in the food processor and pulse about 5-6 times, until the cauliflower is diced into a rice shaped texture. Place into a large mixing bowl (affiliate).
Next, place fresh parsley in and pulse again about 8 times, until finely diced. Remove to bowl. Repeat process with grape tomatoes and red onion separately, pulsing each one items at a time in the food processor and dumping into the mixing bowl. Lastly, hand dice english cucumber into tiny pieces, again adding to the mixing bowl.
When all ingredients are in the bowl, squeeze in fresh lemon juice, being careful not to let any seeds fall into the bowl. Pour in olive oil and a pinch of salt. Mix together until well combined. Serve immediately or - better yet - chill in the fridge for one hour prior to dinner to allow the flavors to mingle!
Goes great on pita bread with homemade tzatziki.
Check out our latest recipes!
Print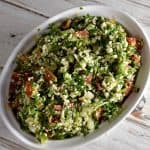 Cauliflower Tabbouleh
---
Author:

Total Time:

5 minutes

Yield:

8

servings

1

x
½

head cauliflower

1

bunch fresh parsley

2 cups

grape tomatoes

½

large red onion

1

english cucumber

½

lemon, juiced

1 Tbsp

extra virgin olive oil

1

pinch salt
---
Instructions
CHOP VEGGIES:  One item at a time, pulse cauliflower, then parsley, then grape tomatoes then red onion in a food processor until finely chopped.  Place each item in a large mixing bowl once finished.  Hand dice the English cucumber into a small dice and add to bowl.
DRESS AND MIX: Squeeze in juice from ½ lemon, being careful not to allow seeds to fall in.  Add extra virgin olive oil and a pinch of salt.  Mix everything together.  Cover and let chill in fridge for one hour before serving.
Equipment
Notes
Best if eaten fresh.  Leftovers can be stored for up to three days in the fridge in an airtight container.
Prep Time:

5 minutes

Category:

Side Dish

Method:

Food Processor

Cuisine:

Middle Eastern
Keywords: Middle Eastern Salad, Tabbouleh, Chopped Salad
0