Texas' Velvet Taco food chain is anything but ordinary.  In a state filled with cliche Tex Mex at every turn, Velvet Taco offers a wide variety of worldly flavors, all wrapped in a perfectly paired shell.  The flavors are simply out of sight, which is why Velvet Taco is my favorite taco joint, period.
Velvet Taco Review – The Highlights
What: Velvet Taco
Mike's Rating: 9.5/10
Where: Dallas, TX.  Velvet has 8 additional locations in Texas (as of November 2018) and one more in Chicago.
When to go: Anytime for lunch, dinner or late night.  Most locations are open seriously late, especially the ones near campus.  Great for lunch or dinner.  Perfect for a date night, too.  Brunch served all day and through the night
Why it's great: The menu features tacos inspired by dishes all around the world.  For every Tex Mex style taco, there's 3-4 choices packed with international flavors.  This is truly a one of a kind shop
Velvet Taco – What's good on the menu
The previously mentioned Spicy Chicken Tikka Masala.  It has a nice heat to it, which I like, but a ton of flavor.  It's served over a basmati rice in a flour tortilla.  An awesome British/Indian inspired dish.
My wife's favorite is the (also previously mentioned) Ahi Tuna Lettuce Wrap.  Fresh, raw tuna is built poke-style with layers of perfectly paired flavors.  Thinly sliced seaweed salad, ginger and pickled red onions pairs perfectly with the spice of the the subtle heat of from the fresno chili peppers and wasabi crema.
Velvet Taco's menu still has some Tex Mex available.  My favorite is the Slow Roasted Angus Brisket.  Served with a red chili mayo, avocado relish, cilantro, queso blanco and comté cheese, Velvet shows they can still do TexMex right.

Some other unconventional favorites are the Cuban Pig or Buffalo Chicken Taco.  There's veggie options too, including a falafel taco in a lettuce wrap or another featuring fried paneer cheese.  The Shrimp and Grits taco may be the most unique,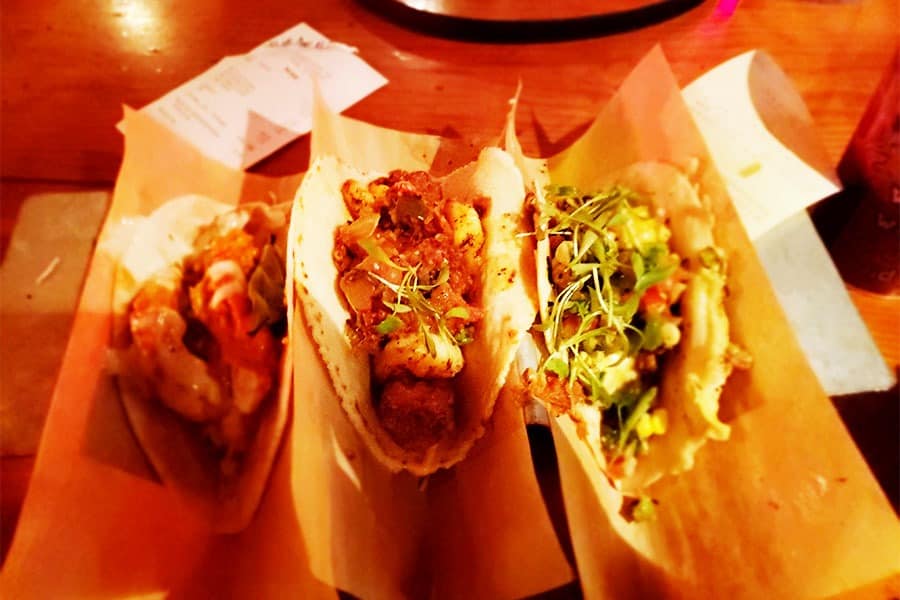 Velvet Taco – Overview
When I first discovered Velvet Taco, the chain had just two stores, one in Dallas and a sister store in Fort Worth.  Just a short couple of years later, the they're up to ten locations as of when I write this, possibly more.  There's a reason Texans can't get enough of this place.  In a state littered with cliche Tex Mex taco chops, trucks and trailers, Velvet stands out with a variety of bold, unique flavors.  There's no ground beef or re-fried beans to be found on the menu here.  Instead, dive into some Spicy Chicken Tikka Masala in a flour tortilla, or fresh ahi tuna with wasabi crema and layers of flavor on a crispy leaf of lettuce.   The latter inspired my recipe for Tuna Poke Lettuce Wraps.
Velvet Taco has locations in every trendy Texas hub at this point, four in Dallas (plus one in nearby Fort Worth), two in Houston and another in Austin.  I've checked off four locations total, and they've all been absolutely fantastic.  If you come during peak lunch or dinner hours, expect there to be a little bit of a line, but it will move fast.  The good news is that the line gives you a chance to make up your mind, because there are a lot of completely new options to sift through. Shrimp and Grits on a taco?  You bet!  Pair it up with a Buffalo, Cuban Pig or Grilled Flank Steak taco.  This place really offers up a creative selection of taco treats.
Velvet Taco – The Look and Feel
Velvet Taco serves much like familiar Texas BBQ joints – order at the counter, then grab a seat at a community-style long picnic table, where you'll often sit alongside other taco lovers.  If you're overwhelmed by the selection, don't worry, there's options.  Often times managers will spot your bewildered look in line and offer to help.  You can always just ask the person taking your order what are their favorites.  You probably want to go for two tacos, three if you're hungry.  Or, find someone else in line who looks like they know what's up and ask them.  I was this guy the last time, and steered my line-mates toward a couple of my personal favorites.
Velvet Taco – Final Word
Here's what I'll say about Velvet Taco.  I make it to Texas a couple of times a year on average, for work or play.  No matter what, I make sure a trip to Velvet is in the plans.  I'll schedule my plans – and sometimes even my flights – to make sure that I have a chance to swing by.  Velvet is one of my favorite places to eat on the road, because when it comes to tacos, they'll truly a bold step above.
0