Albuquerque offers an extremely unique food scene. But where to eat in Albuquerque? I spent a weekend here in New Mexico's largest city seeking to find the answer to that very question.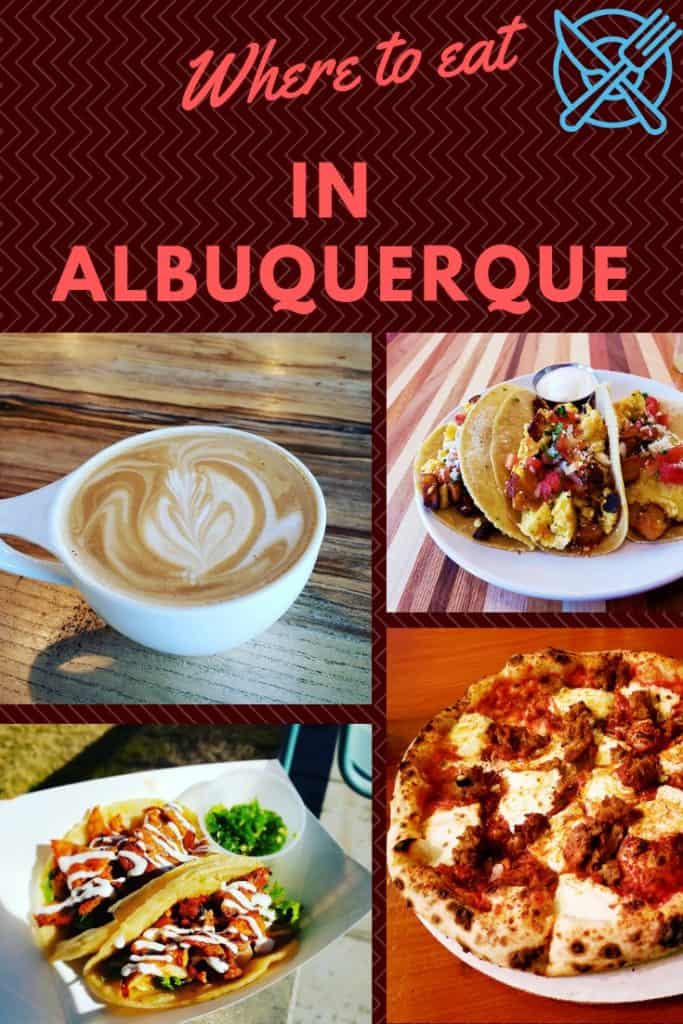 I grew up with a variety of culinary influences in my life. Growing up in Michigan, I experienced the heart of the mid-west's (mostly) unhealthy delicacies. My mother's side of the family fully embraces our Syrian heritage, and we show in in our bevvy of middle-eastern recipes. Meanwhile, my step-mother's family rarely throws a party without Polish favorites like Kielbasa and Pirogi. And for the last ten years, I've been immersed in southern food favorites in my new home of Tallahassee. And man, New Mexico offers a culinary curveball that is truly unique when compared to all of that.
New Mexico cuisine is a genuine mix of influences from nearby Mexico and their rich Native American history. And (as you'll soon see) just about EVERYTHING comes with green or red chilies. Let's eat!
Where to eat in Albuquerque – Breakfast & Coffee
Humble Coffee
Great For: your morning pick-me-up (and breakfast too)!
Every good day starts with a nice cup of coffee, and Humble Coffee delivers just that. My trip to Albuquerque was mid-December. And in the desert the mornings are cold. It was mid-20s when I woke up around 6:30am in the morning, and Humble Coffee offered a downtown location within walking distance from my hotel.
Downtown Albuquerque is as unique as everything else. The main streets are best described as retro chic – what cool probably looked like in the late 80s early 90s. Humble Coffee, true to it's name, lacks any sort of a flashy sign and almost looks like an office building until you open the door.
Inside, Humble is bright, airy and open. The baristas offer all the coffee staples. They advertise their syrups as homemade, and my Vanilla Latte came out great. They offered raspberry toast, but I went with the green chile burrito. I mean, this is New Mexico, after all.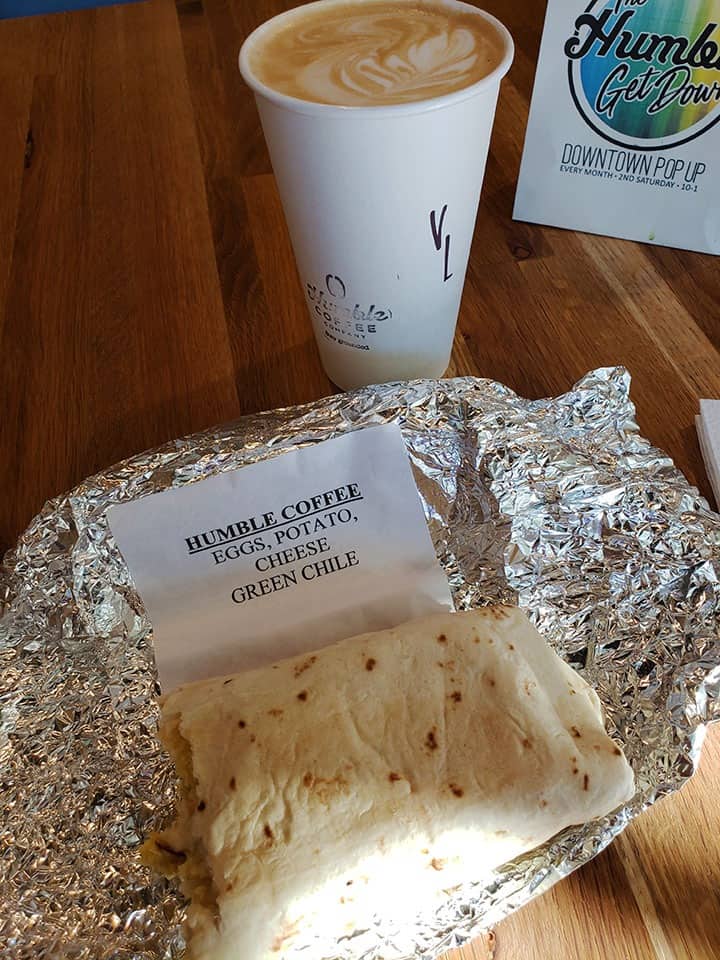 Prismatic Coffee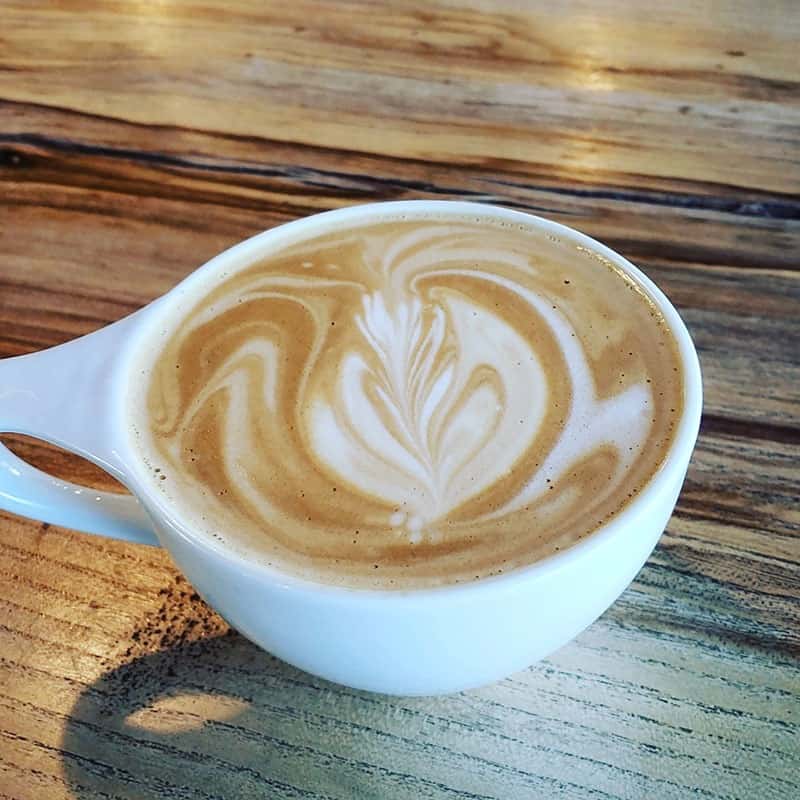 Go there to: Enjoy a cup of coffee made by people who care a lot about making a good cup of coffee.
Primatic Coffee makes a great cup of coffee, period. Located in Albuquerque's Sawmill neighborhood, the shop is tucked back in a modern-industrial type complex that is clean and new. Prismatic prides themselves on being Albuquerque's first Third Wave Coffee Company, meaning these people really, really care about the cup of coffee they're going to serve you. And it shows.
The coffee menu is limited, but extremely well done. If you truly like coffee, done well, without the bells and whistles, this is your place.
Farmacy
Great for: People who use brunch as a verb (myself included).
Located in an old pharmacy (punny, huh?), Farmacy is near New Mexico University's main campus. The menu is just long enough to offer a variety of both New Mexican and non-New Mexican favorites. A waffle with chilies? Yep, they have that. Along with the more traditional fruit topped ones as well. They have an impressive coffee menu (I didn't have any, as I had just left Primsatic – above – note long before) as well as small bites to have with, if you're looking for something lighter. I went for the breakfast tacos, which were very impressive. A perfect mix of your typical breakfast ingredients in a traditional New Mexican corn tortilla made for a satisfying first meal of the day.
Beware though, service can be slow on the weekend. It took me 40 minutes to get my tacos from the time I ordered.
Where to eat in Albuquerque – Lunch
SooBak Korean Seoul Food Truck
Great For: Food truck scene, late night eats. Check out their website for info or Facebook page for locations.
One thing that Albuquerque has going for it is a good food truck scene. I had to check out one when I was in town. It just so happened that the one that was recommended to me was set up right around the corner from where I was working at lunch – win!
Soobak Korean Soul Food has a pretty limited menu, but they do it well. A few types of Korean BBQ tacos with homemade kimchi gives you exactly what you need. I went for a spicy pork taco with cabbage kimchi. And of course – because this is New Mexico – it comes with a side of green chilies. Fantastic!
Where to eat in Albuquerque – Dinner
Green Jeans Farmery
Great for: Great food, craft beer – and when you're with a group of people who just can't decide on the same thing to eat.
If I return to Albuquerque any time soon, this just may be my must-return spot. Green Jeans is designed to reflect New York City's popular food halls – a variety of spots to order from with common eating areas. So, if you want a personal pizza and your friend wants tacos? No problem, at Green Jeans, just order from each shop then go grab a seat in the tap room at Sante Fe brewery, where they'll bring your food to you while you sip on craft beer. I went with a red chile sauce personal pizza from Amore, a small shop with a wide variety of pies. I was not disappointed at all. On the Saturday night we went, Sante Fe had good live music to boot. This is perfect for a night out with friends – and stumbling distance to a few hotels too, if need be.
Sadie's New Mexico
Great For: New Mexican Cuisine
If there's a place in Albuquerque to experience the local flavor, Sadie's New Mexico may be it. About a 10-15 minute drive north from downtown, it's pretty easy to get to and tucked back from the main road. The outside clay block exterior screams New Mexico, as does the inside. And the menu screams of New Mexican favorites.
So, full disclosure, when I ordered the enchiladas, I was expecting, ya know, enchiladas. Not in New Mexico, my friend. Here, the enchiladas come stacked, not rolled. A tortilla is layed down first, then meats, beans, potatoes, cheese, lettuce and tomato. The result is like a plate of nachos minus the chips. I got mine with both red and green chile, and it did not disappoint. There's a menu full of stuff here, and nothing that passed by my table looked bad.
Elsewhere
Places I didn't go to but had my eye on: Frontier is a college favorite, famous for their green chile burgers. Farm & Table was the other place I was eyeing for a really good brunch. Grove Market has a good rep as a coffee shop too, as does Standard Diner.
You can also check otu this other guide on places to eat in Albuquerque. Or this one from Bon Appetit.
1