All the beefy flavor of your favorite sandwich in a simple, drop it and forget about it recipe. Instant Pot French Dip Sandwiches are super easy and even more delicious. See how to make it with this easy to follow recipe guide.
| Saute | Pressure | Release | Oven | Total | Servings |
| --- | --- | --- | --- | --- | --- |
| 10 mins | 35 mins | 20 mins | 10 mins | 85 mins | 4 |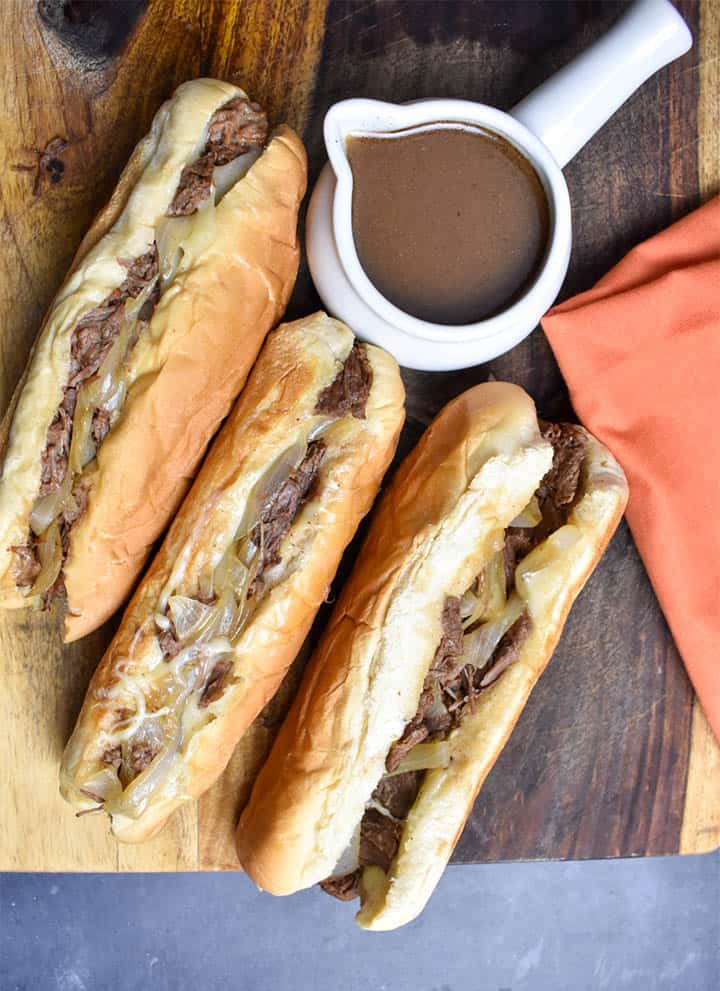 Jump to:
👍 Recipe Features
Flexible recipe. I recommend the method in the steps below. This involves searing the meat in the Instant Pot before pressure cooking it to tender perfection. If you're looking for something even quicker, we offer guides to skip that step, or just cook it in a slow cooker for a super easy dinner.
Intense Flavor. One of my favorite advantages to an Instant Pot is the concentrated flavors you get from pressure cooking. Without any room to escape, the flavors are cooked into the au jus, giving you a tremendous dipping sauce alongside your Instant Pot

(affiliate)

French Dip sandwich.
Very little active cooking time! While we list the total recipe time as 90 minutes, very little of it involves you actively cooking. For over 70 minutes of it, the Instant Pot is working it's magic while you can spend time with family, catching up on the news, or just to unwind after a long day.
🐮 Ingredients
Boneless chuck roast, cut into 2 inch cubes. Unlike steaks, you actually want a nice lean cut of meat. This will give you the cleanest, beefiest end product after cooking. Look for a roast with the least amount of visible fat possible and cut off any excess fat as you cut it into cubes.
Vegetable oil, for searing your chuck roast. You want to use a high heat oil to avoid smoking out your whole kitchen while your sear over high heat. Vegetable, grapeseed and avocado oils are my usual go-tos for searing.
Unsalted or Low Sodium Beef Broth. Unsalted is key here because you'll already have a good amount of salt from your beef and soups. You'll use one cup to deglaze your pan after searing. The rest will be poured into the Instant Pot to help deliver a flavorful au jus.
Worcestershire sauce and canned french onion soup. An easy shortcut to help intensify your flavor.
Sliced white onion. We don't add this until after the pressure cook, to help them maintain a little bit of bite on the sandwich.
Hoagie Rolls. The traditionalists call for a french baguette, but for me, a nice soft hoagie roll from the bread section in the grocery store delivers the best result.
Gruyere cheese. You can sub in Muenster or Provolone as well.
Let's stay in touch. Follow me on Instagram and check out what we're up to on Pinterest. Support this site, follow the link and buy stuff on Amazon (affiliate).
🔪 Instructions
Step 1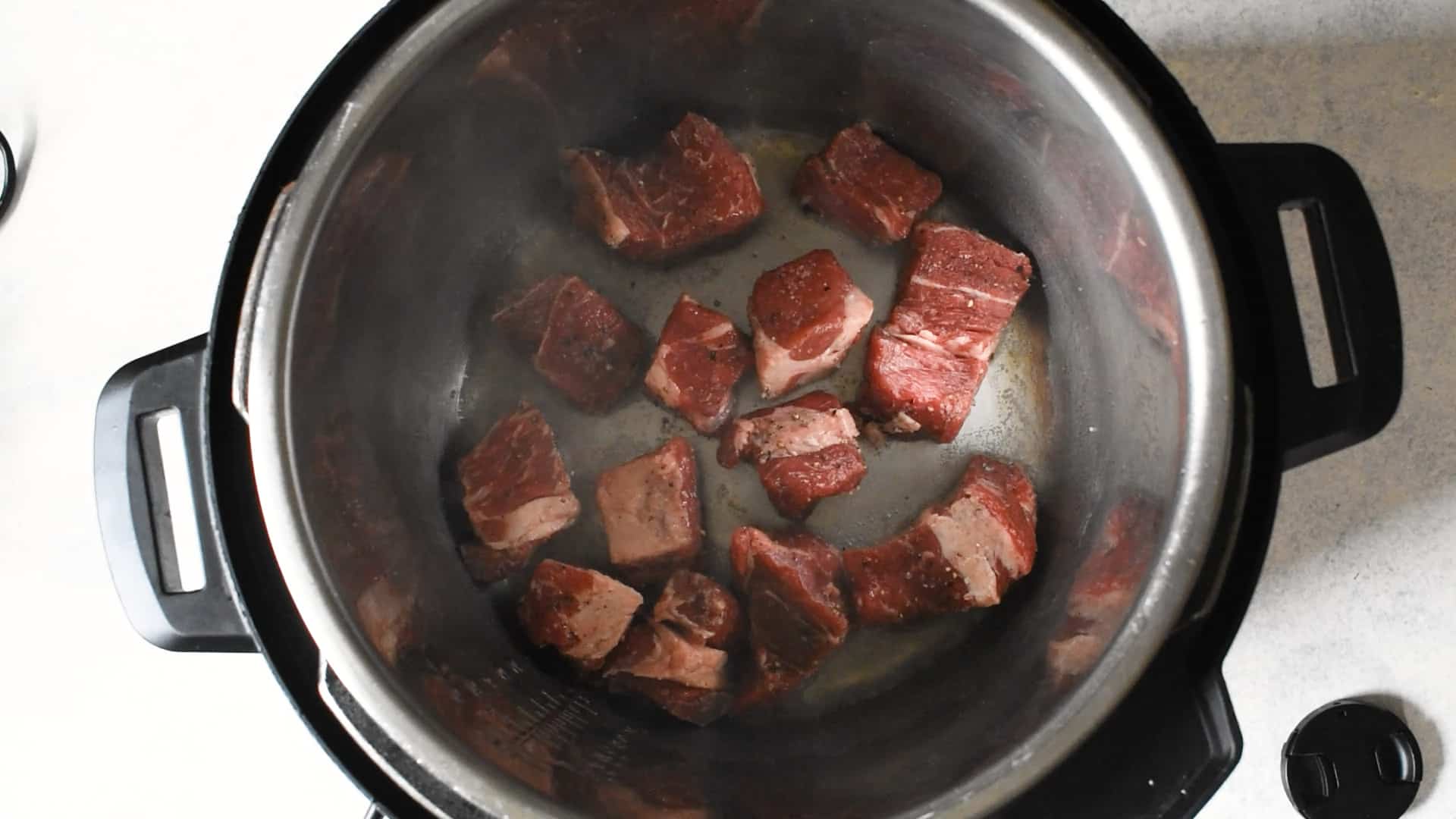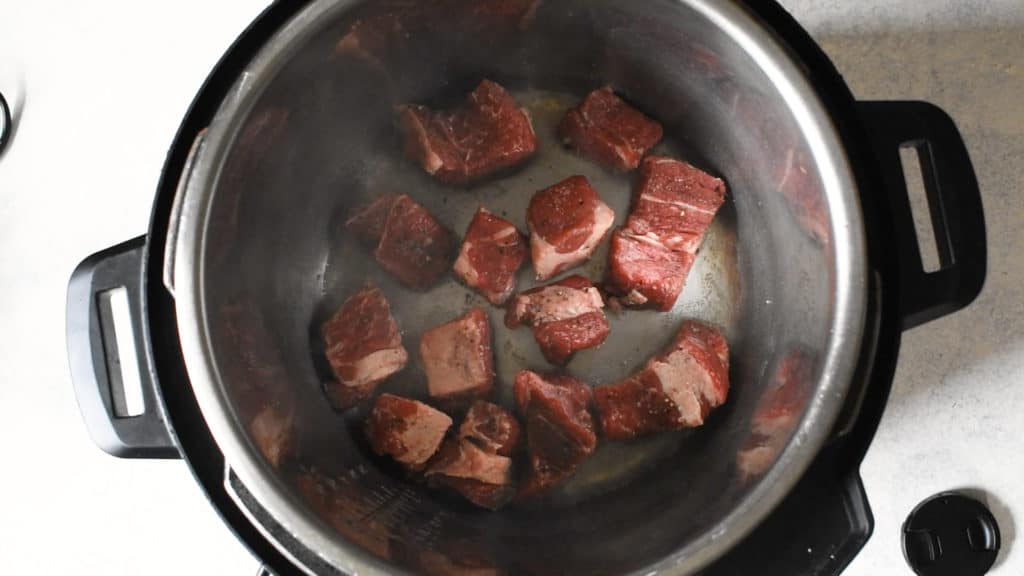 Instant Pot on Saute: More. When display reads "Hot", add vegetable oil to pan and allow to shimmer. Place beef chunks in pan, making sure not to overcrowd. Sear beef on each side, turning every 1-2 minutes. Cook in batches if necessary.
Step 2
Add in unsalted beef broth, Worcestershire sauce, bay leaf and french onion soup to Instant Pot. Return beef to pan and close lid. Make sure vent is set to "sealing". Set Instant Pot to Manual: High for 35 minutes. Allow about 10 minutes for the Instant Pot to come to pressure. When the timer goes off, let it sit for 20 minutes. This is called a "natural release".
While the Instant Pot is releasing, preheat your oven to 300°.
Step 3
After the Instant Pot has sat for 20 minutes, flip the vent to "venting". When remaining steam has escaped and pressure indicator has gone down, carefully open the lid. Transfer beef to a heat proof bowl. Using two forks, shred the beef into small chunks. Meanwhile, turn Instant Pot to Saute: More and add in sliced white onion. Bring to a simmer and allow to cook for 5 minutes or until sauce is reduced by half.
Step 4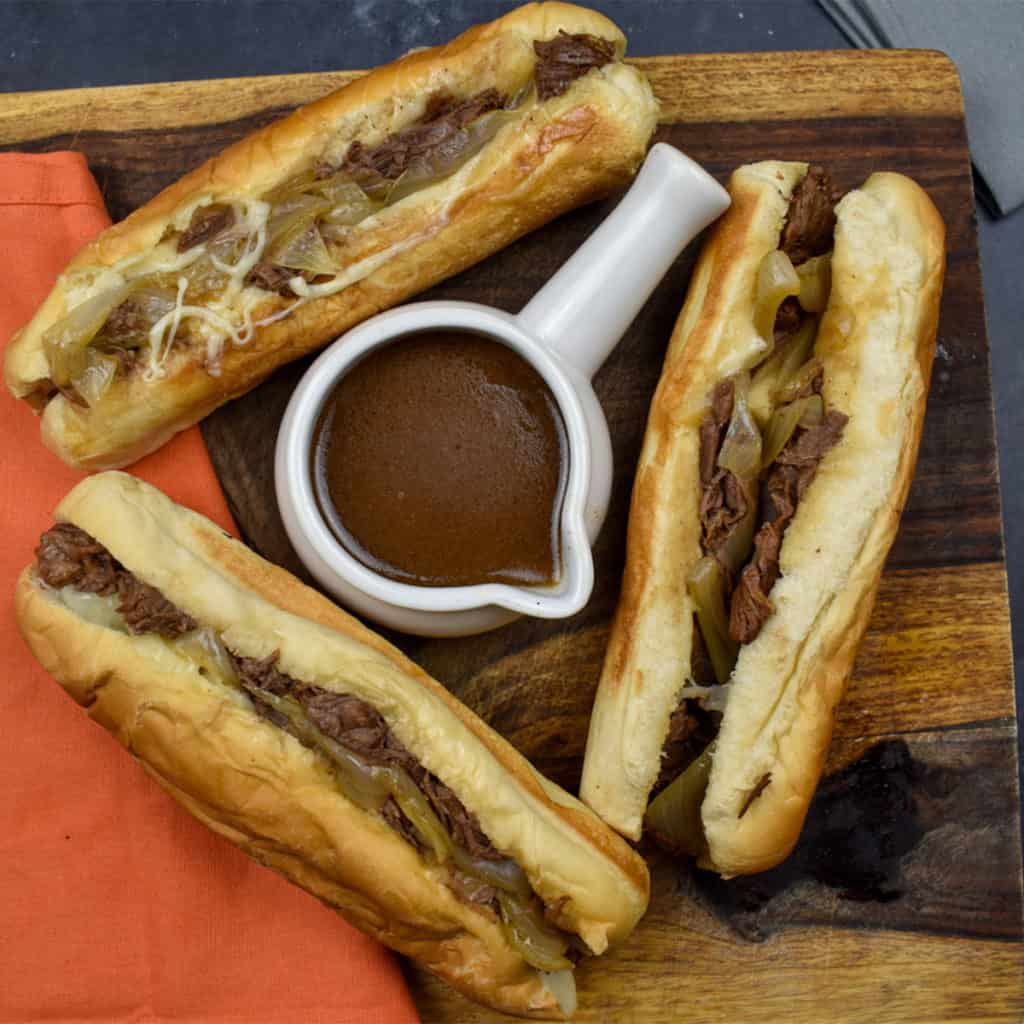 Open your hoagie roll. Lay cheese first (whether using gruyere, provolone or muenster), then spoon over shredded beef and sauteed white onion. Wrap the sandwich in aluminum foil and place on a baking sheet. When all sandwiches are made, place the baking sheet in the oven and cook for 5 minutes to warm through.
Meanwhile, ladle the juices from the Instant Pot into individual cups. This is your au jus for dipping your sandwich. Serve a cup of the au jus alongside a warmed sandwich. Dip the sandwich in the au jus and enjoy your Instant Pot French Dip!
💭 Top Tip
Refining your au jus is an extra step that can make a bit of a difference. To do this, take the following steps:
Turn the Instant Pot to keep warm and allow the au jus to settle for 5-10 minutes. When the fat layer has shown on top, gently lay a paper town across the top to soak the fat up. I do this 2-3 times to get that fat removed.
Pour the au jus through a mesh strainer and into a small bowl or pot. This will remove any debris or impurities from the sauce.
From there, place the au jus into small serving dishes and enjoy!
Need an awesome meal planning tool? Easily import this recipe to Plan To Eat (affiliate), schedule it and get your grocery list right on your phone. Get a 30-day free trial (affiliate) with no credit card required.
❔ FAQs
Can I make this with any cut of beef?
Any large roast will work, yes. I find it works best with leaner cuts, which is why I opt for chuck roast. I also use it because it's one of the cheaper cuts of beef and comes out great still. The upgrade in price to something like a boneless rib roast isn't worth it for this recipe.
Why do you use unsalted beef broth?
The canned soup adds a fair amount of salt on it's own, and they becomes only more salt-forward as you reduce your au jus. To avoid an overly-salty au-jus, we don't cook much salt into the sauce. Taste it for salt at the end and add more, if desired.
Can I make Instant Pot French Dips ahead of time?
Yes, you can make and shred your meat ahead of time, and store your au jus in the fridge. To reheat it, simply assemble the sandwich as directed, wrapped in foil. Cook it for 10-12 minutes to warm everything through. Meanwhile, re-head au jus in a small saucepot and enjoy!
Why is the total cooking time longer than 35 minutes?
Cooking something in the Instant Pot comes with 3 phases. The first, is allowing in the Instant Pot to come to pressure. In this phase, steam is trapped in the pot, building pressure that helps to cook things faster. In phase 2, that pressure is held and everything cooks rapidly. In Phase 3, the heat is turned down and pressure can be released. So, while the cook time is only 35 minutes, the time to complete all these steps adds time on.
🥣 Slow Cooker Option
The above method is my favorite as it's still pretty easy and delivers a great taste. That said, you can easily adapt this to be made in a slow cooker.
For the easiest option, you can simply dump all the ingredients into a slow cooker and let it work it's magic. Cook it on high for 3-4 hours or low 5-8 hours. The downside to this method is you lose the texture and little bit of flavor that comes with searing your meat.
🍽 Equipment
🥡 Leftovers
Assembled sandwiches keep well in the fridge for 3-5 days. To reheat, preheat your oven to 350 degrees. Place your sandwich in there and cook, still wrapped in foil, for 10 minutes to warm through.
⚠ How to use an Instant Pot
Before you start this recipe, make sure you are familiar with the instructions and safety manual for your model of Instant Pot (or other pressure cooker). Instant Pot itself offers a nice set of videos on How to use an Instant Pot.
While pressure cookers are awesome tools, they have to be used correctly. Take the time to be familiar with how to use yours before you begin to avoid injury and give you the tastiest results.
🥘 Related Recipes
For another take on this recipe, try our Prime Rib French Dips. A great quick recipe when you already have the beef on hand. Or, make it using super tender Sous Vide Chuck Roast, the best way to turn a cheap piece of beef into an amazingly tender cut.
Also, check out some of our most popular Instant Pot recipes, like Instant Pot Chicken and Dumplings, Instant Pot Barbacoa, Instant Pot Chicken and Yellow Rice or Instant Pot Beef Stew.
🧼 Cleaning Tip
If you measure everything out right, you should be able to clean the inner pot of your Instant Pot without much effort. However, sometimes you may end up with gunk stuck to your pot. If this happens to you, there's an easy tip for quick cleanup.
Fill the pot with enough water to cover the stuck foodstuff. Add in 2 tablespoons of baking soda. Close the lid and set the vent to "sealing". Set the Instant Pot to Manual: High pressure for 4 minutes.
Let the Instant Pot naturally release until all pressure is gone, then open the lid. The stuck stuff should fall off and the pot should be easily cleaned.
Print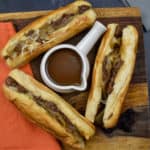 Instant Pot French Dip Sandwiches
---
Author:

Total Time:

90 minutes

Yield:

4

1

x
Description
Super beefy flavor, tender beef and onions with provolone cheese on a baguette or hoagie roll perfect for dipping!
---
2 Tbsp

vegetable oil

2

lb chuck roast, cut into

2

inch chunks

2 cups

unsalted beef broth

2 Tbsp

worcestershire sauce

1

10oz can french onion soup

2

bay leaves

1

large white onion, sliced

4

hoagie rolls

8 oz

 gruyere cheese
---
Instructions
Turn Instant Pot to Saute: More.  When display says "Hot", add vegetable oil. 
When oil is shimmering, add chuck roast chunks to pot.  Do not overcrowd the pan and work in batches, if needed. Let beef sear undisturbed for 2 minutes, then flip them over with tongs.  Sear the beef on all sides until well browned, about 7-8 minutes. 
Remove beef to a pan.  Pour in unsalted beef broth, worcestershire sauce, bay leaf and french onion soup.  Close lid and make sure vent is set to "sealing".  Set Instant Pot to Manual: High pressure 35 minutes, then allow 20 minutes for a natural release.
Flip vent to "venting" and allow any remaining pressure to release (if any).  Carefully open lid.  Using a large slotted spoon, transfer beef to a large heatproof bowl.  Shred beef using two forks, pulling them in opposite directions.  Preheat your oven to 350°.
To make your au jus, turn the Instant Pot to Saute: More and add in sliced onion.  Cook about 5 minutes, until reduced slightly.  Turn off heat and let sit.  After a couple minutes, spoon into individual dipping bowls.
Slice open a hoagie rolls and sprinkle shredded gruyere cheese on each side.  Spoon in a generous portion of beef and spoon out some onions from the pot.  Wrap the sandwiches in aluminum foil and place in the oven for 5 minutes to warm through.
Serve sandwiches unwrapped, alongside dipping bowls of au jus.  To eat, dip the sandwich in the au jus and eat.  Have napkins handy, this is as delicious as it is messy!
Equipment
Notes
This recipe contains affiliate links
Prep Time:

5 minutes

Cook Time:

85 minutes

Category:

Main Course

Method:

Instant Pot

Cuisine:

American
Keywords: Instant Pot French Dip, Roast Beef Sandwich, Easy French Dip recipe
0