Never make a dull, dry pork chop again. With this recipe for Sous Vide Pork Chops, you'll learn how to make temperature controlled pork with a quick sear at the end. Making perfect pork chops has never been easier!
| Temp | Prep | Sous Vide | Sear Time | Total Time |
| --- | --- | --- | --- | --- |
| 129° | 5 mins | 1-2 hours | 5 minutes | 1.5-2.5 Hours |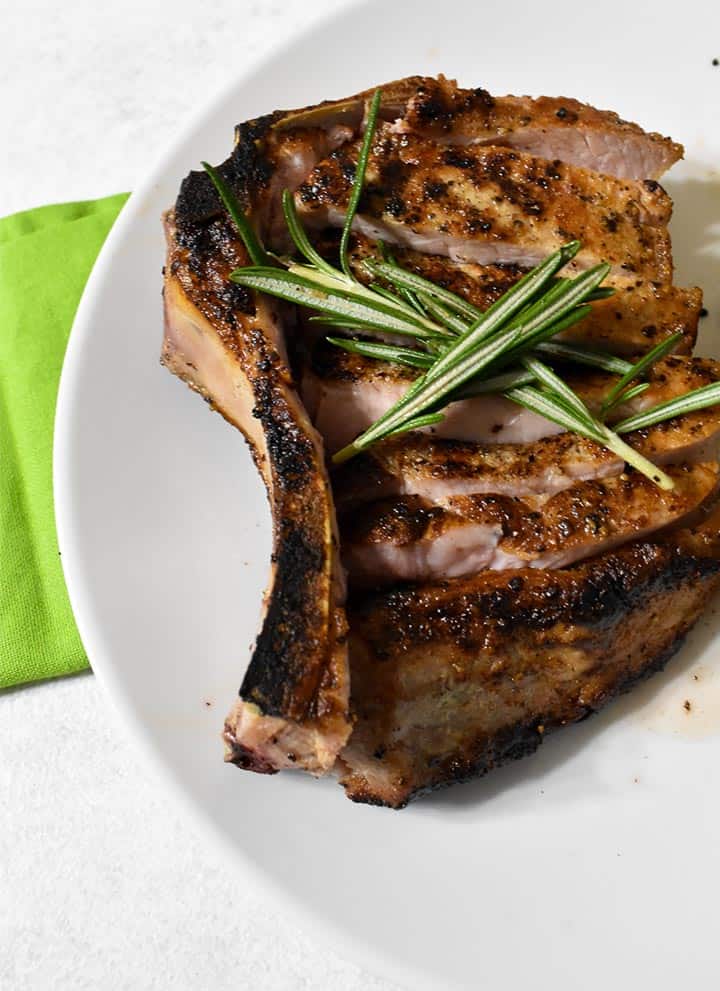 Jump to:
🥩 Ingredients
Thick cut pork chops. Thick cut chops work best here. That allows us to achieve a tender center of the meat, while making sure the sear only cooks the very outer crust.
Kosher salt. The larger kernels sit on the surface of the meat as it cooks, which is what we want. Table salt can penetrate into the meat and loses some of the flavor to the tongue.
Black pepper and garlic powder. Along with the salt, this rounds out our simple blend of dry spices for our flavor base.
Fresh rosemary. A fresh aromatic will release it's oils in the bag as it cooks. This gives just the right amount of balance against the dry rub base.
Grapeseed oil. You want a high heat oil when searing. Grapeseed is my go to, but vegetable oil works well also. Avoid olive oil, as it has a low smoke point and will smog up your house in a hurry.
Butter. Just a tablespoon along with the oil to add some fatty flavor into the seared crust.
🌡 Temperature Guide
The best thing about Sous Vide cooking is being able to select and control the doneness of your meat. My preference is for pork chops just cooked through, at 129°. This gives you a juicy interior which goes great with a seared outer crust.
However, you can select exactly what temperature to cook your pork chops to, using this guide:
| Time | Temperature | Result |
| --- | --- | --- |
| 1-2 hours | 129° | Tender, juicy meat. Texture is a little soft. |
| 1-2 Hours | 140° | Tender, juicy meat. Texture is meaty. |
| 1-2 Hours | 150° | Drier meat, less juicy. Texture is firm. |
| 1-2 Hours | 160° | Very dry. Texture is tough. |
🔪 Instructions
Step 1
Preheat your water bath to 129°. Meanwhile, season your thick cut pork chops with kosher salt, black pepper and garlic powder. Make sure to season all surfaces, including the sides.
Step 2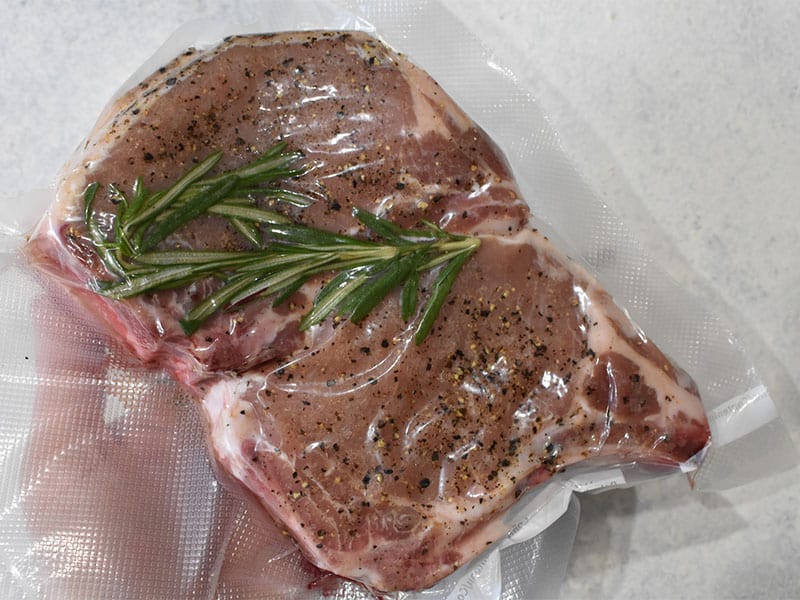 Place the pork chops into a vacuum sealer (affiliate) bag. Lay the pork chops in a single layer in the bag. If they don't fit in a single layer, split into multiple bags. Add fresh rosemary to bag. Using a vacuum sealer, seal bag tightly, removing all air.
Add bag to preheated water bath and cook for 1-2 hours.
Pro tip: If you're feeling fancy, opt for a double-cut pork chop, which is thick enough to have two bones. Follow the instructions as provided, but make sure to go closer to 2 full hours on the cooking time make sure it's warm and tender all the way through.
Step 3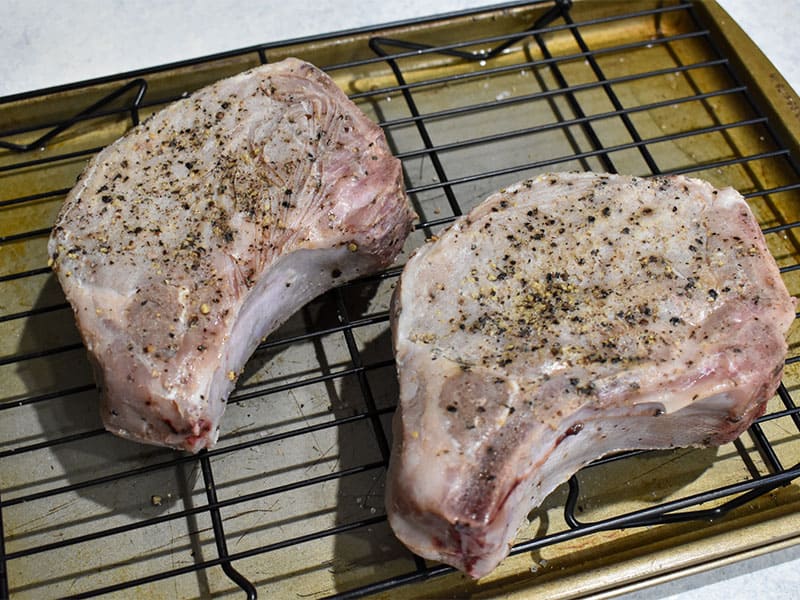 Remove pork from pag and place on a wire rack. Pat dry with a paper towel. The dryer the better, as moisture on the surface of the pork will prevent it from searing properly. Let it sit 10 minutes to cool slightly and allow the surface to dry.
Step 4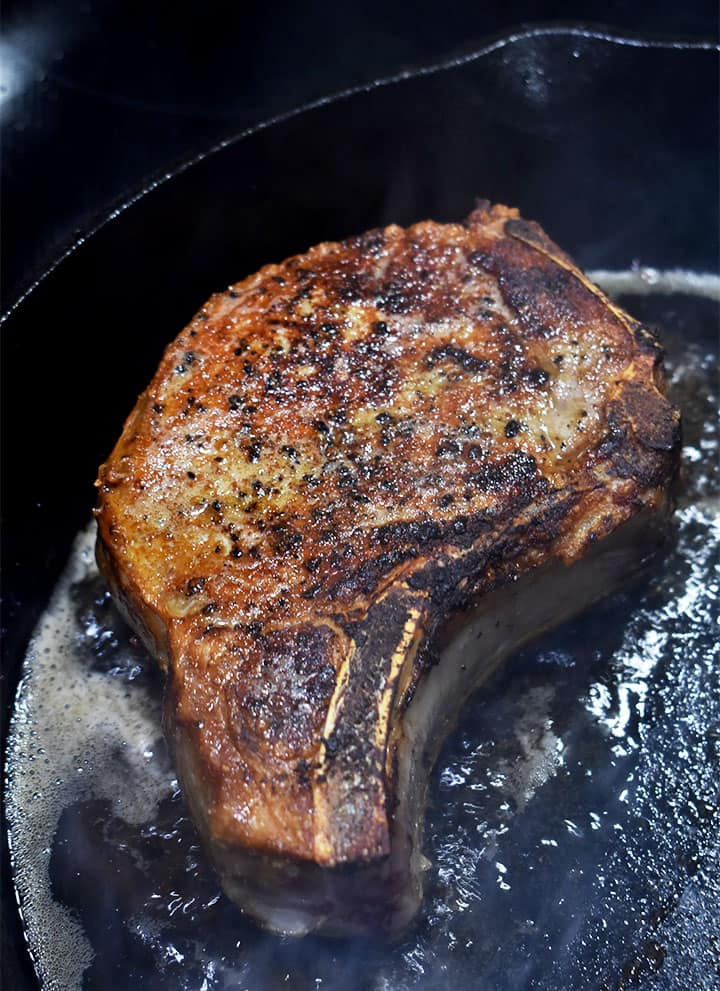 Heat a large frying pan or cast iron pan over high heat. When the pan begins to smoke, add grapeseed oil and butter. Make sure your vent is turned on high as the pan will put off a good amount of smoke while it sears.
Once the butter has melted and browned slightly, add the pork chops. Only add enough pork chops so they easily fit in the pan. For me, that's just 1-2 at a time. You can cook them in batches, so don't overcrowd the pan.
Cook pork chops for 30 seconds, then flip over and sear the opposite side for 30 seconds more. Then, using tongs, stand the pork chops on the side and cook the side surfaces for 30 seconds as well.
Repeat this once more, searing all the surfaces of the pork chop for 30 seconds again. The pork chops should be nice and brown after the second sear.
To Serve
Let pork chops rest for 10 minutes before serving. This allows the pork to relax and reabsorb the juiciness we've worked so hard to achieve. Serve sliced on the bone and use one of the suggested side dishes below.
💭 Top Tip
The importance of drying your pork well before searing them in a pan cannot be understated. Moisture will cause the meat to steam, not sear. This leaves you with a soft exterior and doesn't give you that perfect, crispy doneness we want. Take the time to pat the chops very dry with a paper towel, and let them cool on a rack for 10 minutes before searing. This provides you with the best results.
🍽 Equipment
👨🏻‍🍳 Variations
We go with a pretty simple savory blend here, but there's a few different ways you can season or dress your pork chops.
Mushroom gravy: Make the pork chops as instructed here. When finished, add mushrooms and 1 Tbsp of butter the pan while the pork rests. Cook until the mushrooms cook out all their moisture. Add diced garlic and onions 1 Tbsp of flour. Cook 2 minutes to toast, then slowly stir in 1 cup of chicken stock and 1 10 oz can can of cream of mushroom soup. Cook until heated through and gravy reaches your desired thickness. Spoon over top of pork chops to serve.
Mojo marinade: Bring some bright, citrus flavors to the dish by adding some mojo marinade to your sous vide bag. Seal it in with the pork chops while they cook for maximum flavor.
BBQ pork chops. Ditch the spices given here and instead rub your pork chops with your favorite BBQ spice rub. Cook them as instructed in the sous vide. Instead of a pan-fryer finish, hit them on a grill heated to high. Still cook them for only 30 seconds on each side for two cycles as instructed here. You may want longer tongs to help hold it over the hot open flame.
⏰ Time
The total cooking time here is about 1 hour and 40 minutes up to 2 hours and 20 minutes, depending on how long you let the chops go in the sous vide bath. However, very little time is actually actively cooking. Simply season the chops and drop them in the bath, then a quick sear when you're done is all you need. You're welcomed to walk away as the sous vide slowly works it's magic.
🥗 Side Dishes
Goes great with some restaurant level mashed potatoes. A fresh cucumber and tomato salad injects some acid to help lighten up the meal. Bring everything together with some everything dinner rolls for a satisfying meal.
🥡 Leftovers
Store leftover pork chops in the fridge, in an airtight container, for 3-5 days. You can easily reheat them in the microwave. For best results, heat in on half-power until heated through. This helps keeps the pork chops moist and tender.
You can also get creative with your leftovers as well. Try some pork fried rice, or pork stir fry. Or, dress it up for a pork bahn mi, one of my favorite sandwiches. A fresh bahn mi goes best with some fresh baked frozen baguettes.
🥙 Related Recipes
Print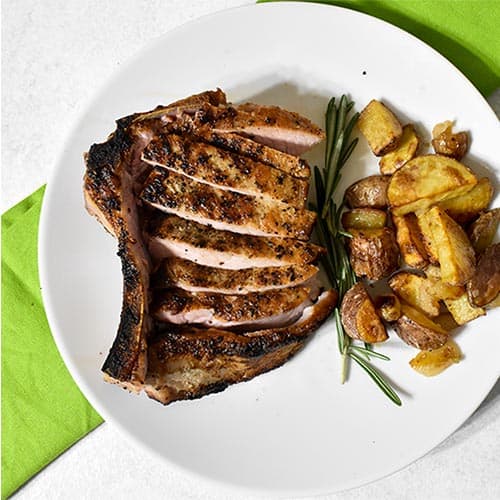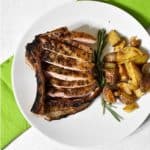 Sous Vide Pork Chops
---
Author:

Total Time:

2.5 Hours

Yield:

4

1

x
Description
Delicious juicy pork chops with a perfectly crispy crust.  Sous Vide pork chops delivers perfect pork with very little work.
---
4

thick cut pork chops

1 Tbsp

kosher salt

1 Tbsp

black pepper

2 tsp

garlic powder

4

sprigs fresh rosemary

2 Tbsp

grapeseed oil, or other high smoke point oil (like vegetable or avocado)

1 Tbsp

butter
---
Instructions
Preheat sous vide water bath to 129°.
Season pork chops on all surfaces with kosher salt, black pepper and garlic powder. Place pork chops in a vacuum sealer bag.  You can add multiple pork chops in single a bag, so long as they fit in one flat layer.
Add in fresh rosemary sprigs and seal bag tightly using a vacuum sealer.  Add to water bath and cook 1-2 hours.  When finished, remove bag from bath and cut open.  Move pork chops to a wire rack and pat dry with a paper towel.  Let rest 10 minutes.
Heat a large pan over high heat.  Add grapeseed oil and butter to the pan.  When butter melts and pan begins to smoke, add in pork chops.  Do not overcrowd the pan and cook your chops in batches, if needed.  Sear the pork chops for 30 seconds, the flip over to opposite side.  Then, stand pork chops up on end to sear the sides as well.
Repeat once more, searing all the sides a second time.  Chops should be pretty well browned at this point.  Remove to a place and let rest 10 minutes before serving.
Equipment
Notes
This recipe contains Amazon Affiliate links
Prep Time:

5 Minutes

Cook Time:

2 Hours

Category:

Main Course

Method:

Sous Vide

Cuisine:

American
Keywords: Sous vide pork, sous vide pork chops, pork chop recipe
0