Light, fluffy and absolutely full of flavor, this recipe for Everything Dinner Rolls is the perfect final touch to your dinner dish. Learn how to make these great dinner rolls with this easy to follow recipe.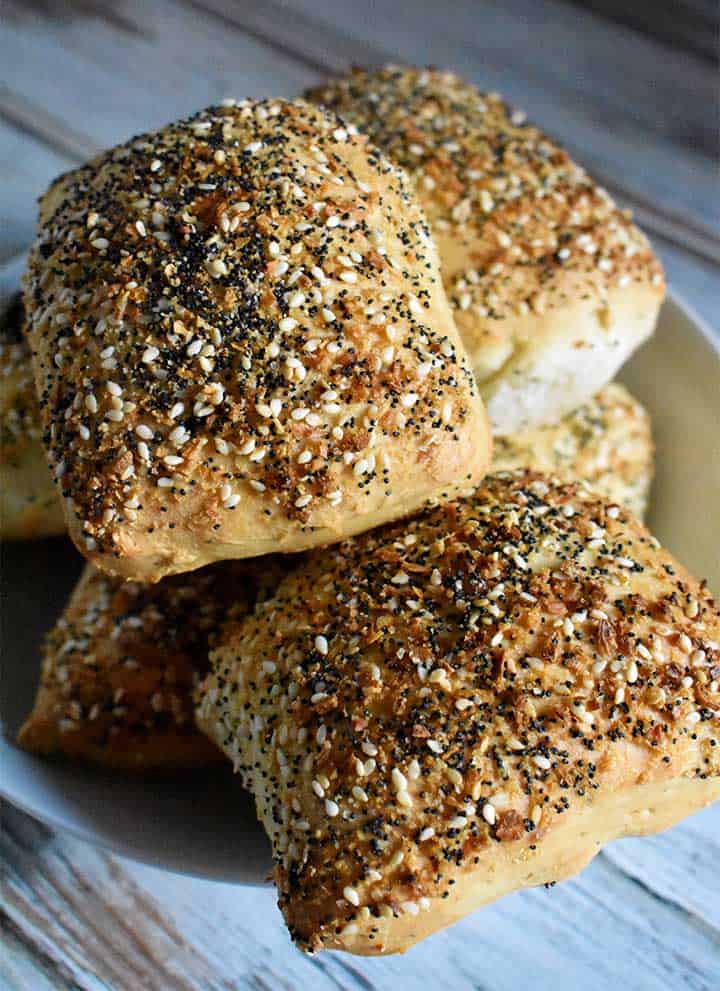 What are Everything Dinner Rolls?
Fluffy yeast rolls made from scratch, but made with Everything Bagel Seasoning to kick things up a notch. The result is a dinner roll that that has a ton of flavor, just like the everything bagels that we all love in the morning!
Ready to make it? Jump straight to the recipe!
Let's stay in touch. Follow me on Instagram and check out what we're up to on Pinterest. Support this site, follow the link and buy stuff on Amazon (affiliate).
Why I love this recipe for Everything Dinner Rolls
Some dinner roll recipes can be quite flat. Bread for the sake of being bread on your plate. It weighs you in you and helps you feel full, but not much more. This recipe is definitely not that.
The rolls themselves rise to become light and fluffy, not a brick of a bite that will sit in your stomach. And there's nothing flat about the taste. The mix of poppy seeds, sesame seeds, onion and garlic and sea salt all give this a ton of flavor all the way through.
If you love everything bagels, you'll love this recipe for everything dinner rolls!
Mike's Recipe Rundown
Taste: An awesome savory mix, just like an everything bagel. Salty, garlicky with a touch of dried onion gives a super savory bite.
Texture: Very light and fluffy, while the egg wash lends just enough browning on top to give just a touch of crispness.
Difficulty - Intermediate: We're making these from scratch, so I wouldn't quite say this was an easy recipe. However, a stand mixer

(affiliate)

really does most of the work for us, and there's not a ton of technique needed otherwise. Following these steps should lend you to a great result!
Pros: An awesome twist on a dinner favorite. Goes great alongside almost any meal, from pasta to chicken francaise to shrimp and grits.
Cons: The dough needs time to rise, so this isn't an easy one to pull of for the average after-work weeknight dinner. This is best made for weekends or large family gatherings like Thanksgiving or Easter.
Would I make it again? Yes! This is one of our favorite bread dishes to have alongside dinner. It goes great with beef dishes like Sous Vide Chuck Roast or Instant Pot Chili.
Want to learn pro's tips for awesome recipes? Make pulled pork, mashed potatoes, or a wonderful date night duck breast ramen developed and perfected by professional chefs.
Everything Dinner Rolls Tips and Tricks
Everything Bagel Seasoning is available in most grocery stores nowadays. In my local Publix, they sell it in the bakery section. Others may carry it in the spices/seasoning area.
Alternatively, you can make your own everything bagel seasoning. Mix together equal parts poppy seeds, sesame seeds, black sesame seeds, minced dried garlic, minced dried onion and sea salt. Feel free to make more than you need for this recipe and save the rest for another time.
You can easily convert this recipe into a standard dinner roll recipe. To do so, simply exclude the everything bagel seasoning and add a teaspoon of salt to the dough in its place.
For the best results, try to time this up to be removed from the oven 15 minutes prior to serving. This allows them a few minutes to cool, but keeps them nice and warm while for their best results.
I don't butter these myself, but some room-temperature butter can be spread on the inside, if desired. I prefer mine without it.
What you need to make Everything Dinner Rolls
Starting with a quality stand mixer (affiliate) is really going to make your life easy. This will do all the mixing and kneading for you, getting that part done in under 10 minutes. By hand, that could easy take twice as much time. It's a worthwhile investment.
From there, you'll want a large mixing bowl (affiliate) for the dough to rise in, a bench scraper (affiliate) to divide the dough and a large baking pan for cooking the rolls.
Like this recipe? Let us know by giving us a rating and a comment at the bottom of the page.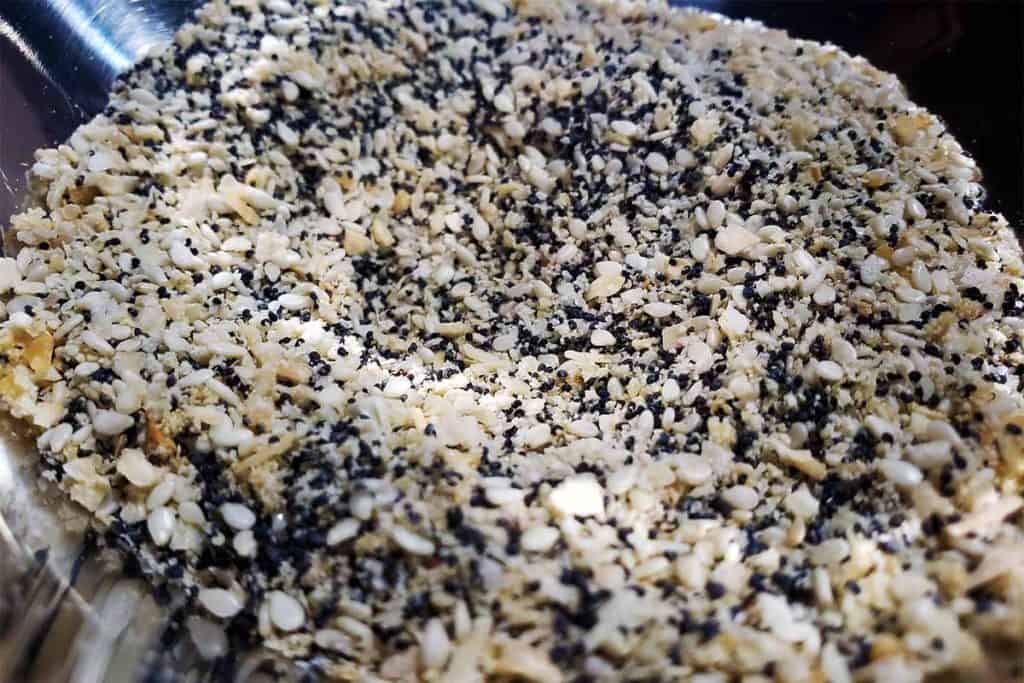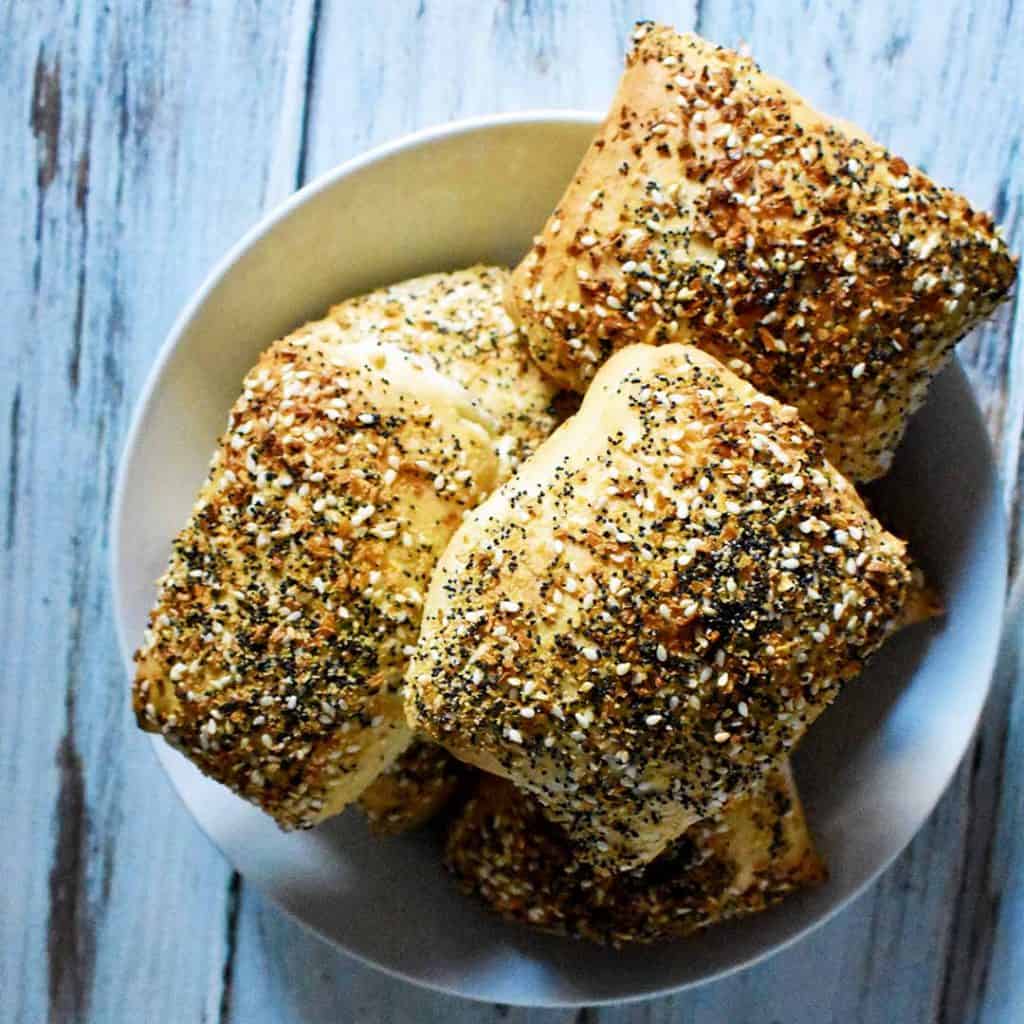 How to make Everything Dinner Rolls
Make Dough
In the base of a stand mixer, combine instant yeast, sugar and warm water. Water should be about 100° in order to activate the yeast. If you don't have a thermometer, the best way to tell is to run it against the back of your hand. It should be warm enough to feel warm, but not so warm that it burns the back of your hand. If your water is too cool, the yeast will not activate. If it burns, it will kill the bacteria in the yeast. That happy medium is right where you want to live.
Let yeast and water sit for 15 minutes to activate.
Pour in warm milk, melted butter, egg and a tablespoon of the everything bagel seasoning. Lightly mix together, then add one cup of bread flour. Using the paddle attachment on your stand mixer mix until well combined. The should result in a wet and sticky dough at the bottom of the bowl.
Remove paddle attachment and attach dough hook. Sprinkle in remaining bread flour a half cup at a time with the dough hook running on medium-low speed. Dough will gradually become more solid as it mixes in. The dough's ideal state will be an elastic ball that just pulls away from the sides of the bowl cleanly.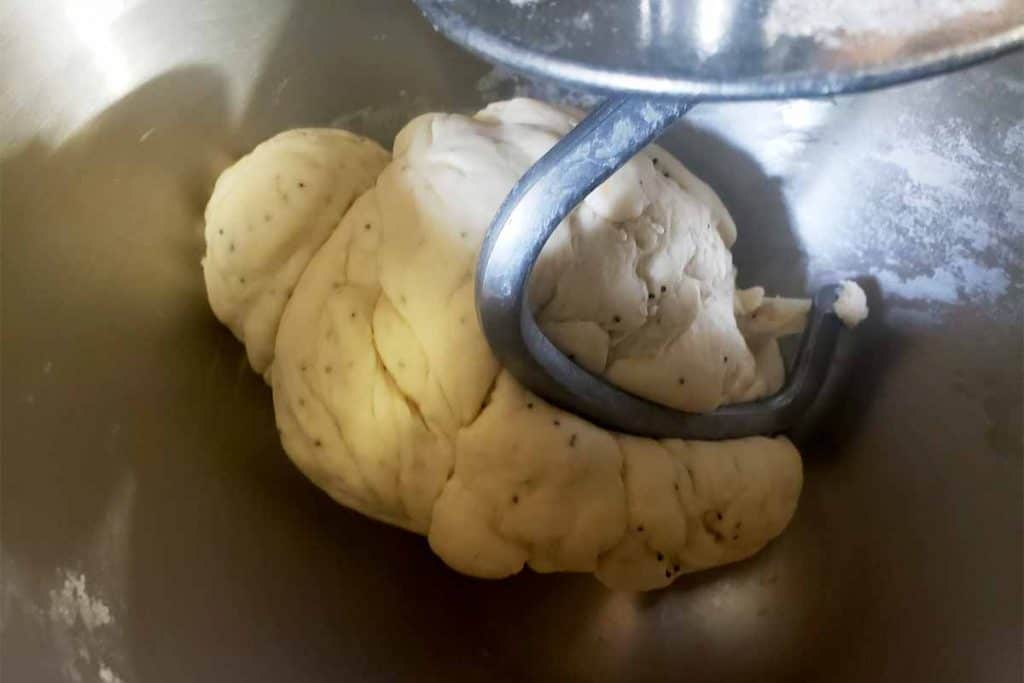 Using the dough hook, run the stand mixer on medium high speed for about 5 minutes to knead the dough. This will help to relax the gluten in the bread and give you a perfectly fluffy end result.
When the dough is done kneading, move it to a large mixing bowl that has been lightly greased with cooking spray. Cover bowl loosely with a damp towel and let sit for 90 minutes to allow dough to rise.
Form Rolls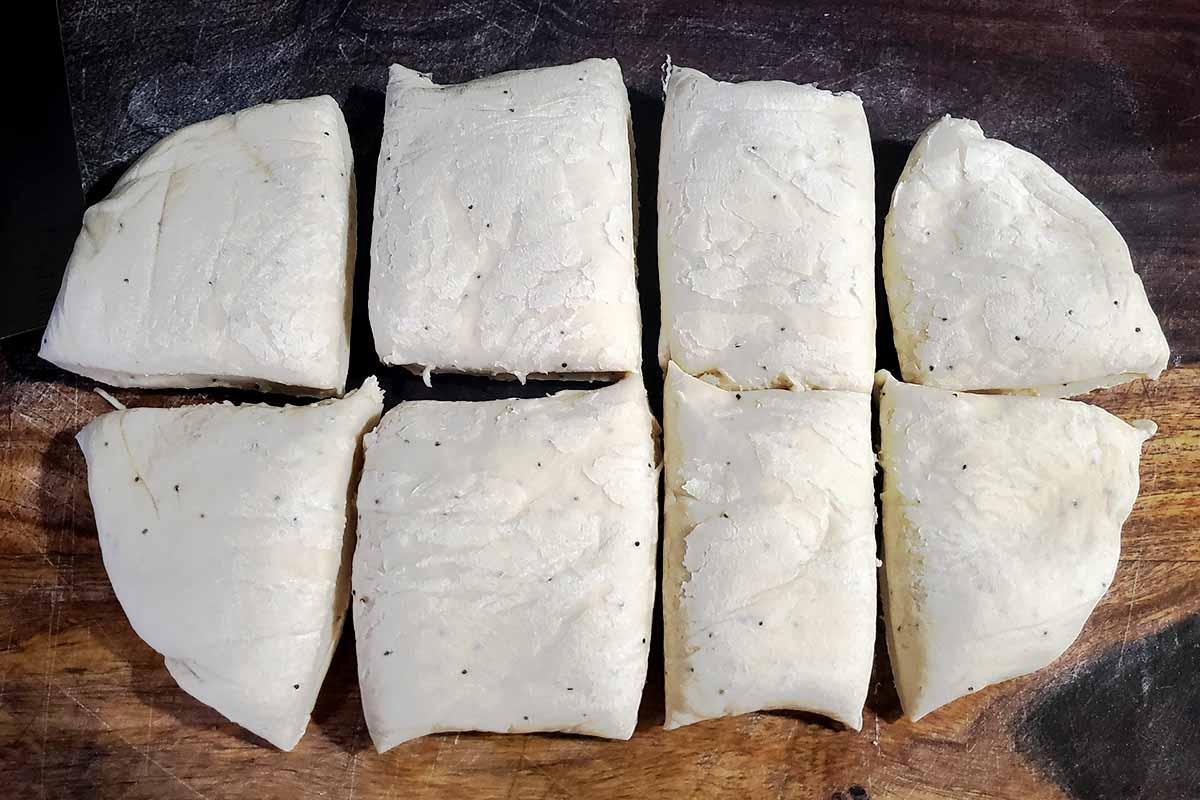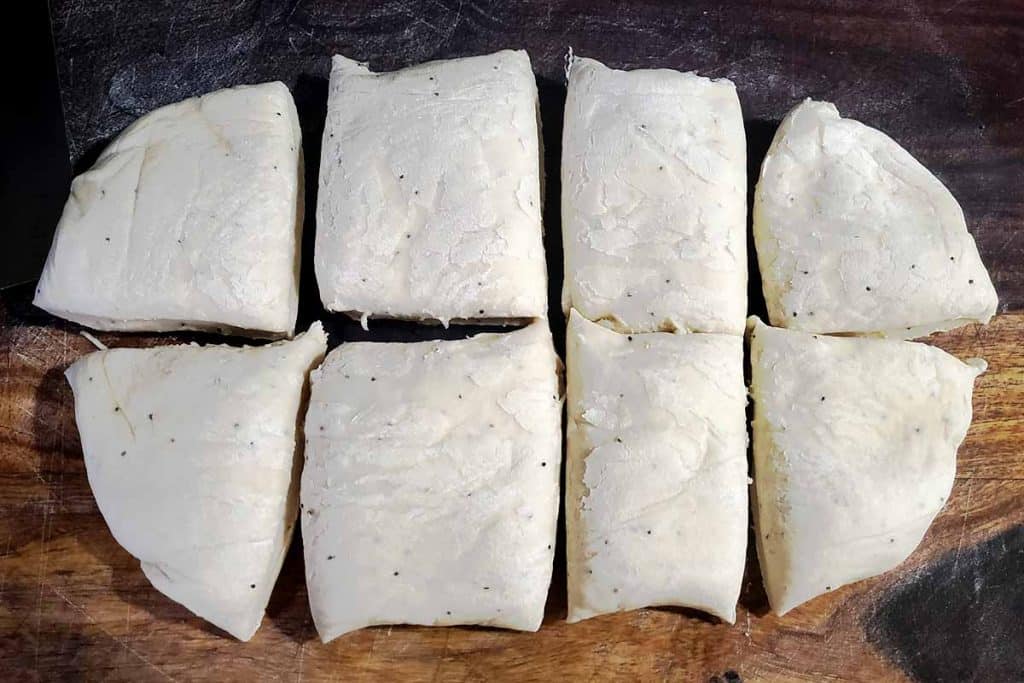 Uncover dough and transfer to a lightly floured surface. Lightly press down with your hands to deflate the dough. Form the dough into a rectangle., then cut into squares using using a bench scraper (affiliate), about 2 inches wide. Cover with a towel and let rise again for about 30 minutes.
Season & Bake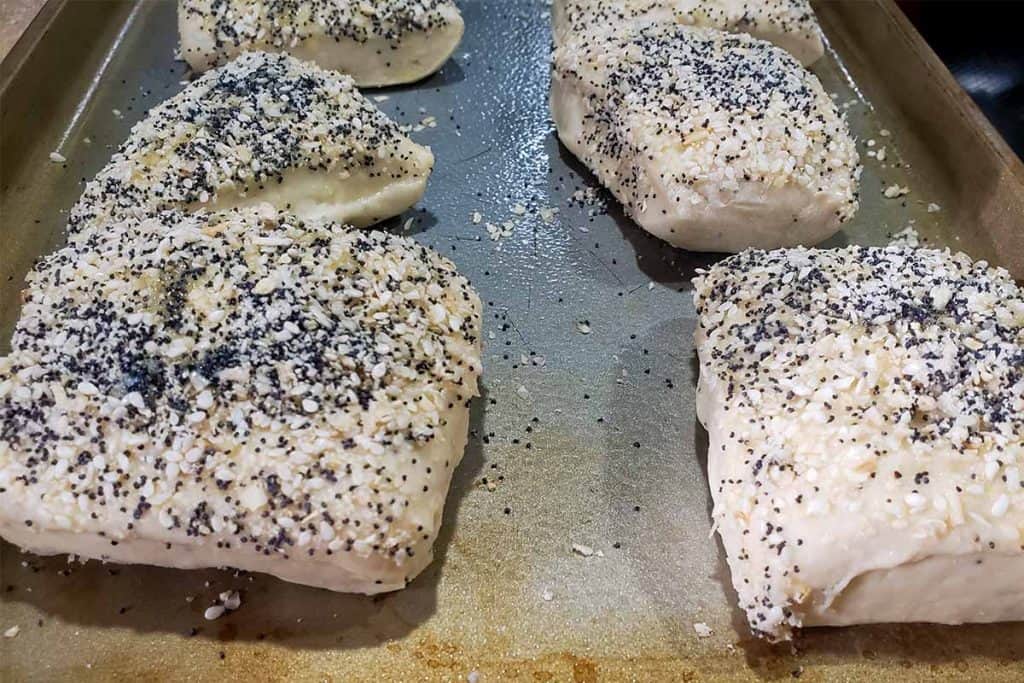 Brush top of dough with remaining tablespoon of melted butter. Dip top of roll in everything bagel seasoning, the place seasoned-side up on a greased baking pan.
Bake in the center of oven for 15-20 minutes, or until tops and bottoms have both golden brown. Let rest 15 minutes before serving. Save leftovers in a ziploc bag for up to 5 days, reheating in the microwave before serving.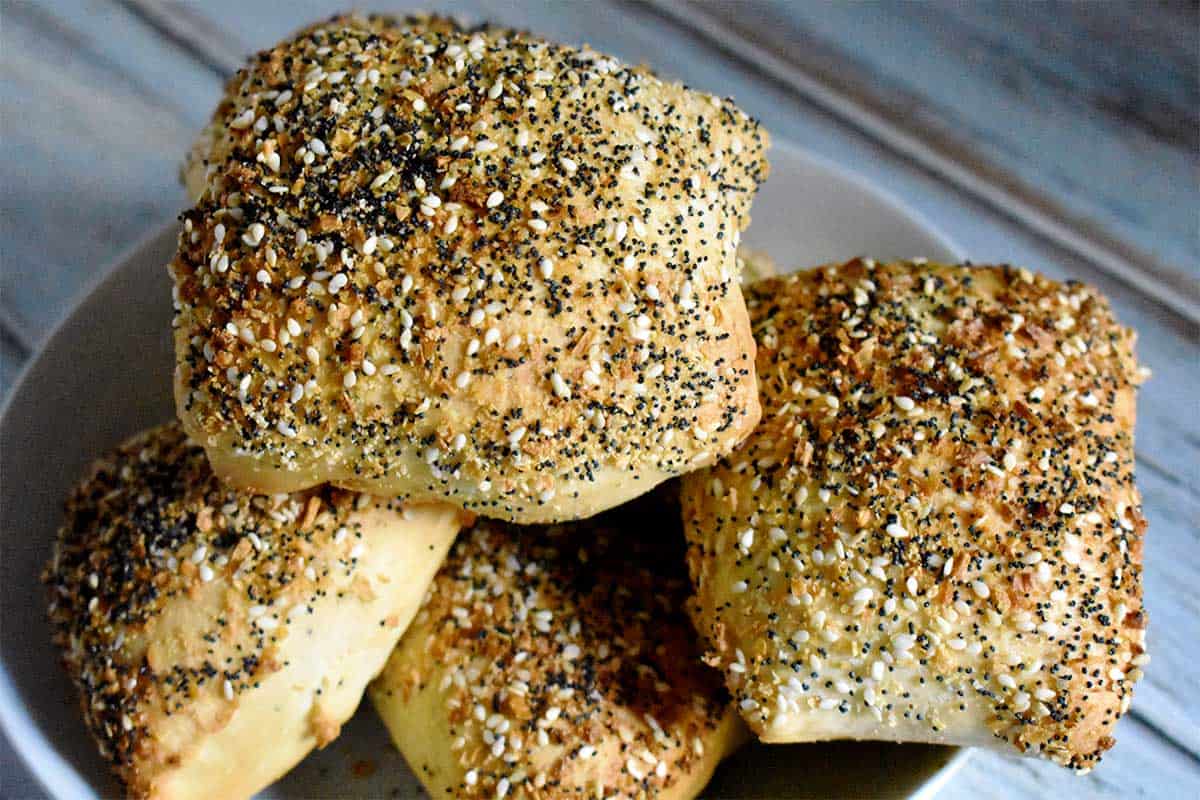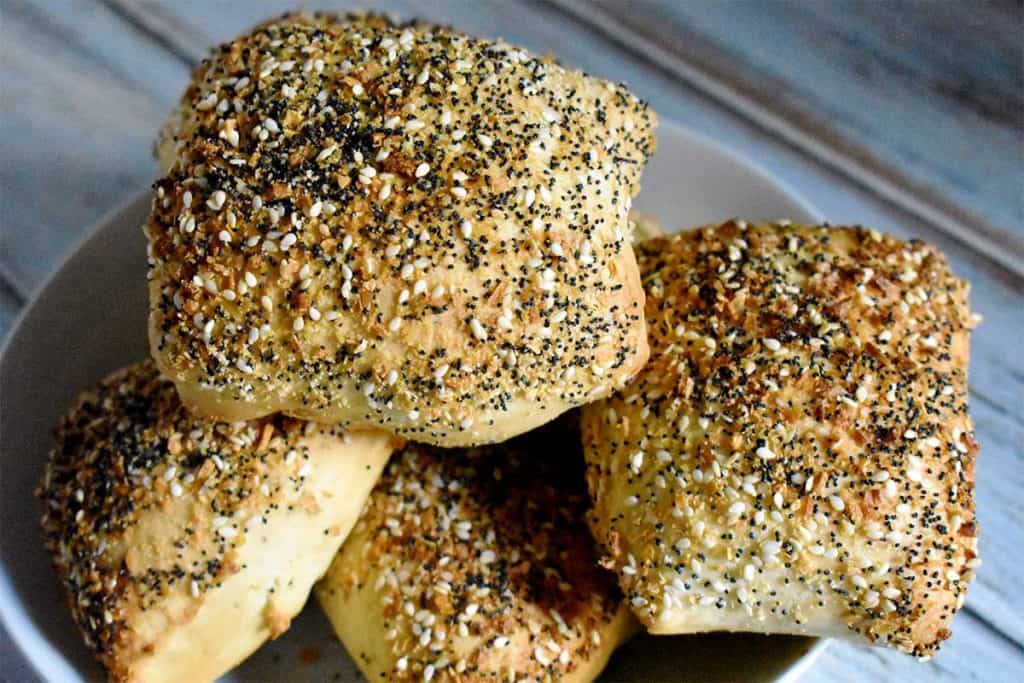 Check out our latest recipes!
Print
Everything Dinner Rolls
---
Author:

Total Time:

2.75 hours

Yield:

8

rolls

1

x
Description
Dinner rolls kicked up a notch with everything bagel seasoning!
---
1

package instant yeast

1 Tbsp

sugar

⅛ cup

warm water

½ cup

warm milk

2 Tbsp

butter, melted and divided

1

egg

1 Tbsp

everything bagel seasoning, plus more for topping

2 ¼ cup

bread flour
---
Instructions
MAKE DOUGH: In stand mixer, combine water and instant yeast.  Let sit 15 minutes to activate.  Add in warm milk, melted butter, egg and 1 tsp of everything bagel seasoning.  Stir together, then add one cup of bread flour.  Mix using a paddle attachment on stand mixer

(affiliate)

until combined to a wet, sticky dough.  Change to dough hook attachment and add remaining bread flour gradually.  Dough is ready when it's sticky and barely pulling away from the sides.
KNEAD DOUGH & RISE:  Knead dough in stand mixer for 5 minutes on medium-high speed.  Dough should form a smooth, elastic ball that pulls cleanly from the sides of the ball.  When it's done, transfer to a lightly greased mixing bowl and cover with a towel.  Let rise for 90 minutes, or until doubled in size.
FORM ROLLS:  Transfer rolls to a lightly floured surface.  Press lightly to deflate and form a large rectangle.  Using a bench scraper, cut rolls into evenly sized squares, about 2 inches wide.  Cover again with a paper towel and let rise 30 more minutes.
SEASON AND BAKE: Preheat oven to 375°.  Brush melted butter over top of rolls.  Dip buttered side in remaining everything bagel seasoning to season tops.  Place seasoned-side-up on a greased baking sheet.  Bake in center of oven for 15-20 minutes, until golden brown.  Remove and let cool 15 minutes before serving.
Prep Time:

2.5 hours

Cook Time:

15 minutes

Category:

Side Dish

Method:

Baked

Cuisine:

American
Keywords: Dinner Rolls, Everything Bagels, Potluck Recipe
1