Looking for an easy risotto recipe that tastes great, too? This recipe for Instant Pot Risotto with mushroom and truffle oil delivers a flavor-bomb of taste with minimal effort. Learn how to make it with this easy, 3-step recipe.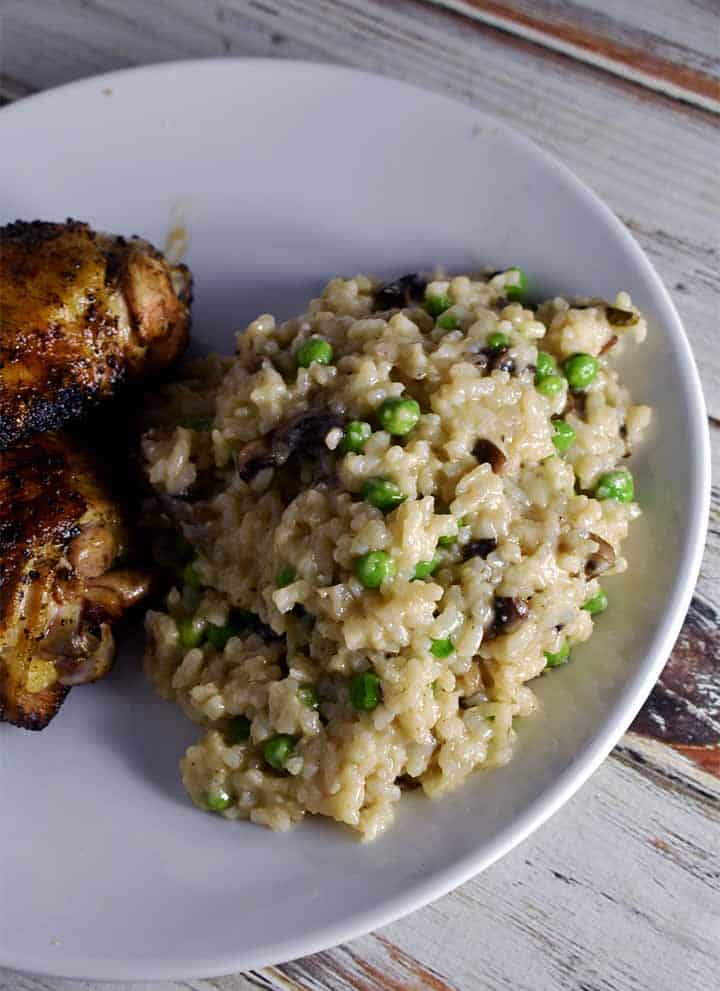 What is Risotto?`
Risotto is a creamy rice dish, made with Arborio rice, a short-grain italian rice. When made on the stovetop, it's slowly stewed while adding in a ton of broth to get maximum creaminess. Cheese and butter are typically mixed in at the end to really give a nice richness. Since risotto itself is a pretty blank slate, you can really add a variety of flavors and take it in a number of directions.
Let's stay in touch. Follow me on Instagram and check out what we're up to on Pinterest. Support this site, follow the link and buy stuff on Amazon (affiliate).
Why I love Instant Pot Risotto
With the Instant Pot, however, we really cut down on the effort needed to make this great. A quick saute to start, then let the pressure cooker work it's magic to bring this to absolute perfection. A touch of seasoning at the end and you're done! Delicious, easy risotto in a fraction of the time in the Instant Pot!
Plus, one of the best parts is that with the pressure cooker, you use only a fraction of the broth that you use in normal stovetop risotto! Easy and a money saver? Sign. Me. Up.
Ready to make this recipe? Jump to the instructions!
Mike's Recipe Rundown
Taste: Mushrooms and herbs really give a full flavor while the truffle oil adds just a touch of richness to round things out. A subtle sharpness from the freshly grated cheese cuts will against everything else.
Texture: At its core, risotto is creamy rice, and this is just that. However, the mushrooms and peas offer bursts of texture that balance well against the rest of the dish.
Difficulty - Easy! Risotto is typically very complex, but not here. A couple of quick steps, close the lid and voila - dinner!
Pros: An absolute flavor-bomb of a dish that goes great whether your complimenting a main course or looking for a veggie dish that can stand on its own.
Cons: Risotto can sit a little heavy, so this isn't a dish that's in our weekly routine. Occasionally? Yes. Especially alongside a lighter main dish like chicken francaise.
Instant Pot Risotto Tips and Tricks
I love putting in frozen peas only at the very end. They'll become warm to the bite simply by being mixed into the risotto. Not only does it provide an awesome splash of color, it compliments the flavor and lends some added texture to the bite.
Truffle oil is our indulgence in this recipe. A small bottle of white truffle oil runs me about $12 at the local grocer. I get my money worth out of that bottle. I use it on tater tots, mac and cheese, pizza and more. It's very strong in flavor, so just a dash will do.
If truffle oil isn't friendly to your budget, don't worry. Simply omit it from this recipe and complete the rest. It will still taste great without it!
This meal is great as a main vegetarian dish on it's own. Or, you can serve it alongside a high quality meat such as sous vide chicken thighs or sous vide steak. Both are awesome ways to put your kitchen toys to work!
Ready to make this recipe? Jump to the recipe!
What you need to make Instant Pot Risotto
Equipment wise, you really just need a good quality Instant Pot (affiliate) and a good wooden spoon or spatula to stir everything up. That's it, so easy!
For your ingredients, you'll want:
2 Tbsp extra virgin olive oil
8 oz fresh mushrooms, sliced
kosher salt and freshly ground black pepper, to taste
2 shallots, chopped
2 cloves fresh garlic, sliced
1 sprig fresh rosemary
1.5 cups Arborio rice
1 cup white wine
4 cups vegetable stock
1 Tbsp white truffle oil
¼ cup freshly grated parmesan cheese
1 cup frozen peas
How to make Instant Pot Risotto with Mushroom & Truffle Oil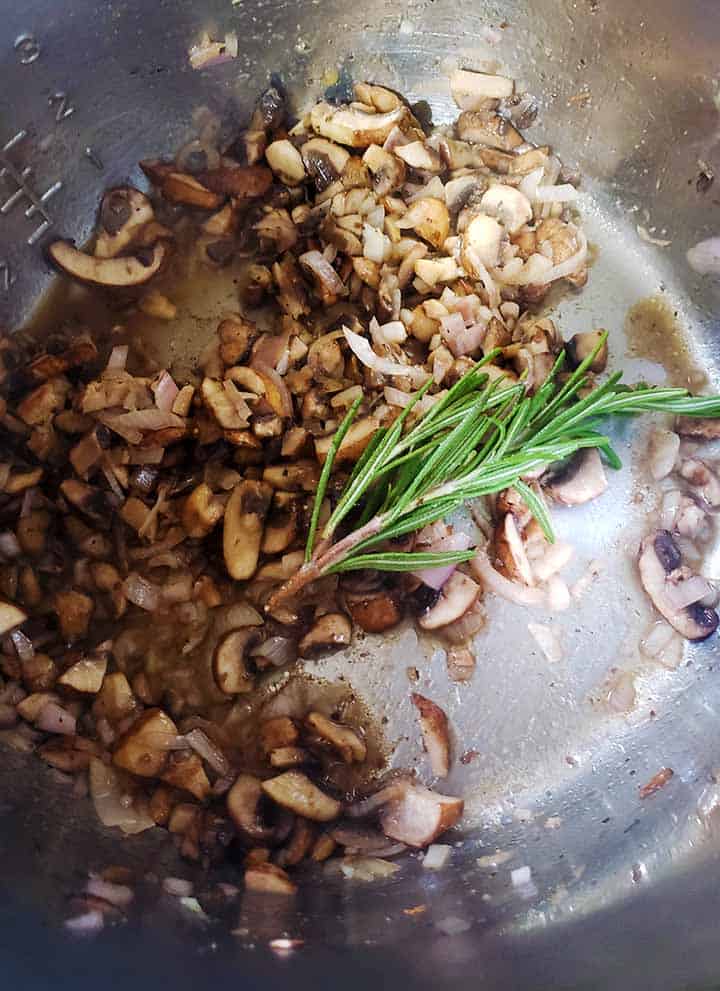 Turn your Instant Pot (affiliate) on Saute (More) mode. When it says "hot" add olive oil and allow 30 seconds to heat. Add mushrooms and season with salt and pepper. Cook until softened, about 3 minutes, stirring occasionally. Add chopped shallots and cook 2 minutes more. Next add sliced fresh garlic and rosemary sprig. Cook 2 minutes, until garlic and rosemary are fragrant.
Add Arborio rice to pot. Stir around and toast rice for about a minute. Pour in white wine and simmer for 3 minutes. And in vegetable stock and simmer one minute more. Then, close lid and set vent to "sealing". Switch Instant Pot to Manual, High Pressure and set the timer for 6 minutes.
Instant Pot (affiliate) will take approximately 10 minutes to come to temperature. When it's done cooking, perform a quick release. When pressure has released and indicator knob has dropped, carefully open the lid and remove rosemary sprig. Add in white truffle oil, freshly grated parmesan cheese and salt and pepper. Stir together. Lastly, add frozen peas and stir in. Season with salt and pepper to taste and stir together. Let the risotto sit a minute to meld everything together.
To serve, spoon individual portions in anto a plate or bowl & enjoy!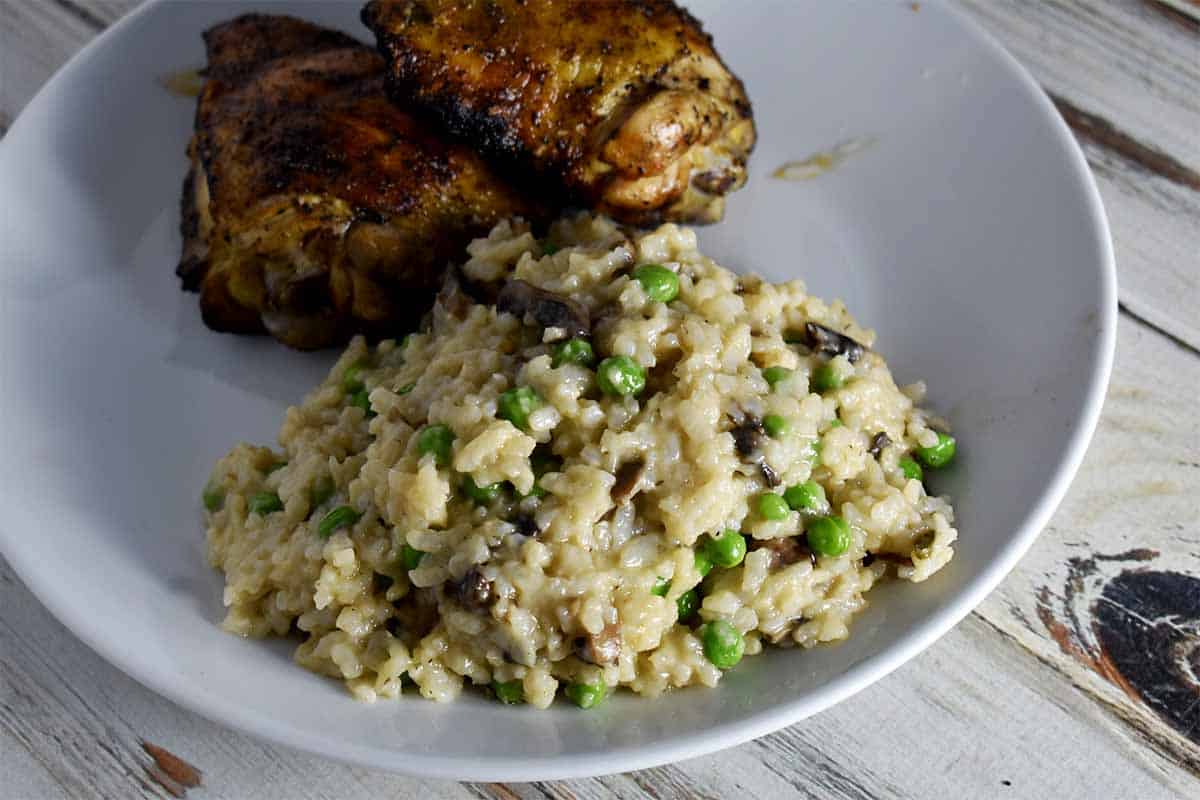 Check out our latest posts
Print
Instant Pot Risotto with Mushroom and Truffle Oil
---
Author:

Total Time:

40 minutes

Yield:

4

servings

1

x
Description
Risotto made easy!  Creamy and rich with veggies and white truffle oil.  Makes a great side dish or vegetarian dinner!
---
2 Tbsp

extra virgin olive oil

8 oz

fresh mushrooms, sliced
kosher salt and freshly ground black pepper, to taste

2

shallots, diced

2

cloves fresh garlic, sliced

1

sprig fresh rosemary

1.5 cups

Arborio rice

1 cup

white wine

4 cups

vegetable stock

1 Tbsp

white truffle oil

¼ cup

freshly grated parmesan cheese

1 cup

frozen peas
---
Instructions
SAUTE VEGGIES: Turn Instant Pot on Saute (more).  When display reads Hot, add in olive oil and mushrooms.  Season with salt and pepper.  Cook for about 3 then add shallots.  Cook for two minutes more before adding fresh garlic.  Stir everything together and cook for two minutes more.
COOK RICE:  Add Arborio Rice to pot.  Stir and toast for one minute.  Pour in white wine and simmer for three minutes.  Add vegetable broth and stir together.  Simmer for one minute then close lid and set to sealing.  Switch mode to Manual High pressure and set the timer for 6 minutes.  Allow about 10 minutes for the Instant Pot to come to pressure.
FINISHING TOUCHES: When timer goes off perform a quick release.  When pressure if released open the lid carefully.  Remove rosemary sprig and discard. Add in freshly grated parmesan cheese, white truffle oil and salt and pepper.  Stir everything together until it begins to get creamy.  Add frozen peas and stir everything together.  Let it sit about a minute to meld together, then serve!
Equipment
Prep Time:

5 minutes

Cook Time:

35 minutes

Category:

Side Dish

Method:

Instant Pot

Cuisine:

Italian
Keywords: Easy Risotto, Instant Pot Side Dish, Vegetarian Meals
2