The Instant Pot was invented for this. Sure, it speeds up meals and makes things super easy. But it does nothing - and I mean nothing - better than chili. This recipe for Instant Pot Chili uses leftover smoked beef brisket to deliver an absolutely amazing taste. Smokey, spicy and delicious!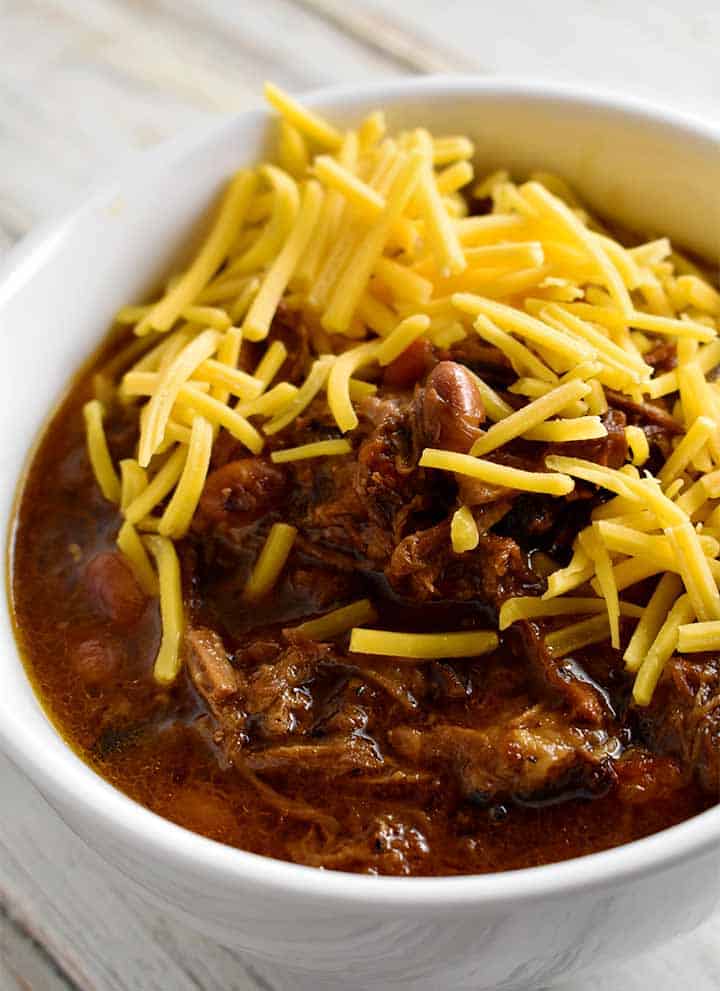 Mike's Recipe Rundown
Taste: Deep and smokey with a slow burn of heat. We build the spice slowly so you can chow down while still warm feeling the kick you should get from a great chili
Texture: Full and hearty. Beef and beans really fill out the bite and the broth itself really thickens up after standing.
Difficulty: Medium. There are easier instant pot recipes, but this one is far from hard. Simply cook down your veggies, add everything else, close the lid and let the Instant Pot do it's thing!
Pros: My favorite part of cooking chili in the Instant Pot is being able to use dried beans, not canned stuff. You get a cleaner taste this way, since you don't have to deal with the brine of the canned beans.
Cons: I live in North Florida, so the only real cons for me is that I chili season is way too short in my area of the country. I wish I could make this year round!
Would I make it again? Absolutely! Anytime the temperature drops, this is one of my favorites! I especially love this after I've smoked a wonderful beef brisket to perfection.
Let's stay in touch. Follow me on Instagram and check out what we're up to on Pinterest. Support this site, follow the link and buy stuff on Amazon (affiliate).
Instant Pot Chili Tips and Tricks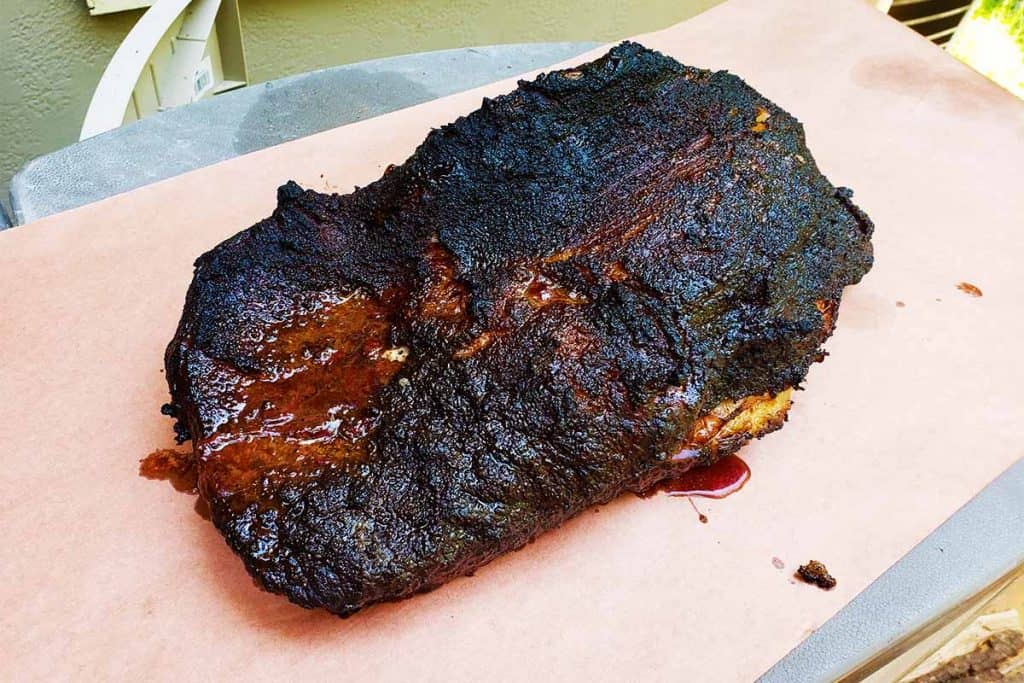 For this recipe, we're using leftover beef brisket (above). Whenever I smoke a brisket, I always buy a bigger one than I need so that I have leftovers for this. The smoke and beefiness of the brisket truly lend a ton of flavor to the rest of the brisket.
If you don't have any smoked beef brisket, that's cool too. Just buy either a beef brisket flat or a chuck roast from the store and chop it into small pieces. It will lose a little something without that natural smoke, but it's still well worth it.
If you did just make a brisket, not only should you use the beef, but you can also render down some beef fat instead of olive oil when sauteing. This will add another layer of beefy flavor, yum!
Instead of a bunch of chili powder, we use re-hydrated ancho chilies and adobo sauce for our heat. These peppers gives a deep smokiness and slow burn to the bite. It's not pure heat, but it builds over time while also bringing a bunch of flavor to the party.
If you're really trying to save time here, you can always knock some time off by using canned chili beans. When using canned beans, you can go with a pressure cook of only 18 minutes. But good chili typically takes hours, so to get chili with clean, dried beans in under an hour is well worth your time.
If your table finds your chili to be too spicy, offer them some sour cream. Stirring that in does a great job and cutting down on the spice.
There's some other great recipes you'll love, too. Like easy Instant Pot Mac and Cheese, perfect Pulled Pork or Parmesan Crusted Chicken. Right now my favorite comfort food recipe is the Kentucky Hot Brown, which goes great alongside a tasty Mint Julep.
What you need to make Instant Pot Chili
Well, the obvious one here is an Instant Pot (affiliate). I have an 8qt one, but this would fit okay in a 6qt as well. Simply scale down if you're using a 3qt one for small batches. But do remember, leftovers can be frozen and easily reheated later, so it's okay to make extra and come back.
Other than that, I'll use a small saucepan (affiliate) to re-hydrate the chilis. That's it, two simple dishes contain all this goodness, yum!
Need an awesome meal planning tool? Easily import this recipe to Plan To Eat (affiliate), schedule it and get your grocery list right on your phone. Get a 30-day free trial (affiliate) with no credit card required.
How to make Instant Pot Chili
Prep
In a small saucepan (affiliate) on the stove, bring 2 cups of water to boil. Remove from heat and add dried ancho chilis. Let set about 5 minutes to hydrate the chilis, then remove to cool. Once cool enough to handle, open the chilis and remove and discard all seeds and stem. Chop pepper flesh into small pieces and set aside.
Saute
Open Instant Pot (affiliate) and set on high saute. Add olive oil to the bottom of the pan. Dump in diced onions and season with salt and pepper. Cook until softened, then add chopped fresh garlic cloves along with smoked paprika and ground cumin. Cook until fragrant, about another minute. Add in your smoked beef brisket, which has been cut into ½ inch pieces.
Stir everything together and cook for about 3 minutes before adding all remaining ingredients: fire roasted tomatoes (including juices from can), fire roasted red peppers, beef broth, small red kidney beans.
Add in a pinch more salt along with dried oregano and close the lid. Cancel saute and set Instant Pot to Manual, High Pressure for 50 minutes, making sure the pressure valve is set to "sealing".
Release and finish
Allow instant pot to come to pressure and cook. When finished, perform a quick release by flipping the pressure valve to "venting". When purple indicator has gone down, carefully open the lid, allowing steam to escape.
At this point, your chili may appear a little watery. Do not fret, simply set your Instant Pot back to "Saute" and bring to a boil. Allow to cook until thickened - while stirring - about another five minutes. Served garnished with fresh cheddar cheese and sour cream (if desired).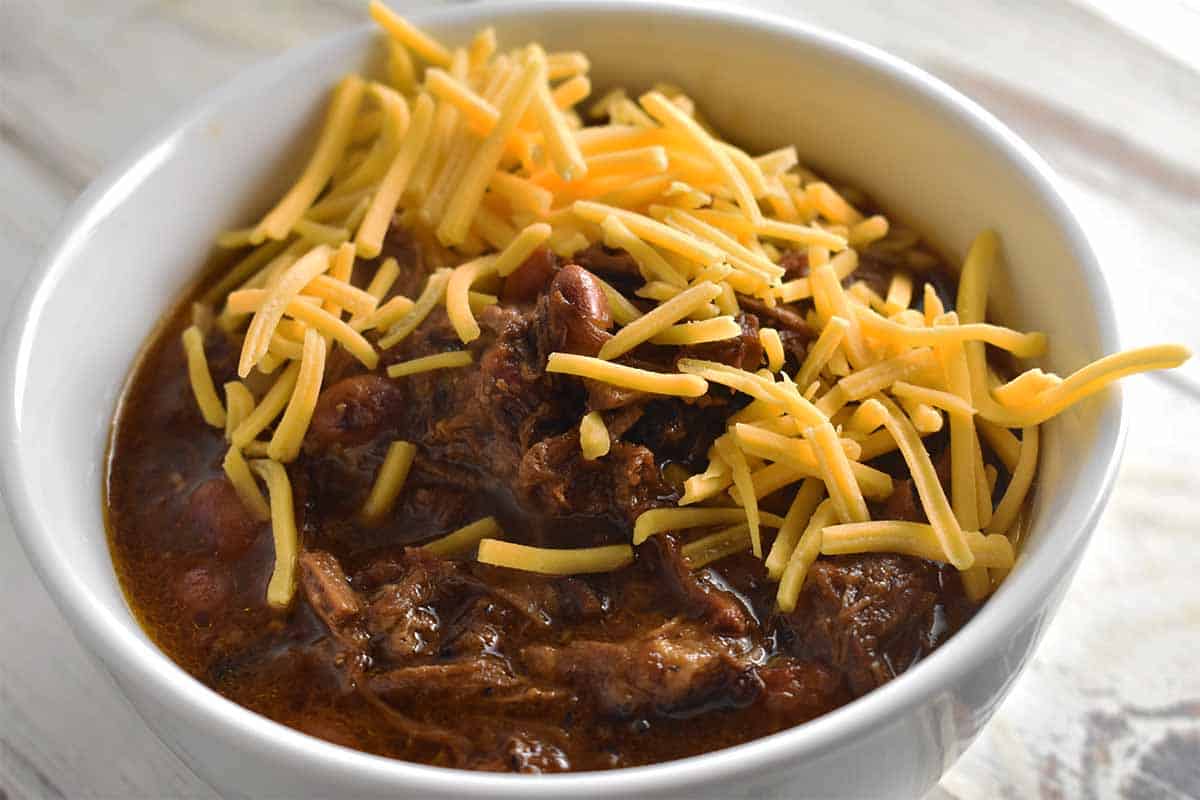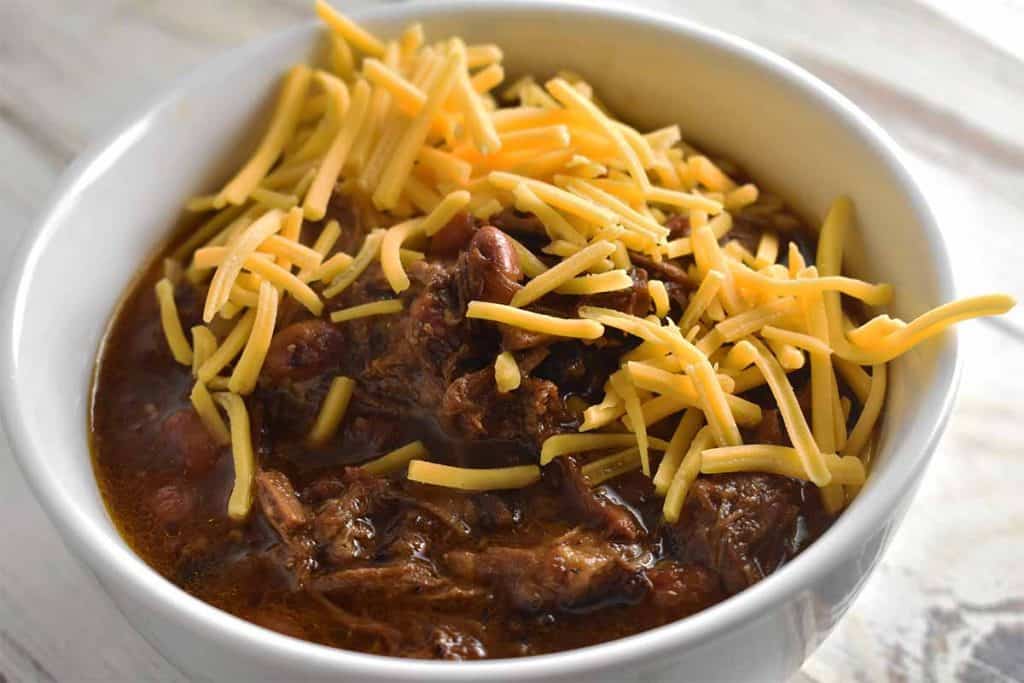 Check out our latest recipes
Print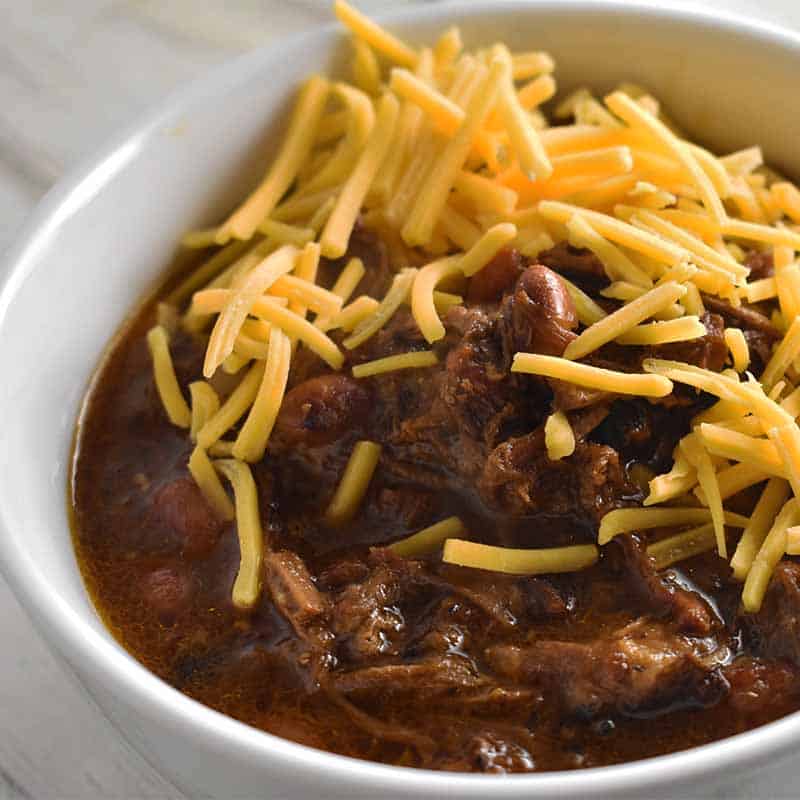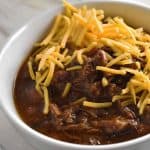 Instant Pot Chili with Smoked Beef Brisket
---
Author:

Total Time:

90 minutes

Yield:

12

bowls

1

x
2

dried ancho chillies

1 Tbsp

olive oil

1

onion, diced
salt and pepper, to taste

3

fresh garlic cloves, diced

1 tsp

smoked paprika

2 tsp

ground cumin

2

lbs leftover smoked beef brisket (or chuck roast), chopped into ½ inch pieces

14.5 oz

can fire roasted diced tomatoes

12 oz

can roasted red peppers

4 cups

beef broth

1 Tbsp

dried oregano

7.5 oz

can chipotle peppers, adobo sauce only (discard peppers)

1 cup

dried small red kidney beans
---
Instructions
Bring 2 cups of water to boil in a saucepan.  Remove from heat and add in dried ancho chilies.  Soak for about 5 minutes to rehydrate.  Remove from water and wash away seeds and remove stem and chop into small pieces.  Set aside.
Turn on Instant Pot

(affiliate)

and set to Saute (high).  When display reads "HOT", add olive oil and diced onion, seasoning with salt and pepper.  Cook until softened, then add chopped garlic cloves, smoked paprika and ground cumin.  Stir and cook until fragrant, about a minute.  
Add in smoked beef brisket and stir everything together.  Cook for about 3 more minutes so that the meat begins to sweat, then add in all remaining ingredients (except cheddar cheese and sour cream).  Close lid and make sure pressure valve is set to "sealing".  Set time to Manual (High) and set timer to 50 minutes.
When timer goes off, preform a quick release.  When pressure is released, open lid and stir everything up.  If the chili appears watery, simply turn it on Saute mode and and boil while stirring until thick, about 5 minutes or so.  Let cool 5 minutes then serve garnished with cheddar cheese and a dollop of sour cream.
Equipment
Prep Time:

20 minutes

Cook Time:

70 minutes

Category:

Main Course

Method:

Instant Pot

Cuisine:

American
Keywords: Instant Pot Chili, Leftover Brisket Recipe, Chili Recipe
0