Silky, fluffy and absolutely full of flavor. There are a few key tips to making the perfect mashed potatoes. It's the perfect side dish for a weeknight steak dinner, and great for holidays or potlucks too! Learn how to make the best mashed potatoes with this step by step recipe.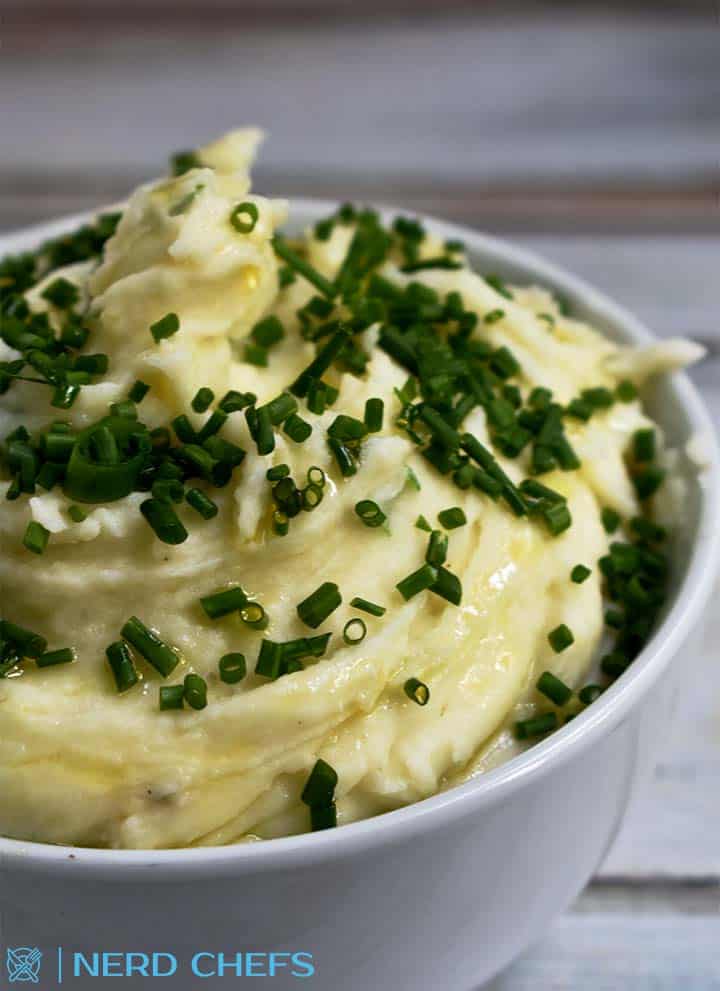 What are Mashed Potatoes?
Potatoes are cut and boiled to their desired tenderness, and pressed through a potato ricer (affiliate) for maximum fluffiness. Meanwhile, we develop a super flavorful cream sauce that we whip into the potatoes for an absolutely awesome bite. This isn't bland potatoes with pockets of seasoning. The taste totally penetrates the entire dish, making this the perfect, best mashed potato recipe.
This is the mashed potato recipe you want to bring to Thanksgiving, Easter or any other major family gathering.
Mike's Recipe Rundown
Taste: The garlic, rosemary and bay leaf that you infuse in your cream really penetrates every bite of this sauce. It's a wonderful bite of savory goodness.
Texture: Creamy and luxurious. The key is getting them to that point without them being watery at all.
Difficulty: Intermediate. It's definitely a recipe anyone can pull off, but in order to really perfect it there's a few critical steps that have to be adhered to.
Pros: This is an absolute flavor-bomb of deliciousness. This is mashed potatoes on the next level.
Cons: There's definitely several steps involved here. We're going for the best mashed potatoes, which takes some extra care.
Would I make it again? You bet. This is now my must-go-to mashed potato recipe.
Why you'll love this recipe
We used some culinary industry insider tips to really bring those potatoes to the next level. By flavoring the cream itself, cooking the potatoes in a boil-then-steam approach and passing them through a ricer, you achieve maximum fluffiness. The result is a silky, smooth and delicious bite your family and friends will rave about.
What you need to make mashed potatoes
Equipment wise, you'll need two pots, one medium sized pot (affiliate) to boil your potatoes in, and a small pot (affiliate) to cook your cream. You'll want a large mixing bowl (affiliate) on the side and a good rubber spatula (affiliate) to cook them down in. The secret weapon, a good potato ricer (affiliate). This pushes the potatoes into strings, which helps them soak up every bit of the cream and achieve maximum fluffliness.
We use russet potatoes for this recipe. They get nice and fluffy whip into a nice creamy consistency. With our heavy cream, we'll use a bay leaf, rosemary and fresh garlic cloves. You want both green onions and chives to season your potatoes, along with salt and pepper, of course.
When to make mashed potatoes
This is a great recipe along red meat dishes like Sous Vide Chuck Roast or Sous Vide Steak, for instance. It also makes a superb meal for potlucks or holidays. It's luxurious and creamy, which will impress your guests.
This is my favorite mashed potato recipe to make for potlucks or holidays, like Christmas or New Years. It's worth the little extra effort when you get to show off your skills to friends and family.
Find out why people love our most popular recipes, like Sous Vide Pork Tenderloin, Instant Pot Chicken a la King and Homemade Beef Stroganoff. When it's burning hot in Tallahassee, I love to pop some Arnold Palmer Popsicles in the freezer, or cool off with Pomegranate Margaritas.
Nerd Chef's Tips and Tricks
I recommend starchy potatoes over wax potatoes for your choice. Wax potatoes don't provide the texture we want here. A good russet potato is perfect.
When making mashed potatoes, you always want to warm your cream before you add it, while adding your butter at room temperature. Always add your cream first, then your butter. If the butter goes in first, it will coat the potatoes and make it harder for the cream to penetrate. Finish adding your cream, then add your butter for a little extra luxuriousness.
If mashed potatoes are something you make even semi regularly, you should invest in a potato ricer

(affiliate)

. This easily presses your potatoes into strands, giving you the fluffiest potatoes you can imagine.
To get a nice even cook, you want to follow the step of adding your potatoes to cold water, then putting it on the burner. If you add them to hot water, the outside will cook much faster then the inside, leaving you with watery potatoes. The potatoes cook more evenly when they're put in cold water to start.
How to make perfect mashed potatoes
Boil Potatoes
To get started, peel your potatoes of all skin and cut into evenly sized pieces. To do this, cut the potato into ½ inch slices, then lay down each slice and cut into ½ inch cubes. You want to get them as evenly sized as possible so that they cook evenly.
Add potatoes to an empty pot. Pour in just enough cold water to cover the potatoes, along with a healthy pinch of salt. Place to burner and bring to a boil. When pot reaches a boil, reduce heat to simmer to gently cook the potatoes. Potatoes are done when you can remove a piece to a cutting board and smash it by firmly pressing against it with the back of a spoon.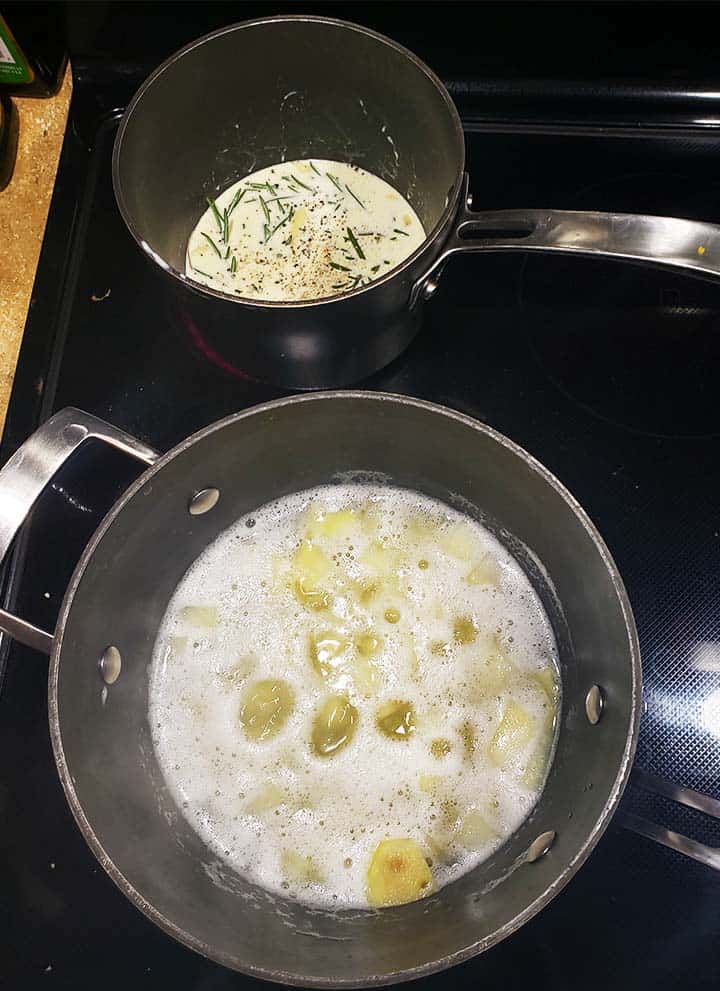 Rice & Steam Potatoes
When potatoes have reached their desired tenderness, drain the potatoes in a colander. Return the potatoes to the same pot and place back on burner over medium-low heat. Cover with a lid and steam potatoes. Shake the pot while this is going to keep potatoes from burning on the bottom of the pot. Steam for about 3 minutes then remove from heat.
Spoon potatoes into a potato ricer (affiliate) and press through into a large mixing bowl (affiliate). A metal bowl will help retain the heat. Set aside as you heat cream.
Heat Cream
Add heavy cream to a small pot (affiliate). Add in rosemary, bay leaf and crushed garlic cloves along with a pinch of salt and pepper. Bring to a boil, stirring with a rubber spatula (affiliate) to keep the bottom from scolding.
Reduce heat to low and simmer until cream is reduced by half. Remove from burner and pour through a mesh strainer (affiliate) into another pot or heatproof bowl.
Mash Potatoes
Pour about ⅓ of the warm cream into the mixing bowl and use a spatula to stir it into the potatoes. Use some real elbow grease as you whip. Strong large whips will help get the potatoes nice and airy. Repeat in two more stages until all cream is mixed in.
Now, add room temperature butter and chopped green onions. Continue to whip in. Potatoes should be just creamy enough to gently slide off the rubber spatula when lifted out of the bowl.
To serve, spoon into a plate or serving bowl. Garnish with chopped chives and a drizzle of olive oil.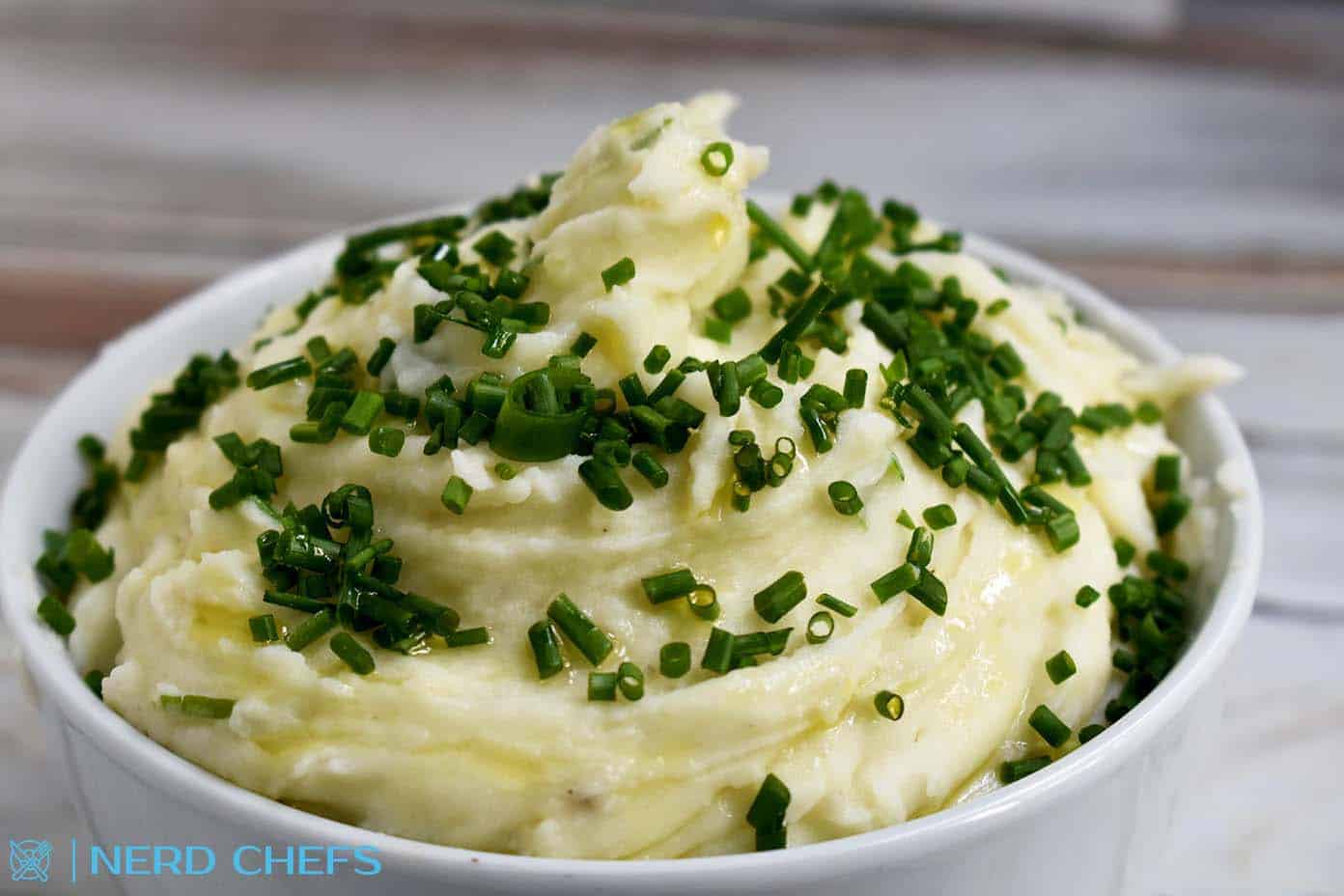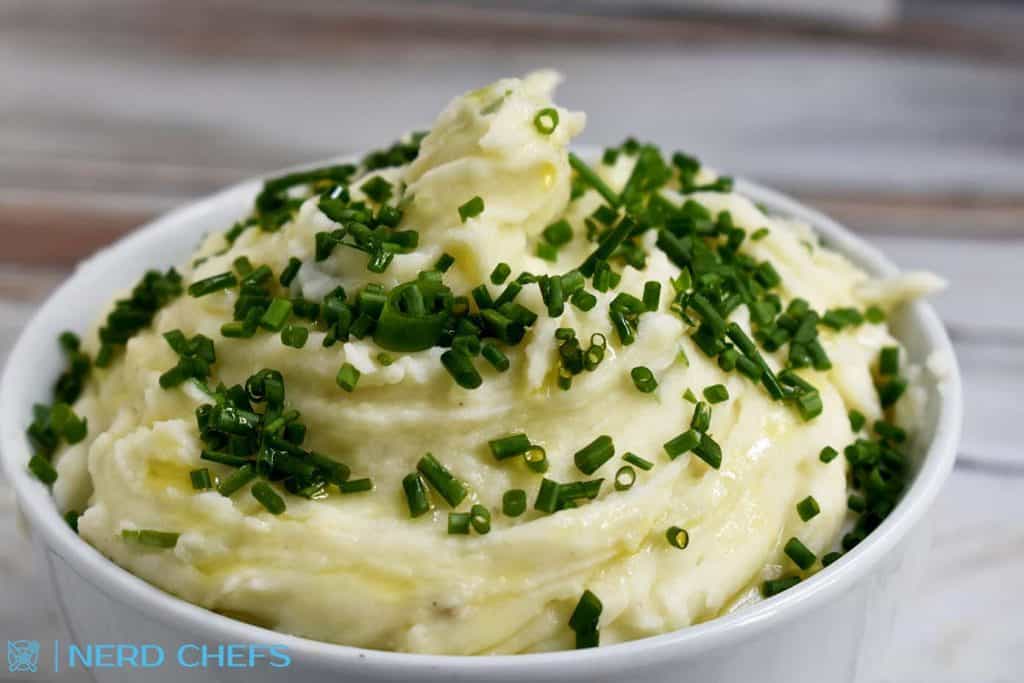 Check out our latest recipes
Print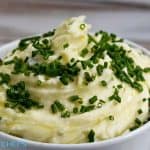 The BEST Mashed Potatoes
---
Author:

Total Time:

40 mins

Yield:

4

servings

1

x
2

large russet potatoes
Salt and Pepper

1 cup

heavy cream

1

sprig fresh rosemary

1

bay leaf

5

garlic cloves, crushed

2

green onions, chopped

2 Tbsp

butter, room temperature

1 Tbsp

fresh chives, finely chopped
olive oil (drizzle)
---
Instructions
Peel potatoes and cut into ½ inch cubes.  Place in an empty pot and just cover with cold water.  Add a healthy pinch of salt and bring to a boil.  Reduce heat to simmer and cook until potatoes are just tender enough to crush with the back of a spoon.
Drain potatoes and return to empty pot.  Place pot on burner and cover with lid.  Shake pot back and forth while it cooks for 3 minutes to steam potatoes.  When finished, remove from heat and spoon into potato ricer.  Press through and into a large mixing bowl.
While potatoes are cooking, add heavy cream, bay leaf, rosemary, crushed garlic cloves in a small pot along with a pinch of salt and pepper.  Bring to a boil, then reduce heat to a simmer.  Stir often with a rubber spatula, scrapping the bottom as your stir.  Cook until cream is reduced by half.
Run reduced cream through a mesh strainer and into another pot.  Using the back of a spoon, press the garlic and rosemary into the strainer to get press through any extra oils.
Add ⅓ of cream to bowl with potatoes and whip in with a rubber spatula.  Repeat twice more until all cream is mixed in.  Add chopped green onions and butter and continue to whip until fully mixed in.  To serve, spoon onto a plate or into a large serving dish.  Garnish with chives and a drizzle of olive oil
Prep Time:

10 mins

Cook Time:

30 mins

Category:

Side Dish

Method:

Boiled

Cuisine:

American
Keywords: Holiday Sides, Potluck Recipe, Mashed Potatoes
0