Juicy, flavorful and made with only quality pork and beef. Homemade bratwurst is the perfect meal for your weekend cookout, tailgate or Super Bowl party. A little bit of work pays off in a big way with this recipe for delicious homemade bratwurst.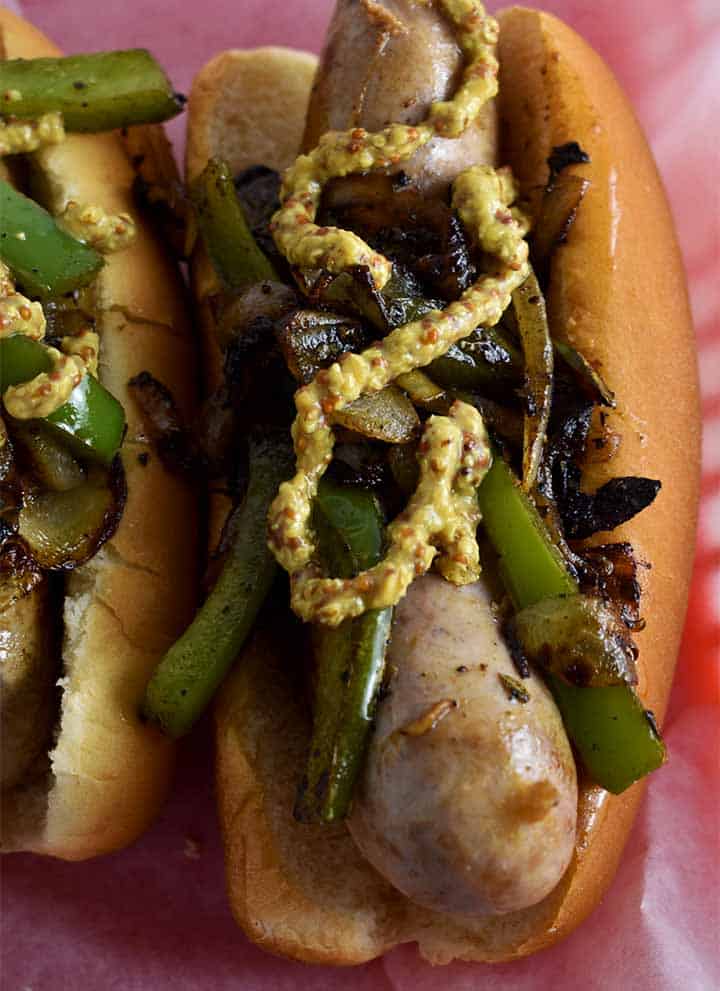 Mike's Recipe Rundown
Taste: Beer and a savory spice blend give you a super flavorful bite. It's just like what you get at the supermarket, but making it fresh gives it a more pronounced flavor.
Texture: A snappy lining gives way to super juicy sausage, freshly ground and perfectly balanced between tender and firm. We'll finish them in a beer braise then hit them on the grill for a snappy and flavorful finish.
Difficulty - Medium: There's not a lot of super crazy techniques here, but there are a few steps in your checklist that absolutely have to be done right. Missing some of these (check out our Tips and Tricks below) can give you dry sausages, so pay attention.
Pros: Let's just get this one out there, by making your sausage at home, you know exactly what goes in it. I use pork shoulder, lean beef chuck (or brisket trimmings) and bacon. We've all heard one too many horror stories that keeps me from buying the stuff off the shelf.
Cons: This isn't a quick recipe by any means. Making sausage can be trying at first. Getting everything ground up, soaking the casing, getting the hang of stuffing it and cooking it to perfection can be a long process. You should be fully committed to wanting to learn this and doing it right to take it on.
Would I make it again? Yep! I make mine in big batches, but this definitely gets made a couple of times a year. Plus, the more you make it, the easier it becomes.
Let's stay in touch. Follow me on Instagram and check out what we're up to on Pinterest. Support this site, follow the link and buy stuff on Amazon (affiliate).
Homemade Bratwurst Tips and Tricks
There are two main keys here. One is fat content. The beef we use here is lean, so pork is where the fat is at. I use pork shoulder, though butt is a good choice as well. I also add in some bacon or pork belly, which really injects some fat. You've heard it before, fat = flavor. But more than that, in sausage, fat = moistness. A lack of fat will give dry, rubbery, sausage. This isn't a place to cut corners. Embrace the fat for the best sausage.
The second main key is temp. You really want to make an effort to keep everything ice cold. And I mean everything. Every part of your meat grinder

(affiliate)

that comes in contact with the meat should be kept in the freezer for at least an hour before coming out. There are a few reasons for this. One, cold temps slow the growth of bacteria. Two, it helps push the meat through the grinder. Thirdly, it mixes the fat in well with the meat. This helps to give you that juiciness that you strive for when you're sausage is done.
If you're going to go through the trouble of making sausage, do yourself a favor and invest in an electric meat grinder

(affiliate)

. It will literally save your hours over a hand crank or food processor

(affiliate)

. If you have a Kitchen Aid, the meat grinder attachment

(affiliate)

is a good move as well.
I prefer natural sausage casings

(affiliate)

. They lend to the flavor and texture of the sausage itself. Some artificial casings aren't even edible. Natural casings are pretty easy to work with.

When to make Homemade Bratwurst
This is perfect for either a family dinner or when entertaining a crowd. To me, this goes firmly in the category of "if it's worth the trouble to make it, make a lot". So, I love making a large batch and cooking out to have friends over to swim in my pool. Or, I can toss it in the cooler and throw it on a grill before a tailgate.
But even when I make this at home, I make a couple of extra spirals and toss it in the freezer. It makes for a nice and easy dinner later when I need something quick (or am just too tired to cook something from scratch, haha).
What you need to make homemade bratwurst
We went through a lot of the reasons why above, but there's some things I just swear by when it comes to making sausage at home. A electric meat grinder (affiliate) is definitely on the list, or a KitchenAid meat grinder attachment (affiliate). Natural sausage casings (affiliate) are my recommendation. I like the ones linked there specifically.
I also prefer a decent sized metal bowl (affiliate). This way you can throw it in the freezer and keep it cold (like everything else). Lastly, a baking sheet to leave your chopped meat on before it goes in.
Find out why people love our most popular recipes, like Sous Vide Pork Tenderloin, Instant Pot Chicken a la King and Homemade Beef Stroganoff. When it's burning hot in Tallahassee, I love to pop some Arnold Palmer Popsicles in the freezer, or cool off with Pomegranate Margaritas.
How to make homemade bratwurst
Prep
Place every metal part from your meat grinder (affiliate) into the freezer. I use my deep freezer for space. Leave them in there for at least an hour to completely freeze. We want everything to be as cold as possible.
Our meats of choice for this sausage are pork shoulder, bacon and lean chuck roast. However, if I just made some smoked brisket, I'll use the trimmings here instead of the chuck roast. While the parts on in the freezer, cut the pork shoulder and chuck roast into ½ inch cubes. Cut the bacon into ½ inch pieces as well. Place all pieces into a metal bowl (affiliate) for mixing
In a small bowl, mix together black pepper, cayenne pepper, smoked paprika, nutmeg, dry mustard, coriander, sage, salt, sugar and onion powder. Blend until well mixed. Pour into mixing bowl over meat. Toss with your hands until meat is all covered with spices. Place bowl into freezer for 30 minutes.
Time to grind!
Again, the main thing to remember here is that we want to keep everything here ice cold. Remove your metal parts for the meat grinder and assemble everything as instructed. You want to use the grinding place with the smallest holes.
Remove meat from freezer and transfer ¾ of the meat to to the hopper (the plate that sits on top of the grinder). Leave the remaining ¼ of meat chunks in the bowl. Place the metal bowl at the output of the grinder. Turn meat grinder on and begin feeding meat through. Try your best to keep a balanced mixture of pork, beef and bacon.
When done, add beer and beaten egg to meat mixture. Mix well with your hands until everything is mixed. Place back into freezer until ready. Wash meat grinder parts and place back in freezer for 45 minutes. Don't bother drying the parts, the moisture helps to keep it cool and frosty.
Pack Sausage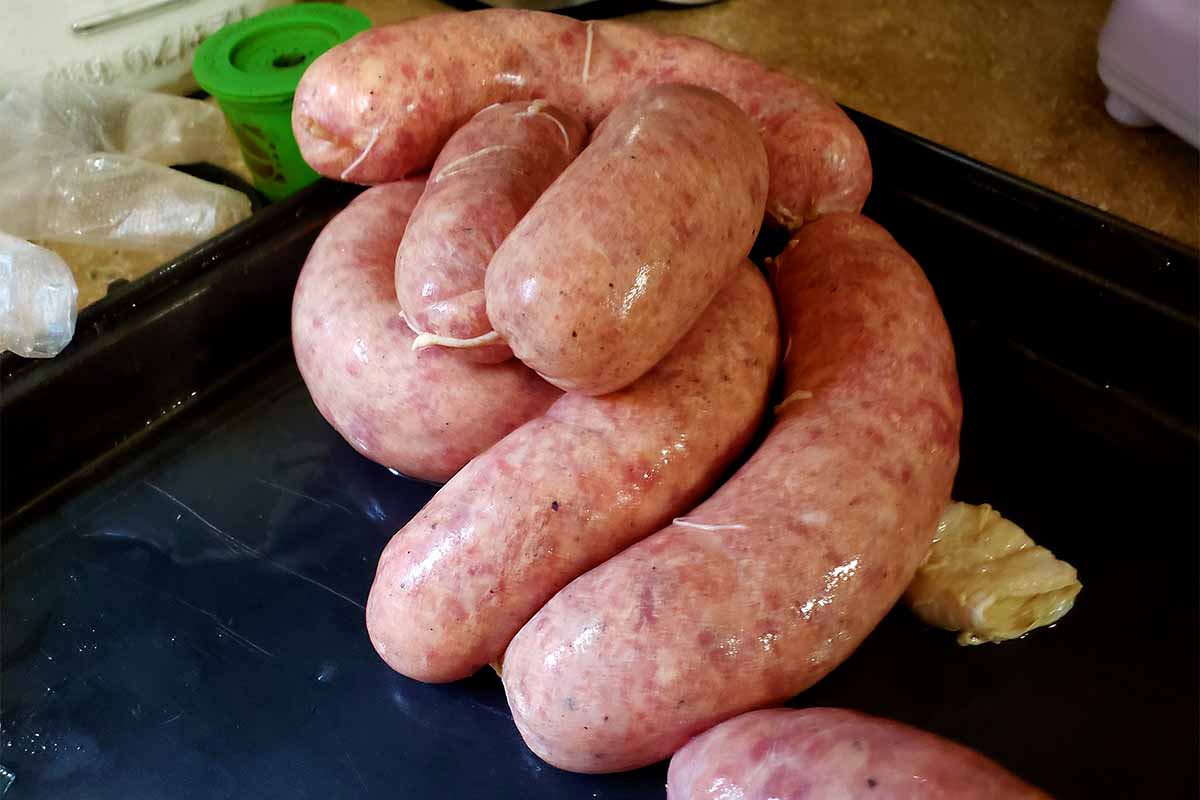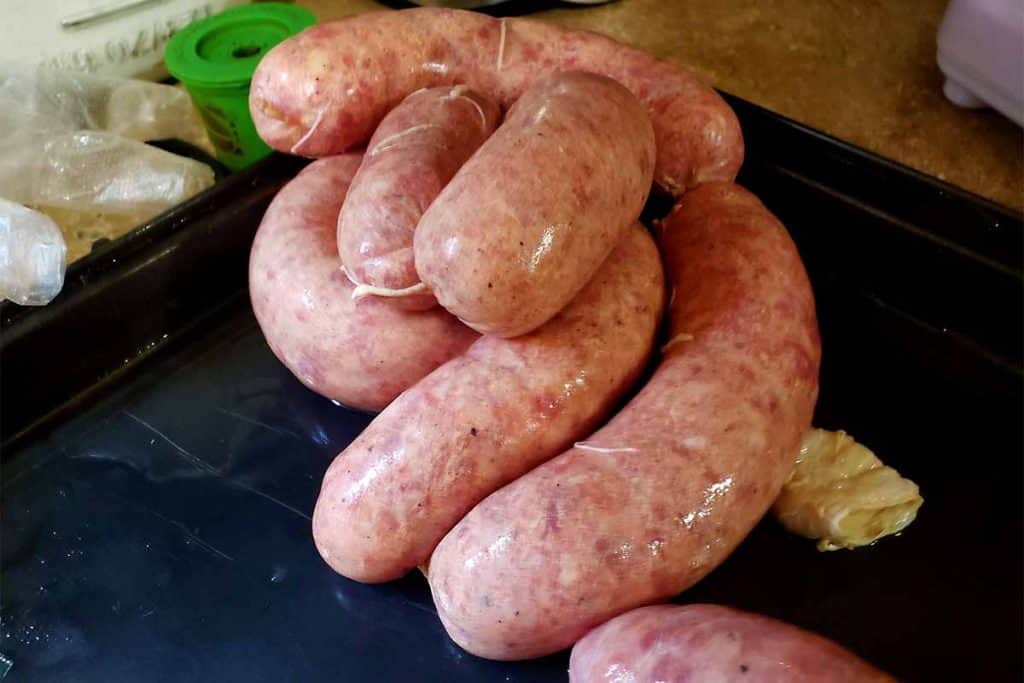 While meat is in the freezer, soak your natural casings in water. Run water through the middle to rinse them out.
Remove metal parts to meat grinder again from the freezer and re-assemble. This time, add your sausage tubes to the output of the grider. Rub just a little bit of olive oil on the outside of the sausage tubes. This will help you thread sausage on the tube.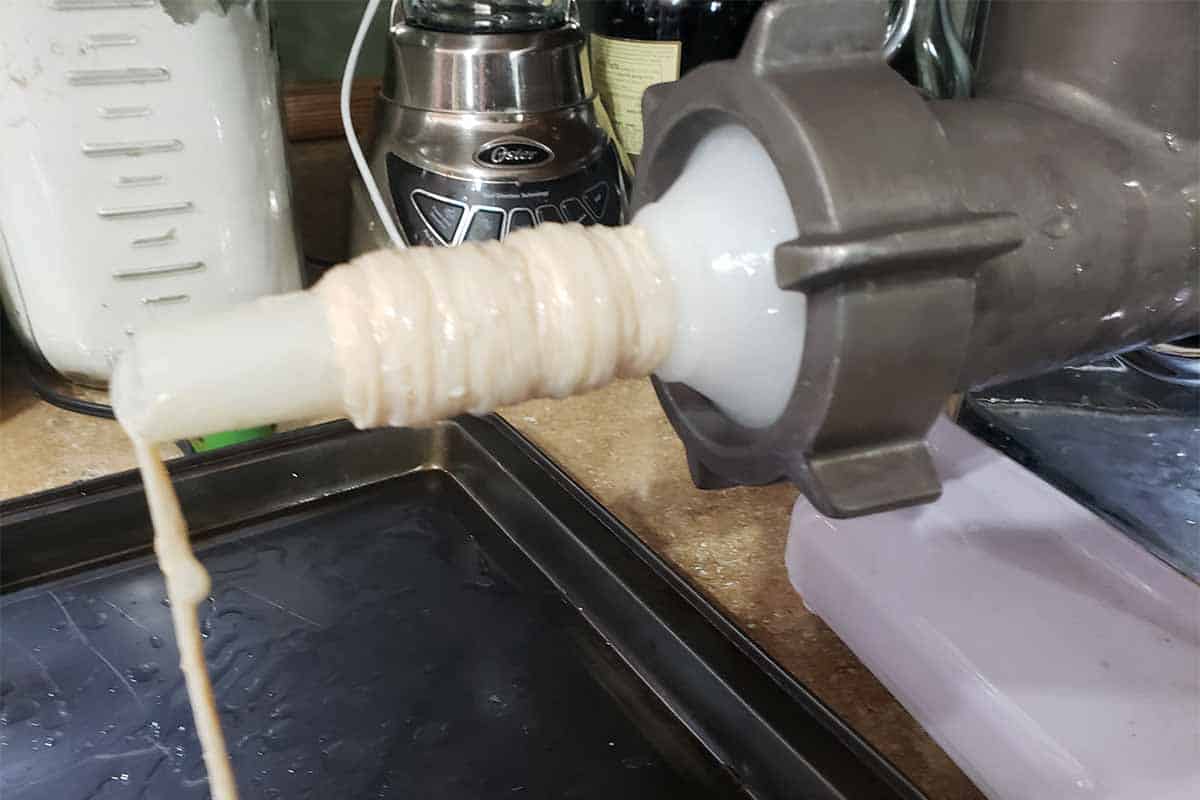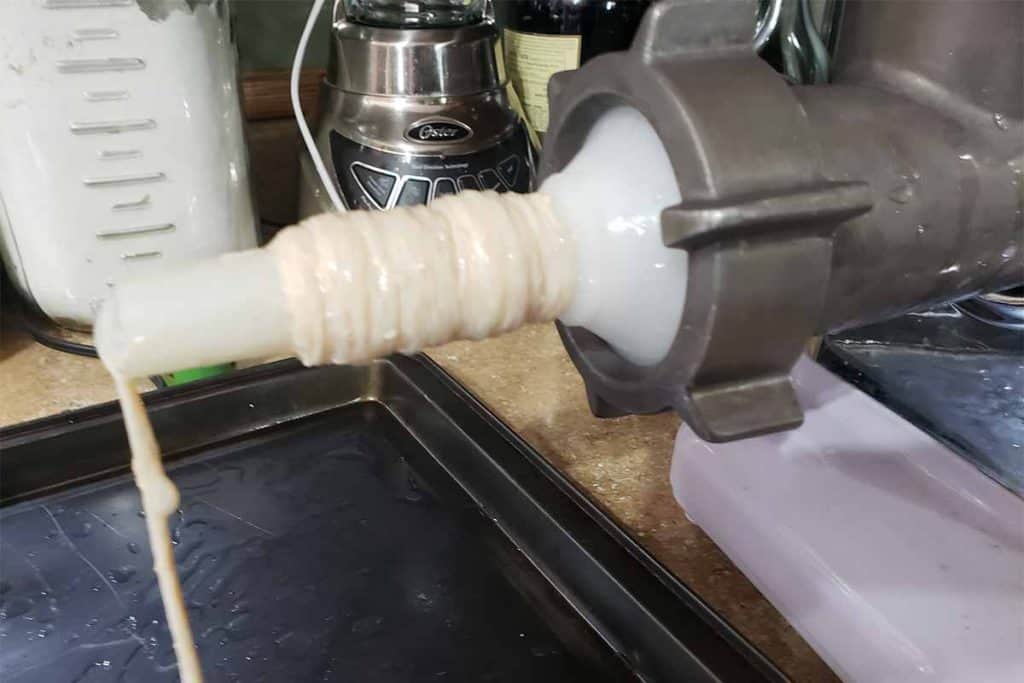 Run a couple handfuls of meat through the grinder again, stopping it the moment the meat breaks the end of the sausage tube. That little nub helps to thread the natural casings over.
Place the casing around the tube and leave just a little hanging over the edge. Do not tie the end, we want air to be able to escape. Simply pinch it and turn the meat grinder on it's slower setting (if you have the option). Help guide it by controlling the amount of sausage casings that are being pulled away. You want them plump but not so thick that they'll burst when you cook them.
About every 6 inches, twist the casings around quickly to form a knot and seperate the links. Continue until either meat is used up, adding more natural sausage casings (affiliate) as needed. For best results, leave in the fridge overnight and cook the next day.
Cooking Options
Of course, bratwursts are made for grilling, and that's a perfectly acceptable method here. Begin by cooking them in a large saucepan with beer and onions. Bring to a light simmer and cook about 10 minutes, until brats are no longer pink.
Transfer to the grill and cook over medium heat about 5 more minutes, flipping them about every minute. Remove them when the casings have turned a nice brown throughout. Let rest for 5 minutes and serve on a bun with peppers and onions.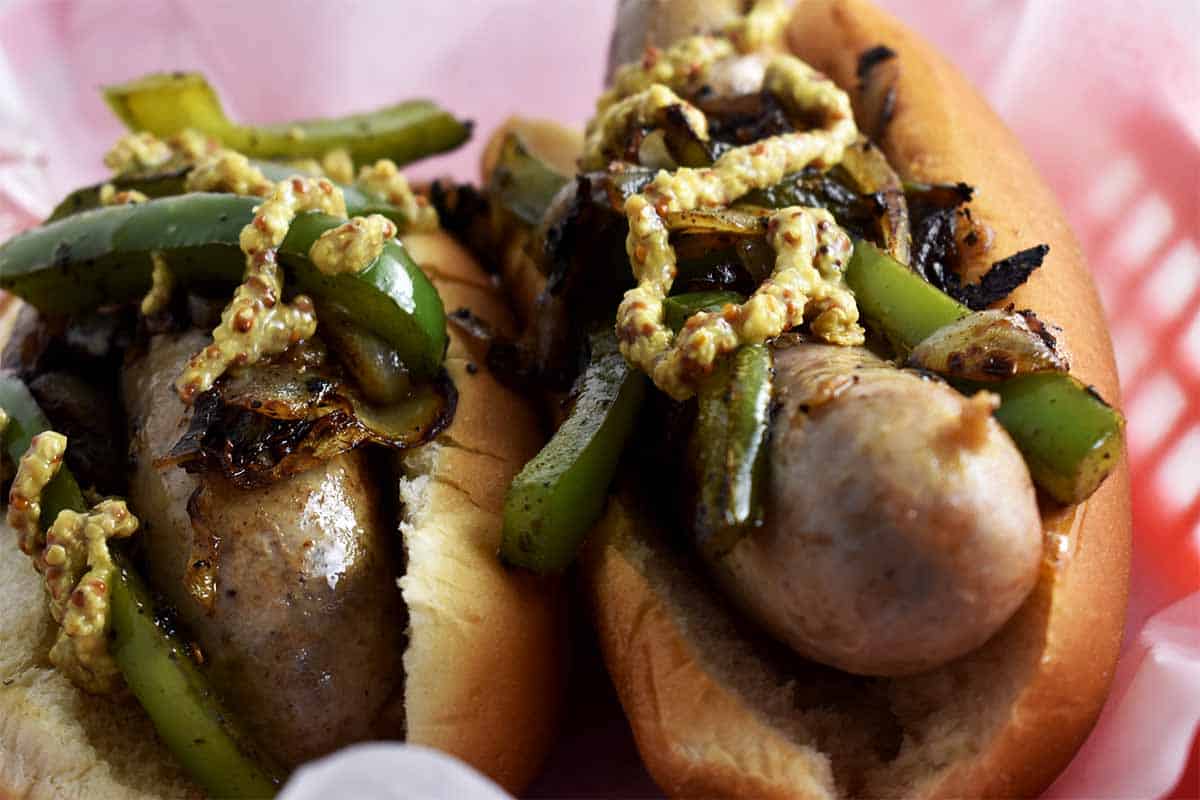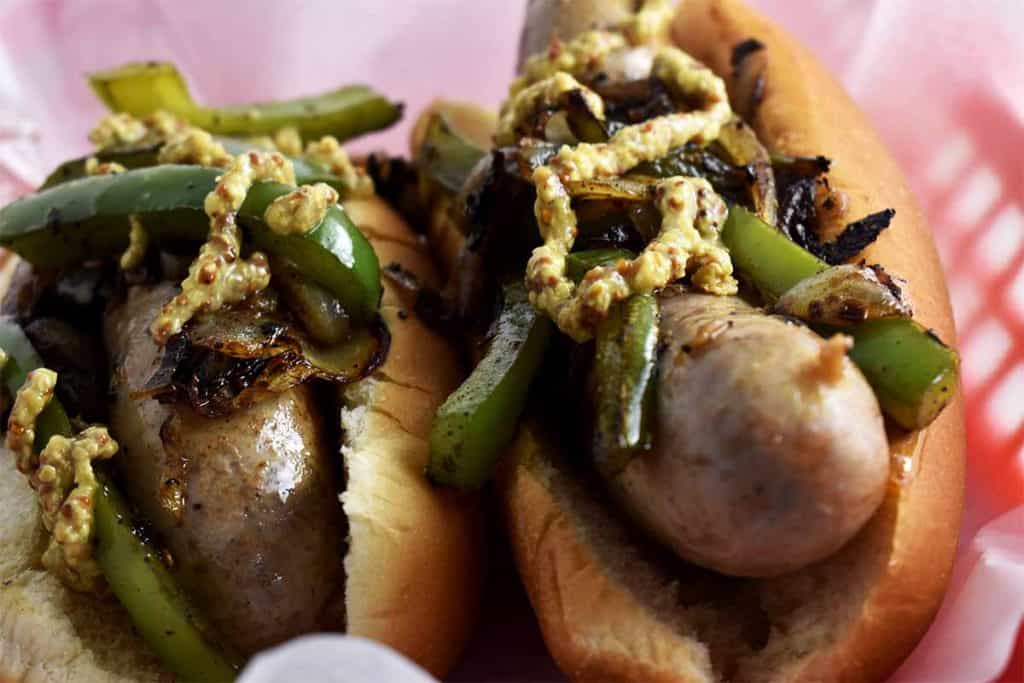 Check out our latest recipes
Print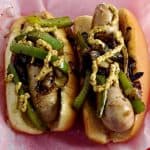 Homemade Bratwurst
---
Author:

Total Time:

2 hours 50 minutes

Yield:

16

sausages

1

x
Description
Wonderful bratwurst made from scratch and grilled to golden perfection.
---
2

pounds pork shoulder (or pork butt)

2

pounds lean chuck roast

1

pound bacon

2 tsp

coarsely ground black pepper

1 tsp

cayenne pepper

1 tsp

smoked paprika

0.5 tsp

nutmeg

1 Tbsp

dry mustard

1 Tbsp

coriander

1 tsp

ground sage

1.5 Tbsp

salt

2 tsp

onion powder
natural casings

2

eggs, beaten

3 cups

dark beer (

1 cup

for sausage, 2 for cooking)
olive oil (for greasing)

2

onions, sliced
---
Instructions
PREP: Place all metal parts to grinder in freezer for an hour.  Cut pork shoulder, lean chuck roast and bacon into 1 inch chunks and place in a metal bowl.  Combine spiced in a small bowl and mix together.  Pour into large bowl over meat and toss with hands until all meat is covered.  Place bowl in freezer for 30 minutes.
GRIND MEAT: Assemble meat grinder with smallest grinding plate attached. Remove meat from freezer and transfer ¾ of the meat to hopper on grinder, placing bowl with remaining meat at the output. Run meat through grinder until all meat is mixed.  Add in beaten egg and beer and mix together until well combined.  Place bowl back in freezer.  Clean meat grinder and return all parts to the freezer for 30 minutes.
STUFF SAUSAGE: Soak natural casings in water bath.  Re-assemble meat grinder with sausage tubes attached.  Lightly grease the outside of the tube with olive oil and threat casings over.  Remove meat from fridge and re-run it all through the rub (including the 25% not run through the first time).  Twist casings every 6 inches to form links.  Continue until all meat is run through and place in the fridge overnight.
COOK: To cook, place in a large saucepan with remaining beer and onions.  Bring to a light simmer and cook about 10 minutes.  Transfer to a grill and cook over medium heat for about 5 minutes, or until casings are golden brown.  Flip every minute or so.  Let rest 5 minutes before serving.
Notes
If you're bringing these to a tailgate, feel free to pre-braise them at home.  Let them cool, toss them in a ziploc bag and into a cooler to take to the game.  Just add a few minutes on for grilling time, cooking them until they're golden brown.
Prep Time:

2 hours 30 minutes

Cook Time:

20 minutes

Category:

Dinner

Method:

Grilled

Cuisine:

American
Keywords: Homemade sausage, tailgate recipes, german sausage
1