Some meals just make you happy. Ribs is definitely one of those. Whether you're throwing a backyard barbeque or tailgating before the big game, there are few things better than a perfectly tender BBQ rib. Learn how to make perfect smoked ribs with this deep dive recipe.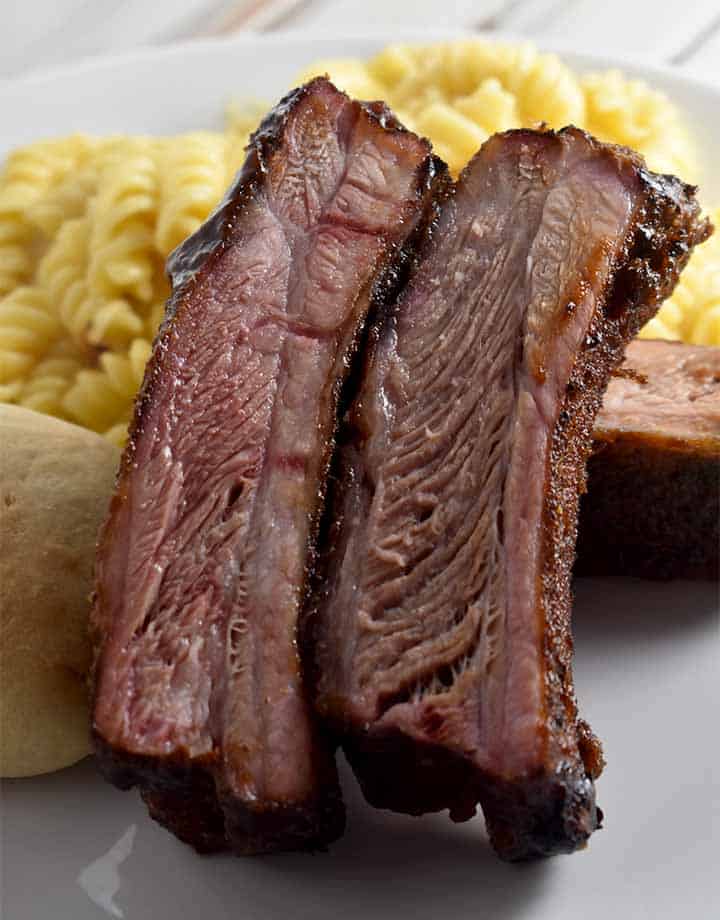 Mike's Recipe Rundown
Taste: Pork by itself can be a little bland, so we make sure to add something with a subtle but balanced dry rub. A touch of fruitiness comes from the wood choice, with a clean smoke you'll taste and enjoy.
Texture: We want these as tender as they can get that they won't fall off the bone to the touch of the knife. What we're going for is a rib that won't fall apart when you cut it, but will easily come off the bone when you sink your teeth in. Getting there takes some care, but once you've mastered it, you're in business!
Difficulty - Intermediate: When it comes to BBQ, this is about a medium difficulty. The most difficult part of this recipe is simply controlling the temp on your smoker and pulling the ribs at exactly the right time. But, each of those come with some practice. This is no 12-hour brisket, but it's not exactly grilling hot dogs over an open flame, either.
Pros: Simply put, the flavor and juiciness of a perfectly cooked rib is so satisfying. The chorus of compliments you'll get from your tailgate or backyard party will put a smile on your face. Plus, while smoked BBQ Ribs do take several hours of concentration, it is one of the quicker cooks when it comes to BBQ.
Cons: Making ribs will tie up your midday and/or afternoon (depending on when you're serving). If you're hosting a party, make sure to get all your running around done ahead of time, as you'll be watching your smoker closely all afternoon. Also, you need to pay attention to the weather, as rain can wreck your cook.
Would I make it again? Oh yeah! One of the great parts of living in North Florida is that BBQ season is extended to most of the year. I love throwing these on, and they're a staple of our famous Memorial Day, 4th of July or just because backyard pool parties!
Let's stay in touch. Follow me on Instagram and check out what we're up to on Pinterest. Support this site, follow the link and buy stuff on Amazon (affiliate).
Smoked Ribs Tips and Tricks
I prefer spare ribs when slow smoking ribs. Spare ribs are taken from the belly side of the pig, come with more meat and (very important) more fat. In BBQ, we get the best results by perfectly timing meat tenderness with fat rendering, and spare ribs offer the best mix. I like the ones offered at Costco, but make sure not to get the pre-rubbed ones. You want to control the taste of them yourself.
An offset smoker

(affiliate)

is my BBQ weapon of choice. Keeping the fire in a separate chamber than your meat is more forgiving. The temperature is much easier to control and you can direct your airflow around the ribs much better. Of course, you can easily do this with a fancy ceramic cooker, like the Big Green Egg. But, I prefer my smoker.
Speaking of the smoker, on the side closest to your side chamber, place two things. Buy a cheap used license plate

(affiliate)

(or other metal plate) and place it down on the grate. This will help deflect the heat and circulate it around the ribs in the chamber. Also, get a steam table pan

(affiliate)

, fill it with water and place it on top of the license plate. This will keep some moisture in the chamber and help your ribs from drying out.
As with most long and slow BBQ cooks, the key is getting keeping the temperature steady. The best way to do this is use chunks no larger than about 8 inches long. Smaller logs will burn faster, but won't spike as much as bigger logs.
Always take the temperature from near the ribs, not up top where most smoker thermometers typically are. To do this, I use a wireless grill thermometer

(affiliate)

. It comes with a seperate receiver that I can bring in the house and monitor the temperature elsewhere. Plus, I can even set alarms to alert me when the temp breaks outside the target zone.
The times in here are a guide, but ribs are done when they're done. There is no time, or temperature to know when ribs are finish. The best way to tell is (using a towel), to grip the ribs on the bone 5th in from the thicker side of the ribs. If that feels tender and bends slightly when picked up, it's done.
Avoid putting a BBQ sauce in your wrap that has high fructose corn syrup. I recommend making your own BBQ sauce, like this sauce recipe from Franklin BBQ.
Speaking of which, if you're interested in BBQ, I recommend Aaron Franklin's Masterclass. He walks through his rib recipe (which this one is inspired by) as well as his pulled pork butt and a deep dive into his James Beard Award winning brisket.
When to make Smoked Ribs
Ribs are a great, scalable meat when cooking for a crowd. I throw about 3 racks on whenever we throw our backyard pool parties in the summer, which draw in about 20-25 people. They're great for Memorial Day, 4th of July or Labor Day.
But my favorite time to have them is alongside a football game. Whether I'm cooking them when having friends over to watch the big game, or grilling them stadium side at a tailgate, there's few things better than a perfectly smoked rack of ribs!
Check out some of our other great recipes, like cajun shrimp and grits, smoked gouda mac and cheese, chicken tikka masala, or 29-hour, super tender sous vide chuck roast. Or, try one of my wife's favorites, my Bacon Lamb Sliders which are 100% flavor-bombs. .
How to make Perfectly Smoked Ribs

Trim
Carefully remove pork spare ribs from packaging, being sure not to gash the meat with your knife when doing so. Place ribs on a long sterile cutting board. Using a chef's knife, cut off any small loose parts that are hanging off the rack of ribs. Those flaps will just burn, so they're not worth keeping. If it's weird and doesn't look like it belongs, get rid of it.
Now, here's where things get controversial. A lot of people swear by removing the membrane (aka silver skin) from the back of the ribs. I leave mine on. This helps hold the form of the ribs and in fact doesn't get in the way of the smoke penetrating the meat.
Rub
A lot of people go with crazy spice rubs for their ribs. However, as I've gotten more experienced, I've simplified my rub quite a bit. Where I used to add a bunch of spices for flavor, now I tend to roll with salt, pepper and a touch of paprika (mostly for color). The better you get at smoking, the more you'll learn that great flavor comes from perfectly rendered fat and smoke itself.
To rub, combine the salt, pepper and paprika in a spice shaker. Shake to mix. Begin rubbing the ribs with the backside first. Slather the ribs with a little bit of yellow mustard and spread with your hand. Pro tip, wearing a glove on your "wet hand" is a big help here.
Shake the spice shaker until the salt, pepper and paprika are well mixed. Going back and forth in an even typewriter type pattern, spice the ribs until they're evenly covered with the mix. Try to get everything as even as possible, so that every bite tastes the same. Flip rips over and repeat on opposite side, then continue until all ribs are seasoned.
Smoke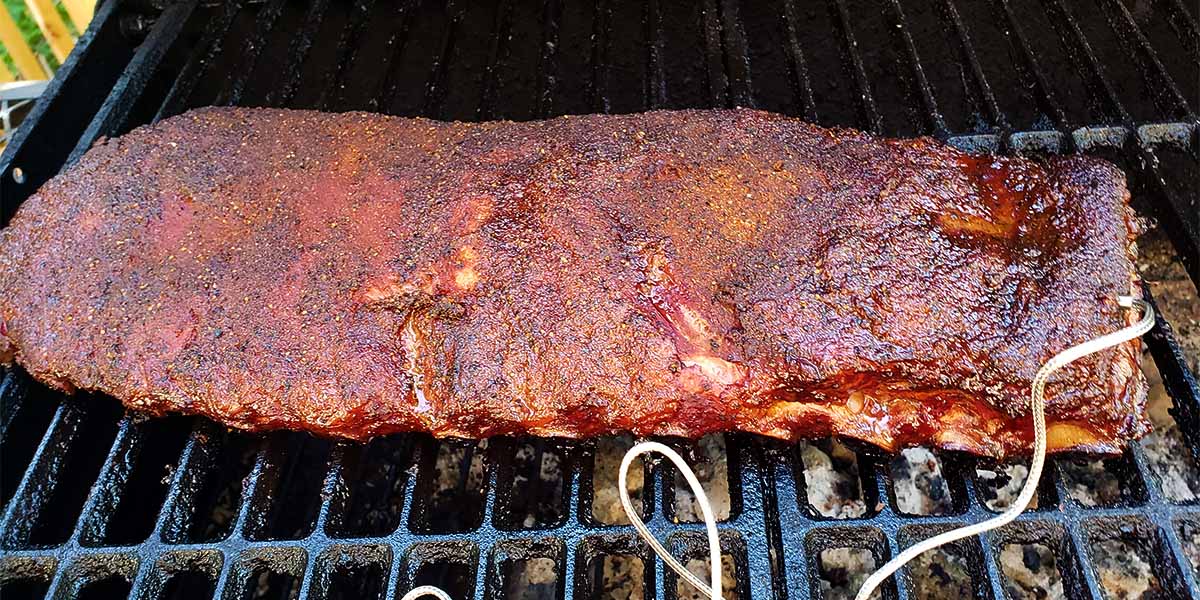 With ribs sitting out (to come to room temp), light your smoker and gradually bring it up to a temp of 265°. You want to be able to hold it steady between 265° and 270°.
For your average backyard offset smoker (affiliate), smaller logs will help you control temp, as they don't fluctuate as much as larger logs. Smoker is ready when the temp is stable and you get clean smoke coming out of the smoke stack.
Place ribs on the opposite side of the chamber from the firebox. Make sure your water pan is full of pre-warmed water and close the lid. Leave it closed for two hours, only opening the side chamber to manager the fire. Your goal for this time is simply to keep the fire stable between 265° and 270°.
2 Hour Mark - Check and spritz
After two hours, open the lid and check your ribs. They should be turning a nice reddish mahogany color at this point. Using a spray bottle, spritz the ribs lightly with apple cider vinegar. Check the water pan and top it off, if necessary. Close the lid and continue to cook between 265° and 270° for another 30 minutes.
Find out why people love our most popular recipes, like Sous Vide Pork Tenderloin, Instant Pot Chicken a la King and Homemade Beef Stroganoff. When it's burning hot in Tallahassee, I love to pop some Arnold Palmer Popsicles in the freezer, or cool off with Pomegranate Margaritas.
Sauce Ribs
While the ribs are cooking, warm your BBQ sauce . In a squeeze bottle, mix a cup of warmed sauce with a cup of Organic Apple Cider Vinegar. Shake well to dilute.
Open lid to smoker and squeeze a light layer of diluted sauce over the ribs. Using your hand, rub it around so the ribs are evenly coated. Close lid and allow 10 minutes to set.
Next, open lid and flip ribs over gently with your hands. Use a towel if you need, but try to avoid tongs as they tend to rip the bark on your ribs. Cover back of ribs with sauce and close lid again for ten minutes.
Wrap Ribs - Texas Crunch
After sauce has had another ten minutes to set, prepare to wrap. Tear off a sheet of aluminum foil twice as long as the ribs. Spray a little bit of diluted sauce in the center of the foil.
Pick the ribs up and transfer them to the foil, with the front of the ribs facing down. Again, you want to transfer the ribs with your hands. There's two tricks for this. One is to use a towel. The other is to spritz your hands with the spray bottle just before picking them up. I go for the later as it buys you just enough time to move them before the burning sets in.
To wrap the ribs, begin by folding the sides of the aluminum foil in to the center of the ribs. Next, fold the bottom part to the top, running your hand along the ribs so that the foil is flush against the ribs.
Fold the top down and over the ribs, again running your fingers along the top of the ribs so that the ribs are wrapped tightly. The key is to do so without tearing the foil, and we want to trap the juices in the foil wrap.
Return ribs to the smoker and continue to cook between 265° and 270°. Most racks will cook between 2 and 3 more hours.
When to pull your smoked ribs
After a couple more hours, begin checking your ribs. Using a towel, pick up the ribs and feel for the third bone in on the thicker end of the ribs. If the there's still some stiffness here, let the ribs continue to cook, checking every 20 minutes or so.
Once that spot feels pliable, your ribs should be done. Pull them off and onto a baking sheet, keeping them wrapped in the foil. Allow them to rest at room temperature for 30-40 minutes.
Cut and serve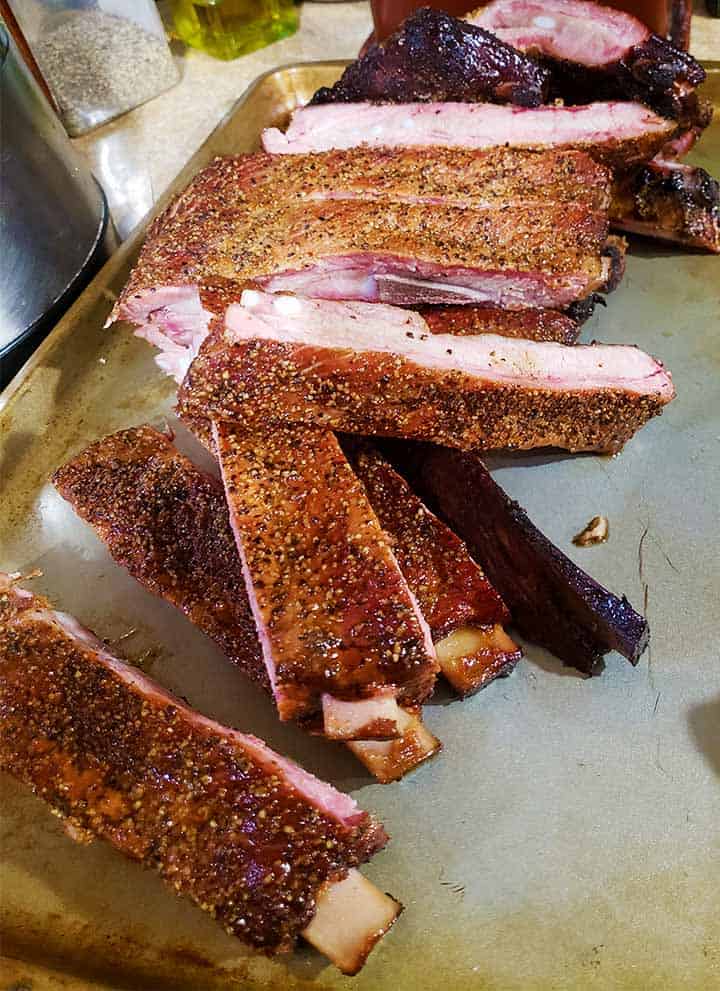 Carefully unwrap the ribs and allow the juices to pour onto the ribs and your cutting board. There's so much flavor there, use it to your advantage!
Using a long bread knife, run the knife between each bone with long, smooth cuts. Continue until each ribs is cut and serve immediately. The perfectly cooked smoked ribs should hold up well against the cut, but easily come off the bone when you bite into them. Delicious!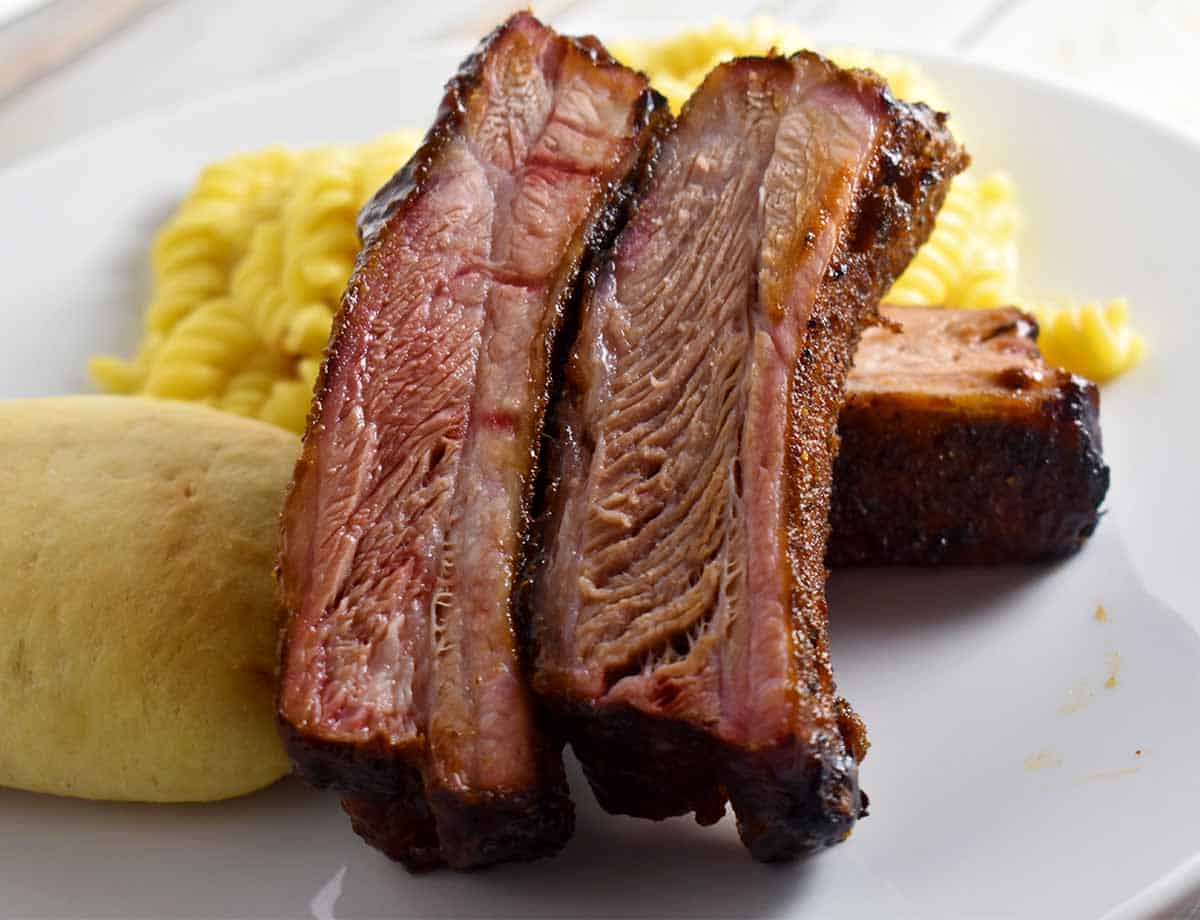 Check out some of our other recent posts
Print
Perfect Smoked Ribs
---
Author:

Total Time:

6 hours 30 minutes

Yield:

3

racks

1

x
Description
Pork spare ribs are cooked to tender perfection, the fat perfectly rendered and without a caked on, overpowering rub.  Simple, well executed ribs will set you apart from the crowd.
---
3

racks pork spare ribs

½ cup

kosher salt

¼ cup

course ground black pepper

1 Tbsp

paprika
Yellow Mustard

2 cups

Apple Cider Vinegar (

1 cup

for sauce, another for spritzing ribs)

1 cup

low-sugar BBQ sauce (homemade preferred)
---
Instructions
PREP & RUB: Remove pork spare ribs from plastic and trim off any odd parts.  In a spice shaker, combine salt, pepper and paprika.  Flip over and lather back of ribs with yellow mustard.  Season with spice blend by shaking it evenly across the ribs, going back and forth.  Slip over and repeat on opposite site.
START SMOKER: Preheat smoker to 265° using charcoal and peach wood.  When the temperature is steady and the smoke from the stack is mostly clear (not white), place the ribs on the opposite side of the smoker from the firebox.  Fill your water pan with warm water and close the lid for two hours, keeping the temp steady between 265° and 270°.
CHECK AFTER 2 HOURS: At the 2 hour mark, open the lid and check the ribs.  Spritz with apple cider vinegar.  Close lid and cook for 30 more minutes.
SAUCE RIBS: Heat BBQ sauce and add to a squirt bottle.  Fill with equal amount of apple cider vinegar and shake to combine.  Open lid to smoker and squirt on a light layer of sauce, spreading with your hand so that it evenly covers.  Close lid for 10 minutes so that sauce sits.  Flip over and cook repeat on backside, saucing then cooking for ten more minutes.
WRAP: Tear off aluminium foil that's twice as large as a rack of the ribs.  Squirt a little more sauce on the foil.  Remove ribs with your hand (not tongs!) and place fat side down in the foil.  To wrap, first fold in sides toward center.  Then, fold top down running your hands along the edge so that they are wrapped tightly.  Lastly, fold over so that bottom is fold over, again running your fingers along the edge so that they're tightly wrapped.  Return ribs to grill and continue cooking for 2-3 more hours.
PULL AND CUT: After two more hours, begin checking ribs.  Using a kitchen towel, pick up the ribs at the third bone in from the thicker side.  If the ribs are easily pliable at this spot, they are ready to be pulled.  If not, return and check every 20 minutes.  Let ribs sit for 30 minutes once pulled.  Carefully unwrap and allow juices to pour over ribs.  Cut between each bone and serve immediately.
Prep Time:

30 minutes

Cook Time:

6 hours

Category:

Dinner

Method:

Smoker

Cuisine:

BBQ
Keywords: Part Food, BBQ food, award winning ribs
0