Let's face facts, while we know our kids love chicken nuggets, you're never 100% sure what's going on in that box of perfectly shaped frozen cubes from the grocery store. Worry no more! Serve up delicious, tender chicken nuggets that your kids (and everyone else!) will love with this recipe for homemade chicken nuggets.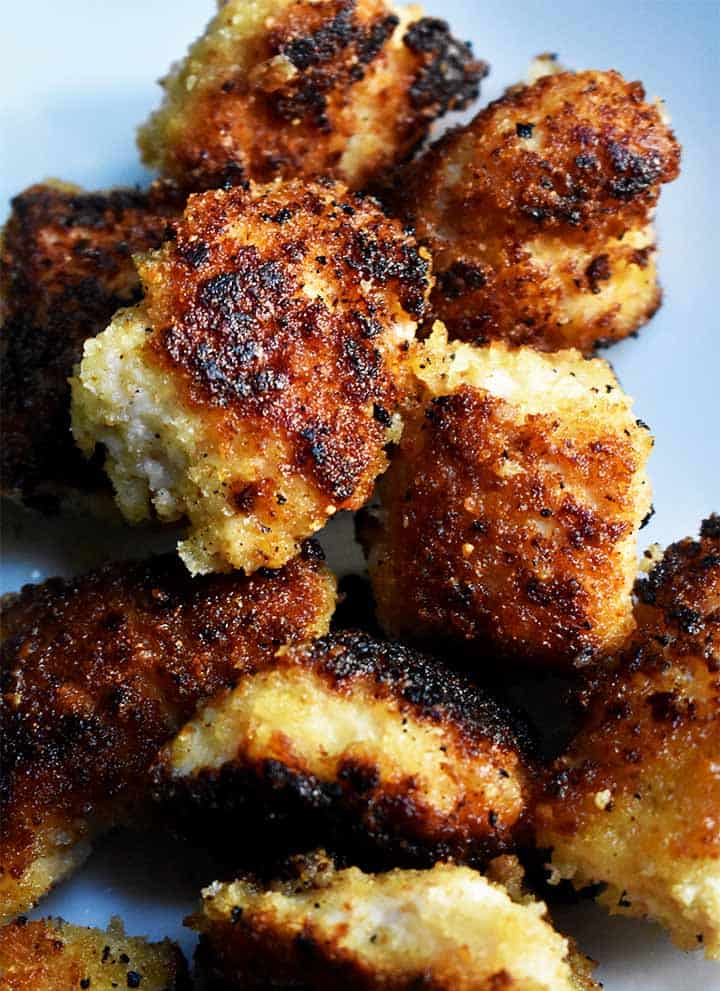 Mike's Recipe Rundown
Taste: The key here is in the parmesan breading. We mix in just enough goodness to deliver a nice savory garlic, herb and parmesan taste that will please all ages!
Texture: The buttermilk bath really helps to make these nuggets to become super tender. The breading gives just enough crispness to the outside to really make this an awesome bite.
Difficulty - Pretty Easy! Just three easy steps get you from start to finish. No crazy difficult techniques here. Just cut your chicken into small bites, soak it in buttermilk, bread it and pan fry them to golden perfection!
Pros: Let's just say it bluntly - you actually know what's in these chicken nuggets - 100% quality chicken breast. You've likely seen one two many horror videos about mass production chicken nuggets. Plus, it's pretty quick and delicious to boot!
Cons: This recipe calls for a shallow pan frying on your nuggets, mostly because it gives you juicy on the inside crisp on the outside finish. If you want something a bit healthier, you're welcomed to throw them on a baking sheet and make them in the oven instead.
Would I make it again? YES! With a four year old at home, I'm always looking for low stress, kid friendly meals I can get on the table pretty quickly. This does the trick.
Let's stay in touch. Follow me on Instagram and check out what we're up to on Pinterest. Support this site, follow the link and buy stuff on Amazon (affiliate).
What do I need to make homemade chicken nuggets?
Equipment wise this one is a pretty straight forward. I use a couple of food storage containers (affiliate) to both soak my chicken in buttermilk and dredge it in our parmesan breadcrumb breading. You'll want a good frying pan (affiliate) to cook the nuggets in as well.
There's some other great recipes you'll love, too. Like easy Instant Pot Mac and Cheese, perfect Pulled Pork or Parmesan Crusted Chicken. Right now my favorite comfort food recipe is the Kentucky Hot Brown, which goes great alongside a tasty Mint Julep.
Homemade Chicken Nuggets Tips and Tricks
You really don't want to overcrowd your pan on this one, so feel free to cook in batches. None of your nuggets should be touching other nuggets in the pan. If it does, you run the risk of steaming your nuggets instead of frying them. It could ruin the texture a bit.
When cooking them in batches, I place a pan in the oven and put the oven on the "keep warm" setting. When I'm done with a batch, they go on the pan and in the oven to stay warm while I finish the rest.
If you're looking to get something on the table quick, start your buttermilk bath in the morning before work. Then, simply bread and fry the chicken when you get home. You can have them done and ready to go in 15 minutes!

How to Make Homemade Chicken Nuggets
Getting Prepped
One of the best things about this recipe is how simple and straight forward it is. Just a couple of steps from start to dinner!
On a cutting board, slice your chicken breasts in half horizontally (butterfly style). This should leave you with four evenly sized breasts. Cut each breast into 1 inch pieces.
Try to keep them as evenly sized as possible. Place into an airtight container and pour buttermilk overtop. Mix together well with hands and place in fridge for 30 minutes and up to overnight. I usually do mine for about an hour if I have the time.
Cook Your Nuggets!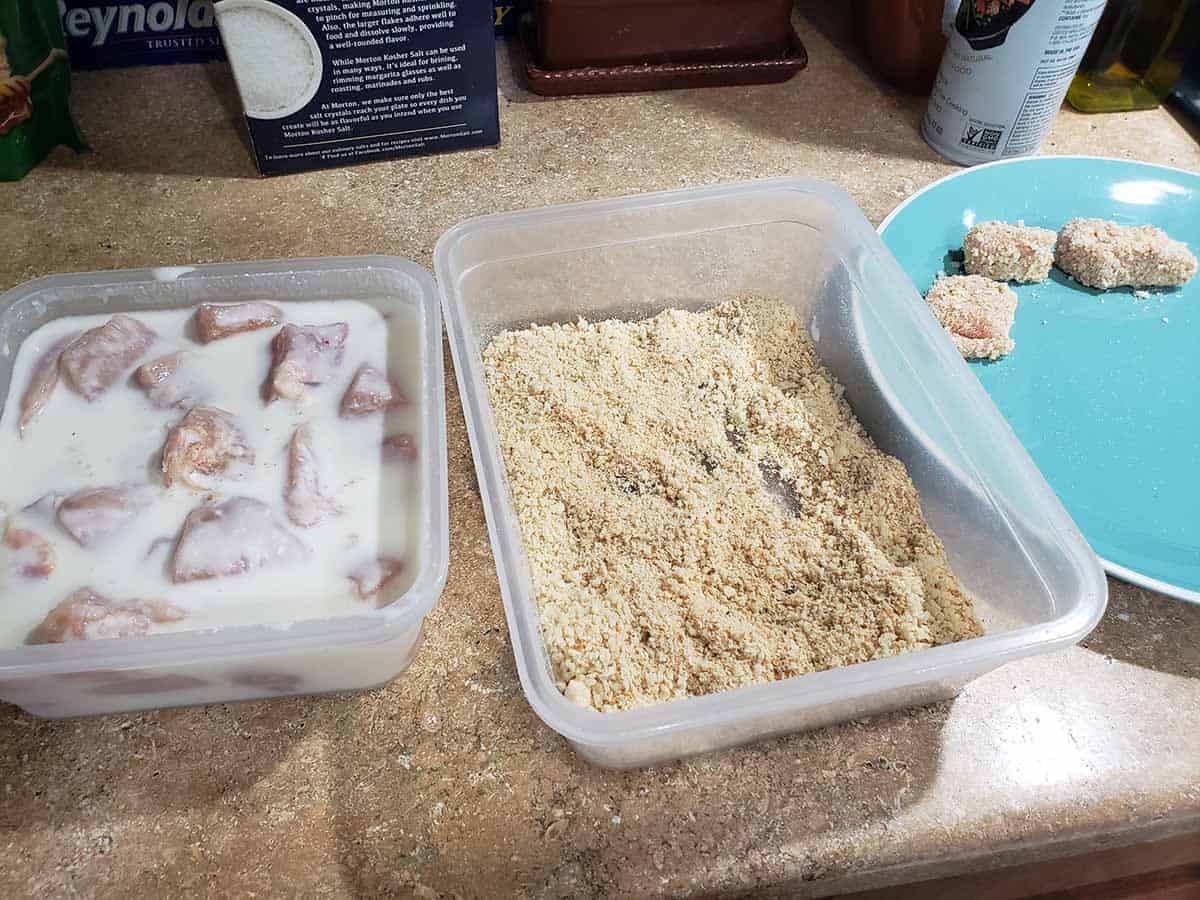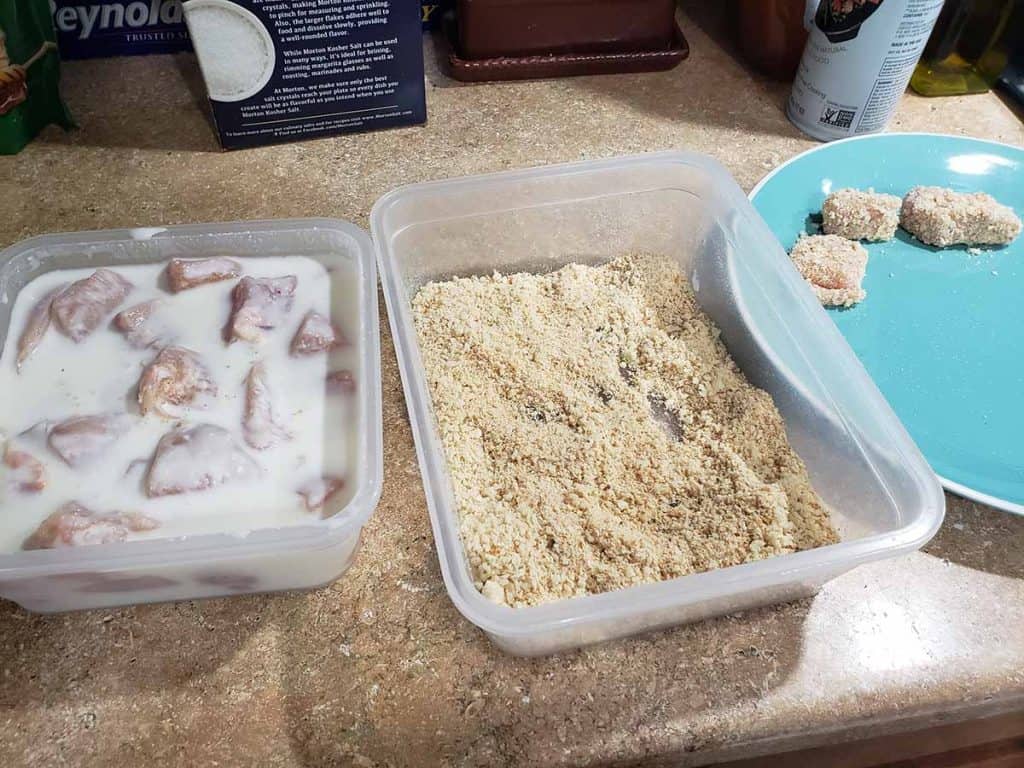 In a second shallow bowl, combine original bread crumbs, panko bread crumbs, garlic powder, paprika, salt and pepper and stir together. Remove chicken from fridge.
Heat extra virgin olive oil in a large frying pan (affiliate) over medium heat. When warm, begin dredging nuggets. To do so, pick up an individual nugget and let excess buttermilk drip off. Place in breadcrumb mixture and roll around to dredge. Place nugget into oil, setting the side closest to you down first and laying it away from you. This helps to avoid splattering yourself with hot oil.
Place just enough nuggets in the pan so that they're not crowded. You're much better off cooking in batches if needed.
Cook for three minutes or until breadcrumbs have turned a rich golden brown. Glip over and cook until opposite side is also golden brown, about 3 minutes more. Place nuggets on a pan and into the oven on the "keep warm" setting while repeating the process with the remaining chicken. You should have all your chicken cooked in 2-3 batches, depending on the size of your frying pan (affiliate).
Serve warm with your favorite dipping sauce!

What to do with leftover chicken nuggets?
Leftover chicken nuggets keep well in the fridge for about 5 days. To reheat, I recommend placing them in an air fryer (affiliate) at 350° for about three minutes. You can always reheat them in the microwave, it will just lose a little bit of the crispness in doing so.
Check out our other latest posts
Print
Buttermilk Parmesan Crusted Chicken Nuggets
---
Author:

Total Time:

1 hour 10 minutes

Yield:

4

servings

1

x
Description
Breaded chicken nuggets soaked in a buttermilk bath make for a tender, delicious bite that all ages will love!
---
2

chicken breasts

1 cup

buttermilk

1.5 cups

original breadcrumbs

0.5 cups

panko breadcrumbs

2 tsp

garlic powder

1 tsp

paprika
salt
pepper
extra virgin olive oil, for frying
---
Instructions
Cut chicken breasts in half horizontally, then each breast into 1 inch cubes.  Place in an open airtight container and pour buttermilk over.  Close lid and place in fridge for 30 minutes.  While chicken is marinating, mix together both bread crumbs, garlic, salt and pepper in a wide, shallow bowl or tupperware container.
Remove chicken from fridge.  Place directly next to bread crumb bowl.  Place a plate or pan on opposite side.  Using one hand, place a piece of chicken in the breadcrumb mixture and roll around.  Sprinkle with breadcrumbs using the opposite hand, then with the wet hand place the chicken on the plate/pan.  Repeat until all chicken is breaded.
Heat oil in large frying pan

(affiliate)

.  Add about half the chicken to the pan, making sure not to overcrowd.  Cook for about 3 minutes, until golden brown.  Flip and cook opposite side another 3 minutes or so, again until golden brown.  Remove to a plate lined with paper towel and serve warm.
Equipment
Notes
As stated above, avoid overcrowding the pan.  Feel free to cook the chicken in batches to avoid overcrowding.  If doing this, simply remove the chicken from the pan to a baking sheet and place in oven on "Keep Warm" setting until complete.  Serve with your favorite dipping sauce, such as honey mustard, BBQ or Ranch.  My wife and daughter like theirs dipped in mustard.
Prep Time:

1 hour

Cook Time:

10 minutes

Category:

Main Course

Method:

Pan Frying

Cuisine:

American
Keywords: Kid Friendly Dinners, Homemade Chicken Nuggets, Family Meals
2