Looking for that mix of savory, sweet and salty in the goodness of your own kitchen? Homemade Granola Bars bring you the perfect balance of everything. Add in some chocolate and peanut butter and you're in business. Easy recipe that you can make quickly, let it set and enjoy!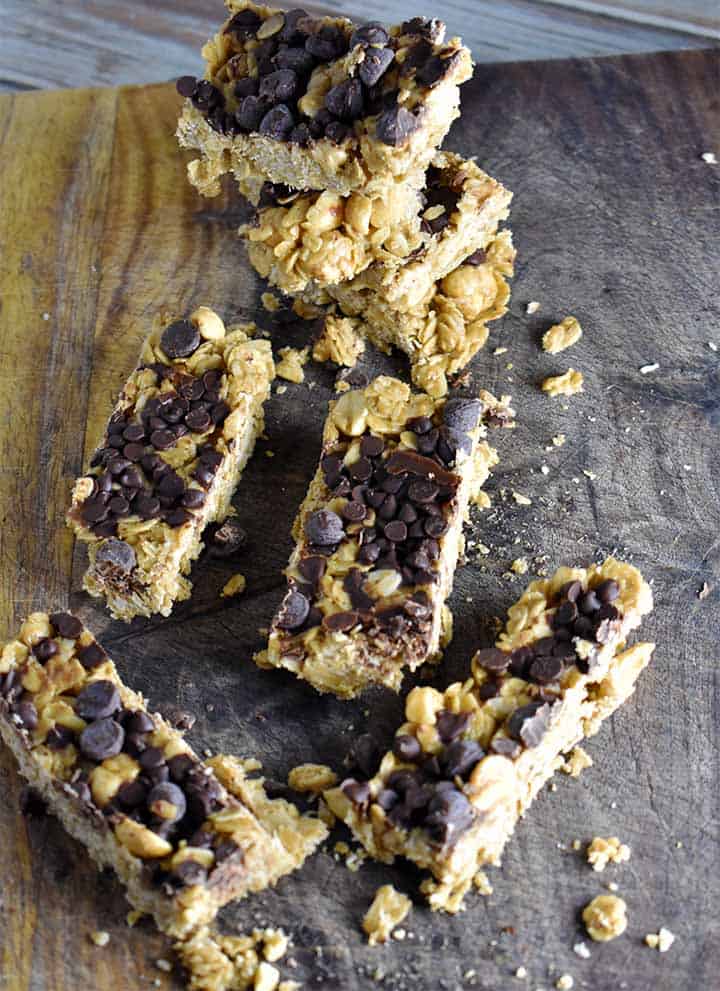 Mike's Recipe Rundown
Taste: This gives that classic chocolate and peanut butter taste you know and love, with a little extra saltiness thanks to the dry roasted peanuts.
Texture: Hearty and chewy. The peanuts and oats give you a nice full, chewy bite.
Difficulty - Pretty Easy! The hardest part of this is eating your honey and peanut butter mixture and then waiting for them to be ready to eat. Not a lot of crazy technique involved here.
Pros: An awesome and delicious after school snack that your kids will love. Plus, you know exactly what goes it in when you make it yourself!
Cons: This recipe does lean toward the dessert end of the spectrum. It's an awesome sweet snack, but there are healthier granola bar recipes out there.
Let's stay in touch. Follow me on Instagram and check out what we're up to on Pinterest. Support this site, follow the link and buy stuff on Amazon (affiliate).
Homemade Granola Bars Tips and Tricks
If you don't have an exact 9x9 pan, either aim for a smaller one or increase the amount you're making. You want to err on the side of thicker granola bars, as they'll come together easier and will be more sturdy after you cut them.
Dry roasted peanuts are the best pick when making your selection. You want something that doesn't come with a lot of it's own flavor (ex honey roasted), that way you're in control of the taste.
These make for awesome lunch-box additions to provide your kid with a sweet treat that still delivers a lot of nutty nutrition. It's also great for adults as well. Just wrap them individually and throw them in the box!

How to make Homemade Granola Bars
Prep Bars & Make Peanut Sauce
Begin by preheating your oven to 375°. Spread your old fashioned oats out over an ungreased large baking sheet (affiliate). Bake for ten minutes, then stir oats to flip over and bake another 8 minutes. Oats should be a nice, light golden brown when they're done.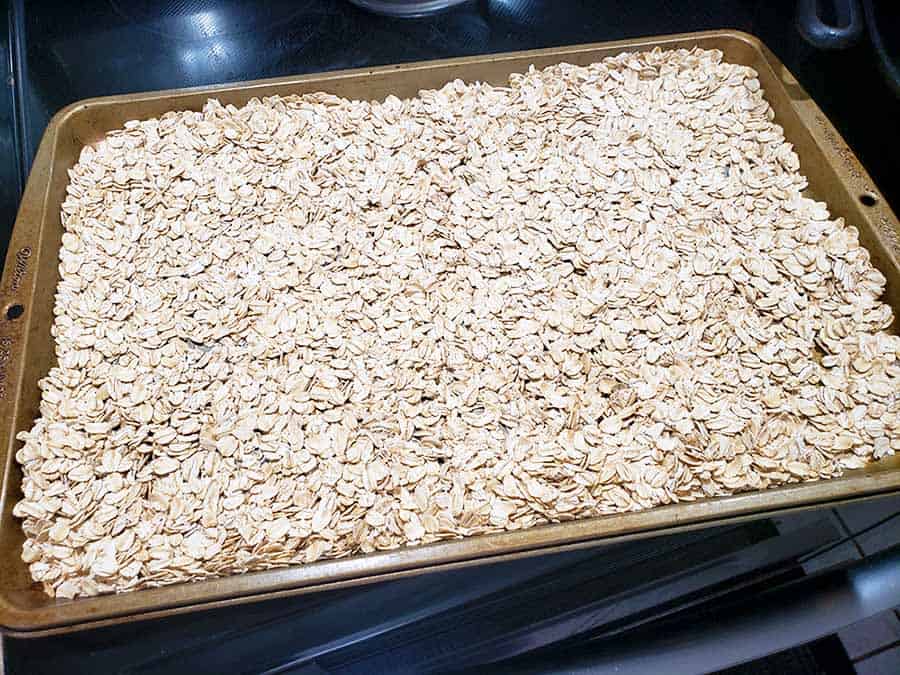 While the oats are toasting, melt butter in a small pot (affiliate) over medium heat. Allow butter to foam and brown slightly. This will give it a nutty flavor that will add to the taste. Remove from heat and add in dark brown sugar, creamy peanut butter, honey, vanilla and a pinch of salt. Stir until everything well mixed.
Check out some of our other great recipes, like cajun shrimp and grits, smoked gouda mac and cheese, chicken tikka masala, or 29-hour, super tender sous vide chuck roast. Or, try one of my wife's favorites, my Bacon Lamb Sliders which are 100% flavor-bombs. .
Make your Bars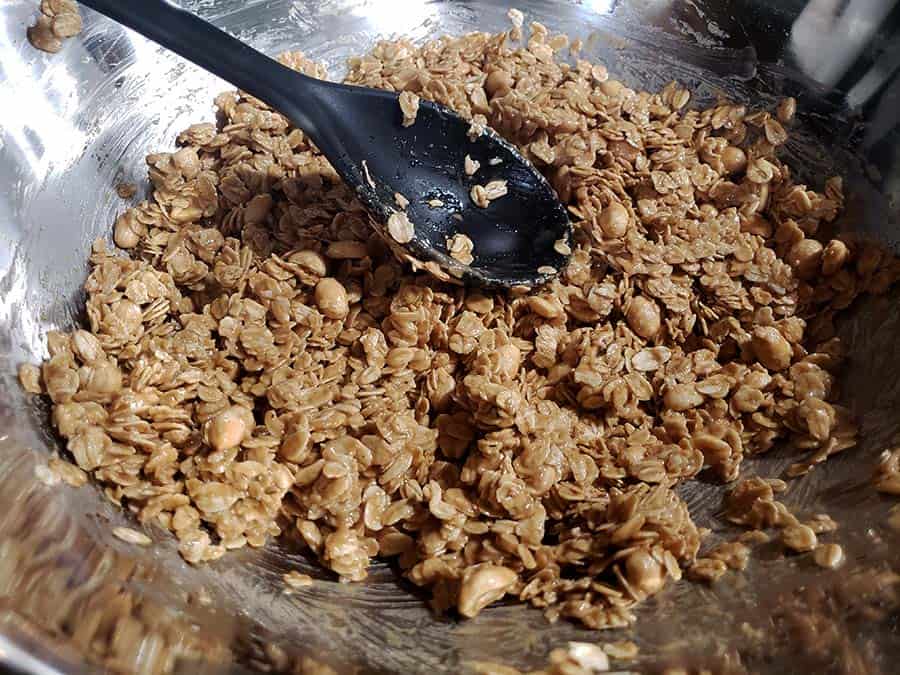 When oats are done toasting, place them in a large, heatproof mixing bowl (affiliate) along with the dry roasted peanuts. Pour the peanut butter sauce over top and mix well with a large rubber spatula (affiliate) or wooden spoon. Make sure to mix it well enough that all your oats are covered in the peanut mixture.
Transfer the peanut mixture to a 9 inch x 9 inch pan line with parchment paper. Leave the parchment paper draped over the sides of the pan so you can easily pick it up when it's done. Press peanut mixture firmly into the pan so that it's evenly thick. Cover and let sit out for 15 minutes.
After granola bars have cooled for 15 minutes, it should be cool enough to add chocolate chips. I use a mix of mini chips and regular chocolate chips. Spread them evenly and all the way to the edges of the pan. Press gently into the granola bars.
Cut and Enjoy!
Let granola bars sit and cool for about three hours. At this point the peanut butter mixture should have cooled enough to hold everything together. Cut into evenly shaped bars. I make mine about 4 inches long and one inch wide. Store them at room temp, pack them for lunch or take them out for an after school snack and enjoy!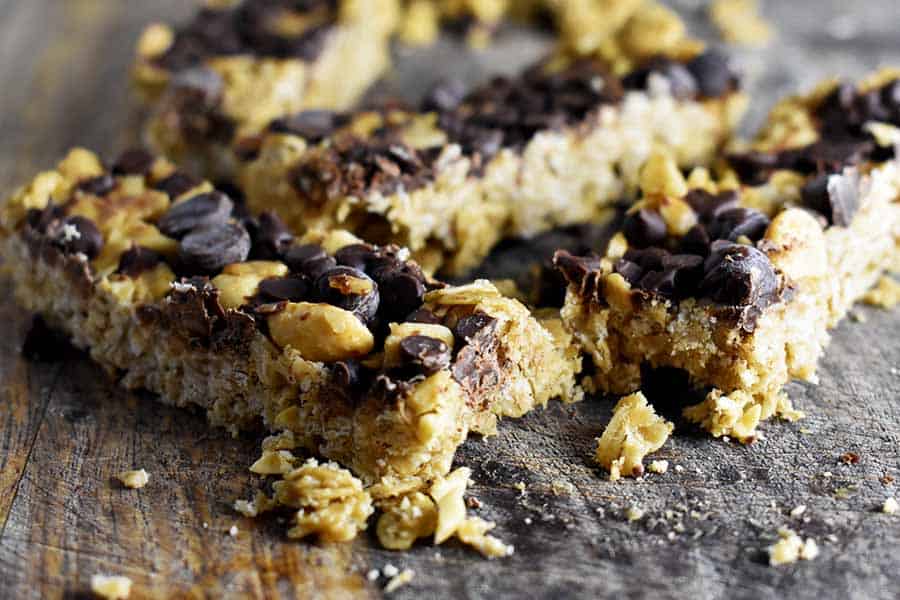 Check out our latest posts
Print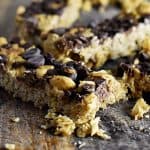 Chocolate Peanut Butter Granola Bars
---
Description
Savory, salty and sweet.  These homemade granola bars delivers the perfect snack or power food for breakfast or lunch!
---
3 cups

old fashioned oats

⅓ cup

unsalted butter

½ cup

brown sugar

¾ cup

creamy peanut butter

⅓

up honey

1.5 tsp

vanilla extract

1

pinch table salt

¾ cup

dry roasted peanuts

½ cup

chocolate chips (mix of mini chips and regular chips)
---
Instructions
TOAST OATS: Preheat oven to 375°.  Spread oats out evenly on a large rimmed baking sheet.  Place in center of oven for 10 minutes.  Remove, stir oats and return to oven for 8 more minutes to toast to a light golden brown.  Remove and place in a heatproof bowl.
PEANUT BUTTER SAUCE: While oats are toasting, melt butter in a small pot over medium heat.  Heat until foaming and slightly browns.  Butter will smell slightly nutty.  Remove from heat and stir in peanut butter, honey, brown sugar, vanilla and salt.  Stir until everything is well mixed and creamy.
MIX IT UP: Add peanuts to heatproof mixing bowl.  Pour peanut butter mixture overtop.  Using a rubber spatula

(affiliate)

, stir everything until well mixed, with all oats covered in the mixture.
MAKE BARS: Line a 9x9 pan with parchment paper.  Transfer the granola mix to the pan and press down and to the sides so that it's evenly thick throughout.  Let sit for 15 minutes, then spread chocolate chips evenly overtop.  Press gently into granola.  Let sit for at least 3 hours to solidify and enjoy!
Equipment
0